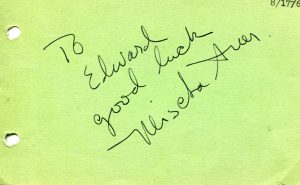 Mischa Auer, who was born in Russia in 1905, was one of the great U.S. character actors in movies in the 1930's and 40's.   Moving to hollywood in the late 1920s. He first appeared on film there in 1928. Auer went on to a long career playing in many of the era's most well known films, receiving an Academy Award nomination in 1936. He later moved into television and acted in films again in France and Italy well into the 1960s.   He died in 1967.
TCM overview:
The tall Russian-born Mischa Auer is perhaps best remembered for his hilarious, scene-stealing performance as Alice Brady's gorilla-impersonating protege in the 1936 screwball classic "My Man Godfrey", which brought him a Best Supporting Actor Oscar nomination.
Born and raised in St Petersburg, Russia, Auer moved to the USA after his parents' deaths. He began his career on the stage, working with Eva LeGallienne's acting troupe and later touring the USA with other theatrical groups. While performing on stage in "Magda", he was hired for his first screen role in "Something Always Happens" (1927) and spent the better part of the next decade relegated to playing "foreign" exotics in features like "The Unholy Garden" (1931) and "Sinister Hands" (1932) or playing small, inconsequential roles in support of some of the period's biggest stars like the Barrymore siblings in "Rasputin and the Empress" and Greta Garbo in "Mata Hari" (both 1932).
After his breakthrough turn in "My Man Godfrey", Auer continued to find plentiful work in Hollywood playing wildly humorous supporting roles, often as excitable middle-Europeans. He was genuinely funny in "You Can't Take It With You" (1938) and "Destry Rides Again" (1939) and enlivened "Hellzapoppin'" (1941) and the whodunit "And Then There Were None" (1945). By the late 1940s, however, Auer relocated to Europe where he continued to work until his 1967 fatal heart attack.
 The above TCM overview can also be accessed online
here.