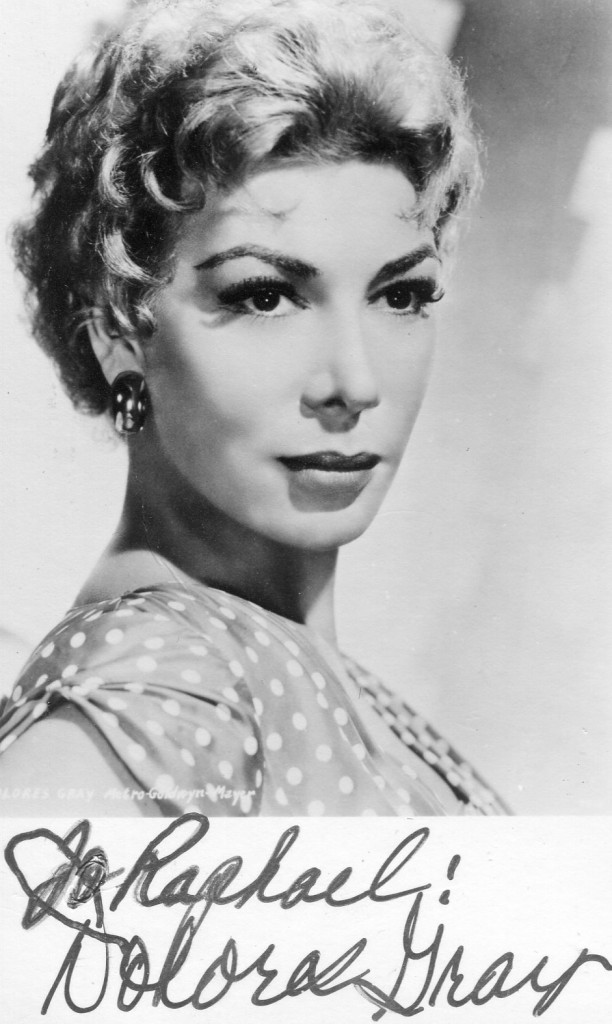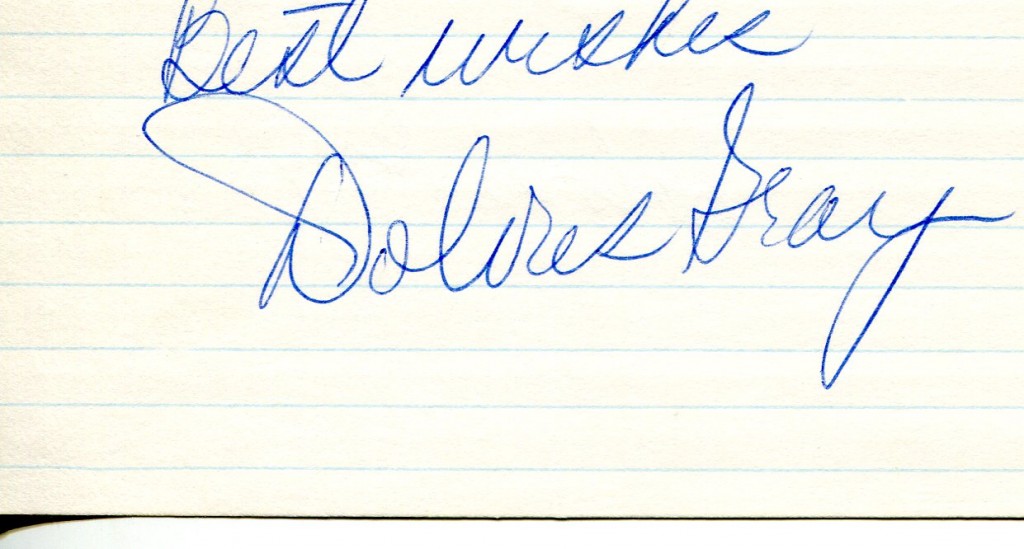 Dolores Gray was born in 1924 in Chicago.   Dolores Gray was briefly signed with MGM, appearing in Kismet(1955) and It's Always Fair Weather (1955).   She died in New York in 2002..
Gary Brumburgh's entry:
Dabbling in practically every facet of the business during her over six-decade career — nightclubs, cabaret, radio, recordings, TV, film and Broadway — sultry, opulent, hard-looking singing star Dolores Gray, distinctive for her sharp, somewhat equine features, lived the high life for most of her time on earth. Born in Chicago in 1924, she began singing in Hollywood supper clubs at age 14 and eventually was discovered by Rudy Vallee, who made her a name on his radio show. From there the larger-than-life talent took to the stage, debuting on Broadway in 1944. In 1947, she gussied up London's post-war theater district when she starred as Annie Oakley in "Annie Get Your Gun." Lucky for her, Ethel Merman refused the tour and Dolores became the toast of the West End for over two years. She also attracted tabloid attention with her extravagant life style, outlandish clothes and 'Auntie Mame'-like joie de vivre. Broadway musicals beckoned following her success abroad and the dusky alto returned to New York, earning raves in the short-lived "Carnival in Flanders" with John Raitt, which won her the Tony award, and "Destry Rides Again" co-starring pre-TV star Andy Griffith, which earned her a Tony nomination. MGM wanted in on the action and signed her. Dolores managed a few scene-grabbing second leads in It's Always Fair Weather (1955) starring Gene Kelly,Kismet (1955) with Howard Keel and Ann Blyth, The Opposite Sex (1956), starring June Allyson and Joan Collins, which was a somewhat misguided musical version of the classic comedy "The Women," and the chic non-musical Designing Woman (1957) with Gregory Peck and Lauren Bacall. And then it was over for Dolores in movies. Hit by the decline of the musical film, she, trooper that she was, found work on TV variety, recorded for Capitol Records and remained a top-of-the-line cabaret act for decades to come. Despite her somewhat outré reputation, Dolores married only once — to California businessman and race horse owner Andrew Crevolin in 1967. Although the marriage lasted approximately 9 years. they never divorced. In fact, the couple never even formally separated as she was a devout Catholic. She and Andrew would remain close friends until his death in 1992. Dolores passed away a decade later in her Manhattan apartment of a heart attack at age 78 in 2002.
– IMDb Mini Biography By: Gary Brumburgh / gr-home@pacbell.net
Ronald Bergan's "Guardian" obituary:
f one were to compile a list of entertainers who cheered up Britain in the austere years after the second world war, the American singer and actor Dolores Gray, who has died aged 78, would be among the top names. On June 7 1947, the colourful Irving Berlin musical Annie Get Your Gun burst onto the stage of the London Coliseum, with the ebullient Gray in the title role. The show ran for three years, the longest run in the theatre's history, and Gray, in her first big success, became the toast of the town.She may not have had as singular a sound and personality as Ethel Merman, who created the part on Broadway, but her voice was almost as powerful and she was more attractive, both in looks and character. When her voice was compared to Merman's, Gray explained, "Actually, my voice is fragile, but I know how to amplify it."
During her stay in London, she took the opportunity to study at the Royal Academy of Art (Rada), and played Nell Gwynne at a performance in aid of the fund to rebuild the Rada theatre. She returned in 1958 to appear triumphantly at the London Palladium, where she was called upon to give her energetic renderings of Doin' What Comes Naturally, You Can't Get A Man With A Gun and I've Got The Sun In The Morning from Annie Get Your Gun.
Gray's association with the west end continued in cabaret at the Talk of the Town in 1963, and as the monstrous stage-mother Rose in the Jule Styne-Stephen Sondheim musical Gypsy (another Merman creation) at the Piccadilly in 1973.
Later, as Carlotta Campion, in Sondheim's Follies at the Shaftesbury in 1987, her legs as long and as shapely as ever, she belted out that hymn to show-biz durability, I'm Still Here, in a manner which nobody could deny. The lyrics catalogue all the events the former chorus girl has survived and the roles she has had to play: "First you're another sloe-eyed vamp/ Then someone's mother, then you're camp."
Gray's own life and career was not as varied as Carlotta's, but it had its share of ups and downs. She was born in Chicago, and after her parents divorced while she was still a child, her mother took her to Hollywood, taught her to sing and act, and encouraged her to perform in clubs in her mid-teens. It was not long before she was discovered by the crooner Rudy Vallee, who put her on his national radio show.
She made her Broadway debut in 1944, in the Cole Porter musical revue Seven Lively Arts – the starry company included Beatrice Lillie, Bert Lahr, Benny Goodman and Alicia Markova. The following year, she played the showgirl Bunny La Fleur in Are You With It? After her first London success, she failed to rescue the Broadway musical Carnival In Flanders, based on the Jacques Feyder film, but, although it ran for only six performances, the show earned Gray a 1954 Tony award and a successful film test at MGM, directed by Vincente Minnelli.
The four films she made for that studio were certainly enlivened by her dynamic singing and witty acting. In the Gene Kelly-Stanley Donen musical It's Always Fair Weather (1955), she played a stunningly dressed television hostess who sings Thanks A Lot But No Thanks, while refusing gifts from wealthy chorus boys, and Music Is Better Than Words. She stood out among the oriental kitsch of Minnelli's Kismet (1955) as Lalume, the wazir's lustful wife, singing Not Since Ninevah and Rahadlakum.
The Opposite Sex (1956), the pallid musical remake of The Women, had Gray competing with Joan Collins, June Allyson, Ann Sheridan and Ann Miller. Her final – and best – film was as Gregory Peck's old flame in Minnelli's comedy Designing Woman (1957), which included a splendid scene of Gray tipping a plate of pasta onto Peck's lap, and a production number, There'll Be Some Changes Made, in which she delivers the song wonderfully unruffled while changing gowns in a rehearsal.
Back on Broadway in 1959, she had another hit as Frenchy (the part played on film by Marlene Dietrich) in the musical Destry Rides Again. Once, during a matinee, the stage curtain caught fire while she and Andy Griffith were performing Anyone Would Love You. As fireman and stagehands fought the flames backstage, the couple kept on singing more loudly than ever.
Gray's marriage to Andrew Crevolin, a California property developer and racehorse owner, ended in divorce. She is survived by a stepdaughter.
· Dolores Gray, actor and singer, born June 7 1924; died June 26 2002
The above "Guardian" obituary can also be accessed online here.