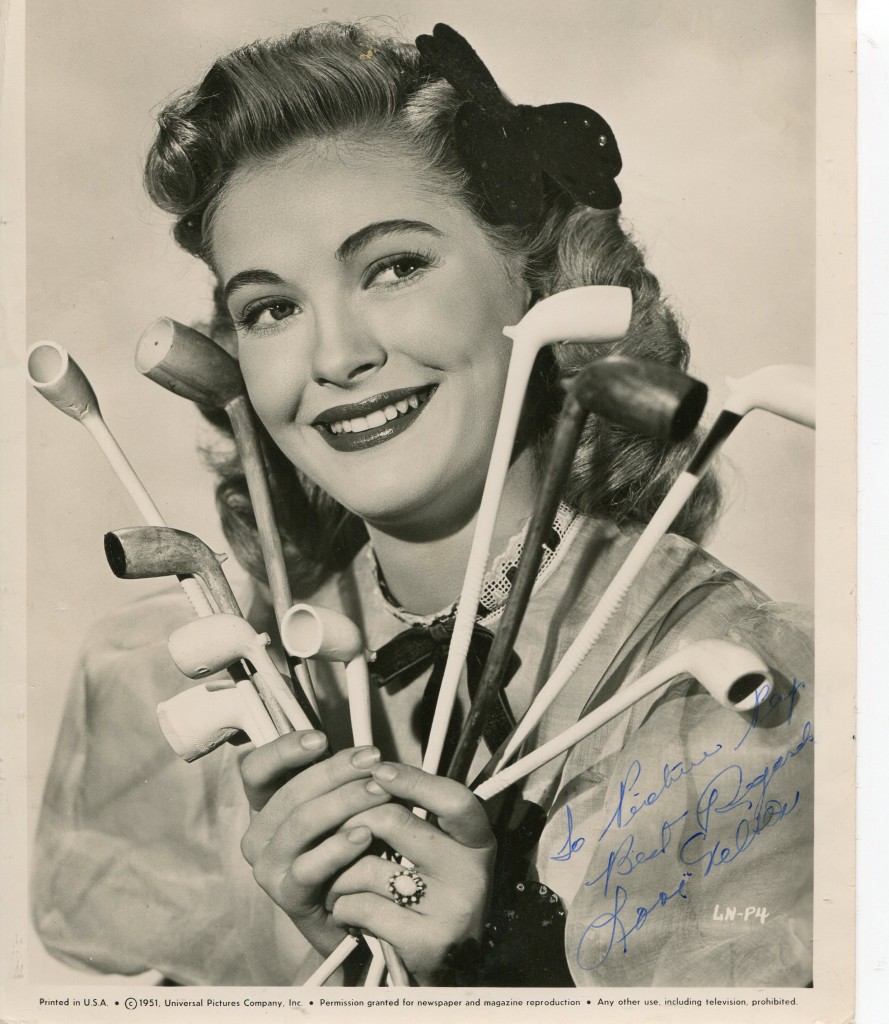 Lori Nelson was born in 1933 in Santa Fe, New Mexico. She was under contract with Universal Studios in the 1950's. Lori Nelson died in 2020 aged 87.
'The Times' obituary in 2020.
"I played opposite Rock Hudson, Tony Curtis, Jimmy Stewart, Dean Martin and Audie Murphy," Lori Nelson once noted coolly. "But who's the leading man everybody wants to ask me about? The Gill Man."
The Gill Man was better known as the Creature from the Black Lagoon. The film of that name became a cult horror classic in 1954 and Nelson starred in its 3D sequel Revenge of the Creature the following year (along with, curiously enough, Clint Eastwood, who played a lab technician in his screen debut). Nelson, whose character is kidnapped by the amphibious being, told Tom Weaver, the author of Double Feature Creature Attack: "In the beginning I didn't want to do Revenge of the Creature because I felt like it was almost a comedown for me. To do science fiction in those days was a step down, career-wise. You started with something like that — you didn't want to build up to it. But then I found while making the movie that I really enjoyed it, and that it was above the average, a very high-calibre science fiction film."
Not only did Revenge of the Creature ensure her place in horror movie history, it also gave her some thrilling experiences, including swimming in a tank containing sharks and stingrays. "Those fish get fed every hour, and unless they're hungry, they're not going to bother you."
An only child, she was born Dixie Kay Nelson in Santa Fe, New Mexico, in 1933 to Loree (née Gutierrez), a stay-at-home mother, and Robert, a deputy sheriff. When she was five, the family moved to Los Angeles, where she was named Little Miss America in a nationwide contest, a title that launched her career as a model and actress. However, things stalled when she became ill with rheumatic fever and was bedridden for four years.
At the age of 17 she landed a seven-year contract with Universal, which invested in its new signing by providing drama coaching and dance lessons before the young actress was put to work. She made her debut in Anthony Mann's compelling Technicolor western Bend of the River (1952), a vehicle for James Stewart. Her good notices were followed by similar plaudits for her performance as the wilful daughter of an estranged mother, Barbara Stanwyck, in the Douglas Sirk drama All I Desire. Unfortunately, however, most of the films in which she appeared were not in the same class as those two and, with her career failing to ignite, she decided to leave Universal after only four years. She told the press: "I learnt a lot there, and they were wonderful to me. But they just don't make pictures about women there. I knew I wasn't making progress so I asked for my release."
After turning in a strong performance as the crippled girl to whom Jack Palance takes a shine in I Died a Thousand Times (1955), she lobbied, unsuccessfully, for more serious dramatic parts and even released photos of herself professionally made-up to look drab and unkempt in a vain attempt to convince the director of the Joan Crawford drama The Story of Esther Costello to cast her as a neglected deaf, dumb and blind girl.
"Hollywood is full of pretty young girls," she explained. "You see them all around. It's not too hard for a girl to make a splash on account of her looks. But if you expect to carve yourself a career in this town, you have to take one of two courses. One, you've got to go after the sexy build-up. But I don't think I'm the Marilyn type. The other course is to make a name for yourself as an actress . . . But it's so hard for a girl like me to break out of ingenue roles. I don't mean that I want to play character women. But I'd like at least to play character ingenues."
Lori Nelson in 1955GETTY IMAGES
One part which Nelson played only semi-convincingly was the girlfriend of Tab Hunter, the teen heart throb about whose sexuality rumours flew in Hollywood in the 1950s. The couple dated, but Hunter, who did not come out as gay until 2005, was seeing a man at the same time. Nelson, who was a regular in the gossip columns and a close friend of Debbie Reynolds, dated James Dean and was engaged to Burt Reynolds before she married the composer Johnny Mann in 1960. During the decade-long break from acting that followed, she had two children, Lori Susan and Jennifer. They survive her, along with her second husband, Joseph Reiner.
Nelson had become a TV star just before her first marriage, thanks to her top-billed role in the series How To Marry a Millionaire, a reworking of the hit 1953 movie. After she returned to work in the early 1970s, she focused on small-scale theatre work before switching her attention to running a beauty salon.