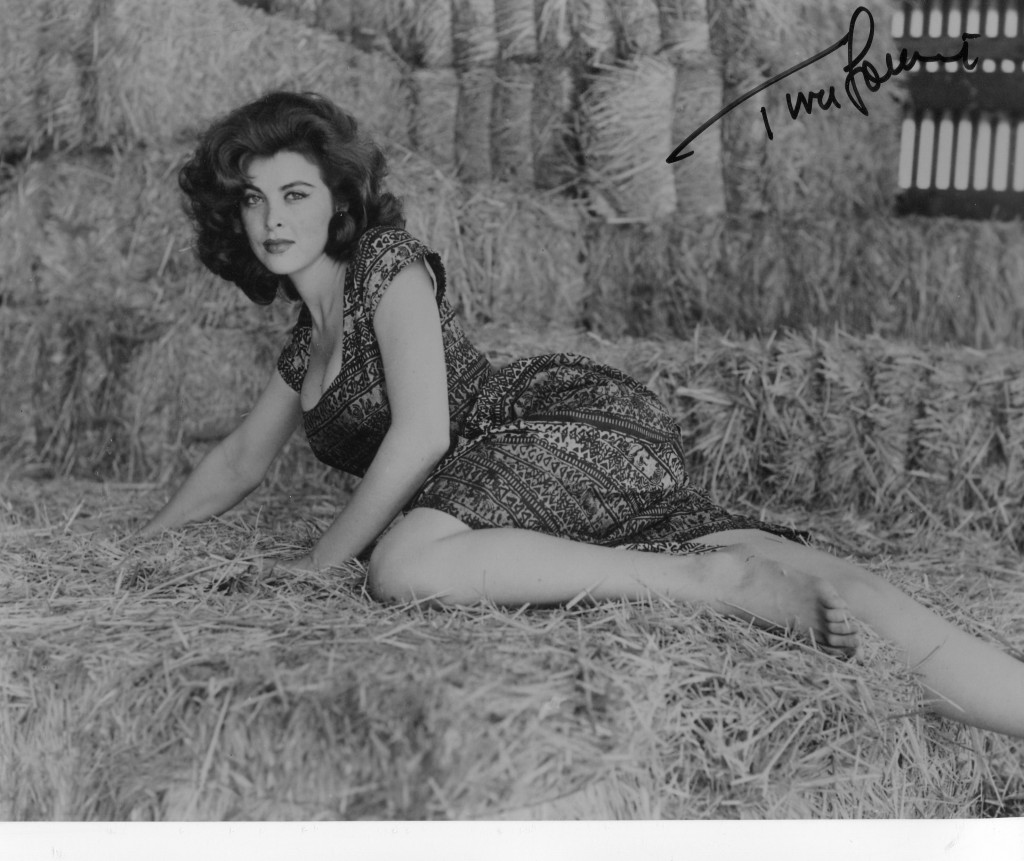 Tina Louise was born in 1934 in New York City.   She starred in such 1950's movies as "God's Little Acre", and "Day of the Outlaw" in 1959.   She had a major success on television in the aeries "Gilligan's Island" in 1964.   In the seventies she starred in "The Stepford Wives".
A sultry figure in film and on television and stage since the early 1950s, Tina Louise was, for most viewers, the one and only Ginger Grant, the movie star castaway on the enduring TV series "Gilligan's Island" (ABC, 1966-69). The breathy, vampish Ginger was an object of erotic fascination for most of the men on the tiny island, as well as at homes across the country, but Louise was used to such attention, having earned wolf whistles since her teenage years as a magazine model and chorus dancer. Hot-blooded turns in Broadway productions of "Li'l Abner" and "God's Little Acre" (1958) preceded her turn as Ginger that, according to Louise, capsized her career, stereotyping her as the titian-haired, Marilyn Monroe-esque bombshell. In response to this pigeonholing, she distanced herself from any cast reunions while maintaining a low but active profile on television. Despite her protestations, Ginger remained Louise's defining role, an icon of sanitized sexuality for over four decades.
Born Tina Blacker in New York City on Feb. 11, 1934, she was the daughter of model Betty Horn, who divorced her husband, a Brooklyn candy store owner, when their daughter was four. The following year, she was shipped off to a private school, where she remained until she was eight years old. Her mother remarried Dr. John Myers, who brought Tina into the lap of luxury. While attending Scarborough High School in Westchester, NY, she earned her stage moniker when a drama teacher learned that she had no middle name. She was subsequently dubbed Tina Louise Blacker, and the surname would be soon dropped. At 17, Louise began studying drama and singing in the hopes of landing a role on Broadway. To support herself, she posed for numerous men's magazines, and cultivated a sultry image that earned her publicity in New York social pages and gossip magazines. No less of a pop culture figure than Lenny Bruce singled her out as a lust object in his routines. While her statuesque figure was splashed across the tabloid pages, Louise began to slowly make her way into Broadway via the chorus line.
Her official acting debut came in 1952's "Two's Company," a disaster-plagued musical revue built around Bette Davis. She enjoyed greater success with "John Murray Anderson's Almanac" (1953), a musical revue that won a Tony for star Harry Belafonte, while launching her on-screen career with appearances on early variety series and anthology programs like "Climax!" (CBS, 1954-57). An early glimpse of stardom came when she filled out the skimpy costume of Al Capp's earthy temptress Appassionata Von Climax in the original Broadway production of "Li'l Abner," though Stella Stevens played the role in the 1967 film version. In 1958, she made her feature film debut as a backwoods temptress in Anthony Man's "God's Little Acre," a racy adaptation of the controversial Erskine Caldwell novel about dirty doings in rural Georgia. Frequent shots of Louise's heaving décolletage added to the furor over the film. A 1957 album, It's Time for Tina, featuring breathy renditions of standards and Coleman Hawkins on saxophone, furthered her alluring screen image.
Louise strove for more dramatic roles, but found them to be few and far between. A marital scandal involving her mother and stepfather brought her back to the gossip pages, so she took a page from numerous fledging American actors and headed for Europe to work in the continent's blossoming film industry. There, she filmed a pair of sword-and-sandal costume epics, as well as a bit part for Roberto Rossellini's "Garibaldi" (1960), about the Italian national hero who helped to unify his country. These efforts did little for Louise's stateside career, so she began studying at the Actors Studio upon her return to America in 1961. She soon resumed steady work in features and television; one of her last pre-"Gilligan" movie roles was as a tempo-impaired dancer in "For Those Who Think Young" (1964), a surfing comedy that co-starred Bob Denver as a beach bum. That same year, Louise left the troubled Broadway musical "Fade Out – Fade In," starring Carol Burnett, to assume the role of a movie star on a ridiculously silly comedy series she had little hope would succeed.
Now officially a cast member of "Gilligan's Island," Louise was not the first person to play movie star Ginger Grant; in the unaired 1963 pilot, actress Kit Smythe played a secretary by that name who was among the castaways, but producer Sherwood Schwartz changed the character to add a dose of glamour to the characters. In early scripts, Ginger was written as a more sarcastic and mean-spirited figure, but Louise balked at such a depiction, preferring to play Ginger as a Marilyn Monroe manqué, complete with breathy tones. The issue was the first of many clashes between producers and Louise, who reportedly believed that Ginger was the focus of the show, despite the title's claims to the contrary. In subsequent interviews, castmates likes Denver and especially Dawn Wells, who played farm girl Mary Ann, cited their struggles to get along with Louise.
After "Gilligan" came to an unexpected close in 1967, Louise strove to distance herself from the series and roles like Ginger. Though she complained that the show had typecast her as a glamorous figure, she appeared to have no trouble finding work throughout the late 1960s and 1970s. Many of her roles, including a femme fatale in "The Wrecking Crew" (1969) and a brief stint as J.R. Ewing's secretary and lover, Julie Gray, on the first season of "Dallas" (CBS, 1978-1991) were based more on her aesthetic appeal than her acting ability, though she did receive fine showcases for her talents, including a turn as a heroin addict on "Kojak" (CBS, 1973-1978) and a convincingly evil prison honoree in the graphic women-in-prison movie, "Nightmare in Badham County" (ABC, 1976). Her performance as a strong feminist who was transformed into a docile suburbanite in "The Stepford Wives" (1975) also reaped positive critical praise.
Louise refused to participate in any of the numerous "Gilligan" TV-movies or animated spin-offs. She was replaced by Judith Baldwin in the live-action "Rescue from Gilligan's Island" (NBC, 1978) and "The Castaways on Gilligan's Island" (NBC, 1979), and later by Constance Forslund in "The Harlem Globetrotters on Gilligan's Island" (NBC, 1981), while Jane Webb and Dawn Wells provided the voice of Ginger for the Saturday morning cartoons "The New Adventures of Gilligan" (ABC, 1974-76) and "Gilligan's Planet" (CBS, 1982-83). However, she did appear alongside several of the surviving cast members on an episode of "Roseanne" (ABC, 1988-1997) in which the sitcom's cast played the "Gilligan" castaways, while Denver, Louise, Wells and Russell Johnson played "Roseanne" characters, with Louise handling Roseanne herself. In 2005, she put to rest long-standing rumors of animosity between her and Denver by eulogizing him in an issue of Entertainment Weekly.
Despite her career ambitions, Louise continued to play well-heeled, sultry types into the 1980s and 1990s. She was a wealthy suburbanite in Robert Altman's disastrous "O.C. and Stiggs" (1985), and then moved uptown to play a moneyed New Yorker in Tom DiCillo's offbeat comedy "Johnny Suede" (1992). Television offered the majority of her appearances, with stints on the daytime soaps "Rituals" (syndicated, 1984-85) and "All My Children" (ABC, 1970- ). In addition to her acting career, Louise was a committed advocate for children's literacy. She served as a volunteer reading teacher in the New York City school system, and penned two books for young readers, When I Grow Up(2007) and What Does a Bee Do? (2009). A third publication, Sunday: A Memoir, was released in 1997.
 The above TCM overview can also be accessed online
here.