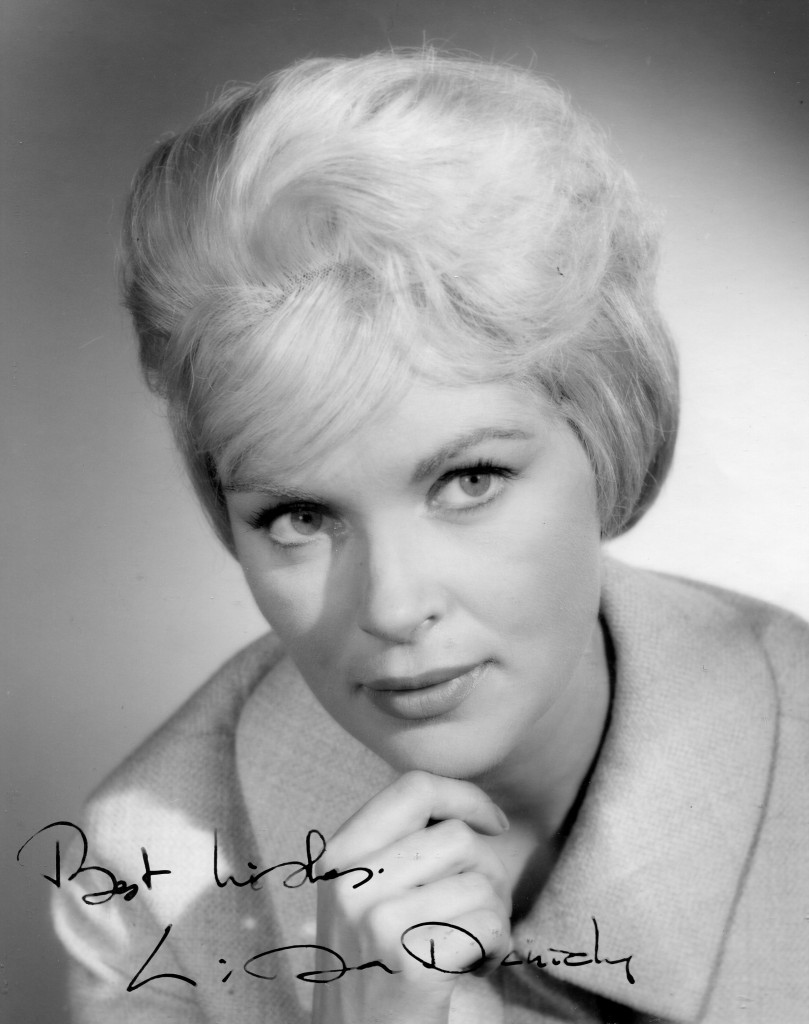 Lisa Daniely was born in Reading, Berkshire in 1930. She had the title role in "Lili Marlene" in 1950 with Stanley Baker. Other movies include "The Man in the Road" and "The Middle Course". She died in 2014.
Her Guardian obituary by Anne Kavanagh is as follows:
My friend Lisa Daniely, who has died aged 84, was a familiar face in the films of the 1950s and 60s. She also appeared on stage and continued working as an actor well into her late 70s.
She was born Elizabeth Bodington in Reading, Berkshire, to an English solicitor father and a French mother. She was educated in Paris, where she trained at the Sarah Bernhardt theatre, and made her film debut in 1950 at the age of 21 in the title role of Lilli Marlene. Her film-star looks were on the cover of Picturegoer the following year. Her notable films included High Jump (1959) with Richard Wyler (who also acted under the name Richard Stapley), The Lamp in Assassin Mews (1962) with Francis Matthews, Stranger in the House (1967) with James Mason and Geraldine Chaplin, and, perhaps most famously, Hindle Wakes (1952) with Leslie Dwyer.
On the stage she played Madame Ranevskaya in The Cherry Orchard, the title role in Hedda Gabler, and Mrs Alving in Ghosts, as well as using her considerable gifts for comedy as Lady Sneerwell in School for Scandal and Rebecca Huntley-Pike in Chorus of Disapproval.
Her many television roles included Madeleine Issigri in The Space Pirates episodes of Doctor Who, the sister of Peter Brady in The Invisible Man (1958) and alongside Jeremy Brett in The Adventures of Sherlock Holmes (1984-85). In 1996, she played the Queen in the television film Princess in Love.
Her distinctive, sexy voice never left her, and in her late 70s she made radio recordings of Sapphire and Steel with David Warner and Susannah Harker, and recorded audio books, including Trouble for Lucia by EF Benson.
Fascinated by the craft of writing, she wrote her own one-woman show about Anne-Josèphe Théroigne de Méricourt, whose extraordinary life led her from the fields of Belgium to the barricades of revolutionary Paris at the head of a ragged band of sans-culottes. Lisa mounted a highly successful production of this piece at the Edinburgh festival and was working on turning the script into a novel when she died. It was typical of her to have identified so much with this historical character, whose feistiness, love of life and courage echoed her own.
She took up singing late in life with zest – and, typically, was exploring the internet with determination in her 80s.
She was married to the actor Grey Blake, who died in 1971. She is survived by a stepson, Sean Blake, a niece and two nephews.
The above "Guardian" obituary can also be accessed online here.