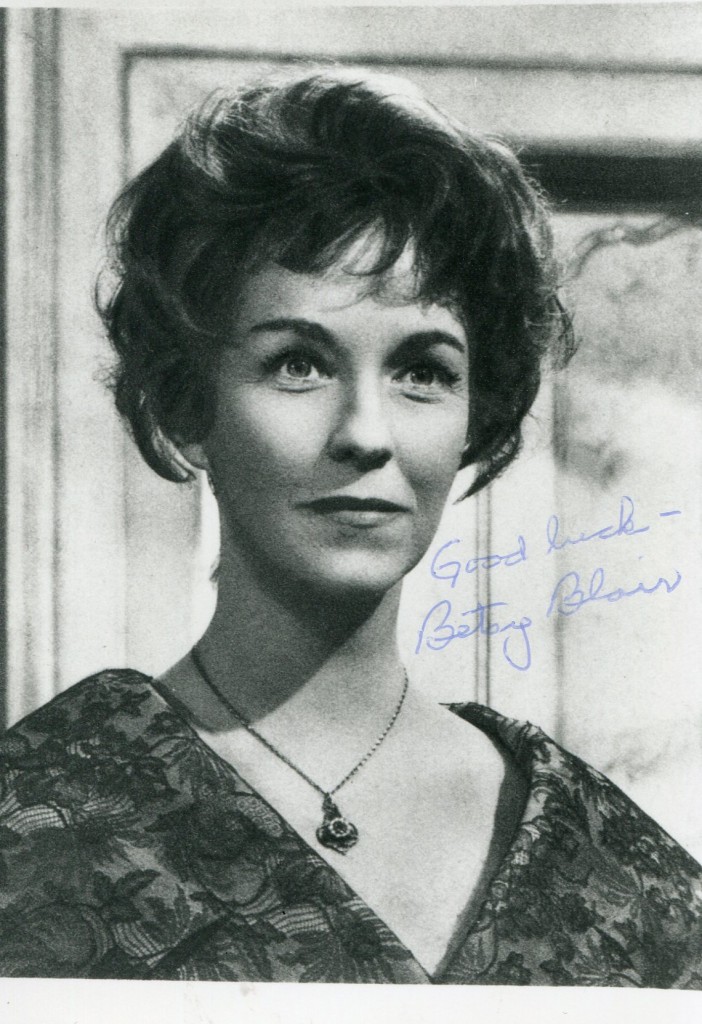 Betsy Blair is perhaps best remembered by moviegoers for her performance in "Marty" opposite Ernest Borgnine in 1955. She was born in New Jersey in 1923 and began her acting career on the Broadway stage. In her late teens she married the actor/dancer Gene Kelly and went with him to Hollywood. Her film debut came in 1947 in "A Double Life" which starred Ronald Colman. She was also featured in "Another Part of the Forest" and "The Snake Pit" which starred Olivia de Havillamd. After her divorce from Kelly, she married the British based film director Karel Reisz and settled in the UK whereshe made such movies as "A Delicate Balance" in 1975. She died in 2009 in London.
Brian Baxter;s "Guardian" obituary:
Few film-makers of the left emerged unscathed from the Hollywood witchhunt led by Senator Joe McCarthy. Some died, some were ruined, some headed for Europe. Others named names. Among its victims, the actor Betsy Blair, who has died aged 85, considered herself fortunate.
Despite being blacklisted, she was made less vulnerable by her marriage to fellow socialist Gene Kelly who, by the early 1950s, was virtually untouchable thanks to such succesful movies as On the Town, An American in Paris and Singin' in the Rain. Eventually she was nominated for a best supporting actress Oscar for her role in the 1955 film Marty. Blair began acting in films in the late 1940s, with small roles in sturdy dramas such as The Guilt of Janet Ames, George Cukor's A Double Life and Another Part of the Forest, from the play by Lillian Hellman. She fell out of favour for activities that included substantial fundraising for leftwing causes. After Kind Lady (1951), where she nearly lost the part, she found herself unemployable. But, cushioned by wealth and a highly intelligent, inquisitive mind, she coped – still in her early 20s – with "committee" work, as wife to a superstar and mother to their five-year-old daughter.
Born Elizabeth Winifred Boger in Cliffside Park, New Jersey, she had started her career very early. After graduating from high school at 15 and being too impatient to wait to take up her scholarship at university, she went – with her teacher mother's connivance (her father was an insurance broker) – for an audition as a dancer in a New York night club. The teenager from a sedate, small-town background found herself in the big city, directed by and in love with the choreographer Gene Kelly. She understudied the role of Laura in the Broadway production of The Glass Menagerie and took the lead in Willliam Saroyan's play The Beautiful People. When Hollywood beckoned, the newly married couple headed west, arriving in Los Angeles on the day the Japanese attacked Pearl Harbour, 7 December 1941.
Blair's initial disdain for movies allowed her to concentrate on theatre work, motherhood, keeping open house to the elite of Hollywood and fundraising. She was turned down by the Communist party, which feared that her joining might compromise Kelly's outside activities. After a handful of parts and an enforced hiatus between 1951 and 1955, she was tentatively offered the role of Clara in the movie version of Paddy Chayevsky's teleplay, Marty. Thanks to pressure from the writer and Kelly, she was finally given the role, despite the blacklist.
The film, a tender portrait of a lonely butcher (Ernest Borgnine) and a plain girl who fall in love, became a sleeper: a critical and box-office success despite unknown actors and a small budget. It led to Oscar nominations for both leads. Borgnine took the best actor award. For Blair the outcome was different: "I got the nomination. I won the best actress award at the Cannes film festival and was hot for 200 days." She later took the best actress award at Bafta and found herself more famous in Europe than in America where, despite the accolades, she found no work, except in a Joseph H Lewis western, The Halliday Brand (1957). She left the US and Kelly for France, a Frenchman and a new life.
A small role in Tony Richardson's BBC TV production of Othello (1955) was followed by Meeting in Paris, a comedy with Claude Brasseur. More notice was paid to her next movie (in Spain) where she played a variation of her role as Clara. Calle Mayor (Main Street, 1956), directed by Juan Antonio Bardem, cast her as a small-town spinster who is duped into bed by the local lothario with a promise of marriage. Unfortunately for Isabel, he is doing it for a bet. During the shooting Bardem was arrested by the Franco regime but, thanks to international pressure, was released and completed the rather melancholy film to some acclaim. Blair followed it with Il Grido (The Cry, 1957), directed by the great Michelangelo Antonioni. This neo-realist drama set in the industrialised Po valley of northern Italy came at the end of the cycle of such films, and was only a modest success. Blair continued working in movies, including an early version of Lies My Father Told Me (1960) in Ireland, and two Italian movies, I Delfini (1960) and Senilita (1961). Following a move to Britain, she made Basil Dearden and Michael Relph's All Night Long (1962), a film set in the London jazz scene.
Blair decided to stay in London where, in 1963, she met and married Karel Reisz, then established – via the Free Cinema movement and his feature debut Saturday Night and Sunday Morning – as an important director. For years she worked only sporadically, including Das Bombe (1964) and Claude Berri's comedy Marry Me, Marry Me (1968). She also returned to the theatre – an early highlight was an elegant evening of music and poetry, The Spoon River Anthology (1964), at the Royal Court theatre. She was also among a remarkable cast in the film version of Edward Albee's A Delicate Balance (1973), directed by Tony Richardson. But during this period she decided to train as a speech therapist – to the bemusement of her friends. In the mid-1980s she embarked on a spate of television and movie work, beginning with an excellent thriller, Descent Into Hell (1986), made in France. She made Flight of the Spruce Goose (1986) in Poland, was the mother in the poor television revamp of a Hitchcock classic, Suspicion (1987), and featured in the series Thirtysomething (1989).
More than 30 years after her last Hollywood movie, she returned there to film Betrayed (1988), a political thriller directed by Costa-Gavras. This gripping story of a white supremacist (Tom Berenger) being tracked by an FBI undercover agent cast her as the racist's mother. Blair matched Berenger's chilling performance with authority and grace. A spot in one of the Marcus Welby television episodes, and a role as Sister of Mercy in the sprawling mini-series Scarlett (a sequel to Gone With the Wind, 1994), were – disappointingly – all that followed. In 1999 she was one of many distinguished contributors to the documentary The Rodgers & Hart Story: Thou Swell, Thou Witty and – not surprisingly – turned up in both the Gene Kelly and Judy Garland episodes of the BBC Hollywood Greats series (2000). In 2002 she was due to feature in Stephen Daldry's The Hours, playing the older Laura Brown; in her younger guise, the depressive 50s housewife was played by Julianne Moore. In the event Blair did not, because Reisz became ill and died later that year; Moore ended up playing those scenes with old-age makeup.
Blair's autobiography, The Memory of All That: Love and Politics in New York, Hollywood and Paris, was published in 2003. She declared herself content, having, she said, no regrets about the blacklist, which obliged her to mature as a person and – consequently – as an actor. Modestly, she once said, "it certainly wasn't much of a career. For all my ambitions, I think my life was more important to me." Her daughter Kerry Kelly Novick and stepsons Matthew, Toby and Barney Reisz survive her.
Arabella Weir writes: I first met Betsy when I was a know-it-all 12-year-old via my friend, her stepson, Toby, Karel Reisz's middle son of three. Betsy presided over a large, friendly, uniquely inclusive house. She had a charming, relaxed, sunny attitude to the stream of friends her stepsons would bring home at all hours. Betsy was unlike any grown-up I'd ever met – happily offering endless, delicious meals, more often than not a bed, tolerance and inclusion in adult conversations whenever we, "the kids", would pop into view. Eventually Betsy and Karel became my friends independently, supporting and encouraging me as I started a career in acting. Although Betsy was an intelligent, informed and outspoken woman, it's impossible to think of her without thinking of Karel. Whilst devoted to him, Betsy never seemed like anything less than his equal. Karel and Betsy's house was often filled with the great and good, yet Betsy was never grand or precious with her guests. They were just their friends, like the rest of us.
If Betsy was in your corner you'd always be OK, but when you got into trouble she could be very steely. Betsy had a very distinctive, singsong way of saying "hello" when she answered the phone. One time she caught Toby, Barney and I larking around doing an exaggerated version of her unique "hello" – something as young teenagers we naturally found hilarious. Betsy did not and with one look we were chastened. You didn't mess with Betsy. She was a tremendously loving, loyal and ceaselessly supportive friend – and really good, often wicked, fun. You could talk to her about absolutely anything – nothing shocked her. I'm extraordinarily lucky to have had her as my surrogate mother for 40 years.
• Betsy Blair (Elizabeth Winifred Boger), actor, born 11 December 1923; died 13 March 2009
Gary Brumburgh's entry:
Betsy Blair was born in Cliffside, New Jersey, a child model before finding work as a chorus dancer at the early age of 15. She received her first mini-break on Broadway in "Panama Hattie" in 1940 delivering a single line, but by the next year she had copped the ingénue lead in William Saroyan's "The Beautiful People." At around the same time, she met dancer extraordinaire Gene Kelly and married him in 1940. Despite her background in dance, Betsy was admittedly not in the same league as a Vera-Ellen, Cyd Charisse, or Ann Miller, so she was never afforded the opportunity to glide with Gene in films. Moreover, she never even appeared in a musical film.
She made her large screen debut in 1947 and, for the next couple of years, appeared in a number of above-average dramas such as The Guilt of Janet Ames (1947), A Double Life(1947) starring Ronald Colman, The Snake Pit (1948), wherein she played a demented inmate alongside Olivia de Havilland, and a shining role in Another Part of the Forest(1948). After such promise, things came to a halt. Betsy had been involved in SAG politics as early as 1946 proposing the formation of the first Anti-Discrimination committee. Within a year the House Un-American Activities Committe began to investigate Betsy and others in the motion picture industry and what they considered left-wing extremist viewpoints. Her name appeared in the "Red Channels" and that was that. Her career was undone. By the early 1950s, all film offers had dried up. The only reason Betsy won the female lead in the 1955 cinematic classic Marty (1955) was because her husband threatened to stop shooting at MGM if they didn't let her work despite the blacklist. It would be the role of a lifetime for Betsy. As the touching plain-Jane girlfriend of Ernest Borgnine's title butcher, Betsy won the Cannes Film and British Film acting awards, not to mention an Oscar nomination. It did not help her overcome the blacklist, however.
By 1957, she was divorced from Kelly and had moved to Europe to avoid the Hollywood shun. Shortly thereafter, she lived with French actor Roger Pigaut. In 1963, she married producer/director Karel Reisz. They would remain together for almost 40 years until his death in London of a blood disorder in 2002. Betsy later published her memoirs and discussed quite candidly her life on Broadway, life with Gene Kelly, and life amid the blacklisting. She continued to live in England before passing away from cancer on 13th March, 2009. She was 85 years old.
– IMDb Mini Biography By: Gary Brumburgh / gr-home@pacbell.net