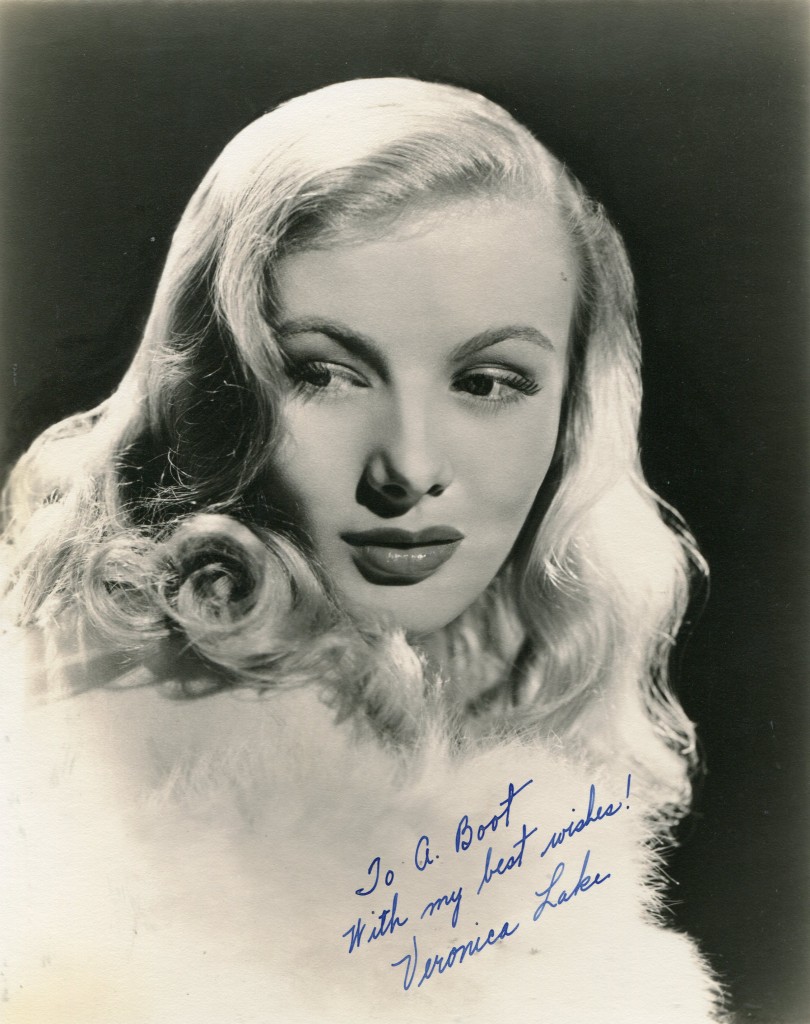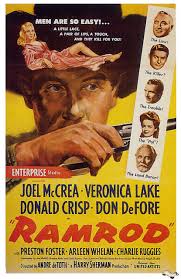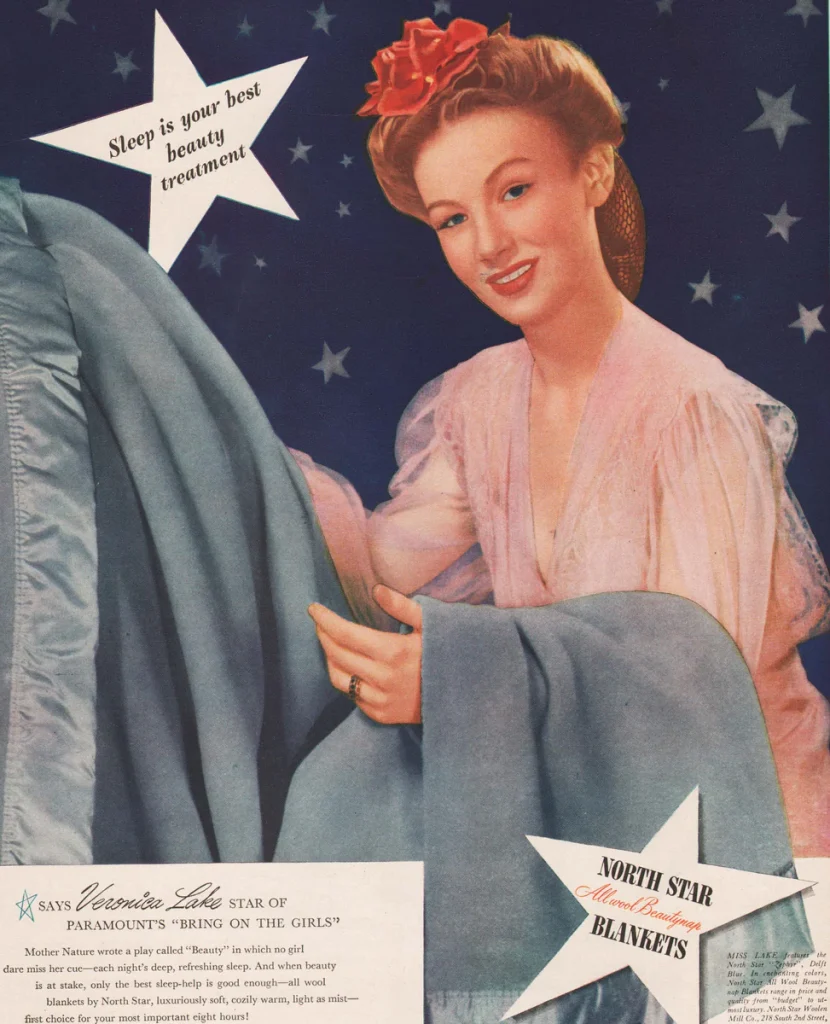 Veronica Lake was one of the major Hollywood stars of the 1940's.   She was know for her glorious long blonde hair which fell over one eye.  Born in 1922 in Brooklyn, New York.   She came to fame in 1941 in "I Wanted Wings".   She starred in several films with Alan Ladd including "This Gun For Hire", ""The Glass Key" and "The Blue Dahlia".   Her other films include "So Proudly We Hail" and "Sullivan's Travel's".   Her film career had waned significantly by the end of the 1940's.   She died in 1973 aged only 50 in Vermont.
TCM overview:
An icy blonde whose trademark hairstyle – a cascade of golden tresses that obscured one heavy-lidded eye – remained among the enduring images of Hollywood glamour, Veronica Lake was for a time, one of the most popular and sought-after actresses in motion pictures. She starred in a handful of features that, though the years, earned legendary status, including the film noirs, "This Gun for Hire" (1942) and "The Blue Dahlia" (1946), as well as the smart comedies, "Sullivan's Travels" (1941) and "I Married a Witch" (1942). She also motivated a generation of women to imitate her cool sexuality and chic style, at the same time, causing an equal number of men – particularly fighting WWII G.I.s – to fall for her. Unfortunately, her success was short-lived, her star fizzling under the weight of personal tragedies, gossip and metal illness. Despite her fall from grace, Lake stood the test of time as a Tinseltown icon, inspiring tribute in songs, literature, and movies – most notably Kim Basinger's Academy Award-winning turn in "L.A. Confidential" (1997), as a prostitute whose glacial beauty is modeled after Lake.
Born Constance Ockelman in Brooklyn, NY, on Nov. 14, 1919, Lake lost her father, oil company employee Harry Ockelman, when she was 12. Her mother, also named Constance, married Anthony Keane a year later, causing the family to move several times over the next few years. The diminutive teenager – legendarily standing only 4'11" – blossomed into a beauty in her teenage years. After gaining some fame in beauty pageants in Florida, she and her parents relocated to Beverly Hills, CA, enrolling Lake in the Bliss Hayden School of Acting in Hollywood. Her big break happened almost immediately. After signing with RKO, she made her film debut in John Farrow's romantic drama, "Sorority House" (1939), in which she was initially billed as Constance Keane. Bit roles in other features followed – Lake's parts were so small that her characters rarely had a name – but she persevered; even gaining a bit of attention for her unique, smoky look.
In 1940, she took time out from trying to become a star to marry art director John Detlie, giving birth to a daughter Elaine the following year. Ironically, the arrival of Elaine also heralded an upswing in her career; she was signed to a contract at Paramount in 1941, and while there, famed producer Arthur Hornblow redubbed her Veronica Lake – "Lake" being inspired by the blueness of her eyes, and according to Hornblow, the name Veronica suggesting a classic beauty.
Lake's ascendancy to star status occurred almost immediately after signing with Paramount. She made a major impact as William Holden's smoldering love interest in the military drama "I Wanted Wings" (1941), leaving producers wondering just who that girl w/ the hair was and lining up to offer her lead roles in their films. For the next two years, Lake appeared in a string of box-office hits, showing considerable comic talent as a struggling actress who accompanies Joel McCrea on his cross-country trip in Preston Sturges' cutting social commentary, "Sullivan's Travels" (1941) and as a 17th-century sorceress who falls for the ancestor of the man who condemned her to death in Rene Clair's "I Married A Witch" (1941).
But it was her pairing with an equally diminutive co-star that, along with the cascading hair, created and solidified the Lake legend. Cast opposite screen newcomer Alan Ladd in the brutish noir thriller, "This Gun for Hire" (1942), the couple's unexpected partnership proved very popular with film audiences – so popular, that they would appear together in seven films, including such moneymakers as "The Glass Key" (1942) and "The Blue Dahlia" (1946). Paramount liked them together too – especially because Lake was the only actress on the lot who was shorter than the 5'5″ Ladd – invariably removing the bothersome, embarrassing box Ladd was forced to stand on when filmed next to other leading ladies.
By the onset of WWII, Lake's appeal with audiences transcended the box office. Women adored her signature hairstyle – dubbed "the peek-a-boo;" making Lake "the Peek-a-boo blonde" for all eternity – and tortured their hair in an attempt to match her color and wavy locks. Composers feted her in song, with famed composers Rogers and Hart citing her look in 1943's "The Girl I Love to Leave Behind" and Lake even singing a tune about herself in the 1942 wartime morale booster film "Star-Spangled Rhythm." Most importantly, G.I.'s placed her glamorous pin-up next to their Betty Grable and Rita Hayworth pics in almost equal frequency. Her impact on society was so dramatic, that during the war, she was forced by the government to temporarily change her peek-a-boo hair-do after women in factories were becoming injured when their long locks were catching in assembly-line machinery.
Some would later suggest that this dramatic change in appearance had a negative effect on Lake's career, but in reality, there were a number of factors that contributed to the decline of her star status. Lake had a reputation for being difficult on the set, and many of her co-stars were open in their dislike of her; Fredric March refused to speak about her in interviews, and even the genial Eddie Bracken (her co-star in "Star-Spangled Rhythm") had nothing but caustic words about her. In 1942, she divorced John Detlie, and the following year she stumbled over a cable during the making of "The Hour Before Dawn" (1944), which led to the premature birth of her son, William. To make matters worse, critics savaged her performance as a Nazi sympathizer in "Dawn." Lake also reportedly began drinking during this period, with rumors of mental instability – which had plagued her since childhood – beginning to run through the industry.
Unfortunately for her, her next choice in companions was the least suited to her particular mental state. Lake married the reportedly violent director Andre De Toth in 1944, bearing a son, Andre, the following year. Around this time, her drinking apparently worsened and De Toth did little to encourage her to seek help. Paramount pushed her through a string of forgettable features – save for 1946's "The Blue Dahlia," which received an Academy Award nomination for its script by Raymond Chandler. Unfortunately, Lake's reputation continued to dog her – both Chandler and Ladd were none too charitable in their comments about her – and by 1948, she was done at Paramount. The one positive note about this period: Lake took advantage of her down time and earned her pilot's license; in 1946, eventually flying solo from Los Angeles to New York.
20th Century Fox picked up her contract in 1948 – the same year she gave birth to her fourth child, Diana. But like all wartime glamour girls, Lake's career continued its inevitable downward spiral; her Fox films were even more disposable than her later Paramount films. By 1952, she was up to her neck in trouble. Her film "Stronghold" (1952) was a flop and would be her last for decades; the IRS was pursuing her for unpaid taxes; and her tumultuous marriage to de Toth finally came to a bitter end. Lake managed to find sporadic work on television and in touring stage productions. She even married again in 1955; this time to songwriter Joseph A. McCarthy. But the end was nearing.
The final turn of bad luck came in 1959, when she broke her ankle and found herself unable to show up for the pitiable second-string work she had managed to scrounge up. Alcoholism set in with a vengeance, and Lake disappeared from the public eye. She divorced McCarthy and made the news only when she was picked up by the police for disorderly conduct. A sad slide indeed, for a woman who had at one time inspired songs, literature and an army fighting for peace overseas.
In the early 1960s, a reporter discovered her working as a waitress at a hotel bar in Manhattan, and leaped on the obvious angle of "oh how the mighty have tumbled." The publicity generated by the story – to say nothing of the sympathy factor it produced – gave her acting career a jolt. She served as the hostess of a weekly movie showcase in Baltimore and appeared in several small theater productions. In 1966, she made a return to feature films in the obscure Canadian production, "Footsteps in the Snow," but the movie was largely unseen. Lake consequently went into semi-retirement in Hollywood, FL, where she penned a well-received autobiography, Veronica, which detailed her many struggles with temperament, mental illness and alcoholism. With one last ditch effort for her long-past-its-prime career, Lake managed to co-finance her final film, a dreary, Florida-lensed horror movie called "Flesh Feast" (1970), in which she played a doctor experimenting with a youth formula involving maggots. The film was not a box office success.
Lake relocated to England in the early '70s, where she married again, this time to a commercial fisherman; the union was short-lived, and by 1973, she was back in the United States, hospitalized with declining health brought on by hepatitis and renal failure – both complications of her alcohol addiction. Her mental facilities were also in sharp decline. Lake had suffered from steadily increasing paranoia since the mid-'60s. Estranged from her children, Lake died alone on July 7, 1973. Rumor had it that it took days for someone to identify her body. Some of her ashes were scattered in the Virgin Islands three years later, but in 2004, it was discovered that another portion had reportedly remained in possession of a friend and that it had made its way to an antique store in the Catskills.
Despite – or maybe because of – her sad slide to the bottom, Lake remained a favorite of "old" Hollywood movie buffs. And if her life and career has faded in the minds of modern audiences, her ethereal glamour stayed as iconic as ever. References to Lake's peek-a-boo style and ice queen demeanor were seen in everything from the neo-noir flick, "L.A. Confidential" to the animated femme fatale, Jessica Rabbit, who sports a scarlet version of Lake's peek-a-boo in "Who Framed Roger Rabbit?" (1988). Pop singers Britney Spears and the late singer-actress, Aaliyah, both assumed the peek-a-boo in music videos in an attempt to summon Lake's timeless appeal. Even the comics' Archie Andrews' longtime love, brunette vixen Veronica Rogers, got both her name and some of her feminine wiles from Lake. Decades after her death, Veronica Lake's particular smoky appeal lingered as one of Hollywood's most enduring and recognizable symbols of sexiness and class.
 The above TCM overview can be also accessed online
here.