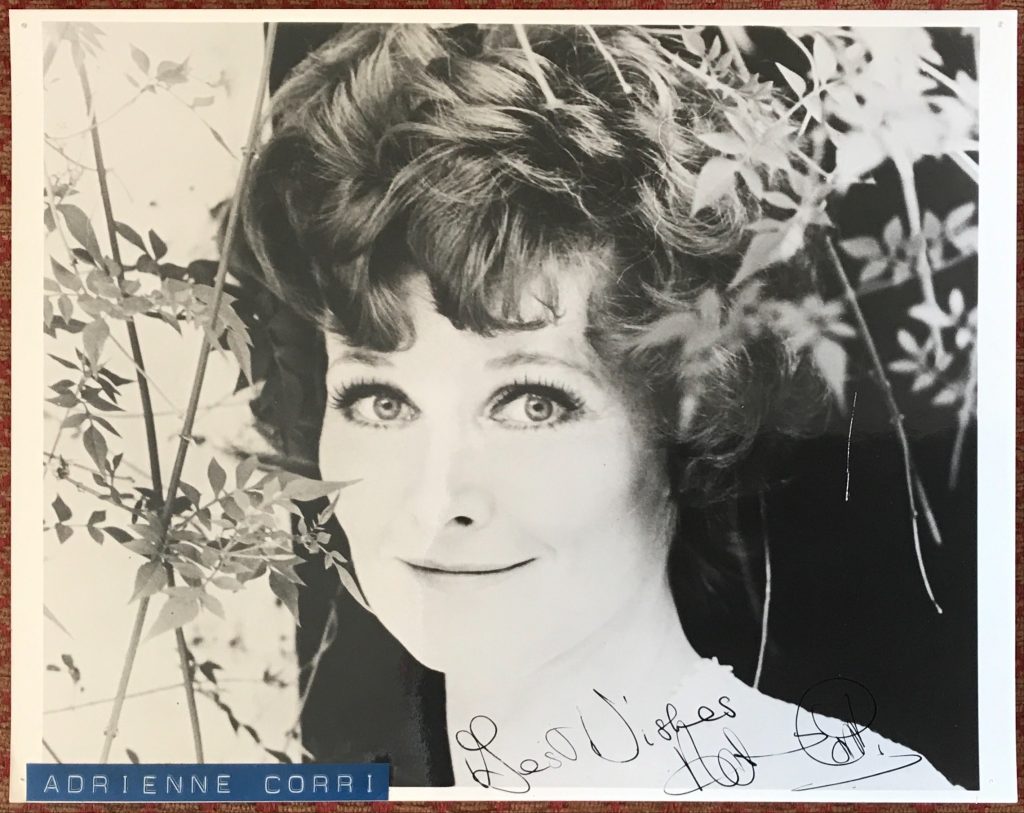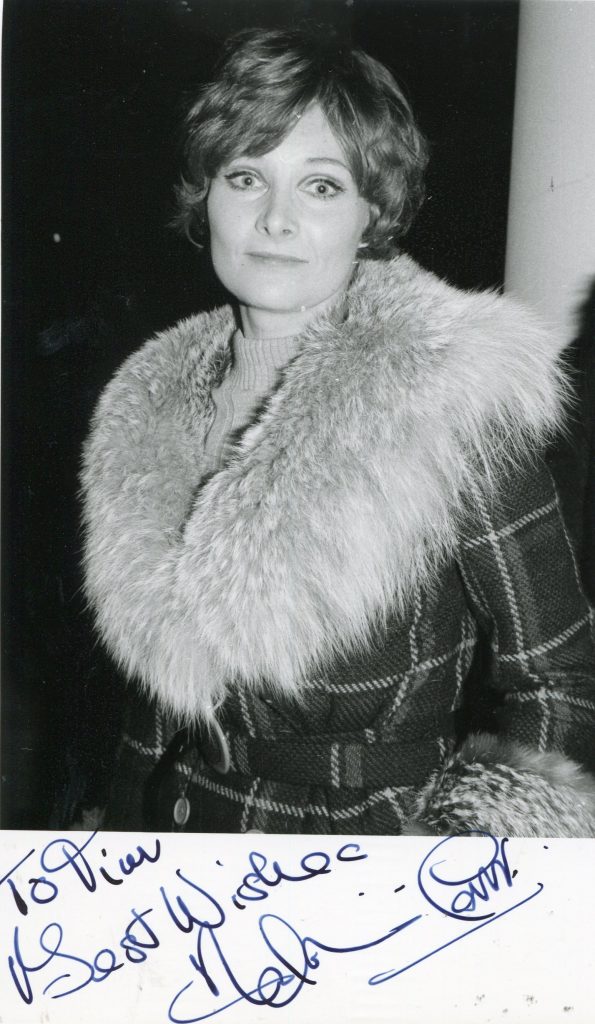 Adrienne Corri
Adrienne Corri was born in 1931 Glasgow. Despite having significant roles in many films, Adrienne Corri is likely to be remembered for one of her smaller parts, that of Mrs. Alexander, the wife of the writer Frank Alexander, in the 1971 A Clockwork Orange. . Though the scene lasts barely three minutes Corri appeared in many excellent films, notably as Valerie in Jean Renoir's The River (1951), as Lara's mother in David Lean's Dr. Zhivago (1965) and in the Otto Preminger thriller Bunny Lake is Missing. She also appeared in a number of horror and suspense films from the 1950s until the 1970s including Devil Girl from Mars, The Tell-Tale Heart, A Study in Terror and Vampire Circus. She also appeared as Therese Duval in Revenge of the Pink Panther. The range and versatility of her acting is shown by appearances in such diverse productions as the 1969 science fiction movie Moon Zero Two where she played opposite the ever dependable character actor Sam Kyd (Len the barman), and again in 1969, in Twelfth Night, directed by John Sichel, as the Countess Olivia, where she played opposite Alec Guinness (Malvolio).
Her numerous television credits include Angelica in Sword of Freedom (1958), Yolanda in The Invisible Man episode "Crisis in the Desert", a regular role in A Family at War and You're Only Young Twice, a 1971 television play by Jack Trevor Story, as Mena in the Doctor Who story "The Leisure Hive" and guest starred as the mariticidal Liz Newton in the UFO episode "The Square Triangle". She also was in two episodes of "Danger Man," the first being the well-known surreal "The Ubiquitous Mr. Lovegrove," (1965) as assistant to Mr. Alexander, Elaine, as well as "Whatever Happened To George Foster," (1965) in which she played Pauline, a journalist acquaintance of "John Drake." In 1979 she returned to Shakespeare when she appeared in the BBC Shakespeare production of Measure for Measure, as the earthy, cheroot-smoking keeper of a bawdy house, Mistress Overdone.
She had a major stage career, appearing regularly both in London and in the provincial theaters. There is a story that, when the audience booed on the first night of John Osborne's The World of Paul Slickey, Corri responded with her own abuse: she raised two fingers to the audience and shouted "Go fuck yourselves".[3] Note that Billington only repeats the story, without confirming or providing any evidence of its truth. During the making of Moon Zero Two, she poured a glass of iced water inside James Olson's rubber space suit, in which uncomfortable state he was obliged to wear it for the remained of the day's shooting.[4] (as per Wikipedia)
She died in March 2016.
"Guardian" obituary by Ronald Bergan in March 2016:
Adrienne Corri, who has died aged 85, was an actor of considerable range and versatility whose career ranged from the high – with Shakespearean roles alongside Ralph Richardson and Alec Guinness – to the decidedly low, including appearances in many quota quickies and low-budget horror movies that showcased her striking red-haired beauty. Although seen regularly on big and small screens in the 1950s and 60s, Corri is mainly remembered for her participation in the short but notorious gang rape scene from Stanley Kubrick's A Clockwork Orange (1971). Despite complaining to Kubrick about the multitude of takes, Corri retained a friendship with the director for a short while afterwards. One Christmas she gave him a pair of bright red socks, a reference to the scene, in which she is left naked but for such garments.
She was born Adrienne Riccoboni, with an Italian father, in Edinburgh and while still in her teens attended Rada. She made her first appearance as a sexy schoolgirl in The Romantic Age (1949), a blend of prurience and prudery typical of certain British comedies of the time. After a walk-on role as a young Christian girl in Quo Vadis (1951), shot in Rome, she was off to India to appear in her best film, Jean Renoir's The River (1951), a poetic evocation of life among the British in post-second world war Bengal. Corri, her red hair standing out in splendid Technicolor, is the most mature, voluptuous and spoiled of three teenage girls, all suffering adolescent pangs for a young war hero. In 1953 Picturegoer magazine described Corri as having "no nice-little-girl-next-door nonsense about her".
The first of her three-and-a-half Hammer movies (the half being the second part of Journey into Darkness, 1968), was The Viking Queen (1967), a silly sword-and-sandal epic, in which Corri was an anti-Roman pro-druid princess who snaps and snarls and goes to war with relish. In Moon Zero Two (1969), a lunar western, she plays a sheriff on the moon, with holsters built into her thigh-length plastic boots. Vampire Circus (1972) sees Corri as a fiery gypsy with evil intent who runs the supernatural circus playing in a 19th century European town. Hammer, the "House of Horror", influenced other British productions, some of which featured Corri. In Devil Girl from Mars (1954), she played a spunky Scottish barmaid who tries to keep her man from being whisked away to Mars by the eponymous alien for breeding purposes. Corridors of Blood (1958) shows Corri as a despicable lowlife character getting Boris Karloff to write false death certificates for the people she and her partner have killed.
In The Tell-Tale Heart (1960), adapted from Edgar Allan Poe's story, a timid librarian is obsessed by Corri, the flower seller who lives across the street and who, like many horror-movie heroines, has a tendency to undress by a window without closing the curtains. There were two films in which Corri bravely disguised her beauty: she played a disfigured prostitute in A Study in Terror (1965), which pitted Sherlock Holmes against Jack the Ripper, and in Madhouse (1974), she was bald and wore a mask to hide her face, mutilated in a car accident. Her character also talks to spiders as if they were her babies.
More prestigious, but less interesting, were her minor roles in three of her friend Otto Preminger's movies, Bunny Lake Is Missing (1965), Rosebud (1975) and The Human Factor (1979), and as the mother of Lara (Julie Christie) in David Lean's Dr Zhivago (1965). Among her dozens of television parts were Milady de Winter in the BBC series of The Three Musketeers (1954) and various appearances in episodes of ABC's Armchair Theatre (1956-60).
She featured in several BBC Plays of the Month, in one of which she was Violet in George Bernard Shaw's Man and Superman (1968), alongside Maggie Smith, and she played Olivia in ITV's Twelfth Night (1969), in a cast that included Richardson (Toby Belch), Guinness (Malvolio), Joan Plowright (Viola) and Tommy Steele (Feste). In Measure for Measure (1979) she was the cheroot-smoking bawdy-house keeper Mistress Overdone, and she was last seen in two episodes of Lovejoy (1992). Corri also gained acclaim on stage – she was part of the Old Vic company (1962-63), and appeared on Broadway in Jean Anouilh's The Rehearsal (1963). In 1959, she had a leading role in John Osborne's The World of Paul Slickey, a bitter musical satire on the tabloid press, which received the ire of critics and public alike. On the first night, Corri is reported to have given the booing audience a two-fingered salute.
In addition to her acting, Corri wrote The Search for Gainsborough (1984), an excellent art "whodunit" in diary form in which she set out to prove that an unattributed portrait of David Garrick that she came across in a run-down theatre in Birmingham was an early work by the young Thomas Gainsborough.
She had an almost decade-long, tempestuous marriage to the actor Daniel Massey, which ended in 1968. "We were agonisingly incompatible, but we had an extraordinary physical attraction," claimed Massey.
Corri is survived by a son, Patrick, and a daughter, Sarah, from a relationship in the mid-50s with the film producer Patrick Filmer-Sankey.
• Adrienne Corri (Adrienne Riccoboni), actor, born 13 November 1930; died 13 March 2016