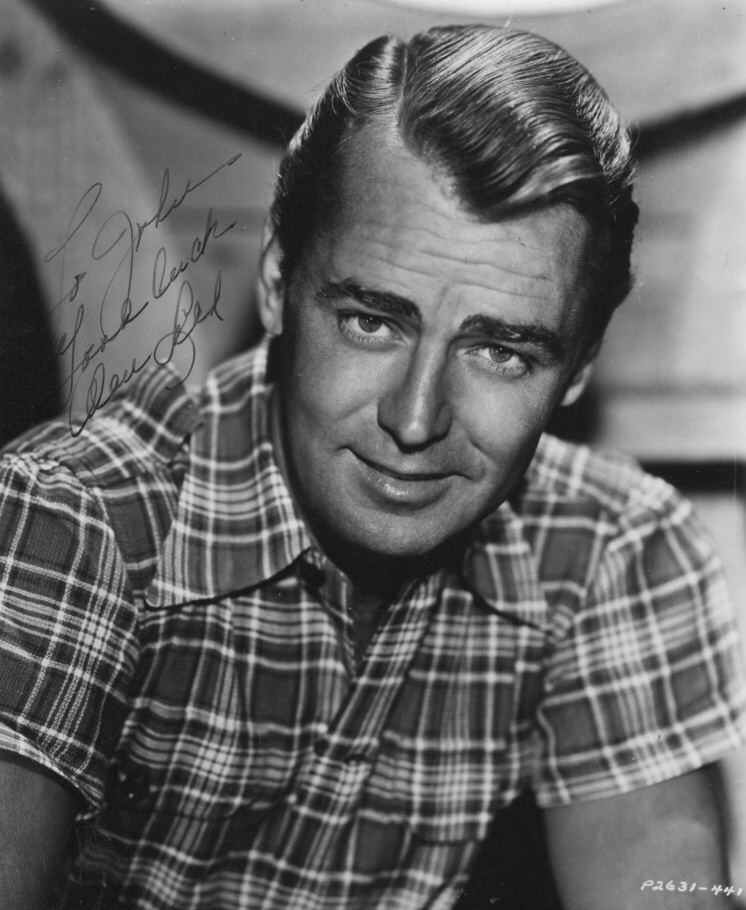 Alan Ladd was one of the major movie stars of the 1940's and 50's.   He was born in 1913 in Hot Springs..   He had a leading role in the film noir "This Gun For Hire" opposite Veronica Lake in 1942.   His films include "O.S.S.", "The Glass Key", "Calcutta" and of course the classic Western  "Shane".   He died at the age of 50 in 1964.
TCM overview:
A stoic, masculine icon despite his diminutive frame, Alan Ladd became an overnight star by playing Raven, a sensitive hit man, in "This Gun for Hire" (1942). His soft-spoken strength set him apart from his less subtle peers, instantly endearing him to audiences who admired his new brand of onscreen masculinity. During the 1940s, Ladd one of the era's top box office draws for many years. Frequently cast opposite Veronica Lake, he scored with the noir smashes "The Glass Key" (1942) and "The Blue Dahlia" (1946), in the adventure "Two Years before the Mast" (1946), and in the adaptation of "The Great Gatsby" (1949). His most iconic role came as the mysterious former gunslinger "Shane" (1953), considered to be one of the all-time greatest Westerns of all time. Ladd continued his streak of playing tough guys with films like "Hell below Zero" (1954) and "All the Young Men" (1960) opposite Sidney Poitier, and ended his career with a supporting turn in "The Carpetbaggers" (1964). After a lifetime of struggling with personal demons and a tumultuous childhood, the actor attempted suicide in 1962; on Jan. 29, 1964, he was found dead of an accidental drug overdose. His children, most notably film executive Alan Ladd, Jr., continued the family business. Although he rarely received the critical acclaim of many of his noir-era peers, Alan Ladd became one of the most popular movie stars of all time – a magnetic, unique performer who left a lasting mark on Hollywood in more ways than one.
Born Sept. 3, 1913 in Hot Springs, AR, Alan Walbridge Ladd was the son of an English mother who struggled to keep the family afloat after becoming a widow when her son was four. Tragedy struck again a year later when the child accidentally burned down their apartment, causing them to move to Oklahoma City, OK, where she married a housepainter. His childhood marked by malnourishment and stints of homelessness, Ladd grew up short and small of stature, which led to years of taunts from his peers. The family moved to California when he was eight, and the boy was forced to pick fruit, deliver papers and sweep floors to make ends meet. Although he appeared to be frail, Ladd demonstrated a world-class ability in swimming and track and began training for the 1932 Olympics in earnest. His dreams of glory were cut short by an injury, but his discipline paid off in other aspects of his life, helping him maintain a series of odd jobs that led to him opening his own hamburger shop, Tiny's Patio, so-called in honor of his family nickname. So poor that when he married his high school sweetheart he could not afford to have her move in with him, Ladd applied his amazing work ethic to garnering small radio and theatrical roles and a job as a Warner Bros. studio grip.
Rejected at first for major film work because of his diminutive frame, Ladd's persistence on the radio and in minor film roles helped him become one of talent scout Sue Carol's clients, and she orchestrated his ascent with a string of minor roles, including a role as a reporter in "Citizen Kane" (1941). Divorced from his first wife, he married the controlling Carol in 1942, who helped him score a studio contract at Paramount. That same year, she was critical in her husband being cast in his star-making role, playing hitman-with-a-conscience Raven in Graham Greene's "This Gun for Hire" (1942). Ladd's stylish, ultra-serious persona immediately clicked with audiences – particularly female – who responded to his new brand of onscreen masculinity with a layer of vulnerability underneath. Showing enormous chemistry with co-star Veronica Lake, the two would often be paired together in several Paramount productions, as they brought out the best in each other; their cool, blond looks meshed perfectly, but equally important was the fact that she was the only actress on the lot shorter than Ladd.
Although critics generally overlooked him and Ladd himself would claim not to understand his own appeal, he became one of the most popular male actors of the 1940s and one of the era's top box office draws year after year. He reunited with Lake for the Dashiell Hammett noir classic "The Glass Key" (1942) and earned his first leading man role as the titular gangster "Lucky Jordan" (1942). Ladd's professional ascent continued with his acclaimed turn in the maritime adventure "Two Years before the Mast" (1946), the espionage thriller "O.S.S." (1946) and another noir smash opposite Lake, the Raymond Chandler-penned classic "The Blue Dahlia" (1946). Empowered by his success and ever-enterprising, Ladd formed his own production company which spawned his own radio series about a mystery novelist in search of new plot ideas and adventures called "Box 13." He scored another success in the Western "Whispering Smith" (1948), toplined the sleek 1949 adaptation of "The Great Gatsby," and essayed a wrongly imprisoned medical student ready to mutiny in the drama "Botany Bay" (1953).
Frequently cast in tough-guy roles in rugged tales of adventure, Ladd's most iconic role came in the masculine weeper "Shane" (1953). As the mysterious titular former gunslinger, Ladd played a man trying to escape from his past, who bonds with the young son of his employer, serving as a male role model and surrogate father. Forced by circumstances to use his deadly talents to ensure justice, Shane is wounded in the final battle but retains his powerful self-control and sense of heroism, riding away to an uncertain fate as the young boy plaintively cries "Shane! Come back!" in the film's most famous scene. Considered a masterpiece of both the Western genre and of film itself, "Shane" was nominated for six Oscars and won for Best Cinematography. While Ladd was overlooked, the cultural impact of his turn could not be overstated, and the character's legacy would be referenced repeatedly in films as diverse as Clint Eastwood's "Pale Rider" (1985), Jean-Claude Van Damme's "Nowhere to Run" (1993) and Samuel L. Jackson's "The Negotiator" (1998). "Shane" proved Ladd's professional high point, and epitomized his unique brand of cold-but-caring strength. Although he continued to work, most often playing badasses in films like "Paratrooper" (1953), "Hell below Zero" (1954) and "The Black Night" (1954), Ladd's professional ascent slowed. He formed a new production company to release his films, including the racially charged Korean War drama "All the Young Men" (1960) opposite Sidney Poitier.
While he enjoyed widespread acclaim from audiences, in his personal life, Ladd was troubled by many personal demons. Early in his career, after his stepfather's death, his mother had moved in with his young family and then, battling depression, killed herself. Ladd continued the cycle when, in November 1962, he was found unconscious with a bullet wound near his heart after a failed suicide attempt. The studio rushed to cover it up, calling it a gun-related accident. The actor's last screen role came with a supporting turn in "The Carpetbaggers" (1964), but tragically, he never saw its release. On Jan. 29, 1964, Alan Ladd was found dead in Palm Springs, CA of a drug overdose, which was ruled accidental. Besides his own legacy, both onscreen and in the hearts of fans, Ladd left behind several children who would continue the family business, keeping the family name at the forefront. These included motion picture executive Alan Ladd, Jr. -famous for being the one executive to greenlight a film called "Star Wars" (1977) at 20th Century Fox – actress Alana Ladd, actor David Ladd (who married Cheryl Ladd) and actress Jordan Ladd. Although his story ended tragically, Alan Ladd displayed immense discipline and ambition, carving out his own share of pop culture immortality on the strengths of his inimitable and mysterious charisma.
By Jonathan Riggs
The above TCM overview can also be accessed online here.
To view website on Alan Ladd, please click here.