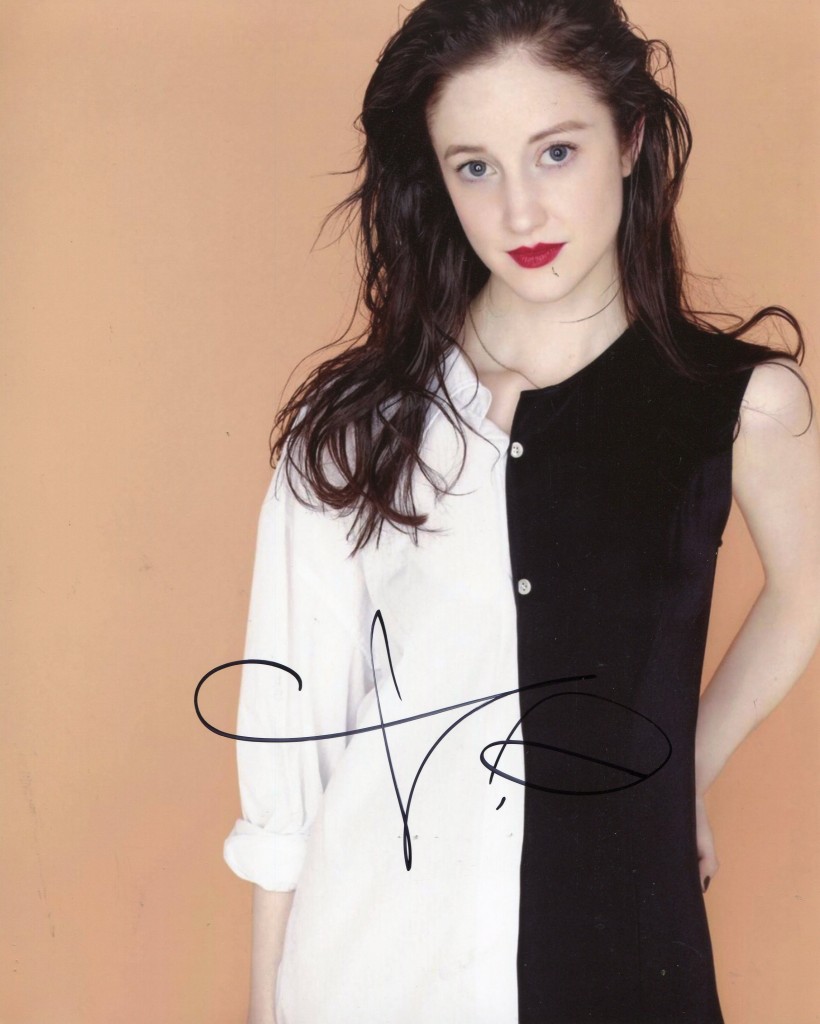 Andrea Riseborough was born in Whitley Bay in 1981. She is one of Britain's best young actresses with sterling performances in such films as "Made in Dagenham". "Never Let Me Go", the remake of "Brighton Rock" and "the Belfast set "Shadow Dancer".
TCM overview:
It is alright if the name Andrea Riseborough seems a little unfamiliar. Though the actress has been a rising star in her native England for years, beginning with her role as an ambitious Labour Party researcher on the political satire "Party Animals" (BBC Two, 2007), the Royal Academy of Dramatic Art graduate has only appeared on American audiences' radars since 2011, when she portrayed American divorcee and future Duchess of Windsor Wallis Simpson in Madonna's divisive "W.E." But those intervening four years found the preternaturally observant Riseborough pack in several memorable performances: she earned a BAFTA nomination for her nuanced turn as a young Margaret Thatcher in the made-for-TV movie "Margaret Thatcher: The Long Walk to Finchley" (BBC 4, 2008); was cast as a strong-willed factory machinist in the union drama "Made in Dagenham" (2010); and found the strong heart of a naively trusting wife in the 2010 remake of Graham Greene's "Brighton Rock." Her affinity for portraying determined women matched up perfectly with her role as Wallis Simpson, whose romance with King Edward VIII caused him to abdicate his throne in 1936 so they could marry. The film's controversial reception did nothing to slow the thoughtful actress' burgeoning career, however, and in 2012 she earned critical acclaim for her role as an IRA-member-turned-informant in "Shadow Dancer," set in '90s Belfast. Her next role, as a mysterious drone supervisor opposite Tom Cruise in the big-budget "Oblivion" (2013), highlighted her ability to shift from intense period piece to glossy Hollywood sci-fi. With a startling intensity and wise-beyond-her years talent, Andrea Riseborough is one to watch.
Born in 1981 in northern England a few days shy of Halloween, Riseborough was an inveterate people watcher from a young age. Keenly aware of her socio-economic status — her father worked as a car salesman, and her mother was employed as both a secretary and beautician — the young Riseborough closely observed those around her. Though she did well in the private school her parents placed her in, which they were able to afford thanks to the economic boom England enjoyed in the 1980s, she eventually dropped out and worked a number of odd jobs, including managing a Chinese restaurant, as a way to gain experience outside school walls. Her family lost everything in the early '90s recession, and their resulting hardship supplied another experience for her to draw from.
Her interest in acting led her to enroll at the Royal Academy of Dramatic Art in London, and after graduating from the internationally-renowned school in 2005, she quickly jumped from stage to screen with supporting roles in everything from the BBC made-for-TV movie "A Very Social Secretary" (2005) to the feature film "Venus" (2006), starring Peter O'Toole as a nearly-forgotten actor who becomes a mentor to his wild-child granddaughter. In 2006 she won a prestigious young actor's award for her work in the Royal Shakespeare Company productions of the Swedish "Miss Julie" and "Measure for Measure," one of Shakespeare's not-quite-comedy, not-quite-drama "problem plays." A year later she was cast in a breakout role on "Party Animals" as Kirsty, a political researcher not above using her feminine charms to rise to the top. It was that mix of dogged ambition and steely calculating that led to her being cast as a young Margaret Thatcher in the BAFTA-nominated "The Long Walk to Finchley," which chronicled the future Prime Minister's decade-long battle to win a Parliamentary seat. Her intense preparation and commitment to the character has since proved to be one of Riseborough's greatest strengths.
The film, which skirted controversy by avoiding Thatcher's politics and focusing on feminist ideals, also marked a stretch of challenging performances for Riseborough. In 2010 she was featured as a sewing factory machinist in "Made in Dagenham," based on the 1968 female employee-led protests that shut down a Ford sewing factory and led to the Equal Pay Act of 1970. That same year she turned in a harrowing performance as a naive waitress in "Brighton Rock," which could not have been farther from her confident turn as Simpson in the critically dismissed "W.E." She next portrayed a defiant housewife in the alternate-reality World War II drama "Resistance" (2011), and appeared opposite Clive Owen in the critically-acclaimed "Shadow Dancer" as an IRA member whose attempt to leave the deadly organization leaves her paralyzed with fear. In 2013 she appeared in the cat-and-mouse thriller "Welcome to the Punch," and later made her U.S. debut with her role as Tom Cruise's aloof supervisor in the aptly named "Oblivion."
The above TCM overview can also be accessed online here.