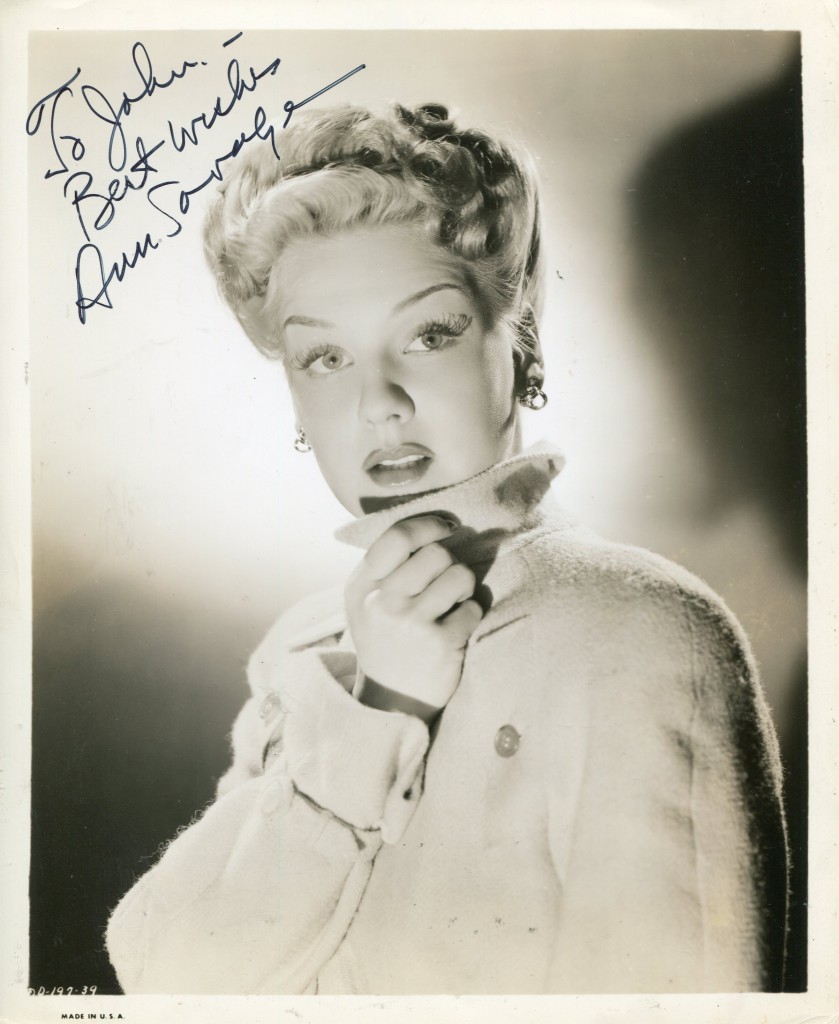 Ronald Bergan's obituary in "The Guardian":
I turned around to look at her. She was facing straight ahead, so I couldn't see her eyes. She was young – not more than 24. Man, she looked like she had been thrown off the crummiest freight train in the world! Yet in spite of that, I got the impression of beauty, not the beauty of a movie actress, mind you, or the beauty you dream about with your wife, but a natural beauty, a beauty that's almost homely, because it's so real." This is the description of Vera when first seen by the luckless anti-hero (Tom Neal) of Edgar G Ulmer's Detour (1945). Vera, one of the most hellish femmes fatales in the history of the cinema, was the benchmark role of Ann Savage, who has died aged 87.
Unlike the usual manipulative, glamorous heroines of noir, Savage, as the bitter, blackmailing hitchhiker, does not use her sex appeal. She makes her first appearance a full 32 minutes into Detour, a manic cinematic night ride, a fatalistic drama of sex and money, and one of the bleakest of films noirs. "I wasn't aware of the term 'film noir' until the 70s," Savage commented later in life. "I read up on it. It was a revelation to me when I learned Detour was a film noir … I was very young and ignorant of the facts. I only worked three-and-a-half days on the movie, though that was more than half the time it took to shoot."
Born Bernice Maxine Lyon in Columbia, South Carolina, she was taken to Los Angeles by her widowed mother, a jewellery buyer, while still a child. In her teens, she trained at Max Reinhardt's acting school. The school's manager was Bert D'Armand, who later became her agent and subsequently her second husband in 1945. (She had been married briefly when she was 18.)
She changed her name to Ann Savage for a workshop production of Clifford Odets's Golden Boy that led to a contract at Columbia Pictures. Despite resisting the studio boss Harry Cohn's sexual advances, she was put to work on 11 films in 1943, many of which were part of the entertaining B-films being run by the studio – in series such as Lone Wolf (One Dangerous Night, Passport to Suez), Boston Blackie (After Midnight With Boston Blackie) and Blondie (Footlight Glamour). Also in the same year, she appeared in Two Señoritas from Chicago, Saddles and Sagebrush, Dangerous Blondes and Klondike Kate, the latter being the first of four films in which she co-starred with Neal, her partner in crime in Detour. Their off-screen relationship, however, was said to be chilly. Except for Passport to Suez, opposite the unjustly forgotten Warren William, where she played a femme fatale, she was all sweetness and light. She had little respect for such roles, however: "They were mindless," she said in 1985. "The actresses were just scenery. The stories all revolved around the male actors; they really had the choice roles. All the actresses had to do was to look lovely, since the dialogue was ridiculous."
She gradually began to get feistier roles in 1944, such as Two-Man Submarine and The Unwritten Code, in which she and Neal fought the Nazis, though nothing prepared audiences for Detour the following year. "My first scene was in the car," she recalled. "I read the lines and Edgar Ulmer corrected the tempo, and that was the last bit of coaching he gave me. He had given me the key, which was the tempo. It was difficult to speak that quickly, but it helped give the character her craziness – it was just right. I didn't see the rushes, so I had no idea I was coming over as hard as I was." She had been startled, she said, by how unkempt they wanted her to look: "I had just come off a lot that kept me looking absolutely perfect. But Vera was not a pretty woman. She was maniacal. Edgar objected to my hair looking so neat and had the hairdresser run cold cream through it to make it streaky and stringy. "
Detour was made by Producers Releasing Corporation (PRC), the most notorious Poverty Row film company, as was Apology for Murder (1945), which Savage called "an out-and-out cloning of Double Indemnity". Certainly the plot of this cheap 67-minute B-movie bore a striking resemblance to Billy Wilder's 1944 classic. As Savage herself admitted, "I'm certainly no Barbara Stanwyck," but it was reasonably gripping and, as usual, she was a hypnotic presence on screen. However, Paramount, the producers of Double Indemnity, got it pulled after two days, and the film languished unseen for some years.
For the next eight years, Savage appeared in several negligible productions, in which she sparkled in shoddy settings. Apart from a few parts on television, she retired following The Woman They Almost Lynched in 1953, when she had moved down the casting list. Following her husband's death in 1969, she taught herself law by working as an attorney's clerk and also learned to fly a plane. Savage returned to the big screen after a 33-year absence, playing a nun in Fire With Fire (1986). Then, when she was 86, the Canadian director Guy Maddin cast her in My Winnipeg (2007). According to Maddin: "We finished the script for My Winnipeg, a plunge back into the mythically inchoate days of my own – and my city's – childhood. These were days lived completely under the dominion of a fearsome maternal titan, years trembled out beneath the scented fist of my mother's gorgeous and glamorous dictatorship, and I knew there was only one person alive, who had ever lived, who could play her role: Ann Savage."
• Ann Savage (Bernice Maxine Lyon), actor, born 19 February 1921; died 25 December 2008
The above "Guardian" obituary can also be accessed online here.