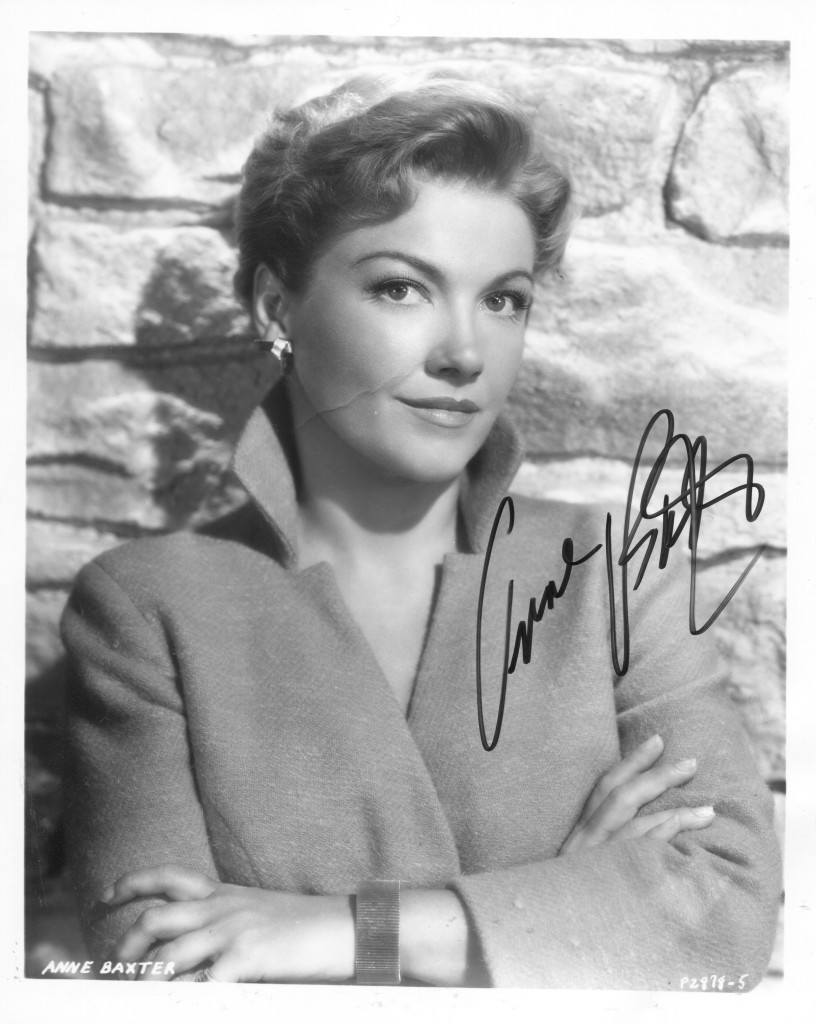 Anne Baxter
"In her best-remembered role Anne Baxter was matched against Bette Davis, playing an actress who hoped to supplant her and did. The film as named for her and not Davis – "All About Eve". It was an entirely competent performance – guile hidden by sweetness, and baleful in a mild way. But it was not entirely believable. Even if Davis had not been at her best you could not imagine Baxter supplanting her. She was just not individual or forceful enough. Baxter was no slouch as an actress and her (Best Supporting) Oscar was well deserved – it is just that on most outings she has been middle-of-the-road. What one thinks of her is a shy smile – a lesser gift for actresses" – David Shipman – "The Great Movie Stars – The International Years" (1972).
Anne Baxter was born in Michigan in 1923. She won an Oscar in 1946 for her performance as 'Sophie' in "The Razor's Edge". Other films include "All About Eve" with Bette Davis and "A Walk On the Wild Side" in 1962. Was especially effective in "The Summer of the Seventeenth Doll"which was made in Australia with Ernest Borgnine, Angela Lansbury and John Mills. She starred in the early 1980's in the TV series "Hotel". In 1985 she suffered a brain aneurysm on the streets of New York and died a few days later.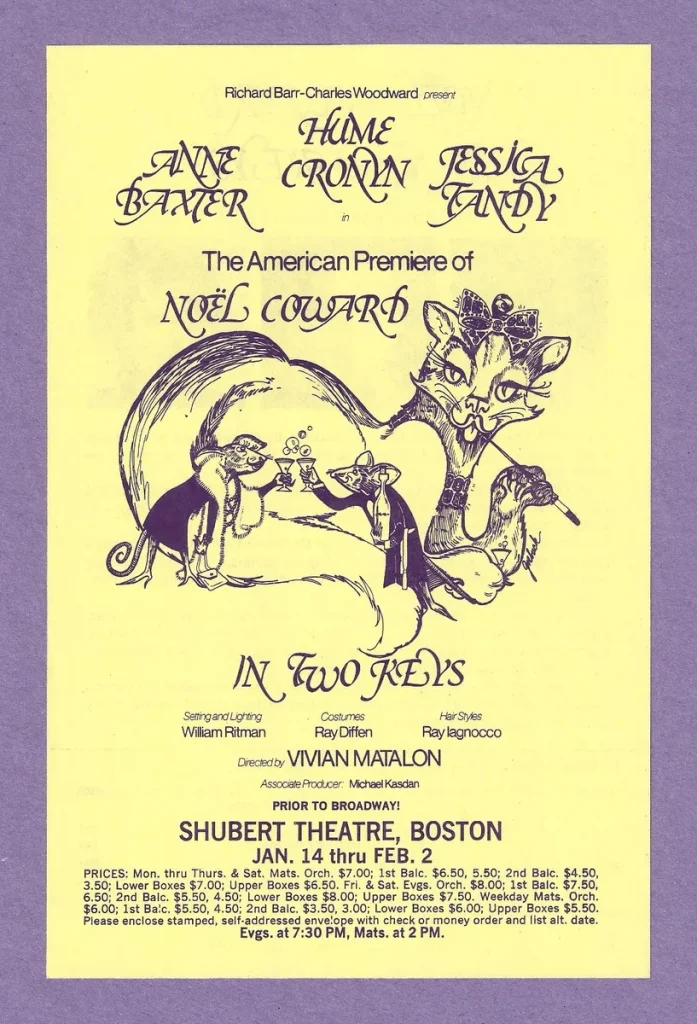 TCM overview:
A luminous screen presence best known for a handful of roles, Anne Baxter acted in three Broadway productions while still in her teens and was soon invited to Hollywood. Her early films were not of consistent quality, but the lovely, husky-voiced actress usually managed to make a positive impression and showed genuine ability in pictures as varied as Orson Welles' "The Magnificent Ambersons" (1942), "Five Graves to Cairo" (1943) and "The Razor's Edge" (1946), winning a Best Supporting Actress Oscar for the latter. However, she was best remembered for her indelible performances as a ruthless, success-driven young actress in "All About Eve" (1950) and the gorgeous and nefarious Nefretiri in Cecil B. DeMille's religious epic "The Ten Commandments" (1956). The movie assignments offered to Baxter in the wake of those triumphs were often not worthy of her skills, but she still managed to give consistent and laudable performances, particularly in projects that suitably challenged her. Principal among these was "Applause" (1972), a musical re-working of "All About Eve" for the stage in which the now older Baxter successfully assumed the role of the character she had deceived in the film. It was that sort of versatility and professionalism that allowed Baxter to earn numerous credits in three different mediums over a career spanning almost 50 years.
Born in Michigan City, IN on May 7, 1923, Anne Baxter was interested in acting from a young age; with her parents' encouragement, she attended the Theodora Irvine School of Theatre for two years. She also received instruction from famous character actress Maria Ouspenskaya, a devotee of Constantin Stanislavski's reality based "Method" style. At age 13, Baxter made her acting debut in the Broadway production "Seen But Not Heard" (1936) and returned to The Great White Way two years later in "There's Always a Breeze" (1938) and "Madame Capet" (1938). The granddaughter of famed architect Frank Lloyd Wright, she received the balance of her education in private schools and honed her acting skills by appearing in summer stock productions. She was invited to do a screen test for 20th Century Fox's production of "Rebecca" (1940). While the studio felt she was too young for that role, the higher-ups were impressed and Baxter was instead offered a seven-year contract. Her parents were initially against letting the still underage girl accept, but relented when family friend and veteran actor Nigel Bruce agreed to let her live with him and his wife.
Fox did not initially know what to do with Baxter, so she was sometimes loaned out to other studios. Following her first film, the forgettable MGM Western "20 Mule Team" (1940), Baxter had supporting roles in a handful of Fox productions and was criticized for her rather ripe performance in Jean Renoir's melodramatic "Swamp Water" (1941). However, she was dispatched to RKO for Orson Welles' "The Magnificent Ambersons" (1942) and did impressive work under his attentive direction. Unfortunately, the film was taken away from Welles and re-cut by the studio into an abbreviated version that greatly compromised the cinematic wunderkind's original vision for the film. Baxter went over to Paramount for Billy Wilder's impressive spy thriller "Five Graves to Cairo" (1943) and returned to RKO for "The North Star" (1943), a film designed to show America's wartime Russian allies in a good light, a political slant that would make the picture rather infamous only a decade later. Further ingénue roles came in "Crash Dive" (1943) and "The Fighting Sullivans" (1944), but parts with more substance were in Baxter's future. She enjoyed prime roles in the family outing "Smoky" (1946) and the fantasy comedy "Angel on My Shoulder" (1946), but really excelled in "The Razor's Edge" (1946) as a young woman who turns to alcohol in an attempt to cope with the tragic death of her husband and daughter. Baxter's powerful performance in the popular Somerset Maugham adaptation earned her the Academy Award for Best Supporting Actress. That same year, she wed fellow performer John Hodiak, her co-star from "Sunday Dinner for a Soldier" (1944).
While some of her roles in the wake of "The Razor's Edge" had not proved very demanding or fruitful for Baxter, she soon scored her career-defining part in "All About Eve" (1950) as ingénue Eve Harrington, who becomes consumed by ambition and betrays her older mentor, Margo Channing (Bette Davis). Originally planned with Claudette Colbert and Jeanne Crain in mind, the film was distinguished by its sophisticated script and superb direction, but it was the remarkable work of the two leading ladies that made it one of the prime dramas of that decade and a perennial favorite with moviegoers of all stripes. Baxter and Davis each received Best Actress Oscar nominations and it was felt that their placement in the same category caused them both to lose. Baxter had refused to go along with the studio plan that she be put forward for the Supporting Actress prize and confessed in later years that this show of ego damaged her relationship with Fox.
With all of the praise "Eve" had garnered, Baxter was at no loss for work and following her departure from Fox, she starred with Montgomery Clift in Alfred Hitchcock's "I Confess" (1953). However, she was a very last minute replacement for original lead actress Anna Bjork in that troubled project and as a result, Baxter claimed that the director never warmed to her. She did stellar work in Fritz Lang's stylish film noir "The Blue Gardenia" (1953), which was mostly overlooked but grew considerably in critical stature in the years following its release. However, her marriage to Hodiak had eroded and come to an end, the result of what Baxter claimed at the time was "extreme cruelty." Following some lacklustre outings, she was cast as the self-absorbed Nefretiri in Cecil B. DeMille's mega-production of "The Ten Commandments" (1956). Although her campy, smouldering performance certainly stood out and the film was a major success, the career bump that followed proved brief and the offers were once again largely for mediocre fare.
Baxter was awarded a star on the Hollywood Walk of Fame in 1960. That same year, she married Australian rancher Randolph Galt and moved to his home country. Now living thousands of miles from Hollywood, Baxter's workload was reduced, but she did appear in movies like "Walk on the Wild Side" (1962), "The Tall Women" (1966), "The Busy Body" (1967), and a pair of early made-for-TV features. Baxter also kept busy on the small screen, gracing several episodes of "Batman" (ABC, 1966-68) as the campy villainesses Zelda the Great and Olga, Queen of the Cossacks. She guest starred on primetime perennials "The F.B.I." (ABC, 1965-1974), "Ironside" (NBC, 1967-1975), "Marcus Welby, M.D." (ABC, 1969-1976), and "The Name of the Game" (NBC, 1968-1971), garnering an Emmy nomination for the latter. Baxter and Galt had two children, and the rigors of being a working actress as well as a wife and mother on a remote cattle station ultimately took its toll. The couple divorced in 1968, with the actress again charging "extreme cruelty" as cause for the breakup.
With her movie options mostly reduced to little seen fare like "The Late Liz" (1971) and "Lapin 360" (1972), Baxter returned to Broadway in "Applause" (1972), a musical version of "All About Eve" with the twist that she played the Bette Davis role. Acting on stage in the same part for an extended period proved to be a challenge for Baxter, but critical response was favorable and she went on to co-star with Hume Cronyn and Jessica Tandy in "Noel Coward in Two Keys" (1974), where she performed in a pair of Coward's one-act plays, "A Song at Twilight" and "Come into the Garden Maud." Baxter published her autobiography, Intermission: A True Story, in 1976, but suffered a terrible personal tragedy the following year when her third husband, stockbroker David Klee, died only nine months into their marriage.
Aside from "Jane Austin in Manhattan" (1980), Baxter worked exclusively on television during the 1980s, including a four-episode stint on "The Love Boat" (ABC, 1977-1986) and a role in the miniseries remake of "East of Eden" (ABC, 1981). In yet another connection to her former "All About Eve" co-star, Baxter was called in to replace Davis when the elderly actress experienced health problems during shooting of the primetime drama "Hotel" (ABC, 1983-86). While her time on the program was originally meant to be temporary, Baxter stayed on for the remainder of its run when Davis was unable to return.
Baxter had her final film role in "The Masks of Death" (1984), a British made-for-TV Sherlock Holmes mystery. While walking down Madison Avenue in December 1985, Baxter suffered a stroke. She never regained consciousness and died eight days later on Dec. 12th, 1985.
By John Charles
The above TCM overview can also be accessed online here.