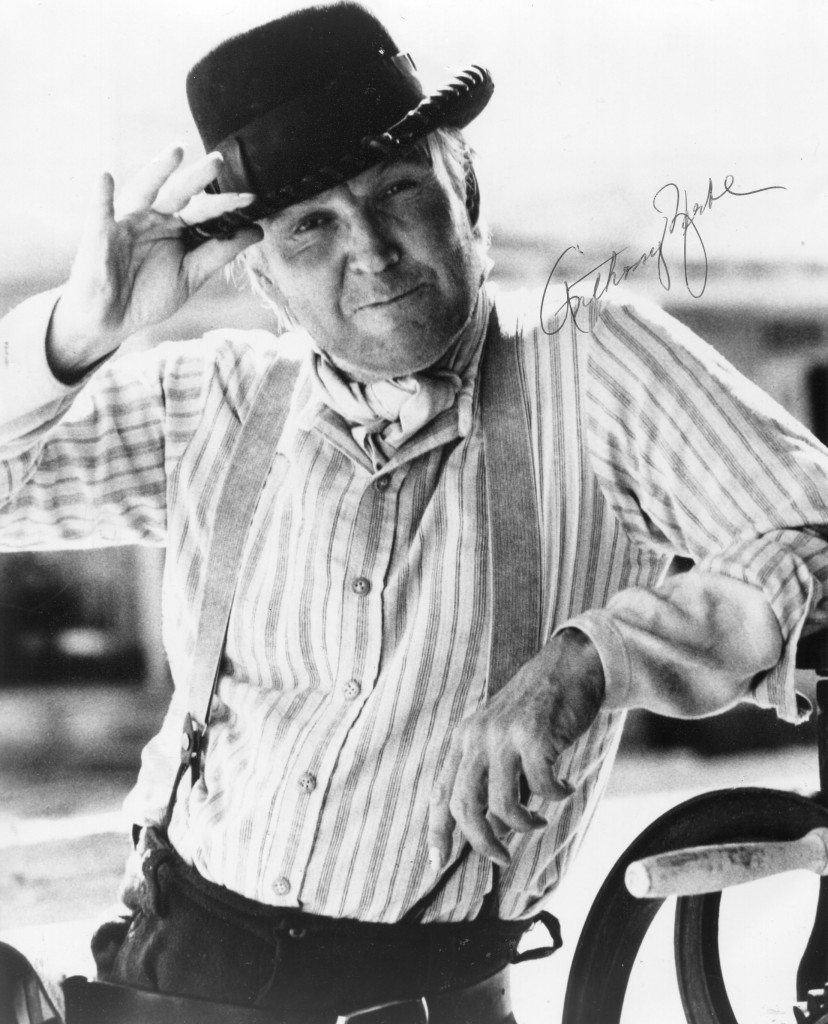 Anthony Zerbe was born in 1936 in Long Beach, California. A popular character actor, he frst came to attention in 1969 in "The Molly McGuires" with Sean Connery and Richard Harris. He has made many movies including "The Life and Times of Judge Roy Bean" and "The Laughing Policeman".
TCM overview:
For over four decades, Emmy-winning actor Anthony Zerbe compiled an impressive list of character turns, frequently on the amoral side, in countless features, including "Cool Hand Luke" (1967), "The Omega Man" (1971), "The Dead Zone" (1983), "License to Kill" (1989) and "The Matrix Revolutions" (2003). Classically trained, he imbued a sinuous grace and elegance to nearly every role, no matter how scurrilous or ham-fisted, which elevated him to favored actor status in the late 1970s and throughout the 1980s. Though a frequent go-to for heels and unsavory types, he could also be a warm and caring paternal figure, as evidenced by his veteran cowpoke on "The Young Riders" (ABC, 1988-1992) and numerous other television programs. Rarely off the screen for more than a few months at a time, Zerbe also maintained a busy theater schedule, which included recitations of classic poetry and the works of e.e. cummings, as well as a traveling master class in acting. His innate believability in any role, no matter how fatuous the feature or TV episode, earned him the affection of two generations of character actor aficionados.
Born Anthony Jared Zerbe in Long Beach, CA on May 20, 1936, he was the son of Arthur Lee Van Zerbe and his wife, Catherine. After graduating from Newport Harbor High School, he attended his parents' alma mater, Pomona College, before serving in the Air Force from 1958 to 1961. Zerbe decided to become an actor after seeing Paul Newman and Joanne Woodward in the Broadway production of "Picnic," and after his discharge from the service, headed east to study with the famed Stella Adler. In 1963, Zerbe made his screen debut during the final season of ABC's police drama "The Naked City" (1958-1963), and soon found regular work as a guest star on various television series. He made his screen debut as the sycophantic prison trustee named Dog Boy in Stuart Rosenberg's "Cool Hand Luke" (1967), and followed it by playing a friend of aging cowpoke Charlton Heston in Tom Gries' revisionist Western "Will Penny" (1967). Zerbe's ability to play both sides of the moral fence with conviction earmarked him as a character actor with exceptional versatility, though in the ensuing years, his saturnine features and uneasy smile, which frequently curled into a half-snarl, earmarked him as a prime candidate for villains of all stripes.
The 1970s was an exceptionally fecund period for Zerbe's career, with literally dozens of film and television credits to his name throughout the decade. He landed one of his most memorable turns as the news anchor-turned-leader of an albino cult of apocalypse survivors in the cult science fiction favorite "The Omega Man" (1971), which reunited him with Charlton Heston. He later provided one of the most indelible moments in Franklin Schaffner's "Papillon" (1973) as Toussaint, the leper bandit chief who aided Steve McQueen in his escape from Devil's Island, and provided capable support and menace to such established stars as Paul Newman, whom he assaulted in John Huston's "The Life and Times of Judge Roy Bean" (1972); Walter Matthau and Bruce Dern in "The Laughing Policeman" (1973); Warren Beatty in Alan J. Pakula's "The Parallax View" (1974); John Wayne, who pursued Zerbe's nitroglycerine-toting bandit in "Rooster Cogburn" (1975); and Robert Mitchum as Philip Marlowe in "Farewell, My Lovely" (1975). A year later, he won an Emmy Award for Best Supporting Actor in a Drama Series for "Harry O" (ABC, 1974-76) as Lt. K.C. Trench, foil and occasional ally to laconic private eye David Janssen.
The late 1970s and early 1980s saw Zerbe appear more frequently on television in major TV-movies and miniseries like "Centennial" (NBC, 1978-79) as con man-turned-land baron Mervin Wendell, and "Attica" (ABC, 1980) as defense attorney William Kunstler. The period was also marked by one of Zerbe's more unusual titles: "KISS Meets the Phantom of the Park" (NBC, 1978), a campy fantasy produced by cartoon kings Hanna-Barbera that pitted the rock band against Zerbe's deranged amusement park engineer. More miniseries followed, with Zerbe tackling such figures as Pontius Pilate in "A.D." (NBC, 1985) and Ulysses S. Grant in "North and South, Book II" (ABC, 1986). Memorable features were fewer and far between, with the exception of David Cronenberg's "The Dead Zone" (1983), with Zerbe as a wealthy patron of deranged Senate candidate Martin Sheen, as well as the James Bond feature "License to Kill" (1989) in which he portrayed a drug lord's henchman who meets an unpleasant fate in a decompression chamber.
In 1989, Zerbe earned a plum role as the crusty leader of a group of youthful Pony Express riders on the weekly Western series "Young Riders." Though critically reviled, the series was a particular favorite among teen audiences. From there, he maintained a steady diet of TV appearances and the occasional feature, most notably "Star Trek: Insurrection" (1998) as an imperialistic Starfleet admiral bent on relocating an alien race from their home planet, and as the governor of California in Clint Eastwood's "True Crime" (1999). In 2003, a production of "Behind the Broken Words," his long-running stage tribute to classic poetry alongside fellow character actor Roscoe Lee Browne, was captured on film.
That same year, Zerbe enjoyed a recurring role as the philosophical Councilor Hamann in the second and third films in the "Matrix" trilogy, "The Matrix Reloaded" (2003) and "The Matrix Revolutions" (2003). His onscreen output slowed in the years that followed as he refocused his energy on a pair of touring stage productions: "It's All Done with Mirrors," which saw him tackle the poetry of e.e. cummings, and "Three Days of Theatre," an intensive workshop and lecture for master class actors in training. Both received exceptional acclaim during his frequent jaunts across the country to various colleges and theater companies
The above TCM overview can also be accessed online here.