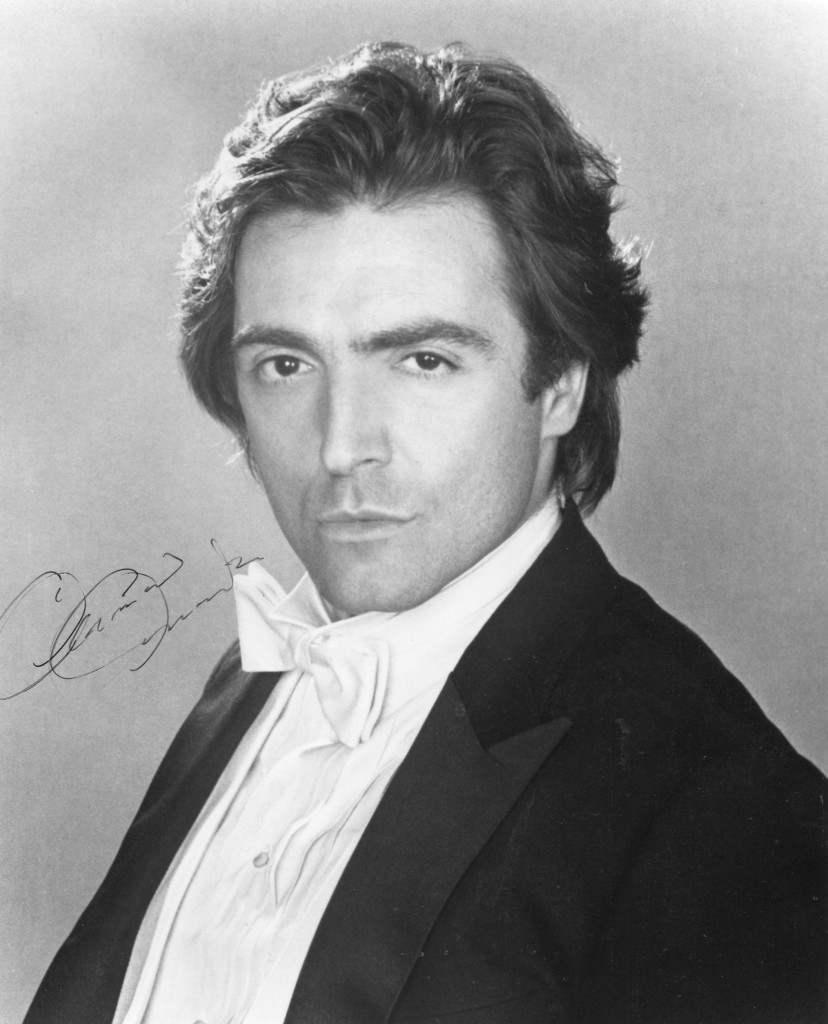 Armand Assante was born in 1949 in New York City. His parents were of Italian and Irish extraction. His movies include "Private Benjamin" in 1980, "Unfaithfully Yours" and this year's "Dead Man Down".
TCM overview:
With his ethnic name and exotic good looks, Armand Assante was often mistaken by casting agents early in his career for foreign talent. The native New Yorker paid his dues in regional theatre and as a regular on the soap opera "The Doctors" (NBC, 1963-1982), but work in films was longer in coming. Although Assante was courted by such 1970s auteurs as Francis Ford Coppola and Terence Malick, it was future action star Sylvester Stallone who gave him his first big breaks – as an extra in "The Lords of Flatbush" (1974) and as his co-star in "Paradise Alley" (1978). Typed as a slightly unreliable romantic leading man, Assante scored with moviegoers in "Private Benjamin" (1980) opposite Goldie Hawn and "Little Darlings" (1980) with Tatum O'Neal, but his first star outing, as Mike Hammer in the 1982 "I, the Jury" remake, was a box office dud. More successful on the small screen, Assante subspecialized in mobster roles in the trashy miniseries "Rage of Angels" (NBC, 1983), Jack Nicholson's "Hoffa" (1992) and the HBO biopic "Gotti" (1996), while proving a credible leading man in the indie "Belizaire, the Cajun" (1986) and "The Mambo Kings" (1991) with Antonio Banderas. Disinclined to trade on his looks for A-list status, Assante quit Hollywood to live off the grid with his family in upstate New York. The actor spent the better part of his career bouncing between low budget films and made-for-TV fare, lending an inarguable intensity and a disarming level of intelligence to any job he chose to take on.
Armand Anthony Assante, Jr., was born on Oct. 4, 1949, in New York City. The middle child and only son of Armand Assante, Sr., a fine artist-turned-Madison Avenue ad man, and Katherine Healy, a published poet and teacher at the Manhattan School of Music, Assante moved with his family to the upstate New York town of Cornwall in 1957 but never forgot the lessons in tolerance and compassion he had learned in his ethically mixed neighborhood in Washington Heights. Interested initially in music, Assante was a drummer for the local band the Phaeton Four, performing professionally on weekends. Although he had flirted with the notion of joining the U.S. Marines after his graduation from Cornwall High School, Assante enrolled in the American Academy of Dramatic Arts in New York City. Winning the Jehlinger Prize for promising new actors in 1969, he was invited to study opera at the Manhattan School of Music but pointed himself instead toward the life of a professional actor.
During his journeyman years as a jobbing actor on Broadway and in regional theatre, Assante scored an early coup with a recurring role on the NBC soap opera "The Doctors" (1963-1982). An association with rising star Sylvester Stallone landed him extra work in the Columbia Pictures nostalgia piece "The Lords of Flatbush" (1974). Flush from his later success as the writer and star of "Rocky" (1976), Stallone would remember Assante and cast him in his directorial debut, "Paradise Alley" (1978). Set in Hell's Kitchen during the Forties, with Assante as the ambitious brother of Stallone's amiable meathead, the film set the tone for Assante's early career as a dark-eyed actor of brooding handsomeness and banked fury. Early in his career, Assante dated the actress Dyan Cannon, ex-wife of Hollywood legend Cary Grant and 12 years his senior.
The Irish-Italian actor would be called upon to essay a plethora of ethnic types early in his career: an Arab in the CBS telefilm "The Pirate" (1978), an American Indian in John Frankenheimer's revenge-of-nature thriller "Prophecy" (1979), and a suave Frenchman who woos Goldie Hawn's vulnerable non-com in "Private Benjamin" (1980). Gaining international attention as much from his good looks as his acting abilities, Assante was slotted into the role of an adult camp counselor who contemplates a sexual liaison with an underage girl in "Little Darlings" (1980), opposite Tatum O'Neal. As a Cuban dictator patterned after Fidel Castro, Assante was lost in the twice-baked mix of James Toback's critically-reviled "Love & Money" (1982), but proved an inspired and updated Mike Hammer in "I, the Jury" (1982), the second film adaptation of the classic pulp novel by Mickey Spillane. Unfortunately for Assante, the film was both a critical and box office failure.
Based on the trash classic by Sidney Sheldon, the NBC miniseries "Rage of Angels" (1983) widened Assante's fanbase more than all his feature films put together. Growing weary of life in Hollywood, the actor relocated to upstate New York to raise his children near his parents, while frustrating publicists with his disinclination to trade on his image as a Latin lothario. He next appeared opposite funnyman Dudley Moore and actress Nastassja Kinski in "Unfaithfully Yours" (1984), an amusing but inconsequential remake of the Preston Sturges classic. A better use of Assante's time was as an Acadian healer in the independent film "Belizaire, the Cajun" (1986), written and directed by Glen Petrie and shot on location in Louisiana. A fully-bearded Assante made the role a tour-de-force but the film was given only a limited release and remained one of his more obscure credits.
Alienated from Hollywood and no longer considered A-list material, Assante lapsed into a run of low budget and made-for-TV films, among them the ABC miniseries "Napoleon and Josephine" (1987), in which he played Napoleon Bonaparte to Jacqueline Bisset's Josephine Beauharnais, and the Mexican morality play "The Penitent" (1988) with Raul Julia. Traveling to London for the CBS miniseries "Jack the Ripper" (1988) opposite Michael Caine, Assante threw himself into the part of famed stage actor Richard Mansfield and his signature roles of Dr. Jekyll and Mr. Hyde. Exhausted by the effort, Assante suffered a nervous breakdown upon completion of the film and was put onto the Concorde back to the United States in a wheelchair. He was paired with Karen Allen in the romantic comedy "Animal Behavior" (1989) but amped up his trademark intensity as a Puerto Rican drug lord in Sidney Lumet's "Q&A" (1990).
It was Assante's supporting performance in the Lumet film that won him a leading role opposite Antonio Banderas in "The Mambo Kings" (1992), in a part abdicated by Kevin Kline. Although the film's producers wanted a more marketable name and pushed for the casting of Jeremy Irons, first-time director Arne Glimcher insisted on Assante, whose career enjoyed an appreciable uptake after the film's release. Actor-director Jack Nicholson tapped Assante for the small role of a mobster in "Hoffa" (1992) while Ridley Scott cast him as Gabriel Sanchez, chief treasurer of the Spanish Court of Aragon, in "1492: Conquest of Paradise" (1992). Comedy director Carl Reiner offered the actor a change-of-pace role in "Fatal Instinct" (1993), a broad spoof of "Basic Instinct" (1992) that allowed Assante to perform slapstick. Assante again appeared opposite Sylvester Stallone, as a Third Millennium psychopath bedeviling Stallone's peacekeeping "Judge Dredd" (1995), and came to the rescue of FBI secretary-turned-pole dancer Demi Moore in "Striptease" (1996), based on the steamy crime novel by Carl Hiaasen.
For the made-for-cable movie "Gotti" (1996), Assante took on the role of real life New York Mafiosi, who had seized control of the Gambino crime family in 1985 and was then serving a life sentence for a laundry list of charges running from racketeering to murder. In 2000, Assante starred in the made-for-TV remake of the doomsday drama "On the Beach" and provided a voice for the DreamWorks animated feature "The Road to El Dorado." Director Ridley Scott reunited with Assante for the fact-based "American Gangster" (2007), in which the actor appeared as a crime family capo. Assante was a racketeer of another stripe in the Hallmark Channel's "Shark Swarm" (2008), in which his floridly named real estate magnate Hamilton Lux is the cause of the eponymous feeding frenzy, but he brought surprising pathos to the title role of "When Nietzsche Wept" (2007), as the famously troubled 19th Century German philosopher.
By Richard Harland Smith
The above TCM overview can also be accessed online here.