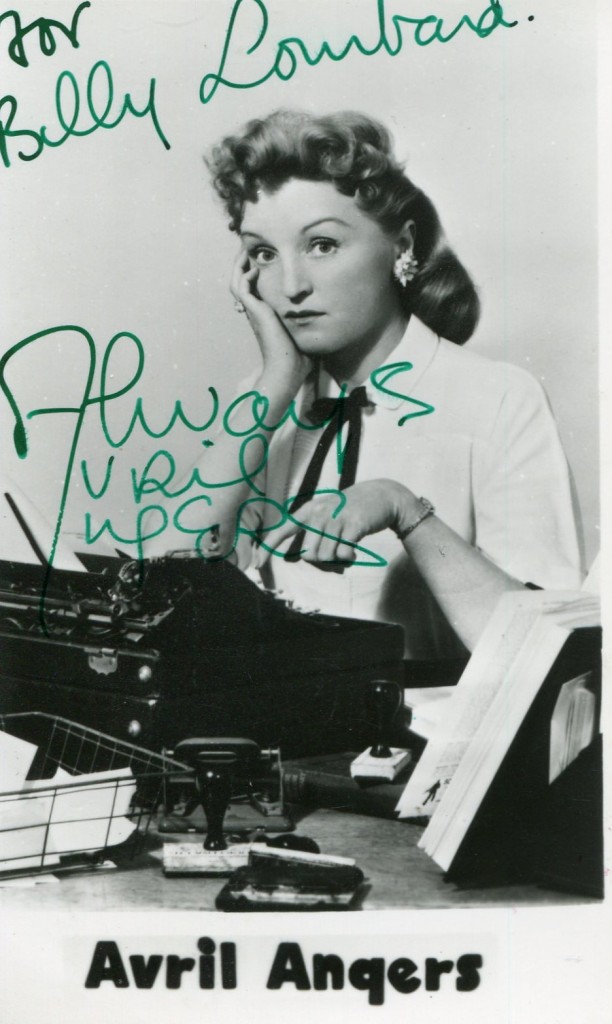 Avril Angers was born in 1918 in Liverpool. She was a major character actress in films of the 1950's and 60's. One of her major movies was "The Family Way" in 1966. She died in 2005.
Dennis Barker's obituary in "The Guardian":
Avril Angers, who has died aged 87, was a comedian, actor, singer and star of radio, theatre – and pantomime. On television she had a career that spanned six decades, beginning in the postwar period with Terry-Thomas, taking in such shows as Coronation Street and Dad's Army along the way, and ending in the 1990s with Common As Muck and All Creatures Great and Small. A onetime Tiller Girl, Angers had a particular talent for playing beguiling but slightly wacky heroines and she could switch from below-stairs earthiness to instant glamour with ease.
Born in Liverpool, the daughter of the Liverpool comedian Harry Angers and of Lilian Errol, one of the original Fol de Rols concert party, Angers went to various schools in England and Australia, and first appeared on the boards in 1936 in the chorus of a show on Palace Pier, Brighton. That same year she made her first big impression when she appeared at the Alexandra Theatre, Birmingham, with the tiny comedian Wee Georgie Wood and the great Dame, Clarkson Rose, in the title role of Cinderella.
Unlike the usual "magic" puff-of-smoke transformation of Cinderella when she goes to the ball, this production had her dressed in full view of the audience by two fairies. The run had hardly begun when one of the fairies failed to appear. The other whispered to Angers that she was searching backstage for Cinderella's second slipper, which was lost. In the end Angers had to admit defeat and go on acting the part of the newly radiant heroine hobbling about in only one slipper while backstage the two fairies were coming to blows.
Angers was to find that happening a template for much of her life, which included unusual incidents like the time she put £75 worth of fivers into an envelope and sent it off to a radio producer instead of returning a script. Afterwards she was convinced she had been robbed. Only a bewildered telephone call from the producer gave her back her composure.
When war came, she appeared in Fol de Rols and then joined the armed forces entertainment organisation Ensa. She spent two years in the Middle East and West Africa and was awarded the Africa Star. In Cairo, she was spotted by the BBC producer Douglas Moodie, who suggested that she should get in touch. She made her first radio appearance in May 1944. It was that year too that she made her west end stage debut in the review Keep Going, at the Palace. This was followed in 1945 by The Gaieties, alongside Leslie Henson and Hermione Baddeley, at the Winter Gardens.
Back on radio she made a vivid impact as the talent spotter Carroll Leviss's unpredictable secretary in his regular series. Her radio career at one stage embraced five shows at once: Bandbox, Navy Mixture, Merry Go Round, Wishing You Well Again and Monday Night At Eight.
She claimed she was "almost forced" into television not long after the BBC's service resumed after the war. She was appearing in the Make It a Date revue at the Duchess Theatre with comedian Max Wall, when a very determined producer asked her to appear on the small screen. There had been attempts to get the whole revue on to television, but the impresarios, seeing TV as a threat, refused. Angers decided to go it alone, and between 1946 and 1948 appeared regularly in Stars in Your Eyes.
Another of the television series that made her after the war was as Rosie Lee in How Do You View, from 1949, with Terry-Thomas as a boss always being bothered at unsuitable moments by the tea girl wanting to know how he wanted his tea, while at the end of every show he enjoyed an imaginative interlude with a glamour girl of his dreams. Both tea girl and beauty were played by Angers.
At the beginning of the 1950s, she deliberately made regular guest appearances with repertory companies, where the money was less but the opportunities for broadening her range better. She appeared in plays varying from Congreve's Love for Love (1949) to Garson Kanin's Born Yesterday (1950).
In the 1950s her stage work took her around the country and by 1960 she was starring at the Lyric Hammersmith in an American comedy The Nightlife of a Virile Potato. She spent 1962 in Australia in the revue Paris By Night. Back in London in 1964 she played the central role with Bruce Forsyth in the musical Little Me and used her singing voice to good effect. Later she featured in The Mating Game, Cockie – back with Max Wall – and No Sex, Please, We're British. By 1976 she was playing Miss Marple in Agatha Christie's Murder At the Vicarage. In the 1980s she appeared at the King's Head in Islington in two Noel Coward plays, Post-Mortem and Easy Virtue.
Her first film was The Lucky Mascot (1948, also known as The Brass Monkey). Told by actors and friends after shooting had ended that she was so good in it that she should stand by for further film offers, she declined stage offers and waited for the big film career to arrive. It never really did but her next opportunity came with the comedian Hal Monty in Skimpy in the Navy (1950). This was followed in the same year by Miss Pilgrim's Progress, and in 1954 by Don't Blame the Stork. In 1956 she appeared in four films, Women Without Men, The Green Man, Bond of Fear, and Blonde Bait. In 1957 came Light Fingers.
On television, in 1954 she starred in two BBC sitcoms: one, Dear Dotty, set on a women's magazine and the other, Friends and Neighbours, focusing on two pairs of newlyweds. Two years later, she switched to the new ITV opposite Sam Costa in the sketch series The Charlie Farnsbarns Show. With the birth of Coronation Street in 1960 she featured as Norah Dawson.
By the time she was appearing in Common As Muck (1994), Roy Hudd had called her "a wonderful professional". It was a television comedy series with moments of dramatic depth about a group of dustbinmen facing privatisation.
In 1949 she announced her engagement to the actor Barry Wickes, only to declare, nearly two years later, while in a summer show at Bexhill-on-Sea, that she was "too busy" for marriage. She is survived by two brothers.
· Avril Florence Angers, comedian, actor and singer, born April 18 1918; died November 8 2005
The above "Guardian" obituary can also be accessed online here.