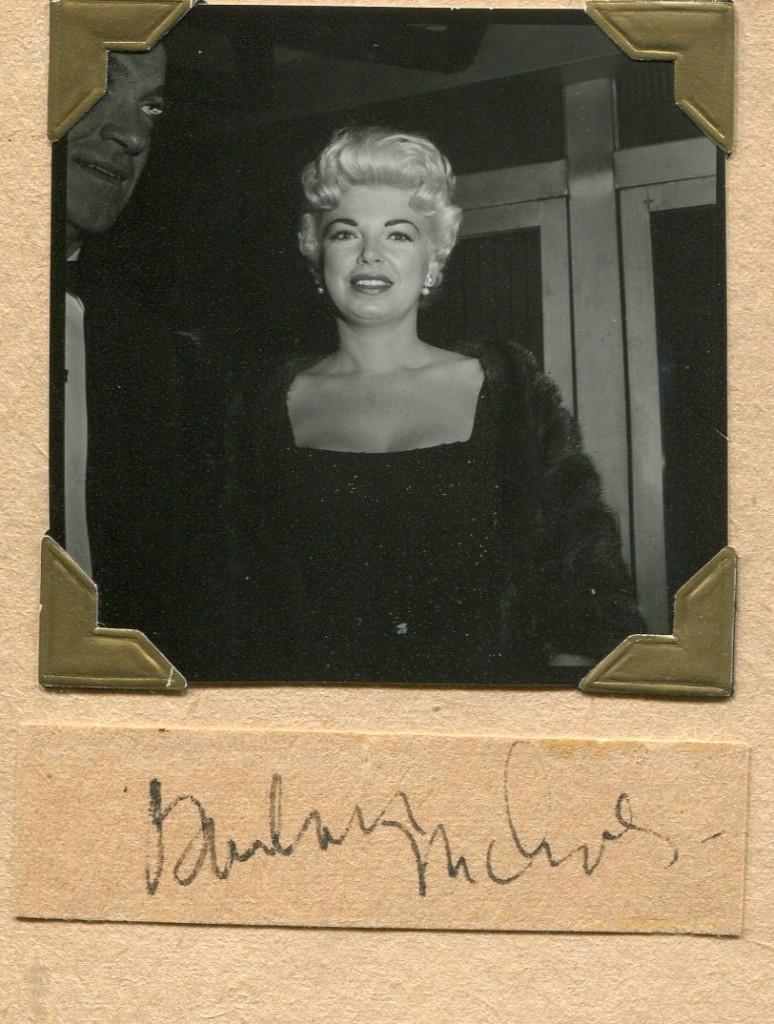 Gary Brumburgh's entry:
She was the archetypal brassy, bosomy, Brooklynesque bimbo with a highly distinctive scratchy voice. Barbara Nichols started life as Barbara Marie Nickerauer in Queens, New York on December 10, 1928, and grew up on Long Island. Graduating from Woodrow Wilson High School, the dame with the shapely frame changed her reddish-brown hair to platinum blonde and drew whistles as a post-war model and burlesque dancer. As a beauty contestant, she won the "Miss Long Island" title as well as the dubious crowns of "Miss Dill Pickle", "Miss Mink of 1953" and "Miss Welder of 1953", and also became a GI pin-up favorite. She began to draw early attention on stage (particularly in the musical "Pal Joey") and in television drama.
Hardly leading lady material, Barbara found herself stealing focus in small, wisecracking roles, managing at times to draw both humor and pathos out of her cheesy, dim-witted characters — sometimes simultaneously. She seemed consigned for the long haul to playing strippers, gold-diggers, barflies, gun molls and other floozy types named Lola, Candy or even Poopsie. Barbara made the best of her stereotype, taking full advantage of the not-so-bad films that came her way. While most of them, of course, emphasized her physical endowments, she could be very, very funny when let loose. By far the best of her lot came out in one year: Pal Joey (1957), Sweet Smell of Success (1957) and The Pajama Game (1957). By the decade's end, though, her film career had hit the skids and she turned more and more to television, appearing on The Beverly Hillbillies (1962),Adam-12 (1968), Twilight Zone (1959) (the classic "Twenty-Two" episode), The Untouchables (1959) and Batman (1966), to name a few.
Barbara landed only one regular series role in her career, the very short-lived situation comedy Love That Jill (1958) starring husband-and-wife team Anne Jeffreys and Robert Sterling. Barbara played a model named "Ginger". She also co-starred on Broadway withGeorge Gobel and Sam Levene in the musical "Let It Ride" in 1961 and scraped up a few low-budget movies from time to time, including the campy prison drama House of Women (1962) and the science fiction film The Human Duplicators (1965) starring George Nader and Richard Kiel, who played "Jaws" in the James Bond film series.
A serious Long Island car accident in July 1957 led to the loss of her spleen, and another serious car accident in Southern California in the 1960s led to a torn liver. Complications would set in over a decade later and she was forced to slow down her career. Barbara eventually developed a life-threatening liver disease and her health deteriorated. In summer 1976, she was taken to Cedars-Sinai Medical Center in Los Angeles, California, where she went into a coma. She awoke for a few days just before Labor Day, but sank back shortly after. She died at age 47 of liver failure on October 5 and was survived by her parents, George and Julia Nickerauer. She was interred at Pinelawn Memorial Park in Farmingdale, New York.
Looking back, you have to hand it to Barbara Nichols. As the song from "Gypsy" emphasizes, "You gotta have a gimmick". Barbara did — and she worked it. Like such other lurid platinum blonde bombshells as Jayne Mansfield, Mamie Van Doren, Joi Lansing, Barbara Payton, Cleo Moore, Beverly Michaels and Diana Dors, she rolled with the punches. Unlike those others, she had genuine talent.
– IMDb Mini Biography By: Gary Brumburgh / gr-home@pacbell.net