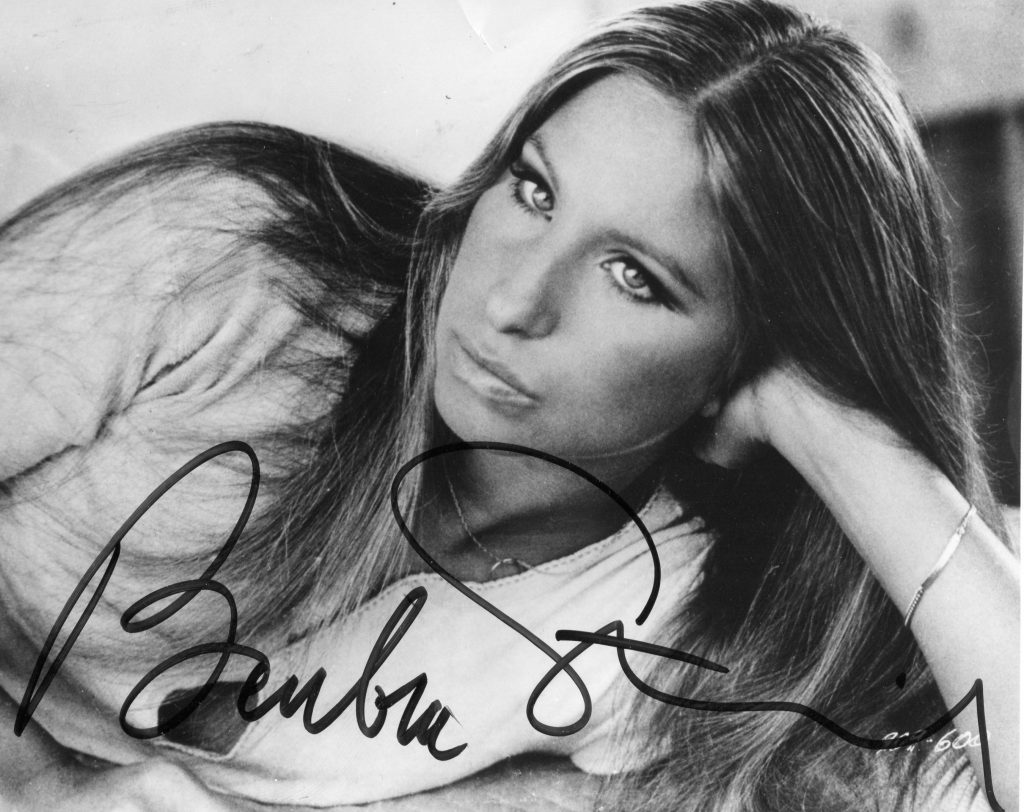 From 1968 until around 1982 Barbra Streisand was a formidable screen presence. She won an Oscar for her first film "Funny Girl" and then starred in such movies as "Hello Dolly" with Walter Matthau, "The Way We Were" with Robert Redford, "What's Up Doc" with Ryan O'Neal and "A Star Is Born" with Kris Kristofferson.
Extract from TCM overview:
An iconic entertainer with over 70 million albums sold and Grammy, Oscar, Tony, Emmy and Golden Globe awards for acting and directing, Barbra Streisand's popularity and creative output spanned over four decades. The New York cabaret singer first hit big as a pop singer and Broadway star in the 1960s. By the 1970s, she was the No. 1 female box office draw with a succession of gold albums that symbolized a new potential success for women in the feminism era. On film, Streisand won over audiences as fast-talking, quick-witted dames in "Funny Girl" (1968) and "What's Up Doc?" (1974), prior to maturing into an acclaimed film producer and director of "The Prince of Tides" (1991) and other stories of personal growth, like "Yentl" (1983). Streisand's musical output evolved from its theater roots to contemporary songwriters and she charted No. 1 albums in every decade, from The Way We Were in 1973 to Love is the Answer in 2009. Due to a crippling phobia of signing live, she virtually disappeared from stage performing for 25 years, but remained in the public eye with her film career and status as an active philanthropist in liberal political and social causes, Streisand reigned supreme for her artistic legacy and overall cultural impact in the latter twentieth century.
Born Barbara Streisand on April 24, 1942, Streisand was raised in Brooklyn, NY. Her mother, Diana Rosen, was left to raise Streisand and her younger brother Sheldon when father Emanuel Streisand, an educator and scholar, died when his daughter was just three months old. With the exception of a brief and rocky remarriage that brought Streisand a half sister Rosyln, Streisand was raised largely by her single mother who worked for the New York school system. Streisand herself was an honor student at Erasmus Hall High School, where she had a bit of an oddball reputation and harbored ambitions for an acting career. While still a teenager, Streisand won a singing contest at a nightclub and began landing paid singing gigs around Greenwich Village. She found an acting coach, landed an agent and was still a teenager when she secured jobs in Chicago and San Francisco, though a two-week engagement in Canada was cut short when the audience did not understand Streisand's bohemian personal style and choice of rather obscure older songs. The club's owner famously advised the young singer that she would never make it in show business. Few shared his sentiment, though, and Streisand quickly gained widespread exposure with television appearances, including "The Tonight Show" (NBC, 1954- ) in 1961. Further nudging her to stardom was her 1962 Broadway debut in the musical comedy "I Can Get It for You Wholesale," which confirmed Streisand's promise as a song "belter" and earned the newcomer a Tony nomination.
Smelling a pop music goldmine, executives at Columbia Records signed the 20-year-old, who insisted on a clause giving her the right to choose her own material. In quick succession, Columbia released a pair of albums featuring Streisand's interpretations of theater tunes and cabaret standards, with The Barbra Streisand Album taking home two Grammy Awards, including Album of the Year. In addition to her nearly overnight stardom, Streisand's off-stage life blossomed with her marriage to actor Elliot Gould (who had yet to even make his screen debut) in 1963. She was nominated for a second Tony Award in 1964 for her portrayal of early Broadway star Fanny Brice in "Funny Girl," which established her early persona as a sassy, take-no-guff dame. No mere stage gimmick, Streisand's many late night talk show appearances showcased a confident, fearless young woman unlike any wilting-flower chanteuse that had come before, and her off-the-cuff banter with hosts like Mike Wallace and David Susskind bordered on the sort of confrontational generation gaps one would expect from Bob Dylan. Streisand's youthful appeal led to her first No. 1Billboard album, People, and a deal with CBS. In 1965, Streisand brought her songbook to American television audiences in an Emmy Award-winning music special, "My Name Is Barbra" (CBS, 1965). The accompanying album earned Streisand another Grammy Award the following year; the same year she gave birth to her only child, Jason Gould.
After a well-received run on the London stage in "Funny Girl," Streisand took the role to the big screen in a 1968 adaptation directed by Golden Age great, William Wyler. Audiences were charmed by Streisand's wit and high-energy live performances, leading to an Academy Award for Best Actress for her film debut; an award she accepted wearing infamous see-through "pajamas." Two more stage musical adaptations followed, with Streisand starring as a Victorian-era matchmaker in the classic "Hello, Dolly!" (1969), an enormous box office hit directed by Gene Kelly, but she fared less well in Vincente Minnelli's fantastical "On A Clear Day You Can See Forever" (1970). Streisand put singing aside and took a stab at straight-up comedy in "The Owl and the Pussycat" (1970), co-starring as mismatched roommates with an aspiring writer (George Segal). Her off-screen pairing with Gould also proved a mismatch and the pair filed for divorce in 1971. The following year, the undisputed queen of the 1970s screwball comedy revival was born in earnest with "What's Up, Doc?" (1972). The Peter Bogdanovich-helmed classic concerning mistaken luggage identity and jewel thieves paired Streisand for the first time with Ryan O'Neal, and their chemistry contributed to what became a wildly popular and well-regarded comic success. Meanwhile Streisand's 13th album release, Stoney End, marked a shift in her musical career, with a focus on new material from contemporary songwriters ranging from Randy Newman to Joni Mitchell. The change in direction proved successful, and the album hit No. 10 and sold well over a million copies.
Streisand returned to No. 1 on the charts for the soundtrack to the film "The Way We Were," her first challenge as a dramatic actress. Sydney Pollack helmed the nostalgic romance with political overtones, pairing Streisand and Robert Redford as star-crossed lovers to great success. The tearjerker brought another Oscar nomination for Streisand. The versatile actress followed with a comic performance in "For Pete's Sake" (1974), a farcical misadventure about a Brooklyn housewife whose attempt to invest in the stock market goes sour. After reluctantly reprising her beloved Fanny Brice characterization in the sequel "Funny Lady" (1975), Streisand teamed with fellow musician and actor Kris Kristofferson in an updated version of the film, "A Star is Born" (1976). Streisand gave another standout performance as a rising cabaret singer taken under the wing (and into the bed) of a stadium rock star who is rapidly deteriorating from the excesses of fame. In addition to taking home a Golden Globe Award for Best Actress, Streisand won an Oscar and a Grammy for Song of the Year for the film's mega-hit theme song, "Evergreen." In 1977, Streisand enjoyed a significant musical accomplishment with the album Streisand Superman, returning to No. 1 on the charts in 1979 with the disco duet "No More Tears" ("Enough is Enough)" performed fellow diva, Donna Summer. She re-teamed with Ryan O'Neal in the wildly successful – though critically panned – romantic comedy, "The Main Event" (1979), which also spawned a gold-selling soundtrack, though nothing could compare to the 1980 album Guilty, a collaboration with Barry Gibb of the songwriting brothers The Bee Gees.
Guilty topped Streisand's career record sales, reaching No. 1 on the charts in over a dozen countries and earning she and Gibb a Grammy Award for Best Pop Performance by a Duo or Group for the title track. Meanwhile, the box office flop "All Night Long" (1981), starring Streisand as an untalented singer-songwriter married to a firefighter, broke her decade-long box office spell. Preferring to take more time between films and exercise more creative control, it was two years before she appeared on screen again in "Yentl" (1983), the story of a Jewish girl who disguises herself as a boy in order to pursue an education. "Yentl" was actually 15 years in the making, and upped Streisand's status to that of the first woman to produce, direct, write and star in a major Hollywood motion picture. Her labor of love adaptation of the Isaac Bashevis Singer short story was a box office success and Streisand was honored with a Golden Globe for Best Director. In short order, she scored a No. 1 album with The Broadway Album, a collection of well-loved theatrical compositions that sold nearly six million copies and garnered Streisand another Grammy Award for Best Vocal Performance. The formation of the Streisand Foundation in 1986 added a new dimension to the powerful showbiz player's career and through her tens of millions of dollars in future grants, she voiced strong support for issues related to the environment, women's rights, voter education, and nuclear disarmament.
Streisand returned to theaters in 1987 as the producer and star of "Nuts," for which she earned a Golden Globe nomination for starring as a woman who commits a self-defense murder and lands in a courtroom trying to prove her sanity. Two back-to-back album releases followed; the Top 10 Till I Loved You and One Voice, a career retrospective concert which was also released on DVD and raised millions for the Streisand Foundation. She returned to the film director's chair to helm the 1991 film "The Prince of Tides" (1991), based on Pat Conroy's best-selling novel. Again attracted by stories of personal growth and overcoming odds, Streisand's three-hankie tearjerker dealt with overcoming childhood trauma and difficult family relationships, with Streisand as a sympathetic psychiatrist opposite romantic interest, Nick Nolte. Both critical and popular response to Streisand's sensitive directorial work was notably improved; dismay being largely reserved for Streisand's glamorized appearance and saintly self-casting. The film received seven Oscar nominations, including Best Picture, and Streisand was also nominated for a Best Director Golden Globe. After 27 years away from the concert stage, Streisand began touring in 1994, amassing the top ticket sales of the year and exposing the staggering depths of her fan base. She was honored with a Lifetime Achievement Award from the Grammys, and performed some her best-loved material for the camera in "Barbra Streisand: The Concert" (HBO, 1995), which unsurprisingly earned multiple Emmy Awards, reunited her with Barry Gibb, and brought in top ratings for the cable network.
The 53-year-old's energy level seemingly unaffected from seven months of touring, Streisand went on to produce, direct and star in "The Mirror Has Two Faces" (1996), a remake of a 1958 French film of the same name starring Streisand as a plain woman whose marriage to Jeff Bridges is rocked when she undergoes a personal transformation. While a popular box office draw, the film suffered at the hands of critics who were turned off by Streisand's self-indulgent, soft-focus portrayal and broad, precious acting. Regardless, she was nominated for Golden Globe Awards for Best Actress and Best Original song for the theme, "I Finally Found Someone." Public favor still staunchly in her favor, Streisand visited the top spot in the album charts in 1997 with the album, Higher Ground, which launched a top-selling duet with Celine Dion, "Tell Him." Also during the 1990s, Streisand's Barwood Productions earned positive notice for a number of television specials examining important social and cultural issues including "Serving In Silence: The Margarethe Cammermeyer Story" (NBC, 1995), which exposed harassment of gays serving in the military, and "Rescuers: Stories of Courage," (Showtime, 1997-98), which profiled courageous people who helped save the lives of Jews during the Holocaust. In a personal development, Streisand met actor and director James Brolin in 1996 through mutual friends and the couple was happily married in 1998. Streisand spent the next several years working behind-the-scenes as the executive producer of the special "Reel Models: The First Women of Film" (AMC, 2000), the PBS series "The Living Century" (PBS, 2000), and the Lifetime original film, "What Makes a Family?" (Lifetime, 2001).
Following a five-city tour in 2000, Streisand returned to screens in 2001 in a filmed concert special, "Barbra Streisand: Timeless" (Fox, 2001), which brought in strong ratings and multiple Emmy wins. In a return to her long lamented career as a top notch comedienne, Streisand set aside her usual auteur role and took a role in the comedy sequel, "Meet the Fockers" (2004), playing the often embarrassing therapist mother of "Meet the Parents" (2000) main character Greg Focker (Ben Stiller). Teamed sublimely with Dustin Hoffman as her husband and sharing scenes with Robert De Niro, Streisand nearly walked away with the blockbuster, proving that her comedic skills were as sharp as ever. Her nostalgic return to comedy may have made Streisand nostalgic for her early music career, as she promptly re-teamed with Barry Gibb to record the gold-selling album, Guilty Pleasures, and hit the road on "Streisand: The Tour," which took her across North America, Canada and Europe. Naturally an accompanying album was released –Streisand – Live In Concert 2006, which debuted at No. 7 on the Billboard Top 200, and whose sales contributed to Streisand's status in Forbes magazine as the No. 2 highest earning female musician for the previous year; topped only by Madonna. The over-65 songstress beat that stat in 2009 when Love is the Answer, a collection of best-loved jazz standards, hit No. 1 on the album charts. The following year she reprised her role of Roz Focker in the sequel, "Little Fockers" (2010).