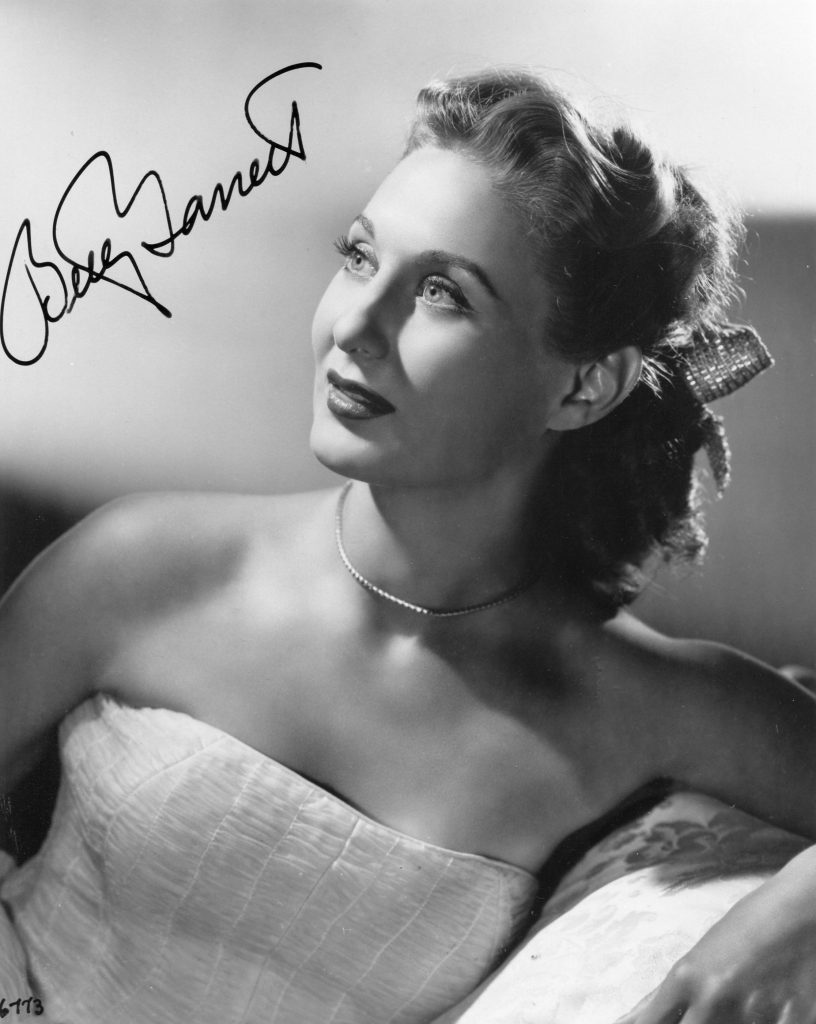 Betty Garrett obituary in "The Guardian" in 2011.
Betty Garrett had a long and distinguished career on film, stage and television in the U.S. She was born in 1919 in Missouri. She had a movie contract with MGM and made such classic movies as "On the Town" and "Words and Music". In her later years she was very popular on U.S. television in the series "Laverne and Shirley" and All in the Family". She was married to actor Larry Parks. She died in 2011 at the age of 91.
Ronald Bergan's "Guardian" obituary:
The most famous role played by the all-round entertainer Betty Garrett, who has died aged 91, was Brunhilde Esterhazy, the taxi driver in Stanley Donen and Gene Kelly's musical On the Town (1949). In the film, she introduces herself to a shy sailor played by Frank Sinatra and asks him: "Why don't you come up to my place?" She is soon vigorously chasing him around her cab, rejecting any of his suggestions about what to see in New York with the rapid retort: "My place!"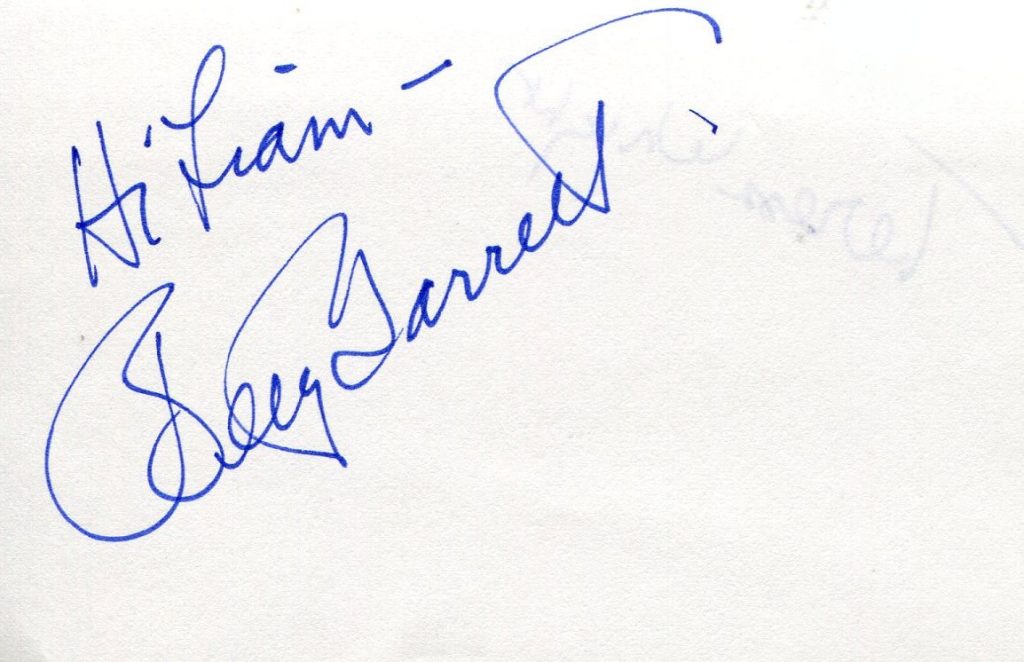 In Take Me Out to the Ball Game (1949), Garrett had pursued Sinatra with equal zeal, assuring him by singing It's Fate, Baby, It's Fate. She also panted after Red Skelton in Neptune's Daughter (1949), begging him not to leave her apartment with the song Baby, It's Cold Outside. This was a gender role-reversal, contrasting with Esther Williams resisting Ricardo Montalban's pleas in the same number in that film. Garrett played these man-hungry characters with a great deal of zest, humour and self-mockery, as well as proving herself an excellent singer of witty ditties and no mean dancer. As Sinatra sings to her in On the Town, she was "awful … awful good".
However, she never had the show-business career she deserved. Primarily, Garrett was not a beauty along the lines of Esther Williams, Vera-Ellen or Janet Leigh, three of the stars she worked with in her meagre filmography, but she also suffered from the way she supported her husband, Larry Parks, whom she married in 1944, through difficult times.
In the early 1950s, Parks, who impersonated Al Jolson in The Jolson Story (1946), one of Columbia's biggest hits, appeared before the House Un-American Activities Committee, declared his past membership of the Communist party and refused to name names. As a result, Columbia dropped Parks from their roster, and other studios shunned him. Garrett, who was also a member of the Communist party in the 1940s, had taken time off to bring up their two sons. She did not return to the screen until several years later– ironically, for Columbia – in My Sister Eileen (1955).
Garrett was born in St Joseph, Missouri. Her father was an alcoholic travelling salesman, who died when she was young. She won a scholarship to the Neighborhood Playhouse in New York, and made her stage debut in 1938 in crowd scenes in Orson Welles's Mercury theatre production of Danton's Death by Georg Büchner. She then became a dancer with the Martha Graham company and sang in nightclubs and resort hotels.
Between stage work, she had jobs as a shop assistant and an elevator operator. After appearing in the Broadway revue Let Freedom Sing (1942), which lasted for eight performances, Garrett's big break came in 1943 in Cole Porter's Something for the Boys, starring Ethel Merman. But it was her singing and her personality, shown across seven roles, in the revue Call Me Mister (1946), which won her an MGM contract.
Her screen debut was in Big City (1948) as a saloon singer whom an Irish cop (George Murphy) wants to marry in order to supply an orphan (Margaret O'Brien) with a mother. Garrett added a little spice to the sugary concoction, and sang Ok'l Baby Dok'l. She was then badly miscast in Words and Music (1948), the fanciful biopic of Richard Rodgers and Lorenz Hart. Mickey Rooney played Hart, who is smitten with Garrett's character, but she feels she can never love him because he is too short. (Actually, the real Hart was gay.)
At least she got to sing There's a Small Hotel rather touchingly. It was in her three musicals in 1949 – Take Me Out to the Ball Game, Neptune's Daughter and On the Town – that Garrett really came into her own. The following year, she and Parks appeared at the London Palladium in a programme of songs, before the unofficial blacklist struck. Garrett's return to the screen in My Sister Eileen revealed her versatility. She played the vivacious, literary-minded sister of Leigh and belted out some good songs. After the minor thriller The Shadow On the Window (1957), in which she played a mother kidnapped by three delinquents, she gave up the cinema to do theatre, often with her husband until his death in 1975.
As vibrant as ever, Garrett also appeared in two successful TV series, All in the Family (1973-75) and Laverne & Shirley (1976-81). In the former, based on the British series Till Death Us Do Part, Garrett was the bigoted Archie Bunker's liberal neighbour, Irene. In the latter, she played Edna, the eponymous single girls' tolerant landlady. There followed a number of TV guest spots, the last of which was in Grey's Anatomy (2006).
Garrett returned to the big screen after 50 years in two lampoons written and directed by Larry Blamire: Trail of the Screaming Forehead (2007), a takeoff of 1950s sci-fi movies, and Dark and Stormy Night (2009), in which Garrett co-starred with a man in gorilla suit. Appearing in both films was her son, the actor Andrew Parks. He survives her, along with her other son, the composer Garrett Parks, and a granddaughter.
• Betty Garrett, actor, born 23 May 1919; died 12 February 2011 The above "Guardian" obituary can also be accessed online here.