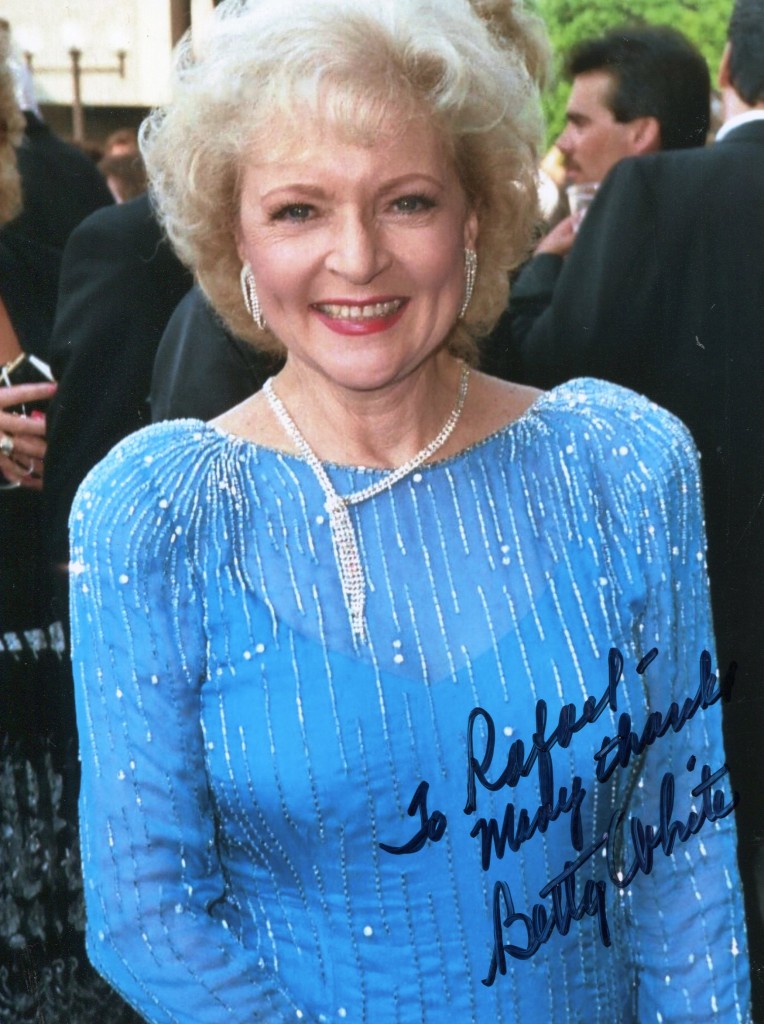 Now 96, Betty White is the last surviving member of "The Golden Girls" where she played dim nice and kind Rose. She is now starring on TV in "Hot In Cleveland". Movies include "Lake Placid" with Brendan Gleeson and "The Proposal" with Sandra Bullock.
TCM overview:
omic actress Betty White was a strong television presence for more than 50 years, both as a sitcom player and as an irreverent wit on scores of panel game shows. She was front and center at the birth of live television in the 1940s, serving as one of the medium's earliest female producers – in addition to making her mark as a comedienne on sitcoms and popular game shows that depended on a fast quip. White's regular appearances on the panels of "Liar's Club" and "Password" nearly eclipsed her acting work until a supporting role on the acclaimed sitcom "The Mary Tyler Moore Show" (CBS, 1970-77) reestablished her primetime presence, earning her an Emmy for her angelic-faced but bawdy "happy homemaker," Sue Ann Nivens. She went on to enjoy further sitcom successes with NBC's surprise gal pal hit, "The Golden Girls" (NBC, 1985-1992), where she offered up daffy naiveté as Rose Nylund. As White's status evolved into that of a revered pop culture icon, her razor wit was tapped nonstop for everything from "That '70s Show" (Fox, 1998-2006) and "Boston Legal" (ABC, 2004-09) to a Facebook-instigated hosting stint on "Saturday Night Live" (NBC, 1975- ), which made her one of the hippest octogenarians in small screen history. Like television comedian Lucille Ball and other timeless talents from the early days of television, White remained a relevant comedic force for decades and was destined to live on in rebroadcasts forever.
Elizabeth White was born on Jan. 17, 1922 in the Chicago suburb of Oak Park, IL and raised in Beverly Hills, CA. She graduated from Beverly Hills High in 1939 and worked as a model and summer stock theater actress before breaking into broadcasting as a radio player. The dimpled, fair-skinned actress scored her first on-air work in 1949 on "Hollywood on Television" (1949-1952), a live local variety show that encompassed news, interviews and comedy skits and was produced live six days a week for a grueling five and a half hours. A regular comedy sketch on the show was spun off into a syndicated sitcom, "Life with Elizabeth" (1952-55), in which White starred as a spirited young wife opposite straight man husband Del Moore in domestic vignettes. White also served as co-producer of the show, which was a rare achievement for an actress at the time. White began making regular appearances as a panelist on game shows like "What's My Line" (CBS, 1950-1975) and "Make the Connection" (NBC, 1955), as well as playing another young, hijinks-prone wife in the series, "Date With the Angels" (ABC, 1957-58), which she also produced. When that show failed, she helmed her own variety series "The Betty White Show" (ABC, 1958).
While appearing as panelist on the game show "Password" in 1961, White hit it off with the show's host, Allen Ludden, to whom she was married from 1963 until his early death from cancer in 1981. White turned down an offer to join the team of NBC's "Today" (NBC, 1952- ) and spent the majority of the 1960s as a mainstay on comedic panel game shows like "The Liar's Club" (syndicated, 1969-1989), "What's My Line" (CBS, 1950-1975) and "The Match Game" (NBC, 1962-69) to such an extent that many younger fans had no idea she was really an actor and not a career "TV personality." That perception of White changed forever in 1970 when Mary Tyler Moore and Grant Tinker invited her to guest star in an episode of "The Mary Tyler Moore Show" as Sue Ann Nivens, host of WJM's "Happy Homemaker" show. The inspired, against-type casting of White as a cheerful phony whose ever-smiling act belied the bawdy, acid-tongued man-chaser lying beneath led to a five season-long supporting character role for which White won two Emmy Awards and a renewed reputation as a comic actress. When the show came to an end, White was rushed into her own "The Betty White Show" (CBS, 1977-78) where she played a fading TV star.
The effort lasted one season before White was back on game shows and hosting the annual Tournament of Roses parade on NBC, which she had done since 1970. She also took on more acting roles than prior to her "MTM" breakout, opting for sweeter characters in TV movies-of-the-week, including "With this Ring" (ABC, 1978) and "The Best Place to Be" (NBC, 1979). In 1983, White finally accepted an offer to host her own game show, "Just Men!" (NBC, 1983), a short-lived NBC effort where she played off the deliciously lascivious persona she had perfected in Sue Ann Nivens. Her efforts earned her Daytime Emmy Award for Best Game Show Host. The same year, she began making occasional appearances on "Mama's Family," reprising the character of the nouveau-riche older sister she had played on the original sketch comedy incarnation of the white trash comedy on "The Carol Burnett Show" (CBS, 1967-1978) in the 1970s.
In 1985, everything changed and White's career as beloved icon was solidified. She was offered the role of Blanche Devereaux, the over-sexed, middle-aged widow on "The Golden Girls" – the tale of four women of a certain age, sharing a home in the retiree stronghold of Florida. Tired of acting with libido in hand, she asked instead for the role of Rose Nylund, the doe-eyed, naive roommate from the Midwest who was all heart. NBC agreed and White rounded out a strong cast of entertainment veterans who were cautiously optimistic that TV audiences would show interest in a series about women over 50 – albeit, gutsy ones. The risk-taking show was embraced by Saturday night viewers of all ages, and White won a Best Actress Emmy in 1986 and nominations every subsequent year until 1992. When "The Golden Girls" ended in 1992, White joined co-stars Rue McClanahan and Estelle Getty on "The Golden Palace" (CBS, 1992-93) which moved their "GG" characters to a new network and a new locale – that of a modest hotel. As with many spin-offs, the show flopped, but CBS put White in "Bob" (CBS, 1992-93), the network's latest series with Bob Newhart, in a futile attempt at adding some adrenaline into that show's fading ratings. In 1995, White published the memoir Here We Go Again: My Life in Television and accepted the part of Shirley, mother to Marie Osmond, in the sitcom "Maybe This Time" (ABC, 1995). White earned an Emmy Award for a guest spot on "The John Larroquette Show" (NBC, 1993-96) and was given co-starring roles in the short-lived series "Me & George" (CBS, 1998) and "Ladies Man" (CBS, 1999-2001).
After an extended absence from the big screen, White provided some comic relief in a supporting role as a foul-mouthed widow in the thriller "Lake Placid" (1999). In a pair of considerably cleaner voice roles, she brought to life animated characters in the family feature "Whispers: An Elephant's Tale" (2000) and "The Wild Thornberry's: The Origin of Donnie" (2001). A respected comedy veteran always guaranteed to bring a nostalgic sparkle to the screen, White found herself busier than ever in the new millennium, making appearances in irreverent sitcoms like "That '70s Show" and "Malcolm in the Middle" (Fox, 2000-06) and returning to the big screen in the comedy hit "Bringing Down The House" (2003) co-starring Steve Martin and Queen Latifah.
White was nominated for an Emmy Award for Best Guest Actress in a Comedy for an appearance on "Yes, Dear" (CBS, 2000-06) and the following year, the now 82-year-old firecracker who did not appear to age physically – almost a female version of Dick Clark – enjoyed a guest stint on the legal drama "The Practice" (ABC, 1997-2004), where she used her sweet little white-haired lady looks to hilarious effect as a conniving blackmailer with a rap sheet. She earned another Emmy nod and her well-received character was carried over into the spin-off series "Boston Legal," where White continued to appear regularly for the next several years while holding down a day job as a recurring player on the soap, "The Bold and the Beautiful" (CBS, 1987- ). The Emmy train kept rolling when, in 2009, she earned a nod for Outstanding Guest Actress in a Comedy Series for her turn as the Crazy Witch Lady on an episode of "My Name Is Earl" (NBC, 2005-09). Back in features, she co-starred opposite Sandra Bullock and Ryan Reynolds in the romantic comedy, "The Proposal" (2009). At the end of the year, White turned in a hilarious cameo on "30 Rock" (NBC, 2006- ), riffing with star Tracy Morgan, whose character calls her after freaking out over a second celebrity death in the belief he may be number three.
The Betty Onslaught continued through 2010 when she starred alongside fellow old-timer Abe Vigoda in a popular ad for Snickers, which aired during "Super Bowl XLIV" and became that year's most talked-about commercial. Meanwhile, a grassroots social networking campaign began that January, demanding White host "Saturday Night Live" (NBC, 1975- ). When the Facebook group reached upwards of 500,000 members, "SNL" producers were unable to ignore the call and in March cast her as host. Her episode aired on May 8, 2010, making White – at age 88 – the oldest host of the show. She even took the time to thank fans for the honor of hosting, saying "I didn't know what Facebook was. Now that I do know what it is, I have to say, it seems like a huge waste of time." Because the writers were unsure what she could do, they surrounded her with other famous comedic women, including Tina Fey, Amy Poehler and Maya Rudolph. But she more than proved capable of doing all they asked and more, playing the grandmother of bumbling action star MacGruber (Will Forte), a confused census interviewee, and a member of "CSI: Sarasota," while also performing a death metal take on "Thank You for Being a Friend." The episode earned the highest ratings for "SNL" in 18 months, while White later received an Emmy Award for Outstanding Guest Actress in a Comedy Series for her memorable appearance. Meanwhile, she landed a co-starring role on the comedy series "Hot in Cleveland" (TV Land, 2010- ), playing an acerbic Polish caretaker whose pointed barbs toward three middle-aged roommates (Valerie Bertinelli, Jane Leeves and Wendie Malick) alludes to a rather storied and sordid past. While the show became the biggest ratings-getter ever for the small cable station, White – whose role was originally a guest starring part until the producers made her a regular – earned her SAG and Emmy award recognition in 2011 and 2012.
The above TCM overview can also be accessed online
here.