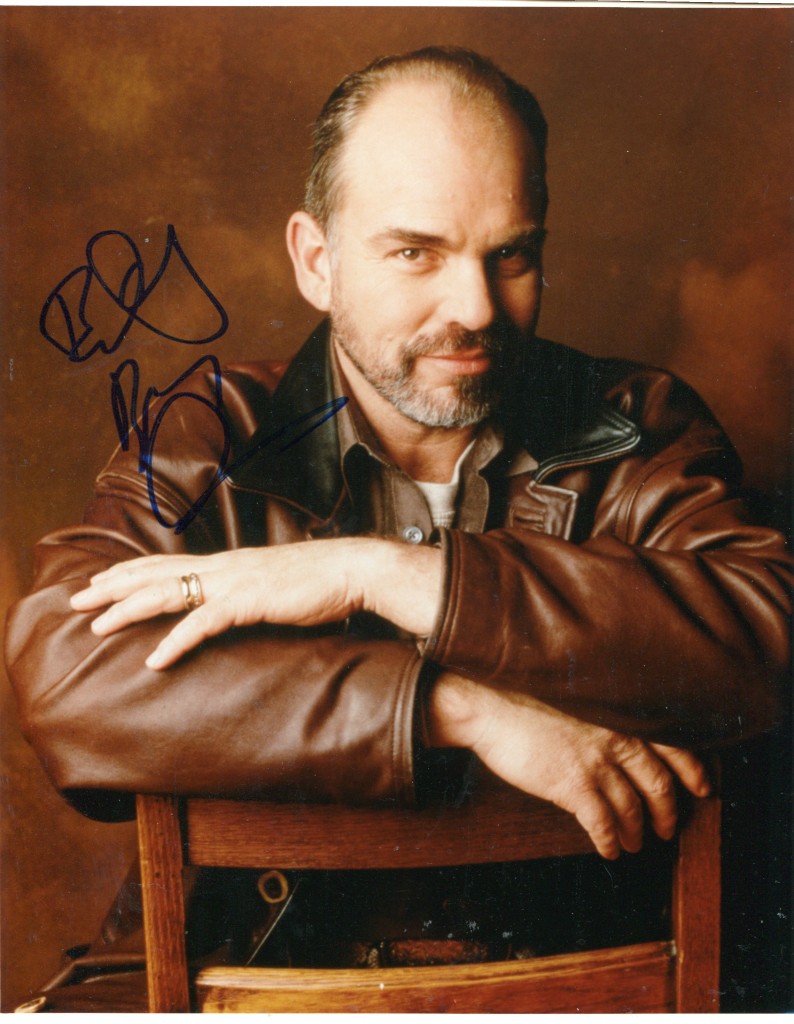 TCM overview:
Though he spent almost a decade struggling to make a name for himself, actor Billy Bob Thornton took matters into his own hands when he wrote, directed and starred in the career-making independent drama, "Sling Blade" (1996), which earned the then-unknown performer an Oscar for Best Screenplay and another nomination for Best Actor. Ever since his sudden rise to stardom, Thornton became a prominent leading man and supporting player whose short-lived but high-profile marriage to offbeat starlet Angelina Jolie overshadowed his exemplary work in films like "Monster's Ball" and "The Man Who Wasn't There" (2001). After their divorce, Thornton receded a bit from the public eye, though he continued his streak of fine performances in "Bad Santa" (2003) and "Friday Night Lights" (2004), two wildly different films that displayed his prowess for disappearing into what ever character he played. Occasionally, Thornton incorporated his own personal issues – namely his battles with eating and obsessive-compulsive disorders, like a fear of Louis XIV furniture – into his characters, as he did in "Bandits" (2001). Despite his seemingly bizarre personal life, Thornton nonetheless maintained a steady stream of quality work that always kept him near the top of the game.
Born on Aug. 4, 1955 in Alpine, AK, Thornton was raised in a poor family by his father, Billy Ray, a basketball coach, and Virginia, a psychic. Until he was eight or nine years old, Thornton lived with his grandparents in a small house in a small town that had no electricity nor running water. In fact, the only illumination came from the sun or coal oil lamps. He then moved to a larger town called Malvern – about 20 miles from Hot Springs – where life revolved around the local high school football team. It was around this time that he met future writing partner, Tom Epperson. While in high school, Thornton began acting and eventually decided to pursue a performing career. After graduation, he attended Henderson State University in Arkadelphia, AK, where he majored in psychology until dropping out after two semesters. In 1977, he and Epperson briefly moved to New York before heading westward to Hollywood. Once they settled in Los Angeles, Thornton worked variously as a rock singer, drummer and actor. He and Epperson wrote scripts which they attempted to sell, although they met with little initial enthusiasm.
On the small screen, Thornton played the conveniently named Billy Bob in the busted pilot "Circus" (ABC, 1987) before making his series debut as an ex-greaser who was a surrogate brother to a gang in "The Outsiders" (Fox, 1989). After making his feature debut in the forgettable direct-to-video release "Hunter's Blood" (1988), he carved a niche portraying good ole' boys in sitcoms like "Evening Shade" (CBS, 1990-93) and "Hearts Afire" (CBS, 1992-95). He earned acclaim for his featured role in Carl Franklin's "One False Move" (1992), which he co-wrote with Epperson. His portrayal of a sociopathic ex-con involved with a black woman (Cynda Williams, who was briefly Thornton's third wife) earned him critical praise and, more importantly, industry recognition, which led to supporting roles in "Bound by Honor" (1993), "On Deadly Ground" (1994) and "Dead Man" (1995). With his career on a roll, Thornton collaborated with Epperson again on, "A Family Thing" (1996), an earnest drama about a white man (Robert Duvall) who discovers he has a black half-brother (James Earl Jones). Duvall brought the germ of the idea to the writing duo, who fashioned a vehicle for the Oscar-winning actor. With Epperson, Thornton co-wrote "Don't Look Back" (HBO, 1996), directed by Geoff Murphy and starring Eric Stoltz as a musician-addict who stumbles onto drug money with near fatal results.
Thornton finally became a Hollywood player with "Sling Blade" (1996), a film in which he did triple duty as star, screenwriter and director. The project had its genesis in a monologue he created to channel his frustrations on the set of his first television movie, "The Man Who Broke 1,000 Chains" (HBO, 1987). Thornton created Karl Childers, a mentally-challenged murderer, and nurtured the character for close to a decade; first performing the soliloquies on stage then in the short film "Some Folks Call It a Sling Blade" (1994). By the time he expanded the story to feature length, Thornton had made a deal to direct as well as write and star in "Sling Blade," a film that propelled Thornton into stardom. With close-cropped hair, a clean-shaven face and using slow, raspy vocals punctuated with growls, Thornton was barely recognizable as Karl, whose close bond with a young boy (Lucas Black) leads him to confront and eventually repeat his dark past. And though the film alternated between static set pieces – betraying its stage origins – and leisurely-paced exterior scenes, "Sling Blade" featured a strong cast that included Natalie Canerday as the boy's mother, John Ritter as a gay man for whom the boy's mother works and Dwight Yoakam as the mother's bigoted, abusive boyfriend. In an Oscar year dominated by independent films, "Sling Blade" was a critical darling that earned Thornton an Academy Award for Best Adapted Screenplay and another nomination as Best Actor.
Thornton's career – which had gradually been building steam – exploded with the success of "Sling Blade." He signed a three-picture deal with Miramax Films and was suddenly one of the most sought-after actors working in Hollywood. He was nearly unrecognizable as a psychotic mechanic in Oliver Stone's "U-Turn" (1997) before playing a reluctant religious convert in Duvall's "The Apostle" (1997). The following year found him as a would-be marijuana kingpin in "Homegrown" (1998), a wily southern political advisor patterned after real-life spin doctor James Carville in "Primary Colors" (1998) and the Mission Control leader in the summer blockbuster "Armageddon" (1998). Thornton earned more critical kudos for playing Bill Paxton's half-wit brother in "A Simple Plan" (1998), a tense character study about three friends whose lives fall apart after finding and trying to keep $4 million. Once again, Thornton significantly altered his appearance on his way to earning an Academy Award nomination for Best Supporting Actor. Meanwhile, Thornton returned to the director's chair to helm "All the Pretty Horses" (2000), which he adapted from Cormac McCarthy's novel.
Thorton's most critically acclaimed role since "Sling Blade" came when he starred opposite Halle Berry in "Monster's Ball" (2001). Thornton played a hardened jail warden whose life is emerged in his own bitter history and ingrained racism. His character transforms and ends up falling in love with a black woman whose husband he executed. Thornton's exquisite portrait of an agonized man trying to embrace love for the first time in years earned him an impressive array of critical plaudits and award nominations, though in the end he was overshadowed by Berry's Oscar-winning performance. Thornton may have been his own worst enemy when it came to competing for Oscar gold, as he also turned in particularly fine performances in two other films that same year with a comedic turn in Barry Levinson's "Bandits" (2001) and a sharp, haunting role as the barber drawn into a dark melodrama in the Coen Brothers' loopy noir "The Man Who Wasn't There" (2001). Oscar-watchers suggested that Thornton split his own vote among the three roles, resulting in zero nominations for the actor.
Thornton's always-reliable acting was also often overshadowed by his bizarre tabloid-made relationship with the much-younger actress Angelina Jolie, who became his fifth wife in 2000 after the two met on the film "Pushing Tin" (1999) and he broke off his engagement with Laura Dern. Their surprise union was characterized by dramatic, obsessive affectations which included acquiring tattoos of each other's names and wearing vials that contained a drop of the other's blood when separated. But the marriage lasted only two years: Jolie filed for divorce in 2002, shortly after adopting a Cambodian orphan who took Thornton's name. On screen in 2002, the actor appeared in a pair of low-profile duds, playing a philanderer in the offbeat comedy "Waking Up in Reno" which also starred Charlize Theron, Patrick Swayze and Natasha Richardson, then a parolee who becomes involved with the unknowing wife of the man he killed in "Levity." But Thornton was in fine, appropriately over-the-top form when he reunited with the Coen Brothers' screwball effort "Intolerable Cruelty" (2003), playing a Texas billionaire who's about to become the latest victim of a gold-digging serial divorcee (Catherine Zeta-Jones). The actor followed with a pleasing low-key cameo as a libidinous U.S. president in the witty British romantic comedy "Love, Actually" (2003).
Thornton returned to center stage in peak form in director Terry Zwigoff's deliriously cynical holiday comedy, "Bad Santa" (2003) – based on a one-line concept by the Coen Brothers – playing the whiskey-slugging, womanizing safecracker Willie T. Stokes who annually arises from a hazy hibernation to team up with three-foot-tall, foul-mouthed mastermind Marcus (Tony Cox) and – under the benevolent cover of Santa and Elf – clean out the department store where they are employed. Thornton's performance was a comedic masterstroke, especially when he let loose with his stinging, profane and sarcastic invective. He followed with a measured, intelligent portrayal of high school football coach in the gridiron-obsessed small town of Odessa, TX, in the hit film "Friday Night Lights" (2004). He took on a less serious sports-minded project when he accepted the role of Little League baseball coach Morris Buttermaker (originally played by Walter Matthau) in the remake of the classic "The Bad News Bears" (2005). As a high school baseball sensation who once earned a Major League tryout in his youth, Thornton was well-suited to the role of the inebriated, washed-up Buttermaker riding herd over a profane team of young misfits. But the film suffered in its adherence to the original and a refusal to sharpen the story's edges for a more contemporary audience.
Thornton took on his second anti-Christmas-themed film with "The Ice Harvest" (2005), director Harold Ramis' film noir with pitch black comic undercurrents, playing the potentially untrustworthy partner in crime of a mob accountant (John Cusack) who steals a bundle from his boss and endures a perilous Christmas Eve as they prepare to flee. For his next feature, Thornton wasted his talents as a lifestyle coach for losers in "School for Scoundrels" (2006), a lame and rather predictable comedy from Todd Phillips about a top secret confidence-building class run by a deviant huckster (Thornton) whose tough love tactics and compulsion for prying into his students' lives leads them to overcome their deep-rooted anxieties to exact revenge. Thornton remained productive in the following year, starring in "The Astronaut Farmer" (2007), a satirical look at an astronaut forced to leave NASA to save his family's farm, and "Mr. Woodcock" (2007), which featured Thornton as a sadistic gym teacher who terrorizes a best-selling self-help author (Seann William Scott) in his youth and is now ready to marry the writer's widowed mother (Susan Sarandon). He next played a government agent hunting down two fugitives (Shia LaBeouf and Michelle Monaghan) in the paranoid thriller "Eagle Eye" (2008). After several years spent working in low-budget films like Mark Polish's comedy-drama "The Smell of Success" (2009) and his own late '60s period piece "Jayne Mansfield's Car" (2013), Thornton returned to television as the villain in "Fargo" (FX 2014- ), a comedy-drama based on Joel and Ethan Coen's film of the same name.
The above TCM overview can also be accessed online
here.