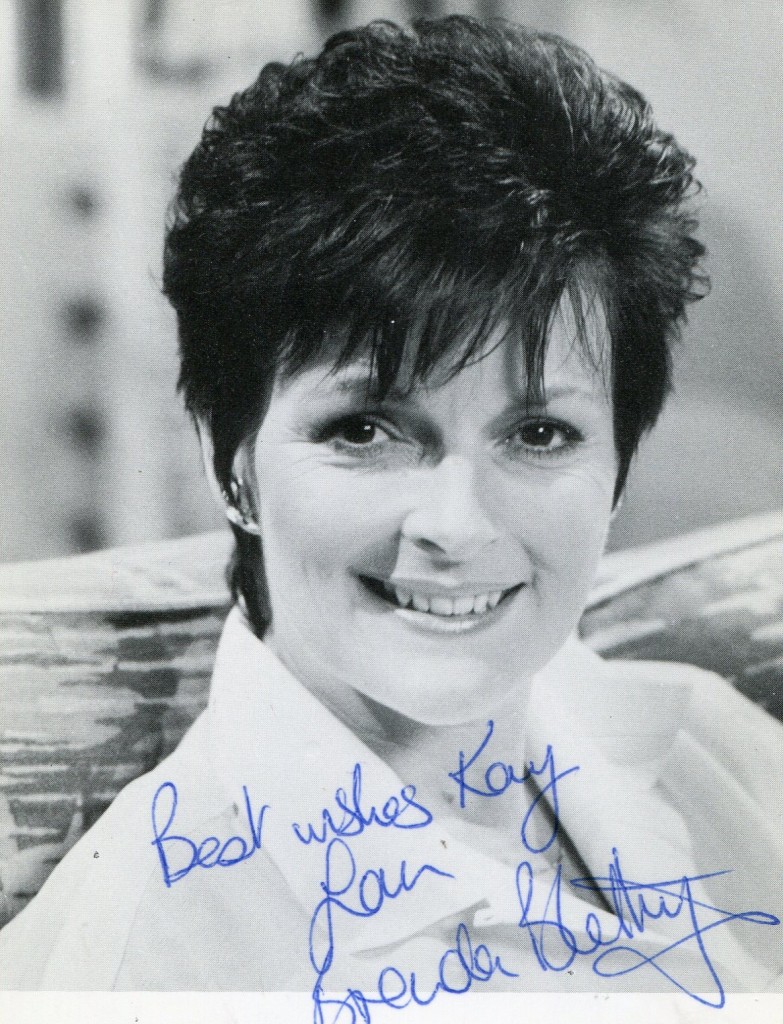 Brenda Blethyn was born in 1946 in Ramsgate, Kent. She did not come into professional acting until her early thirties. However she soon gained a high profile reputation for her stage workj. She went on to star in the many films directed by Mike Leigh including "Secrets and Lies". She made "A River Runs Through It" in the U.S. where she played Brad Pitt's mother. She is currently starring in the very popular detective series "Vera" on British television, set in the North East of the UK.
TCM overview:
After decades of acclaimed performances on stage and British television, Brenda Blethyn expanded her audience to include international theatergoers during the 1990s. With her spry and feisty manner, she showed a flair for comedy with her acclaimed starring roles in "Little Voice" (1998), "Saving Grace" (2000) and several British sitcoms. But ultimately the stage veteran revealed herself to be one of her country's most versatile character actors, bringing a down-to-earth accessibility to ubiquitous costume dramas like "Pride & Prejudice" (2005) as well as offering many portraits of contemporary women struggling to define themselves in "Secrets and Lies" (1996) and "Lovely and Amazing" (2001). Much in-demand in her native country and by filmmakers from the U.S. to Australia, Blethyn could always be counted to add her humorous touch to characters undergoing the most difficult of personal situations.
Born Brenda Anne Bottle on February 20, 1946, Blethyn was raised the youngest of nine in a working class home in Ramsgate, a seaside resort town in Kent, England. She attended Thanet Technical College in Kent and spent the following 10 years in an administrative career, while continuing to nurture her interest in acting by appearing in regional theatrical productions. The dissolution of her early marriage led her to reassess her life and enroll in the Guildford School of Acting. In a remarkably short period of time, she was performing with the Royal National Theater. Her many credits there included "Troilus and Cressida" in 1976 and "Mysteries" in 1979; in 1980, the newcomer hit movie screens in Mike Leigh's "Grown-Ups" (1980). She earned her first critical acclaim in 1981 for "Steaming" at the Comedy Theater, for which she took home London Critics Circle and Society of West End Theatre Awards for Best Supporting Actress. The following year, she played in "The Double Dealer" at the Royal National Theatre and the modest number of guest TV spots she had already accrued led to a leading role as the long-suffering girlfriend of an unlucky man (Simon Callow) in the sitcom, "Chance in a Million" (Channel 4, 1984-86).
During the 1980s, Blethyn made countless British television appearances, ranging from BBC productions including "King Lear," to the mystery miniseries "Death of an Expert Witness" (1985) to the NBC two-part TV movie "Poor Little Rich Girl: The Barbara Hutton Story" (1987). Her ongoing stage work included "A Doll's House" and "Born Yesterday" at the Royal Exchange Theatre, and "The Benefactors," which earned the actress an Olivier Award nomination. In 1989 Blethyn was well-cast as a single mum who vows to achieve a list of goals she made for herself as a teen – before her 40th birthday – in the sitcom, "The Labours of Erica." Her first film role came the following year in Nicolas Roeg's childhood fantasy, "The Witches" (1990). Blethyn continued to break new ground with her first American stage performance in the off-Broadway production of Alan Ayckbourn's "Absent Friends" in 1991.
Blethyn earned a Theater World Award for Outstanding New Talent for "Absent Friends" and went on to make her first dent in Hollywood playing a minister's wife and the mother of two very different sons (Brad Pitt and Craig Sheffer) in the Depression era film, "A River Runs Through It" (1992). While appearing in the leading role in the British miniseries "The Buddha of Suburbia" (1993) and scoring a British Comedy Award for Best TV Comedy Actress for "Outside Edge" (1994-95), Blethyn stayed close to the stage in productions with the Royal Shakespeare Company and the Royal Theater Exchange in Manchester. Her career reached new heights in 1996 when she re-teamed with Mike Leigh for "Secrets & Lies" (1996), starring as a working class woman rediscovered by the black daughter she gave up for adoption at birth. Blethyn was both amusing and pitiable in a role that earned numerous accolades. For her tender mix of emotions and the talent she showed for improvisation in the film, she earned an Oscar nomination and Golden Globe and BAFTA wins, as well as the Best Actress Award at the Cannes Film Festival.
Her international victory raised Blethyn's profile significantly, and she landed back-to-back features for the next several years, first joining Julie Walters to play sisters-in-law and best pals who make a trip to Las Vegas in "Girls Night" (1997). Next she gave a tremendously moving portrait of a woman who has never fully recovered from the death of her child in the Australian produced "In the Winter Dark" (1998). And another Academy Award nomination was forthcoming for Blethyn's turn as a blowzy, boozy, talkative widow raising a troubled daughter (Jane Horrocks) with a remarkable gift for vocal mimicry in "Little Voice" (1998). Blethyn gave an excellent portrayal of Louella Parsons in "RKO 281" (1999), the acclaimed HBO original about the making of Orson Welles' masterpiece, "Citizen Kane" (1941). Back to proving she could carry a film lead with charm, humor and pluck, Blethyn offered a deft comic turn as a refined widow forced by financial straits into growing a bumper crop of marijuana in the surprise art house hit "Saving Grace" (2000), for which she earned another round of Golden Globe and BAFTA nominations.
The following year, Blethyn garnered her first Emmy nomination for her affecting portrayal of Auguste Van Pels in the acclaimed ABC miniseries, "Anne Frank." Her next string of films were little-seen, with the possible exception of Nicole Holofcener's modest indie hit "Lovely and Amazing" (2001), a smart female ensemble in which Blethyn anchored as the matriarch of a family of women (Catherine Keener, Emily Mortimer, Raven Goodwin). After lending her voice to the Nickelodeon animated feature "The Wild Thornberry's Movie" (2002), she appeared in the dark psychological drama, "Sonny" (2002), directed by first-timer Nicholas Cage. Often criticized for overplaying a working-class British accent, Blethyn affected an American tone in playing the mother of Pumpkin Romanoff (Hank Harris) in the satirical look at fraternity life in Southern California, "Pumpkin" (2002).
In a third box office flop, Blethyn was cast as the showtune-singing mother of Bobby Darin in Kevin Spacey's labor-of-love, "Beyond the Sea" (2004). She fared better when she hit Broadway that year in Marsha Norman's Pulitzer Prize-winning play "'Night Mother," starring opposite Edie Falco as the mother of a woman who has decided to commit suicide. In 2005, Blethyn starred in the Scottish film production "On a Clear Day" (2005), playing the wife of a laid-off Glasgow shipbuilder who takes the family's finances into her own hands and secretly trains to start her own career. From this modest art house film, Blethyn hit mainstream movie theaters in a lively adaptation of Jane Austen's "Pride & Prejudice" (2005), where her performance as Mrs. Bennett, the forever-nattering matriarch constantly trying to marry off her daughters to save the family's future, was a comedic gem. The timeless classic went on to earn over $120 million at the box office, securing Blethyn's place as one of the most versatile British actresses around, equally appealing in costume dramas or as cheeky working class mums.
Further stretching her range, Blethyn starred as a raucous Australian comedienne in "Clubland" (2007), and was nominated for an American Film Institute Award while the film was popular at the Australian Film Institute Awards that year. Blethyn followed up with a small supporting role in the blockbuster drama "Atonement" (2007). Blethyn took a break from her non-stop film shooting schedule over the next couple of years, guesting on American TV as the neurotic mother of Julia Louis-Dreyfus' character on "The New Adventures of Old Christine" (CBS, 2006- ) and earning another Emmy nomination for a guest spot on "Law & Order: SVU" (NBC, 1999- ) as a woman who helps seek justice for an abused neighbor.
Rhe above TCM overview can also be accessed online
here.