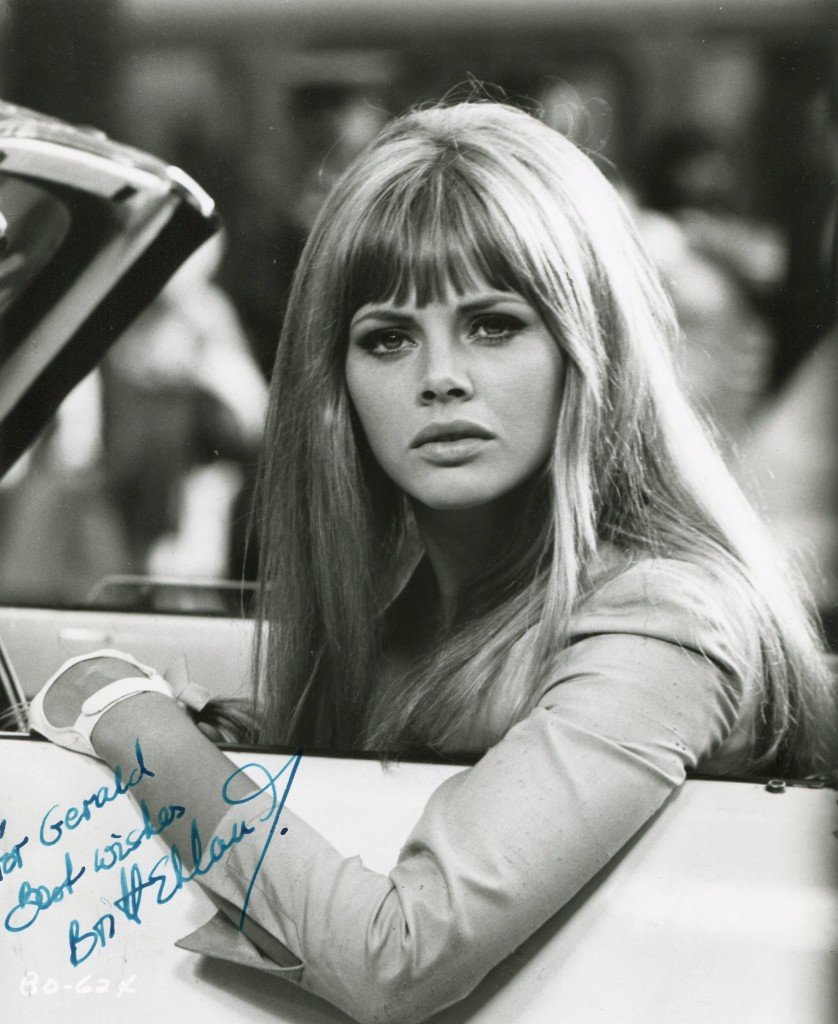 Britt Ekland is a Swedish actress and singer, and a long-time resident of the United Kingdom. She is best known for her roles as a Bond girl inThe Man with the Golden Gun, and in the British cult horror film The Wicker Man, as well as her marriage to actor Peter Sellers. Other films include "The Bobo", "The Night They Raided Minskys" and "Night Games".
TCM overview:
The epitome of the fresh-faced, sexually adventurous Swede, Britt Ekland was an alluring presence in a handful of popular films in the 1970s, most notably "Get Carter" (1972), "The Wicker Man" (1973) and "The Man with the Golden Gun" (1974). Blessed with a trim figure and impossibly wide eyes, Ekland played both sides of the cinematic sex object – the innocent and the libertine – though off-camera, she definitely fell into the latter category, thanks to relationships with the likes of Peter Sellers, Warren Beatty, Rod Stewart and many others. Ekland's career essentially dissolved in the late 1970s, though she remained a fixture in low-budget films and on television, as well as an inspiration to younger men everywhere through her marriages to rockers Phil Lewis and Slim Jim Phantom, who were both two decades her junior. Her best films kept her image as one of the 1970's most enticing starlets alive for generations.
Born Britt-Marie Eklund in Stockholm, Sweden on Oct. 6, 1942, she was the sole girl among three brothers. Her father was a successful retailer, and her mother a homemaker. Contrary to her glamorous screen appearance, she was a plain, slightly overweight girl during her adolescent years, but shed the weight before attending drama school and later, a traveling theater group. Discovered in Rome at the age of 20 by a 20th Century Fox representative, she was signed to a seven-year contract, and made her film debut in an uncredited turn as a German girl in Elvis Presley's post-military feature "G.I. Blues" (1960). Petite, blonde and pert, she was an undeniably watchable background player in her earliest features, which took her from her native Sweden to Italy, opposite Toto in "The Commandant" (1963), and America, as an uncredited Swedish nudist in Mark Robson's "The Prize" (1963), with Paul Newman as a Nobel laureate distracted by Elke Sommer.
Ekland's star ascended nearly overnight when she became Peter Sellers' second wife in 1964. The eccentric comedian had spotted a photograph of her in a newspaper and proposed to her shortly after meeting her in London. Their relationship was the stuff of tabloid legend, most notably after Sellers reportedly suffered the first of many heart attacks on their wedding night. Together, they would appear in three projects: the Rod Serling-penned "Carol for Another Christmas" (ABC, 1964), a bleak, modernized take on "A Christmas Carol" with Sterling Hayden as a Scrooge-like industrialist and Sellers as a post-apocalyptic ruler; Vittorio De Sica's "After the Fox" (1966), with Sellers as an Italian master criminal and Ekland as his long-suffering sister; and "The Bobo" (1967), with Sellers as a bumbling matador who must seduce Ekland's beauty in order to land a job at a local theater. None of the projects saw much success – "Carol" was screened only once and effectively banned for disturbing wartime imagery, while critics regarded Ekland as totally miscast in the subsequent comedies. Her marriage to Sellers also met with disaster, and they divorced in 1968. She soon developed a reputation as one of Hollywood's most sought-after women, and enjoyed high-profile relationships with Warren Beatty, Jack Nicholson and George Hamilton, among others.
Ekland would then bounce between Hollywood and international projects of varying degrees of quality over the next decade. She was top-billed as an Amish girl who becomes the burlesque queen of Jazz Era Broadway in William Friedkin's "The Night They Raided Minsky's" (1968), then served as arm candy for the likes of Alex Cord in "Stiletto" (1969), John Cassavetes in "Machine Gun McCain" (1969) and most notably, in Mike Hodges' gritty "Get Carter" (1972), where she made the most of a scene in which she indulged in phone sex with Michael Caine's vengeful gangster. Supporting roles in minor British horror and mystery titles like "Endless Night" (1972) and "Asylum" (1972) preceded the two films for which she was best known: 1973's "The Wicker Man" and "The Man with the Golden Gun" (1974).
In the former, a cerebral and chilling British horror film by Robin Hardy, Ekland played a sexually alluring young resident of a remote island who attempted to seduce virginal policeman Edward Woodward through a tempestuous naked dance in the hotel room next to his. Despite the notoriety it afforded the actress, Ekland was largely subbed by a body double, as she was pregnant with rock producer and promoter Lou Adler's child at the time. The following year, she reunited with her "Wicker Man" co-star, Christopher Lee, for "The Man with the Golden Gun," which marked the second appearance of Roger Moore as James Bond. Ekland played Mary Goodnight, a fellow British intelligence employee who aided Bond in his pursuit of international assassin Scaramanga (Lee) before succumbing to 007's charms. A recurring character in Ian Fleming's novels, Ekland's portrayal lent a ditzier, wide-eyed innocence to the character, and helped to make her one of the more popular 1970s-era Bond Girls.
After leaving Adler in 1975, Ekland took up with British rocker Rod Stewart, which greatly reduced her screen appearances for the next decade. She settled into a domestic routine while Stewart became one of the most popular performers of the decade. On two occasions, their lives and his career came together: she lent vocals in French to his single "Tonight's the Night," then served as his muse for "You're In My Heart, You're In My Soul," one of his most enduring ballads. But after learning from Hamilton that Stewart had taken up with his ex-wife, Alana Hamilton, Ekland severed the relationship and returned to acting. Sadly, there were few choice parts for the aging actress, save for low-budget horror like "The Monster Club" (1980) and softcore films like "Love Scenes" (1984).
Ekland instead devoted her time to an autobiography, True Britt, which became a bestseller upon its release in 1980. In the meantime, she took up with several younger lovers from the rock scene, including Phil Lewis from L.A. Guns and Stray Cats drummer Slim Jim Phantom, whom she married in 1984. At the time, she was 42, while Phantom was nearly two decades her junior. Their union produced a son, Thomas Jefferson, before ending in 1992. During this period, Ekland enjoyed her best screen role in over a decade in 1989's "Scandal," where she played the notorious prostitute Mariella Novotny. Her appearance in the film, where she appeared topless with gold-painted nipples, caused a stir among critics and longtime fans.
In the 1990s, Ekland busied herself with a beauty and fitness book, as well as an accompanying video, while appearing regularly on American and European television. In the new millennium, she was a fixture on the British stage as the Fairy Godmother in a touring production of the musical "Cinderella," as well as other shows. In 2010, she journeyed to Australia to participate in the 10th season of "I'm a Celebrity Get Me Out of Here!" (ITV, 2002- ), the popular reality series/game show. She lasted 16 days before her elimination. After a 2004 diagnosis with osteoporosis, Eklund became a noted participant in charities for the disease, as well as for Alzheimer's, which claimed her mother after a lengthy illness.
By Paul Gaita
The above TCM overview can also be accessed online here.