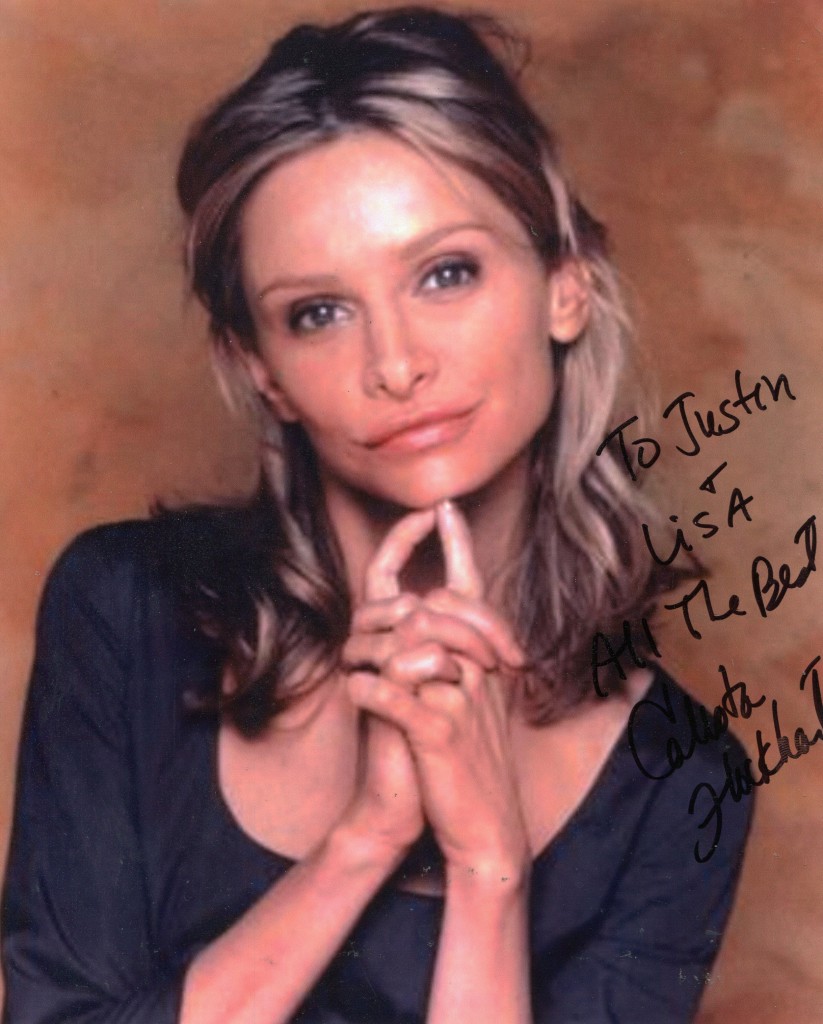 TCM overview:
Although she was a stage-trained actress with an impressive theatrical résumé, audiences embraced Calista Flockhart as charming, vulnerable lawyer "Ally McBeal" (FOX, 1997-2002). She and her character became cultural touchstones, both loved and despised for many reasons: her revealing clothing, her rail-thin physique, her self-absorption, her fitness as feminist poster girl, etc. The Golden Globe-winning actress focused more on the work than on celebrity, earning good reviews in "William Shakespeare's A Midsummer Night's Dream" (1999) and "Things You Can Tell Just by Looking at Her" (2001) as well as more well regarded stage work. After adopting a son, she resurfaced as the Republican daughter of Sally Field on the hit drama "Brothers & Sisters" (ABC, 2006- ) and made headlines by marrying movie star Harrison Ford. A quiet success, Flockhart seemed less interested in Hollywood ambition than in enjoying her work and her real life.
Born Nov. 11, 1964 in Freeport, IL to Kay, an English teacher, and Ronald Flockhart, an executive for Kraft Foods, Calista Kay Flockhart and her family moved often for her father's job. She ended up residing in Illinois, Iowa, Minnesota, New York and New Jersey. After high school, she attended the Mason Gross School of the Arts at Rutgers University in New Jersey, determined to become an actress. After graduation, she balanced work in regional theater with Manhattan stage performances and the occasional TV or film role. She acted in several off-Broadway plays – including "All for One," "Sophistry," "Wrong Turn at Lungfish" – before triumphing on Broadway in the role of Laura opposite Julie Harris in a 1994 revival of "The Glass Menagerie." Her feature debut was in the tiny part of a college student in Robert Redford's "Quiz Show" (1994). While appearing to great praise in the stage production of "The Loop," she came to the attention of Mike Nichols, who gave the actress her breakthrough screen role as a conservative politician's (Gene Hackman) daughter engaged to the son of two gay men (Robin Williams and Nathan Lane) in the hit comedy "The Birdcage" (1996), a loose remake of "La cage aux Folles" (1978).
Although she already had several TV credits – including the title role in "The Secret Life of Mary-Margaret: Portrait of a Bulimic" (HBO, 1992) – it was the David E. Kelley-created "Ally McBeal" (FOX, 1997-2002) which vaulted her to stardom. As a fantasy-prone Boston lawyer coping with being a single working woman, Flockhart delivered a performance balanced between comedy and pathos: either you loved Ally or hated her; either you found her an example of a modern woman or a frustratingly regressive caricature. Every detail about the character – from her ultra-short skirts to her self-obsession to her constant search for Mr. Right – was scrutinized in the media and around watercoolers; even an image of her character appeared on the cover of Time magazine as part of the think piece, "Is Feminism Dead?" That was also a position in which the actress found herself with constant speculation over her love life and, more controversially, her weight. Impossibly slender, the actress denied reports that she had an eating disorder or a drug problem, but that did little to quell rumors. She became, in fact, the poster child of "lollipop head" actresses who may or may not have had eating disorders. Half the cast of "McBeal" was accused of the same the same disorder and berated for their affect on young girls' idea of beauty (Years later, Flockhart would admit that she had over-exercised and under-eaten during this period.) Despite the controversies, for her role as McBeal, the actress earned three Emmy nominations, a Golden Globe and a People's Choice Award among other honors.
Capitalizing on Flockhart's newfound fame, earlier projects that had been languishing in distributor limbo began turning up on screens, notably "Jane Doe" (filmed in 1996; screened at festivals in 1999) where she played a charismatic drug addict who falls for a shy writer. On the more mainstream front, Flockhart impressed as the headstrong Helena in Michael Hoffman's screen adaptation of "William Shakespeare's A Midsummer Night's Dream" (1999) opposite David E. Kelley's wife, Michelle Pfeiffer. She returned to her theatrical roots in the summer of 1999, headlining two-thirds of an evening of typically controversial one-acts written by filmmaker Neil LaBute that were collectively titled "Bash: Latter-Day Plays." She earned raves for her two characterizations – one an intense portrayal of a woman recounting an affair with a teacher and its tragic aftermath; the other as a Mormon woman visiting NYC with her boyfriend – and her mere presence guaranteed that the limited off-Broadway production sold out.
Flockhart hosted an episode of "Saturday Night Live" (NBC, 1975- ) and appeared elsewhere in the David E. Kelley universe as McBeal on "The Practice" (ABC, 1997-2004). She took a dramatic turn in her next feature, "Things You Can Tell Just by Looking at Her" (2001), playing a remarkably accurate tarot card reader who nurses her cancer-ridden lover (Valeria Golino) while finding solace in recounting the memories of their relationship. Off-screen, the actress made headlines by adopting a son, Liam, as a single mom in 2001, and onscreen, Robert Downey, Jr. was added to the cast of "Ally McBeal" in the fourth season. His romance with Flockhart fueled a revival of both the ratings and Downey's career. When the series ended, Flockhart joined Matthew Broderick, Alec Baldwin and Toni Collette to make the FBI-sting-operation comedy, "The Last Shot" (2004), which bombed. In her real life, Flockhart began dating mega-star, Harrison Ford, who had recently separated from his second wife, Melissa Mathison. In a typical "meet cute," Flockhart accidentally spilled a drink on him at the Golden Globes due to her nervousness in meeting him. After that evening, the couple became inseparable.
Flockhart disappeared from cultural radars until her return to regular television work starring on the soapy drama, "Brothers & Sisters" (ABC, 2006- ), a family saga about five siblings who take over the family's lucrative business after the sudden death of their father (Tom Skerritt). Flockhart played a New York-based, right-wing radio talk show host who returns to her Los Angeles origins to start a television talk show, but must deal with her troubled family – particularly her estranged mother (Sally Field) – while helping to run the business. Despite a wobbly start, the show became an Emmy-winning hit, and Flockhart displayed considerable adult dramatic chops, a welcome evolution from the flightiness of Ally McBeal. Off-camera, the quiet, over-seven-year-long relationship between Flockhart and movie star Harrison Ford became official with their June 15, 2010 wedding in New Mexico.
The above TCM overview can also be accessed online here.