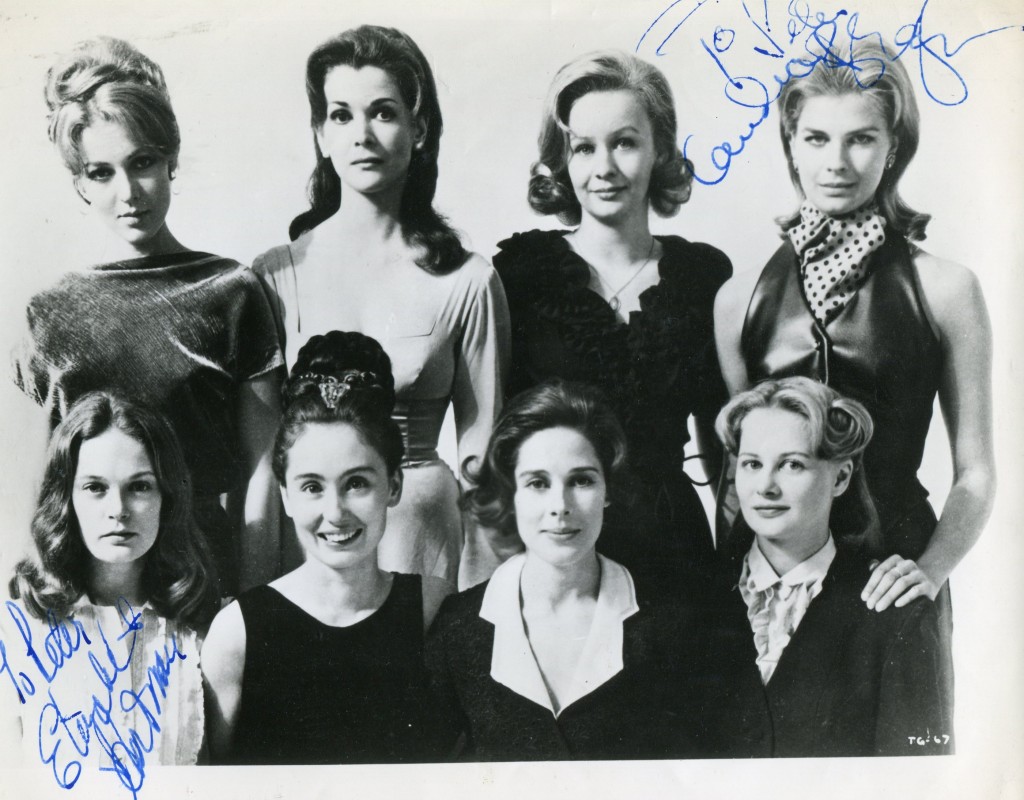 Candice Bergen was born in 1946 in Beverly Hills, California.   She is the daughter of Frances Bergen and Edgar Bergen.   She first came to fame as 'Libby' in "The Group" in 1966.   Her movies include "The Sand Pebbles" opposite Steve McQueen, "Carnal Knowledge" opposite Jack Nicholson and "Starting Over" with Burt Reynolds.   She also starred in the long running TV series "Murphy Brown" and "Boston Legal".
Gary Brumburgh's entry:
One cool, eternally classy lady, Candice Bergen was elegantly poised for trendy "ice princess" stardom when she first arrived on the screen, but she gradually reshaped that débutante image both on- and off-camera. A staunch, outspoken feminist with a decisive edge, she went on to take a sizable portion of these contradicting qualities to film and, most particularly, to late 1980s television. The daughter of famed ventriloquist Edgar Bergen and former actress and "Chesterfield Girl" Frances Bergen, the Beverly Hills born-and-bred Candice was surrounding by Hollywood glitter and glamor from day one. At the age of 6, she made her radio debut on her father's show. Of extreme privilege, she attended Westlake School for Girls in Los Angeles, the Cathedral School in Washington, D.C., and then went abroad to the Montesano (finishing) School in Switzerland.
Although she began taking art history and creative drawing at the University of Pennsylvania, she did not graduate due to less-than-stellar grades. In between studies, she also worked as a Ford model in order to buy cameras for her new passion–photography. Her Grace Kelly-like glacial beauty deemed her an ideal candidate for Ivy League patrician roles, and Candice made an auspicious film debut while still a college student portraying the Vassar-styled lesbian member of Sidney Lumet's The Group (1966) in an ensemble that included other lovely up-and-comers including Joan Hackett, Jessica Walter and Joanna Pettet. Although that film was a box-office flop, Candice's second film in 1966, The Sand Pebbles (1966), was a critical and commercial hit and was nominated for several Academy Awards, including Best Picture. Film offers started coming her way, both here and especially abroad (spurred on by her love for travel).
Other than her top-notch roles as the co-ed who comes between Jack Nicholson and Art Garfunkel in Carnal Knowledge (1971) and her prim American lady kidnapped by Moroccan sheik Sean Connery in The Wind and the Lion (1975), her performances were deemed a bit too aloof to really stand out among the crowd. During this time, she found a passionate second career as a photographer and photojournalist. A number of her works went on to appear in an assortment of magazines including Life, Playboy and Esquire. Most of Candice's other late 1960s and 1970s films were either unmemorable or dismissed altogether, including the bizarre futuristic comedy The Day the Fish Came Out(1967); the forgotten mystery The Magus (1968); the epic-sized bomb The Adventurers(1970); the campus comedy Getting Straight (1970); the disturbingly violent Soldier Blue(1970); Lina Wertmüller's long-winded and notoriously long-titled Italian drama A Night Full of Rain (1978); and the soapy, inferior sequel to Love Story (1970), Oliver's Story(1978).
However, things picked up toward the end of the decade when the seemingly humorless Candice took a swipe at comedy. She made history as the first female guest host of Saturday Night Live and then showed an equally amusing side of her in the dramedyStarting Over (1979) as Burt Reynolds tone-deaf ex-wife, enjoying a Best Supporting Actress Oscar nomination in the process. She and Jacqueline Bisset also worked well as a team in George Cukor's Rich and Famous (1981), in which her mother Frances Bergencould be glimpsed in a Malibu party scene. Candice also made her Broadway debut in 1985 replacing Sigourney Weaver in David Rabe's black comedy Hurlyburly (1998). In 1980, Candice married Louis Malle, the older (by 14 years) French director. They had one child, a daughter named Chloe, in 1985. In the late 1980s, Candice hit a new career plateau on comedy television as the spiky title role on Murphy Brown (1988), giving great gripe as the cynical and competitive anchor/reporter of a television magazine show.
With a superlative supporting cast around her, the CBS sitcom went the distance (ten seasons) and earned Candice a whopping five Emmy Awards and two Golden Globe Awards. Television movie roles also came her way as a result with colorful roles ranging from the evil Arthurian temptress "Morgan Le Fey" to an elite, high-classed madam — all many moons away from her initial white-gloved debutantes of the late 1960s. Malle's illness and subsequent death from cancer in 1995 resulted in Candice maintaining a very low profile for quite some time. Since then, however, she has returned with a renewed vigor (or should I say vinegar) on television, with many of her characters enjoyable extensions of her "Murphy Brown" curmudgeon. After years of working exclusively in television, she returned to the big screen, playing a former beauty queen who attempts to foil Sandra Bullock in Miss Congeniality (2000), and Reese Witherspoon's pretentious would-be mother-in-law in Sweet Home Alabama (2002).
She has continued chomping at the comedy bit, appearing in The In-Laws (2003), The Women (2008), and Bride Wars (2009). In 2005, she joined the cast of Boston Legal(2004) playing a brash, no-nonsense lawyer while trading barbs with a much less seriousWilliam Shatner. She played this role for five seasons, receiving nominations for two Emmys, a Golden Globe Award and a Screen Actors Guild Award. Since 2000, she has been married to her second husband, Marshall Rose, who is a Manhattan real estate developer.
– IMDb Mini Biography By: Gary Brumburgh / gr-home@pacbell.ne