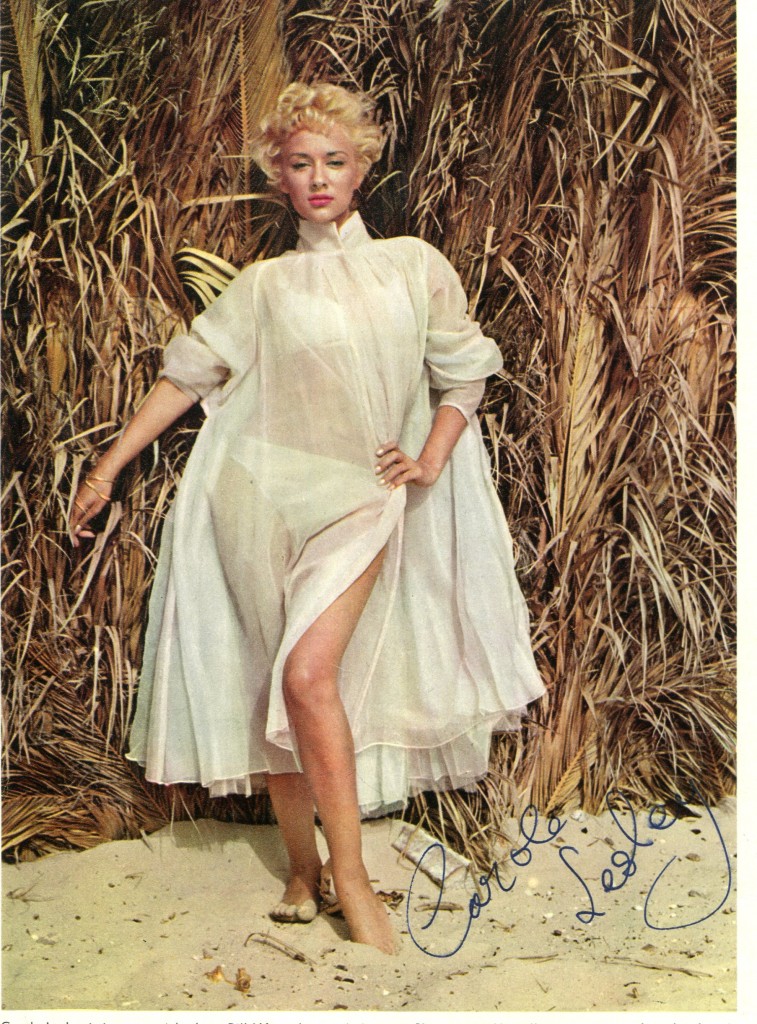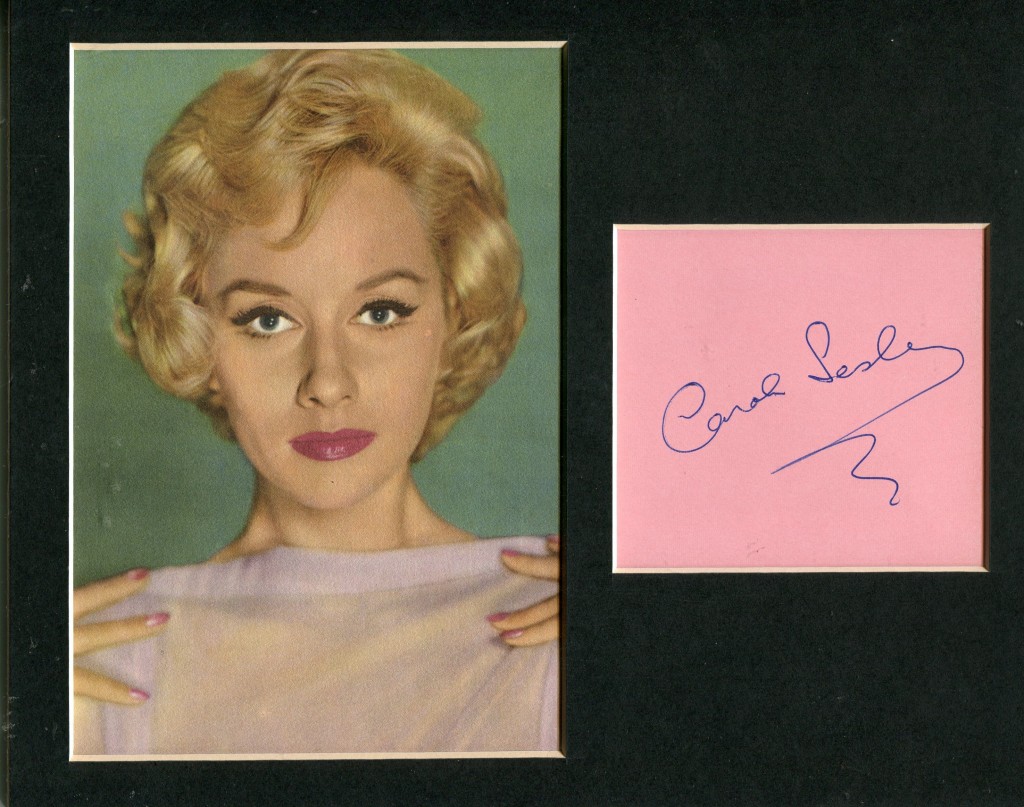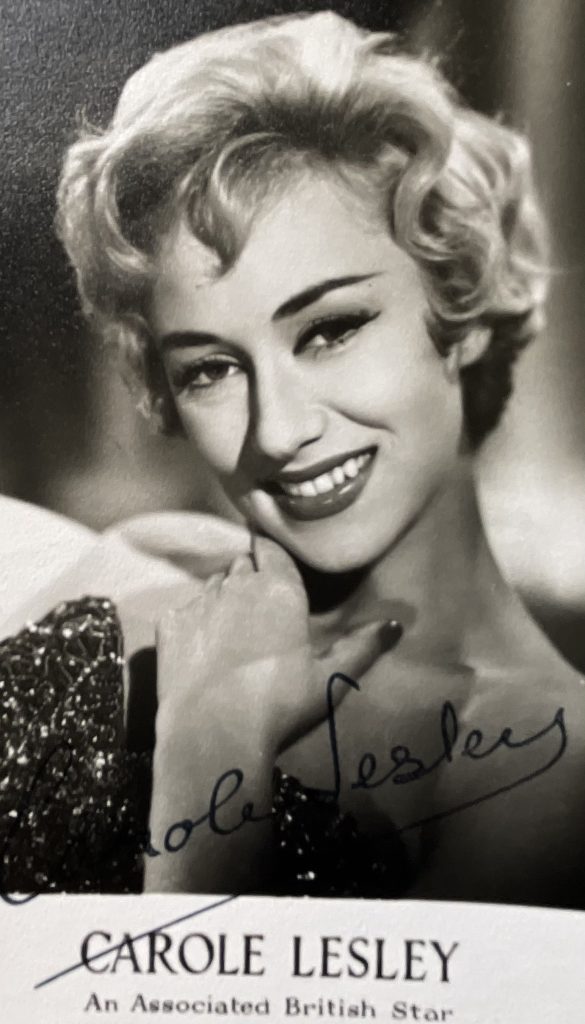 Carole Lesley was born in 1935 in Chelmsford. She had a brief career in British films of the late 1950's and early 1960's including "These Dangerous Years" with Frankie Vaughan, "Woman in a Dressing Gown" with Sylvia Syms and Yvonne Mitchell and "Doctor in Love" with Michael Craig. Sadly her career waned very quickly and she died in 1974.
Gary Brumburgh's entry:
Shapely, scintillating, peroxide British blonde Carole Lesley wound up another sexy statistic alongside other vibrant and promising, photogenic stars and starlets who pervaded the film industry with their undeniable photogenic assets only to be left achingly unfulfilled and die unhappily by their own hand.
In the case of Ms. Lesley, she was one of a few starlets who briefly rivaled notorious blonde bombshell Diana Dors as Britain's answer to Marilyn Monroe during the late 1950s and early 1960s. The stunning actress, whose slim face was slightly reminiscent of comedic actress Kay Kendall and the more contemporary Sean Young, willingly exploited her obvious physical endowments in an elusive attempt to drum up public attention. Like so many others before and after her, she wasn't able to sustain interest; middle age crept in and depression took over. Carole's career (which included less than a dozen films) lasted a mere half a decade.
She was born on May 27, 1935 and christened Maureen Lesley Carole Rippingale in Chelmsford, Essex, England. As a child she became interested in the idea of show business and made her film debut at age 12 with the British drama The Silver Darlings(1947) directed by Clarence Elder. Later the naive but very pretty and starry-eyed sixteen-year-old ran away from home in search of fame and success.
With her drop-dead good looks and curvaceous figure Carole eventually found a job as a chorine at London's Cabaret Club wherein she was able to sharpen her dancing skills. From there she trekked to Paris and worked up some notoriety as a nude glamour and pin-up model under the sexier moniker of Leslie Carol(e). Eventually she returned to England.
Following an unbilled role in The Embezzler (1954) at Kenilworth Productions, she managed to obtain a seven-year contract at Associated British Pictures wherein she reverted her marquee name to read "Carole Lesley". From 1957 on, she would appear in a mixed bag of quality drama and comedy programmers. Typical studio protocol had the lovely starlet attending premieres, parties, film festivals, beauty pageants, and various big-time social events in order to build up her name. She was more than game to doing what it took to having her face plastered all over town in such movie magazines (such as Picturegoer) and assorted newspapers.
Carole was seen to good advantage in the Associated film Woman in a Dressing Gown(1957) starring Yvonne Mitchell, Anthony Quayle and Sylvia Syms. The film, which won a Golden Globe for "Best English Language Foreign Film," has the actress playing a young neighbor and confidante to dowdy wife Mitchell whose husband (Quayle) is having an affair with his secretary (Syms). Dangerous Youth (1957), which was an early Liverpudian musical dramady built around 29-year-old "teen" pop idol Frankie Vaughan, has Carole and equally gorgeous Jocelyn Lane (billed as "Jackie Lane" here) as provocative distraction who weave in and out of Vaughan and George Baker's lives. Carole plays Vaughan's girl who, interestingly, is forced to slinging hash at a coffee shop when her own dreams of show business stardom falls apart. The star of singer Vaughan, who evolves from a gang leader to a rock-and-roll singing star in this picture, was eclipsed soon after by skyrocketing American sensation Elvis Presley.
It was not for a lack of trying, but Carole did not have the same "wow" factor as such buxom, publicity-starved starlets as Jayne Mansfield, who easily overshadowed her in the eye candy department at the 1958 Cannes Film Festival. Carole struggled to get firmly noticed despite her avid attendances in everything from toothpaste pads to charity races to the openings of bowling alley.
The 1950s ended with two more films for Carole. The well-done crime drama No Trees in the Street (1959) again had Carole supporting Sylvia Syms, while she and Barbara Murrayplayed female members of the military (lady privates) in the romantic war comedyOperation Bullshine (1959) which co-starred Donald Sinden and Ronald Shiner. Although it kept her visible, neither helped her longing desire to become a full-fledged star. The beginning of the 1960s had Carole appearing on TV as legendary temptress Helen of Troy. She also showed up in one of British film's most popular slapstick comedy series at the time. This entry was Doctor in Love (1960) and had handsome doctor Michael Craigsubbing for a vacating Dirk Bogarde while Carole and Virginia Maskell (who, in real life, died a suicide at age 31 in 1968), played standard love interests.
Playing a sexy, straight foil in light comedy seemed to be a viable platform for Carole and she went on to appear in three more light comedies during the early 1960s. Nothing out of the ordinary, however, came out of her appearances in Three on a Spree (1961),What a Whopper (1961) and The Pot Carriers (1962), and Associated decided to release her from her contract.
The devastated actress pulled a virtual disappearing act following the unhappy news, retreating completely from the limelight. In August of 1964 it was learned that she had married Michael Dalling and that she eventually bore him two sons. Very little was heard of Carole until 1974 when it was revealed that on February 28th she had died by her own hand from an acute overdose of pills at age 38 in New Barnet, England. Although relatives later insisted it was an accident, it was nevertheless a sad, seemingly inescapable fate for this incredibly beautiful woman. Carole's photography from her early days as a model and pin-up has more recently served as a source of inspiration for British artist Paul Harvey.
– IMDb Mini Biography By: Gary Brumburgh / gr-home@pacbell.net