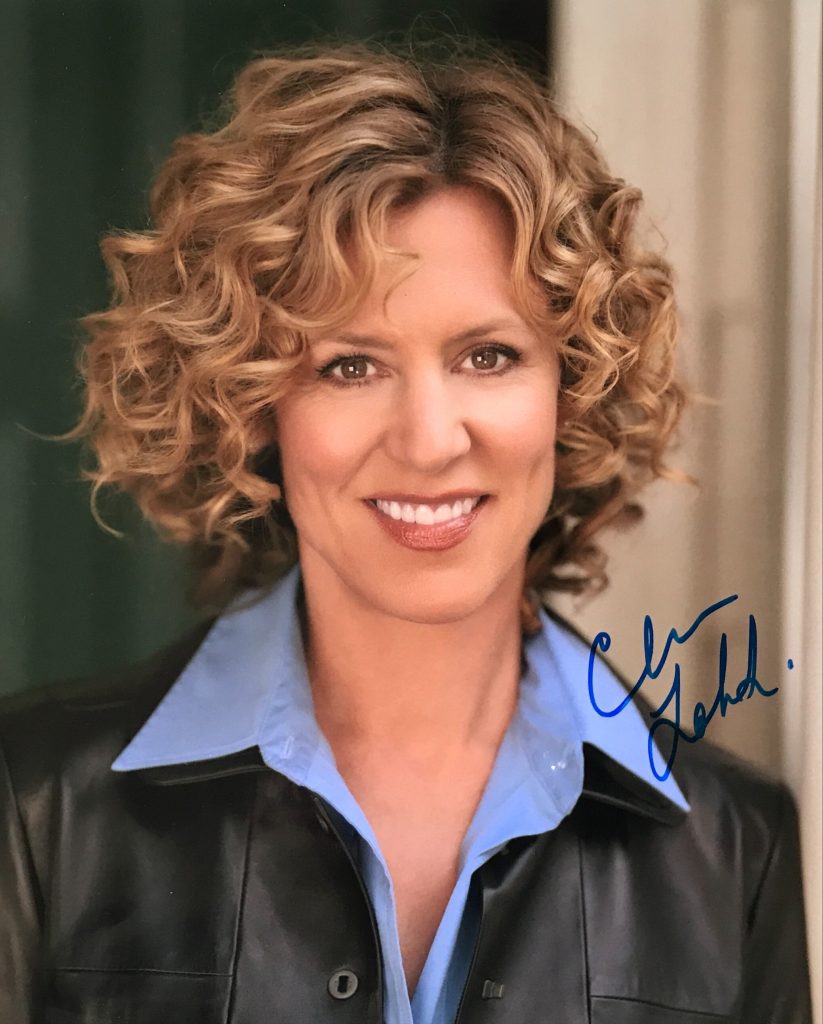 Christine Lahti was born in 1950 in Michigan. Early in her career, she won two major roles, "And Justice For All" opposite Al Pacino in 1979 and "Whose Life Is It Anyway" opposite Richard Dreyfuss in 1981. She was nominated for an Oscar for "Swing Shift" with Goldie Hawn and gave a terrific performance in "Running On Empty".
TCM overview:
Beginning in the late 1970s, acclaimed film, television and stage actress Christine Lahti carved out a niche for herself in an emerging field for Hollywood actresses – roles as professional, independent career women. Uninterested in wasting her dedication to acting on thinly-written supporting roles as girlfriends and wives, Lahti was in the right place at the right time and gave strong showings in character-driven films like "Whose Life is it Anyway?" (1981), "Swing Shift" (1984) and "Running on Empty" (1988), for which she earned an Academy Award nomination. In between film roles as smart, compassionate doctors, lawyers, and educators, Lahti was a constant television presence with her Golden Globe-winning run on the medical drama "Chicago Hope" (CBS, 1994-2000) and award-winning telepics like the homeless family chronicle "No Place Like Home" (CBS, 1989). Throughout her career, Lahti regularly revisited her roots as a theater actress, notably in several plays by Wendy Wasserstein, and also branched out to direct episodic TV and films, making her one of the most respected women in Hollywood and one with a palpable commitment to quality storytelling.
Born April 4, 1949, Lahti was raised in Birmingham, MI where she was the daughter of a surgeon father and a nurse-turned-painter mother. At the University of Michigan in Ann Arbor, Lahti was active in theater and performed with a mime troupe that toured internationally, including an appearance in a mime version of Shakespeare's "The Tempest" on the London stage. After graduating with a degree in speech and drama, Lahti intended to earn a Masters from Florida State University, but after only a year, she moved to New York where she studied drama at the renowned HB Studio and The Neighborhood Studio. Waitress work and street mime performing finally gave way to a steady career in television commercials and a breakthrough stage role in David Mamet's "The Woods" in 1978, for which she earned a Theater World Award. The same year, she made her TV debut as a co-star of the ABC movie-pilot "Dr. Scorpion," which led to a stint as a series regular on the short-lived "The Harvey Korman Show" (ABC, 1978), where she played the comedian's daughter.
Lahti's impressive work alongside drama legend Lee Strasberg in the TV movie "The Last Tenant" (ABC, 1978) caught the eye of producer-director, Norman Jewison. He subsequently cast her as a lawyer and ethics committee member who becomes involved with an ethically questionable lawyer (Al Pacino) in the acclaimed "… And Justice for All" (1979). After a return to the off-Broadway stage to play opposite Kevin Kline in "Loose Ends," Lahti further established her strength for playing professional, independent women with her role as the doctor of an accident victim (Richard Dreyfus) fighting for his right to die in John Badham's film adaptation of the Broadway hit "Whose Life Is It Anyway?" (1981). Lahti finally made it to Broadway herself in "Division Street," Steve Tesich's comedy about grown-up 1960s hippies in the 1980s and had a small supporting role in the punk rock cult film "Ladies and Gentlemen, the Fabulous Stains" (1981).
After taking a key role in the TV miniseries based on Norman Mailer's biography of career criminal Gary Gilmore, "The Executioner's Song" (NBC, 1982), Lahti experienced a major film breakthrough in "Swing Shift" (1984), co-starring opposite Goldie Hawn as her aspiring singer best friend and co-worker at a WWII munitions plant. Injecting the character with a much-needed dose of acerbic wit, Lahti earned great reviews and was recognized with a Best Supporting Actress Oscar nomination. She portrayed another single career woman; this one befriended by a married woman (Mary Tyler Moore) who learns they share a man in common, in the soapy tearjerker "Just Between Friends" (1986). Her role as a repressed woman who blossoms when she falls in love with an East German operative in the controversial ABC miniseries "Amerika" (1987) earned her an Emmy nomination, and she followed up the pair of dramas by playing a free-spirited aunt who inspires her nieces in the lighthearted comedy, "Housekeeping" (1987).
In one of Lahti's most memorable big screen performances, she earned a Golden Globe nomination for Sidney Lumet's intense "Running on Empty" (1988). The film starred Lahti and Judd Hirsch as former 1960s political activists on the run from the FBI with a family in tow, including a teen son played by River Ph nix. Lahti returned to Broadway in Wendy Wasserstein's "The Heidi Chronicles" and concurrently appeared on movie screens in 1989's "Gross Anatomy," where she was seen as the stern medical professor of class rebel, Matthew Modine. She gave a Golden Globe Award-winning performance as the matriarch of a family forced to live on the streets in "No Place Like Home" (CBS, 1989), and a CableACE Award as a conservative educator who finds unlikely romance with a Hispanic janitor in "Crazy from the Heart" (TNT, 1991), directed by her husband Thomas Schlamme. After an unchallenging role as William Hurt's unhappy wife in "The Doctor" (1991), Lahti was back on stage in the off-Broadway play "Three Hotels."
Following a hiatus, during which the actress gave birth to twins, Lahti returned to work with a string of TV movies and moved behind the camera to nail her directorial debut with "Lieberman in Love" (1995), co-starring as a prostitute opposite Danny Aiello. The film earned an Oscar for Best Live Action Short Film. In 1995, Lahti joined the second season of the CBS medical drama "Chicago Hope" (1994-2000), playing the complicated, ambitious cardiothoracic surgeon and feminist, Dr. Kathryn Austin. The show also gave Lahti the opportunity to direct, and she helmed a number of episodes throughout her on-screen run, while earning four consecutive Emmy nominations as Outstanding Lead Actress in a Drama Series and a victory in 1998. She famously won a Golden Globe for her role in 1998, and was forced to rush out of the ladies' room and scurry red-faced onto the stage to collect her trophy. During her off-seasons from "Chicago Hope," Lahti continued to take on new projects, starring in the Goldie Hawn-helmed TV movie about small town secrets, "Hope" (TNT, 1997) and writer-director Stephen Tolkin's biopic about a religious woman who kills a camp counselor who has molested her son in "Judgment Day: The Ellie Nesler Story" (USA, 1999).
Lahti left "Hope" in 1999 and reunited with Wendy Wasserstein, taking the lead in the playwright's tale of a prominent senator's daughter and Surgeon General nominee who comes under a media attack for minor transgressions in "An American Daughter" (Lifetime, 2000). The following year, she stepped behind the camera to direct her first feature film "My First Mister" (2001), a well-reviewed tale of a 17-year-old misfit (Leelee Sobieski) and her relationship with a neurotic middle aged man (Albert Brooks). After strong turns headlining telepics including "The Pilot's Wife," (CBS, 2002) and "Out of the Ashes" (Showtime, 2003), where she played a doctor and Jewish holocaust survivor, Lahti returned to series television in The WB drama, "Jack & Bobby" (2004- ). For the show's short two-season run, Lahti starred as the fiery, strong-willed, pot-smoking college professor mother of two teen sons, one of whom eventually becomes the U.S. President. Despite strong reviews, particularly centering on Lahti's multidimensional portrayal, the show failed to find a fan base and was cancelled in 2005.
She rebounded with a recurring role on NBC's Hollywood dramedy "Studio 60 on the Sunset Strip" (NBC, 2006-07), as a Pulitzer Prize-winning journalist writing a Vanity Fair piece on the show-within-the-show. Lahti went on to make strong showings in a pair of little-seen indies, beginning with the academia-set comedy "Smart People" (2008), and "Yonkers J " (2009), a character drama about a professional gambler's (Chazz Palminteri) estranged relationship with his mentally disabled son. Later in the year, Lahti enjoyed a supporting role in the high profile thriller "Obsessed" starring Beyonce Knowles.
The above TCM overview can also be viewed online h
ere.