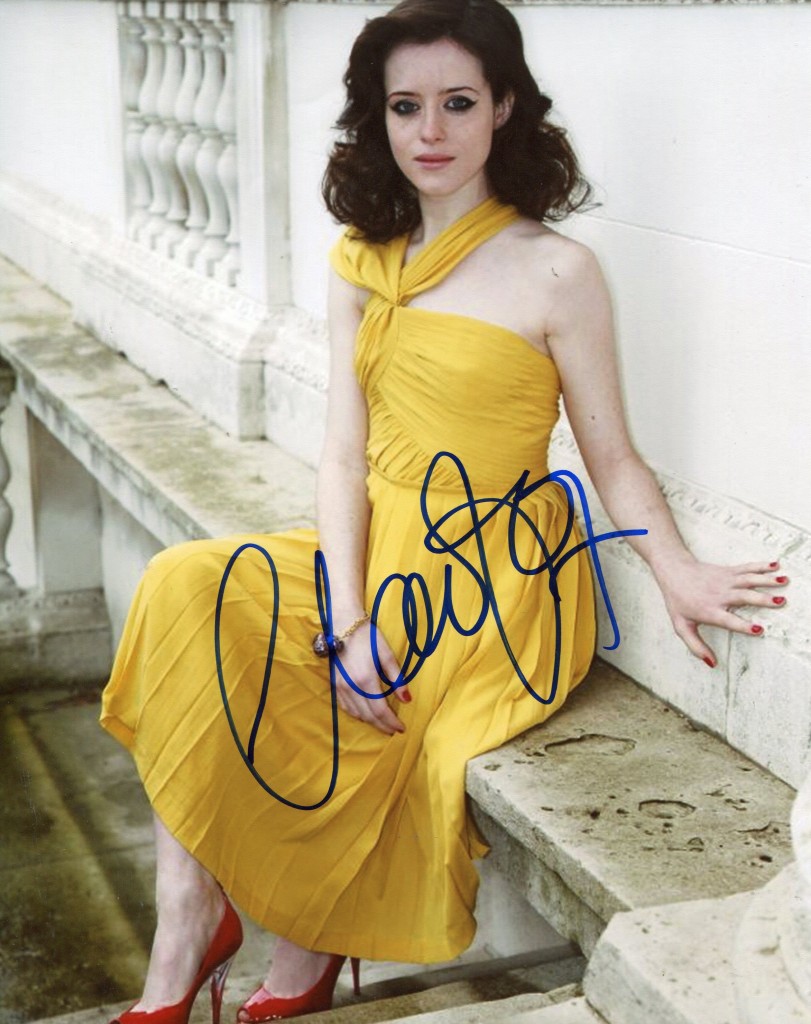 Claire Foy was born in Stockport in 1984. She is best known for her performance in the new series of "Upstairs, Downstairs" and the television series "White Heat".
"Guardian" interview:
Claire Foy is running late for her interview in the first-floor private dining room of a north London pub, finally phoning to say: "I'm downstairs". "And I'm upstairs," I reply, which is all very droll because Foy is of course one of the stars of Upstairs Downstairs, BBC1's reconstituted version of the Seventies ITV classic about toffs and servants. Except that today the toffs are downstairs, or rather the cast of 'scripted reality' show Made in Chelsea are shooting an advert for the fashion chain River Island. "How exciting," says Foy when she puts her head round the door. "It's Made in Chelsea downstairs… I can't believe it."
What chance the cast of Made in Chelsea returning the compliment: "It's Claire Foy upstairs… we can't believe it"? Have they even heard of her? The difference is that while the solipsistic Sloanes are chasing fame for its own sake, celebrity is a by-product of Foy's job. She is, however, the real class act in this building, a fact momentarily disguised by her munching a Danish pastry from a paper bag. "Breakfast," she says between bites. "I'm lucky I have a fast metabolism… my whole family does… everyone's got a lot of nervous energy so we burn it off."
I'll say. Foy is high-spirited, chatty and, I discover when transcribing my recording of our conversation, tends not to finish one sentence before embarking on a fresh one. She is, you might say, the mistress of the… And this might be more frustrating if the conversational cascade was not rounded off with a pleasantly earthy, self-deprecating laugh. She seems genuinely bemused by the fact that she has won several of the most covetable television parts of recent years, from the title role in BBC1's Dickens adaptation, Little Dorrit, to playing Erin – the young woman investigating her grandfather's role during the British mandate in 1940s Palestine – in Peter Kosminsky's acclaimed Channel 4 drama The Promise. Journalists have even started calling her the "next Keira" and the "next Sienna".
"I'm not being funny but I'm never going to be Keira Knightley," she says in a matter-of-fact way that suggests realism rather than false-modesty. "It's that thing of going (putting on a moronic voice) 'the next… the next…'. I hate the idea of being touted as something that I have never tried to make myself be. I mean, I might not do anything… I might finish doing Upstairs Downstairs and just drop off the face of the planet."
Before that unlikely event, and for the next two months, Foy will be prominent on our television screens in contrasting roles – as the fascist supporting Lady Persephone Towyn in Upstairs Downstairs, and then as Charlotte, a middle-class feminist in mid-Sixties London in the Paula Milne's generational saga White Heat. In the first series of Upstairs Downstairs, which was set in 1936 and had the misfortune of launching in the wake of the Downton Abbey juggernaut, 'Lady Persie', the black-shirt, black sheep of the family, had an affair with the Mosleyite family chauffeur (shades here of Downton's Lady Sybil, who ran off with the Granthams' driver). Lady Persie then turned her sights on the German ambassador to London (the real one at the time, but he's not going to sue), Joachim von Ribbentrop. In other words, she is the Unity Mitford – the Hitler-loving Mitford sister – of the piece, and in the new series living in Nazi Germany.
"It would be interesting to see Lady Persie and Adolf Hitler around a table together," muses Foy. "Probably she'd call him a stupid name and laugh and he'd probably quite like her." Never mind Hitler, does Foy like Lady Persie? "You have to like every character that you play because if you don't understand them then, you know…" she says. "Yes she stands for awful things, but when you read Unity Mitford's diaries you realise she isn't really conscious… they come from this privileged background where they were brought up in the country and their mum and dad were completely bonkers and they just say what they think. She doesn't give a shit about what anybody else thinks." But wasn't that just the prerogative of privilege? "I am always so envious of people who do whatever they want. Obviously she's not a very nice person, but I still think she's hilarious."
The snobbish Mitfords would probably categorise Foy as 'non-U'. Born in 1984 in Stockport, Greater Manchester, in Stepping Hill hospital, scene of the recent spate of suspicious saline-drip deaths, she is the youngest of three siblings and part of a large, extended Irish (on her mother's side) family. She moved south to Buckinghamshire with her father's job (he was a salesman for Rank Xerox) and an averagely happy sort of childhood was only slightly discomfited, at the age of eight, by her parents' divorce.
"As divorces go, on a scale of one to 10? I don't remember a thing – so, 10, amazing," she says. "My sister was five years older, so she got a lot of the… and my brother is my brother so he didn't pay much attention either, bless him. But I didn't really know what was going on. Or maybe I just chose not to remember, but mum and dad didn't shout at each other or anything so… And we moved to another house in the same village so we didn't have to change school or anything".
Claire was the least academic of the three children, but her mother's persistence with the schools' appeal system finally got her into the same grammar school as her older siblings, and she mustered enough A-level grades to secure a place at Liverpool John Moores University to do a joint-honours degree in drama and 'screen studies', with a vague idea of becoming a cinematographer – "not realising that you have to have an interest in lighting people," she laughs. "You should see the video of this children's TV programme we made at university. It was shockingly lit."
Foy was the only graduate from her course to actually go on and study acting – a year's course at the Oxford School of Drama. "I wouldn't have been able to go to drama school when I was 19," she says. "I don't think I was even conscious of life… I was like a zombie. But when I finished uni' I just realised… just go and do it, stop being a knob."
What she could not have foreseen was the speed with which she would "go and do it". An obligatory episode of the BBC1 daytime soap Doctors and the pilot of BBC3's supernatural drama Being Human under her belt, Foy was plucked, as they say, from obscurity to play the title role in BBC1's 16-part adaptation of Charles Dickens's Little Dorrit. "It was a bit of a shock… yeah, it was very weird," she recalls. "I remember the first audition where I was sat with a load of ginger girls, and everyone was ginger apart from me. Rachel Frett, the casting director, was really plugging for me – I don't know why. I must have looked right because I was not doing it right. Then the BBC do like launching people, they do like finding people who haven't done anything before, and Andrew Davies likes doing that because then people think you are that character."
Actually, Davies has said that he wanted every shot in Little Dorrit to be "a big close-up of Claire and those huge eyes and that wonderful straight gaze," and indeed the enduring image of the series was not Andy Serkis's bravura malevolence as Rigaud, or Tom Courtenay's shambling brilliance as Mr Dorrit, but Foy's delicate and very still, pellucid white face and big blue eyes staring out from beneath her bonnet – more Irish moss than English rose, and the very picture of innocence. It gets me to thinking about an often overlooked aspect of an actor's fortune, one that cannot be taught or learnt, of how the camera responds to their particular assemblage of cheekbones, eye-colour and skin-tone. And when Eva, our photographer, says "I was really excited to shoot you – you've got such an amazing face," Foy seems embarrassed. Is it difficult to accept that a significant part of your fortune is something you have no control over?
"I don't know what you're supposed to say when people say stuff like that… it's just my face, I'm quite lucky to have a face…" In fact, Foy doesn't mean this facetiously, because at the age of 17 she developed a growth – a benign tumour – in one eye. "I was like a Cyclops and it was all a bit scary," she says, "and I was on steroids for about a year and a half afterwards that makes you put on a lot of weight and have really bad skin. It's quite good when you have something like that, because the amount of time you've got to look in a mirror when you're working… the amount of time people talk about your face… It's quite good to have some sort of perspective, because it's just a face."
And of Little Dorrit, and the camera's absorption in her visage, she says: "It actually set me up quite well because the director, Dearbhla [Walsh], said to me, 'Your face is powerful enough to communicate stuff, so just trust that you don't have to…' you know. And less really is more."
Less really was more – less screen time, more money – in Foy's follow-up project, starring opposite Nicolas Cage in the Hollywood fantasy Season of the Witch. "A really bizarre experience," she says. "Amazing but ludicrous… how much money they spend and the places where we were staying. And there's so much free time. I had been doing something that had 16 scripts where I was in every other scene; this was one single script that was about 90 pages long and I was in about six scenes."
Foy liked Cage. "I think he's a real actor, which I was surprised at… not surprised but shocked. Not shocked but he really acts," – this last sentence being pure Foy in its skittish circularity. "He'd ask me questions like, 'What do you do in your life?' and I'd say, 'Well, go to the shops…'. People who are in that position don't really do that sort of thing anymore!"
Does Foy get recognised in shops? "It depends whether I've been on the telly the night before. The Promise was the thing that got most people stopping." Peter Kosminsky's drama, in which Foy played a stroppy 18-year-old, Erin, experiencing a political and historical consciousness-raising gap-year in Israel, showed that she could do more than look beatific beneath a bonnet. The Night Watch, an adaptation of Sarah Waters's Sapphic love story unfolding against the backdrop of the Blitz, saw her playing Anna Maxwell Martin's girlfriend, while she appeared opposite Benedict Cumberbatch in a low-budget movie, Wreckers ("He's a complete geek… he's got more brain power than I will ever have so it just makes it so difficult to have a conversation with him"). And in a complete change of style and pace, she was the tabloid editor whose resemblance to Rebekah Brooks was entirely coincidental, in Channel 4's spoof of the phone-tapping scandal, Hacks. "I should play someone normal," she says.
White Heat, Paula Milne's new saga following a group of student housemates from 1965 London to the present day (it's already been dubbed Our Friends in the South) sees Foy returning to the more watchful ways of Amy Dorrit. Her Charlotte is a fledgling feminist, putting 'This Ad Degrades Women' stickers on London Underground posters, and falling into bed with her radicalised landlord (played by Sam Claflin). "If I never had to do [a sex scene] again that would be the best thing in the world because no one in their right mind would enjoy that," she says. "You're worried about what the crew are thinking, whether they're really uncomfortable, whether you're uncomfortable. You're just thinking, God, let this be over.
"The Nightwatch was the first thing I had ever done like that and I remember thinking at the time, 'When it's on the telly I'm going to die' and actually I really didn't care. Because I'd done the worst bit of it… it's not like every time you see somebody, people are going to think they've seen you naked. You forget it, you just forget it."
Which brings us, in a roundabout way, to her boyfriend, actor Stephen Campbell Moore, who made his name with The History Boys and who met Foy while working together on Season of the Witch. They share a flat in Notting Hill, and Foy is horrified when I jokingly describe them as the latest celebrity couple, British TV's very own Brangelina. "A celebrity couple, Jesus Christ. I saw someone recently who I went to school with who was saying something like that and I nearly punched her.
"We did a job together – a pilot for a medical drama called Pulse that was on BBC4. It was quite funny because everyone knew we were together and [were] like, 'You're actually going out, aren't you?'."
"I don't think I could ever do a play with him, however, because it's too much. You're in a room and you're constantly being taken apart, and told to do this again and again. You don't really want the person you're with see you being told 'You're shit' all day and every day. Anyway, he's a brilliant actor, so I'd be lucky to be in anything that he's in, to be honest."
She may be being honest, but that last statement is baloney. Foy has already proved that she can carry a variety of ambitious projects, and being the sort of person that she is – cheerful and grounded – she must be very easy to work with. This month she's taking her mother on holiday to New York, and is then doing the rounds with her newly acquired American agent.
Martin Scorsese and Mark Rylance are mentioned as directors she'd like to act for. "I'd like to work with directors who really make you work hard,"she says. "I'd like to be given a responsibility and have to live up to it. I don't want to do anything easy because I've got the rest of my life to do that. Before I have kids and stuff I might as well get all the horrible, you know, self-involved stuff out of the way." An actor with a horror of self-involvement? Now there's a thing.
'Upstairs Downstairs' returns to BBC1 tomorrow; 'White Heat' begins on BBC2 in early March
Beyond bonnets: Period drama superstars
Brideshead Revisited, 1981
When this adaptation of Evelyn Waugh's 1945 novel was broadcast on ITV, it set the standard for period dramas – and helped catapult the careers of Jeremy Irons and Diana Quick.
Pride and Prejudice, 1995
For many, it's still the definitive screen version of Jane Austen's novel. The public were gripped by the on-screen romance of Mr Darcy and Lizzy Bennet, not to mention the real-life love affair between the stars it spawned: Colin Firth and Jennifer Ehle.
Wives and Daughters, 1999
An Andrew Davies adaptation of an Elizabeth Gaskell novel, Wives and Daughters provided early roles for costume-drama regulars Rosamund Pike and Keeley Hawes.
Bleak House, 2005
As well as propelling the career of Anna Maxwell Martin, who led the impressive ensemble cast as Esther, you can also spot a young Carey Mulligan playing the orphaned Ada.
Tess of the D'Urbervilles, 2008
Before she was a Bond Girl, Gemma Arterton starred in this BBC version of Thomas Hardy's classic. Man of the moment Eddie Redmayne also appeared as Angel Clare.
By Holly Williams
The above "Guardian" interview can be accessed online here.