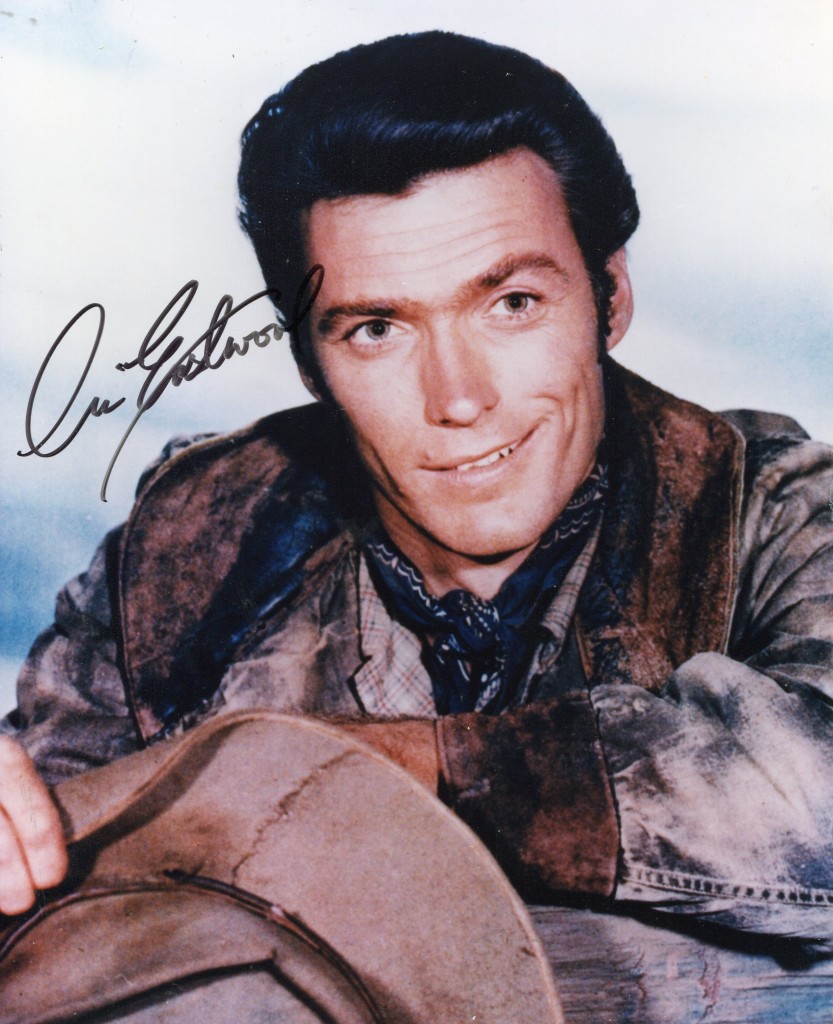 Eastwood is my very favourite actor. Born in San Francisco in 1930, the length of his career is amazing. From his debut in 1955 in "Revenge of the Creature" to 2012 and "Trouble With the Curve, he has consistently shone in the movies. I particularily like "A Fistful of Dollars", "The Good, the Bad and the Ugly", "Where Eagles Dare", "Play Misty For Me", "Dirty Harry", "Thunderbolt and Lightfoot", "The Bridges of Madison County" and "Gran Torino". Long may he continue.
TCM Profile:
Survey the iconic leading men through every generation of Hollywood filmmaking, and you'd be hard-pressed to find one who has been as durably bankable as Clint Eastwood. Literal generations of devoted fans have been snared by the considerable charisma of the tall, athletic figure with the demeanor as leathery as his features, the less-is-more approach to his craft, and unforgettable portfolio of implacable cowboy and cop heroes. His star clout also enabled him to start a remarkable career behind the camera, and the years have seen him lend an ever-more assured directing touch to many personal projects as well as his more familiar genre efforts.
Clinton Eastwood, Jr. was born in San Francisco on May 31, 1930, to a steelworker father who kept the family transient through the era of the Depression as he searched for steady employment. The Eastwoods ultimately settled in Oakland, where Clint graduated high school in 1948. He spent the next several years of his life rather aimlessly, as he pursued a string of menial jobs from pumping gas to digging swimming pools to playing piano in honky-tonks. In 1950, he entered the U.S. Army, and served as a swimming instructor. Among his fellow servicemen stationed at Fort Ord were actors David Janssen and Martin Milner, who suggested that Clint consider Hollywood after his discharge.
Thereafter, Eastwood enrolled in Los Angeles City College as a business major on the GI Bill; he would never complete his studies. Marrying the former Maggie Johnson in 1953, Clint would finally get his foot in the door with Universal the following year. The studio signed the novice actor for $75 a week, and he logged his first screen time with small roles in Revenge of the Creature, Francis in the Navy and Tarantula (all 1955). Universal cut him loose after a year, but Eastwood persevered over the next few years, continuing to do odd jobs in between sporadic studio assignments.
His first big break came in 1959, when he successfully auditioned for the CBS Western series Rawhide. The show enjoyed a seven-year run, and his stint as cattle driver Rowdy Yates made his name with American TV fans. It was while Rawhide was on production hiatus in 1964 that Clint made a sojourn to Spain, piqued by a screenplay that transferred Kurosawa's Yojimbo (1961) to the American West. His performance as the taciturn and deadly Man With No Name in Sergio Leone's A Fistful of Dollars (1964) became a European smash hit. Leone would lure him back abroad to reprise the gritty character in For a Few Dollars More (1965) and The Good, the Bad and the Ugly (1966). Once the trilogy came to American screens in 1967, Eastwood enjoyed cinema superstardom in his homeland as well.
Now a hot commodity, Eastwood was swiftly adopted by Tinseltown as a contemporary cowboy hero, headlining sagebrush stories like Hang 'Em High (1968) and Coogan's Bluff (1968), the latter of which started his long-running and influential collaboration with director Don Siegel. He weathered the notorious disaster ofPaint Your Wagon (1969) to headline memorable Westerns and war movies like Where Eagles Dare (1968),Two Mules For Sister Sara (1969) and Kelly's Heroes (1970).
1971 was a watershed year in Clint's career in many respects. First, he made the film that he has long considered his personal favorite, Siegel's unusual Gothic drama, set during the Civil War – The Beguiled(1971). Next, he got his distinguished directing career underway, and also played the lead role of a stalked disc jockey, in Play Misty For Me (1971). Finally, he put in his debut appearance as the Magnum-wielding maverick police lieutenant Harry Callahan in Siegel's Dirty Harry (1971). The film made him a fixture in the crime action genre and paved the way for four more Callahan shoot-'em-ups (Magnum Force (1973); The Enforcer (1976); Sudden Impact (1983); The Dead Pool (1988)).
Eastwood's touch continued to prove golden through the '70s, whether he turned his attention to Westerns (The Outlaw Josey Wales(1976)), action/comedy (Every Which Way But Loose (1978)), or thriller (Escape From Alcatraz (1979)). By the mid-'80s, his marriage to Maggie had ended, and the environmentally conscious star was devoting attention to responsibilities like his two-year stint as mayor of Carmel, California. As the '80s wound down, the director Eastwood continued to receive critical praise for personal projects such as Bird(1988) and White Hunter, Black Heart (1990), but his familiar star vehicles became less and less of a guaranteed draw.
The rumors of his professional demise were quickly squelched by the success of his revisionist westernUnforgiven (1992), which landed Oscars® for Best Picture and Best Director. He followed up solidly with the successful suspenser In the Line of Fire (1993) and the adult romance The Bridges of Madison County(1995). Into the new millennium, he doggedly continued to portray men of action in the twilight of their lives, even as the box office returns diminished (Absolute Power (1997); True Crime (1999); Blood Work (2002)).
Romantically linked to leading ladies Sondra Locke and Frances Fisher in the years since his divorce, Eastwood remarried in 1996 to news anchor Dina Ruiz. He has fathered seven children by five different women; he has given screen opportunities to his eldest, Kyle (Honkytonk Man (1982)) and Alison (Midnight in the Garden of Good and Evil (1997)). This past May, he squelched rumors of a sixth Harry Callahan movie, finally admitting his willingness to hang up the holsters at age 73. The Carmel cowboy hasn't stopped exercising his creative chops, as evidenced by his adaptation of the novel Mystic River (2003) with Sean Penn, Tim Robbins and Kevin Bacon.
by Jay Steinberg
The above TCM Profile can also be accessed online here.