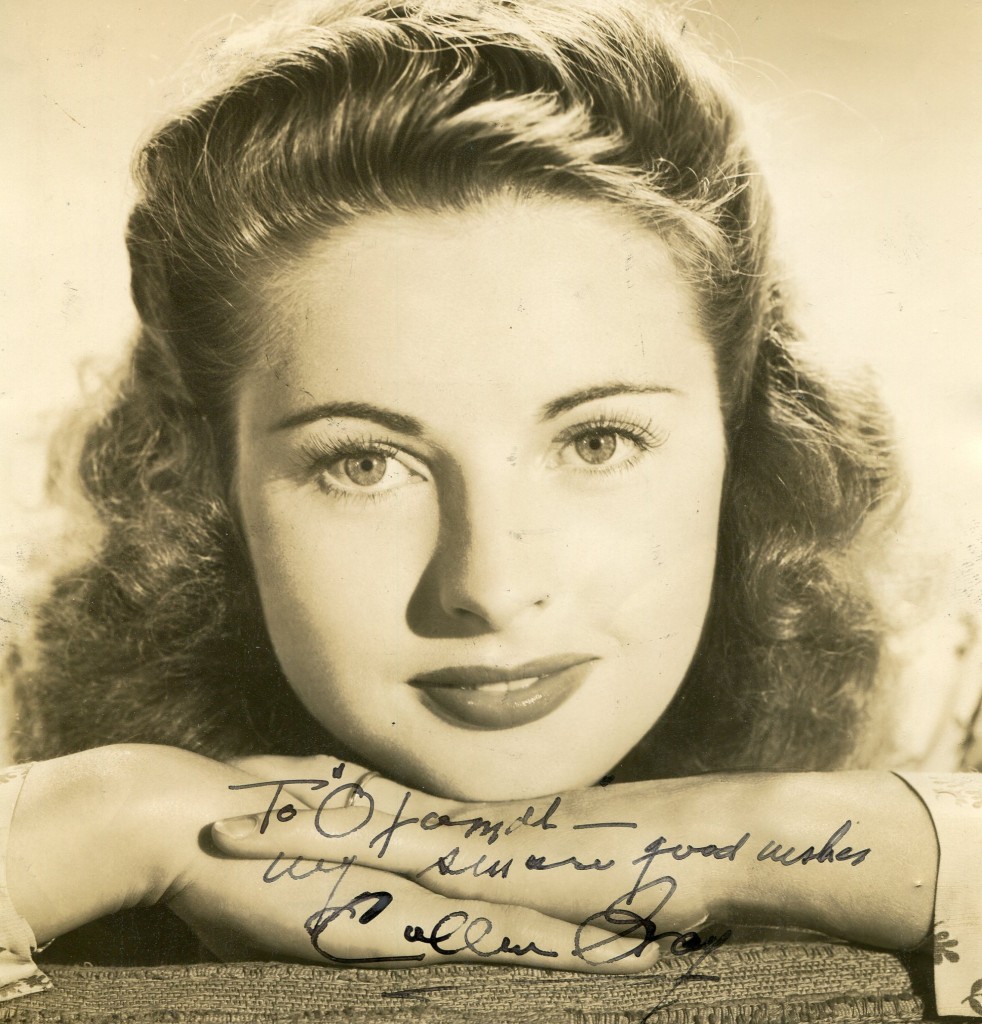 Coleen Gray was born in Nebraska in 1922. Se made some terrific movies in the 1940's including "Nightmare Alley", "Red River", "Kiss of Death"and "The Killing. She died in 2015.
Ronald Bergan's "Guardian" obituary:
The 2001 book Dark City Dames: The Wicked Women of Film Noir contained interviews with six female stars of the genre who were at their peak in the 1940s and 50s. One surprising inclusion was Coleen Gray, who has died aged 92. Surprising because she was seldom cast as a femme fatale in the classic film noirs in which she appeared.
In fact, Gray, with her pretty features, slightly pointed nose and wide eyes, was often the only ethical or innocent element in the dark, doom-laden crime dramas. In Kiss of Death (1947), she is the understanding girlfriend of an ex-con (Victor Mature), helping him to make a new life. In Nightmare Alley (1947), she is the steadfast wife and partner of Stan (Tyrone Power) in a carnival mind-reading act, whose big scene comes when she warns him not to "go against God".
As the head nurse in the hospital in The Sleeping City (1950), she gains sympathy despite her involvement in illegal drugs and murder, and in Kansas City Confidential (1952), she is a corrupt cop's law-student daughter, who brings romance into the life of a man (John Payne) unjustly accused of a robbery. Most famously, however, in Stanley Kubrick's The Killing (1956), she's the faithful girlfriend of a criminal (Sterling Hayden), who waited five years for him to be released from prison, and who gets drawn reluctantly into a heist.
Gray was born Doris Jensen in Staplehurst, Nebraska, of strict Lutheran Danish parents, Arthur and Anna, and moved with her family to a farm in Minnesota as a child. Later, she studied drama at Hamline University in Minnesota, graduating with a bachelor of arts degree, before moving to California. While appearing at a theatre in Los Angeles, she was discovered by a talent scout for 20th Century-Fox, who signed her to a seven-year deal at $150 a week in 1944. She then changed her name to Coleen Gray, sometimes billed as Colleen.
Gray's first screen role, a short but significant one, was in Red River, shot in 1946, but only released by United Artists in 1948 after she had already become known for Kiss of Death and Nightmare Alley at Fox. In the lyrical Howard Hawks western, Gray imbues her one scene, in which John Wayne bids her farewell before heading west, with great force and tenderness. "I want to go with you," she says. "I'm strong. I can stand anything you can." "It's too much for a woman," he replies. "Too much for a woman? Put your arms around me, Tom. Hold me. Feel me in your arms. Do I feel weak, Tom? I don't, do I?" Gray is memorably last seen isolated in long shot as the wagon train pulls out.
Gray was almost as effective in leading roles in several lesser westerns, mostly as a good but spunky girl keeping the hero on the right path, among them Mature in Fury at Furnace Creek (1948), Stephen McNally in Apache Drums (1951) and Hayden in Arrow in the Dust (1954). An exception was Tennessee's Partner (1955) in which she's a gold digger who tries to trap a cowboy (Ronald Reagan) into marriage for his money.
Among her rare comedies was Riding High (1950), Frank Capra's remake of his own Broadway Bill (1934) in which she co-starred with Bing Crosby. Although neither matched the stars of the original (Myrna Loy and Warner Baxter), Crosby as a racehorse owner and Gray as the vivacious sister of his snobbish fiancee made a likeable team, and got to share a couple of lively musical numbers.
Parallel to her film career, Gray was a regular on television, particularly as a guest star on western series such as Maverick, Have Gun – Will Travel, Rawhide, The Virginian and Bonanza. Her work on television became more and more dominant through the 60s and 70s after the movies tailed off.
But before her virtual retirement from features, Gray took the title role in The Leech Woman (1960), a more nuanced proto-feminist film than the cheesy title suggests. Gray, as a neglected aging wife of a scientist, goes to darkest Africa where she discovers an elixir of youth, which entails killing men for their hormones. In the process, she gets her revenge on her despicable husband, who loved her only as long as she was young and beautiful. She continues to live off the lives of men in order to retain her beauty, before shrivelling and turning into dust. In transforming herself from a despairing frumpish alcoholic to a predatory young woman, Gray is superb.
Gray's third husband, the biblical scholar Joseph "Fritz" Zeiser, died in 2012. She is survived by a daughter, Susan, from her first marriage, to the producer/directorRod Amateau, which ended in divorce; and a son, Bruce, from her second, to William Clymer Bidlack, an aviation executive, who died in 1978.
• Coleen Gray (Doris Jensen), actor, born 23 October 1922; died 3 August 2015
The above "Guardian" obituary can also be accessed online here