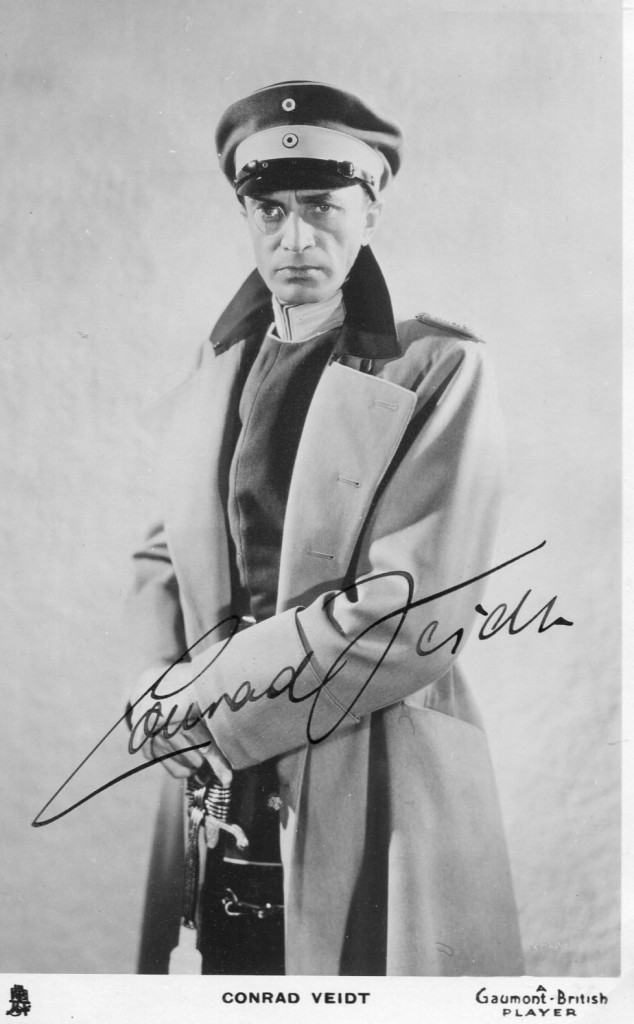 Conrad Veidt was born in 1893 in Berlin. He has a special place in movie buffs hearts for his roles in "The Cabinet of Dr Caligari" which was made in Germany in 1919 and "Casablanca" which was made in Hollywood in 1942. After a successful career in German silent film, where he was one of the best paid stars of the studio Ufa he left Germany in 1933 after the Nazis came to power. Conrad Veidt moved in the United Kingdom, where he starred in a number of films such as "The Spy in Black" in 1939 with Valerie Hobson, "Contraband" and "The Thief of Bagdad". He emigratedto the United States around 194 to complete "The Thief of Bagdad" as production of the movie was halted in England due to World War Two. He very quickly established himself as a major player in films made at the Warner Brothers Studio. His other films in the U.S. included "Nazi Agent", "A Woman's Face" and "Above Suspicion", the latter two movies with Joan Crawford. He died suddenly of a heart attack in 1943 while playing golf in Los Angeles.
TCM overview:
One of the premiere actors of the German stage and silent screen, Conrad Veidt went on to become a prominent film star in Great Britain prior to his exodus to Hollywood during World War II, where, ironically, he was most often cast as a Nazi. Amidst the turmoil of World War I, Veidt trained with the renowned Max Reinhardt at the Deutches Theater in Berlin, where he grew from bit player to prominent leading man. With his mesmerizing portrayal of the sleepwalking killer in "The Cabinet of Dr. Caligari" (1920), Veidt achieved true lasting stardom as he continued to work with the greatest directors of the day, including Robert Wiene and F.W. Murnau. John Barrymore lured him out to Hollywood for "The Beloved Rogue" (1927) and director Paul Leni gave him one of his most iconic roles in "The Man Who Laughs" (1928), before the advent of sound prompted the German-speaking actor to return home. Soon, however, the rise of Nazism led Veidt and his Jewish wife to immigrate to England, where he mastered the language and continued his success in such works as "I Was a Spy" (1932) and "Dark Journey" (1937). Having relocated to Hollywood after the Blitz of London, the actor continued to work throughout the war, most memorably as the icy Nazi, Major Strasser in "Casablanca" (1942). Remembered for roles at each end of his professional timeline, Veidt maintained a prolific career in both theater and film on three continents for more than 25 years.
Born Walter Hans Conrad Veidt on Jan. 22, 1893 in Berlin, Germany, he was the son of working class parents Amalie and Phillip, the latter a civil servant. As an adolescent, Conrad attended Hollenzollern secondary school and began harboring dreams of an actor's life while attending performances at the famed Deutches Theater in Berlin. It was there he began studying acting under the legendary German stage director Max Reinhardt until he was drafted into service with the outbreak of World War I soon after his apprenticeship had begun in 1914. After several months of active duty, Veidt was taken ill with jaundice and pneumonia and pulled out of combat duty. Stationed in the city of Libau, near the Baltic Sea, he found acting work entertaining the frontline troops at theaters organized by Lucie Mannheim, an actress with whom he had begun an intensely romantic relationship back in Berlin. Eventually deemed unfit for service, Veidt was discharged from the Army and returned to Berlin and the Deutches Theater in 1916, where he immediately resumed his acting career.
Having achieved star status on stage at the Deutches Theater under Reinhardt, it came as no surprise when Veidt was inevitably courted by directors and producers in the nascent motion picture industry. Early silent films "Der Weg des Todes" (1916), "Furcht" (1917) and "Der Spion" ("The Spy") (1917), as well as a brief marriage to cabaret performer Augusta Hall soon followed. As he had on the stage, Veidt quickly set about establishing himself as a talented, dependable screen actor in a variety of roles. He essayed composer Frederic Chopin in "Nocturno der Leibe" (1919), Jules Verne's Phineas Fogg in "Around the World in 80 Days" (1919) and as one of the first explicitly gay characters ever written for the screen in "Different from the Others" (1919). All of these films, directed by the likes of the great F.W. Murnau, were merely a prelude to his career-making turn as Cesare, the murderous somnambulist in director Robert Wiene's expressionistic silent horror masterpiece, "The Cabinet of Dr. Caligari" (1920). As successful as his professional life was, the extended periods apart had taken its toll on his marriage, leading to his amicable divorce from Hall. As he continued to work at a furious pace, Veidt married for a second time to Felicitas Radke, prior to reteaming with Wiene for the thriller "The Hands of Orlac" (1924) and portraying Ivan the Terrible in "Waxworks" (1924).
Veidt was enjoying great success as one of Germany's most popular screen actors, in addition to experiencing the joys of fatherhood, with the arrival of his only child, Viola, when he received an offer he could not refuse. Invited to Hollywood by John Barrymore, Veidt made his U.S. film debut as King Louis XI in "The Beloved Rogue" (1927), starring Barrymore in the title role. Veidt remained in Hollywood for several pictures, including his eponymous turn in "The Man Who Laughs" (1928), a character with a rictus grin, said to have inspired the design of the comic book villain The Joker, more than a decade later. Unfortunately, with his limited English and thick accent, the advent of sound in motion pictures soon led to Veidt's return to Germany, where his commanding voice only enhanced his stature and popularity. Unfortunately, personal history repeated itself for the actor, when just as his career was once more on the upswing his marriage to his second wife began to crumble. Thankful for any excuse to get away and rethink his situation, Veidt accepted an offer to travel to England, where he made several more films and quickly learned English. The German actor made his English-language debut with "The Congress Dances" (1932), quickly followed by an appearance in "Rome Express" (1932).
Having ended his marriage to Felicitas, Veidt chose to remain in England, where he continued to work in such popular films as "I Was a Spy" (1933) and "Jew Süss" ("Power") (1934). It was also at this time that he met and married his third wife, Ilona "Lily" Präeger, with whom he stayed for the remainder of his life. Within weeks of his marriage to Lily, who was Jewish, Veidt wisely chose to immigrate to the U.K. as the Nazi party rose to prominence in his homeland. Although not Jewish himself, the actor reportedly scrawled the word "Jude" on his race identification card in a show of solidarity for his beloved new wife. Happier than ever before, Veidt remained in England and eventually became a British citizen in 1938. Films of the period include "Dark Journey" (1937), co-starring Vivien Leigh, and "The Devil is an Empress" (1938). He made his final two British productions under the direction of Michael Powell in "The Spy in Black" (1939) and "Contraband" (1940), before the escalation of World War II prompted the studio to send their star to the relatively safer environs of the United States. And so, in 1940, Veidt made his return to Hollywood.
Veidt quickly made his first Hollywood talkie with the Norma Shearer-Robert Taylor wartime drama "Escape" (1940), cast as a menacing Nazi officer. Regrettably, despite his own personal loathing of the fascist party and all it stood for, Veidt found himself cast almost exclusively as a Nazi throughout the remainder of his career in Hollywood. One notable early exception was the Technicolor fantasy classic "The Thief of Baghdad" (1940). Although production had initially begun in London, it was moved – along with Veidt – to Hollywood for completion after the Blitz. Veidt's inspired performance as the evil Jaffar proved so influential that it clearly served as an inspiration for the Disney animated adaptation of the tale some 50 years later. Working on such films as "A Woman's Face" (1941) and the Humphrey Bogart comedic-caper "All Through the Night" (1941), Veidt did his part by sending large portions of his salary back to his adopted country to aid in the British war efforts. He made two more films the following year. The first, "Nazi Agent" (1942), provided Veidt with the rare opportunity to play identical twins – one a calculating Nazi spy, the other, a German expatriate – while the second film would arguably feature the role he would be most widely remembered for by American audiences.
That second feature was "Casablanca" (1942), one of the quintessential films in all of American cinema; it boasted a stellar cast that included Peter Lorre, Sydney Greenstreet, Claude Rains, Ingrid Bergman, and Bogart as the owner of a nightclub in Vichy-controlled Morocco. Supremely sinister as the calculating Major Strasser, it was ironic that the avowed anti-Nazi would be primarily remembered for a portraying a character whose very raison d'être stood for everything the actor loathed in his former homeland. To his credit, Strasser went on to be regarded as one of film's all-time classic villains. Veidt took part in one more film after "Casablanca," the middling espionage thriller "Above Suspicion" (1943), which paired him for the final time with Joan Crawford, as well as Fred MacMurry and Basil Rathbone. Safely away from the wartime dangers of Europe, happy, at last in his third marriage and enjoying a respectable career in American film, Veidt's life was quite possibly as good as it had ever been – making it all the more tragic when the 50-year-old actor died of a sudden heart attack while playing golf in Los Angeles on April 3, 1943.
By Bryce Coleman
The above TCM overview can also be accessed online here.