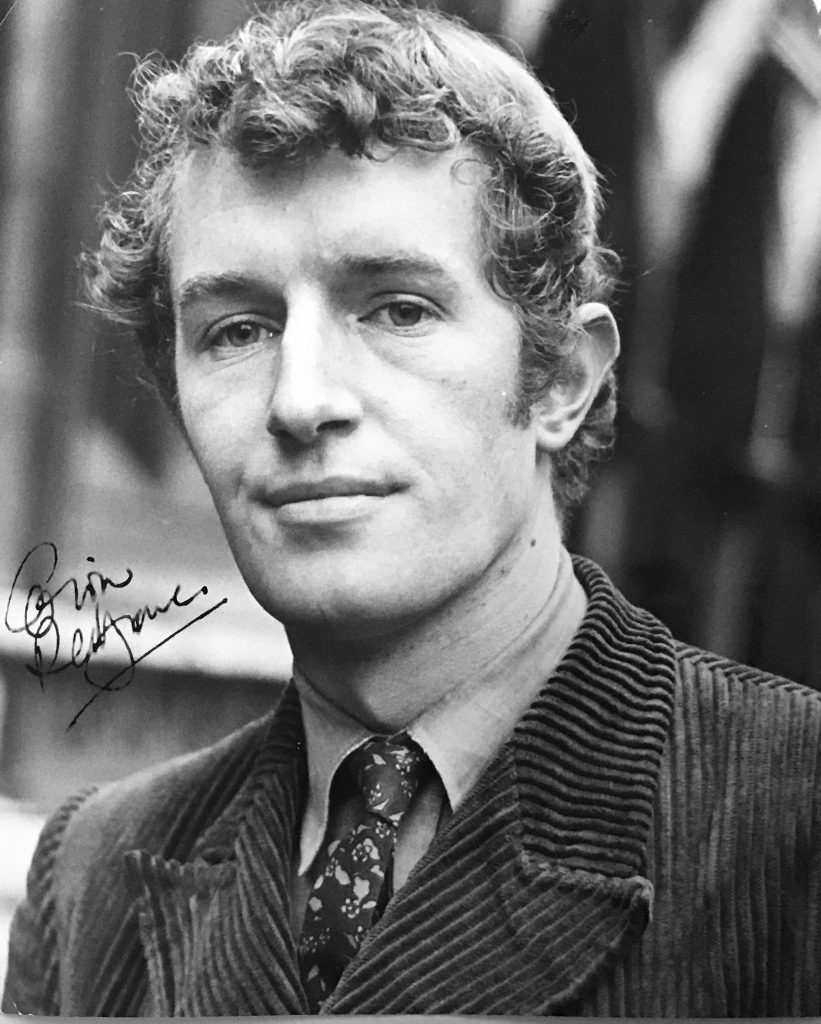 Corin Redgrave was born in 1939 in London.   He was the son of Michael Redgrave and Rachel Kempson and brother to Vanessa and Lynn Redgrave.   He has given some terrific performances on film including "A Man For All Seasons" in 1966 and "In The Name of the Father" with Daniel Day-Lewis.   He also had a prolific career on the stage and on television.   He died in 2010 just a few weeks prior to his sister Lynn.
Michael Billington's "Guardian" obituary:
Corin Redgrave, who has died aged 70, was both a formidable actor and a strenuous political activist. But, while it is fashionably easy to suggest that his career was blighted by his political activities, I suspect his talent was intimately related to his radical political convictions. And, if he enjoyed a golden theatrical rebirth from the late 1980s onwards, it may have had less to do with politics than with his determination to inherit the mantle of his revered father. Before he suffered a severe heart attack in 2005, Redgrave's later years yielded some of his finest work.
Redgrave was born, in London, into the theatrical purple. His father, Sir Michael, was both a great classical actor and a popular film star; his mother, Rachel Kempson, was also a distinguished actor. Educated at Westminster school, Redgrave won a scholarship to King's College, Cambridge, where he got a first in English. He was part of a glorious era in Cambridge undergraduate theatre, where his contemporaries included Ian McKellen, Derek Jacobi and Trevor Nunn. Having shone as both actor and director, he had a seemingly assured pathway into the theatre and, shortly after leaving Cambridge, was playing Lysander in Tony Richardson's 1962 Royal Court production of A Midsummer Night's Dream.
For a few years his acting career progressed steadily alongside his growing political commitment. He played the Pilot Officer in Arnold Wesker's Chips With Everything in London in 1962 – and in New York the following year – and appeared in a number of West End shows, including Lady Windermere's Fan in 1966 and Abelard and Heloise in 1971, before moving to Stratford in 1972, where he was memorably matched with John Wood as the twin Antipholi in The Comedy of Errors.
His elder sister, Vanessa, had stimulated his interest in politics in the early 1960s when she encouraged him to join the Campaign for Nuclear Disarmament. In 1971 he joined the Trotskyist Workers Revolutionary Party (WRP). Vanessa has recorded how, in 1973, he gave her a pamphlet, A Marxist Analysis of the Crisis, which related the economic troubles of the time to the 1944 Bretton Woods agreement and which hugely influenced her thinking: the pupil had become the master.
Redgrave's preoccupation with politics led to the break-up of his first marriage (dissolved in 1975), to the former model, Deirdre Hamilton-Hill. It also took primacy over his acting career as he increasingly devoted himself to organisational activities with the WRP. From 1974 to 1989, his stage, film and TV appearances became ever rarer. He took time off from the WRP only to help his father write his autobiography, In My Mind's Eye (1983), in which Michael's tortured bisexuality was cryptically acknowledged.
When Corin re-emerged into the limelight in the late 1980s, playing Coriolanus at the Young Vic in a David Thacker production, it was as a stronger, better actor. It may have been because he felt he was no longer competing with his father. It may have been because he had, by then, made a blissfully happy second marriage, to the actor Kika Markham; they wed in 1985. Or it may have been because he had found a way of channelling his radical politics into his work. Whatever the explanation, he enjoyed a sensational late flowering as an actor in his 50s and 60s.
Redgrave had a particular gift for playing establishment figures tortured by doubt and fear: something he had witnessed first-hand in his own father. He played Sir Hugo Latymer in Sheridan Morley's King's Head and West End revival of Noël Coward's A Song at Twilight (1999): a remarkable portrayal of a repressed, buttoned-up homosexual. What added to the extraordinariness of the occasion was that Coward had been one of his father's lovers; the sense of a family affair was heightened by the presence of Markham as Sir Hugo's long-suffering wife and of Vanessa Redgrave as a former lover. A few years earlier, the three had also collaborated, founding the Moving Theatre Company.
At the National Theatre, he followed a fine performance as an authoritarian prison governor in Tennessee Williams's Not About Nightingales (1998) with a deeply moving one as Hirst in Harold Pinter's No Man's Land (2001). Redgrave's Hirst, a literary dinosaur immured in a world of fastidious elegance, eclipsed memories of Ralph Richardson as he gazed in sadness at the faces of his dead contemporaries in aged photo albums.
In 2004 he enjoyed a rich season with the Royal Shakespeare Company. Through a mixture of natural intelligence and careful husbanding of his resources, he reached the summit as King Lear on the same stage where his father had played the role more than 50 years previously. "I was 13," he remembered in an article for the Guardian in 2005. "My father was leading the Memorial Theatre Company, playing Shylock, Antony and Lear. My mother, also in the company, always a little in my father's shadow, played Octavia and Regan. I learned to love the sound of Shakespeare from my father. Like John Gielgud, he had an effortless command of the rhythms, cadences and stresses of blank verse. But it was my mother who taught me to love Shakespeare's stories."
Relying on his political instincts, Redgrave presented us with a Lear who learned too late that power was no protection against mortal suffering: especially moving was the reunion with Cordelia, where he was reduced to crawling, childlike, on all fours.
Redgrave followed Lear with a solo show, Tynan, in which he conveyed – at Stratford and at London's Arts Theatre – the famous critic's political, aesthetic and sexual radicalism without ever stooping to impersonation. Redgrave's ability to command a stage was also proved in Blunt Speaking, which he both wrote and performed for Chichester's Minerva Theatre in 2002. Not the least remarkable aspect of this portrait of the Marxist aesthete Sir Anthony Blunt was his ability to persuade a Chichester audience to join him in a chorus of the Internationale.
At Shakespeare's Globe in 2005, he also showed he could become a selfless member of an ensemble, playing the elder Pericles in Kathryn Hunter's highly physical revival of Shakespeare's late romance. It was during the run of that production that he suffered a severe heart attack. But he heroically resumed work, appearing as the blacklisted Hollywood screenwriter, Dalton Trumbo, at the Jermyn Street Theatre in 2009: his fortitude was all the more remarkable in that the opening coincided with the death of his niece, Natasha Richardson.
Redgrave claimed for many years that he had been dropped by the BBC because of his radical politics. For all that, he made memorable TV appearances in Persuasion (1995) and The Forsyte Saga (2002) and also wrote the BBC radio plays Roy and Daisy (1998) and Fool for the Rest of his Life (2000). With director Roger Michell, he made a deeply moving Omnibus film based on his 1995 autobiographical book, Michael Redgrave: My Father.
He had appeared occasionally in films since the 1960s, with early credits such as A Man for All Seasons, The Charge of the Light Brigade and Oh! What a Lovely War, and later films including In the Name of the Father, Four Weddings and a Funeral, Enigma and Enduring Love.
Politics obviously had a huge influence on Redgrave's life and career. But, if that suggests he was a flaming firebrand, I can only say that he was, in my personal contacts with him, an extraordinarily modest and courteous man.
Deirdre Hamilton-Hill died in 1997. Redgrave is survived by their son Luke and daughter Jemma; by Kika and their two sons, Harvey and Arden; and by his sisters Vanessa and Lynn.
• Corin William Redgrave, actor and political activist, born 16 July 1939; died 6 April 2010
• This article was amended on 8 April 2010. The original said Redgrave got a first in classics at Cambridge. This has been corrected.
The above "Guardian" obituary can also be accessed online here.