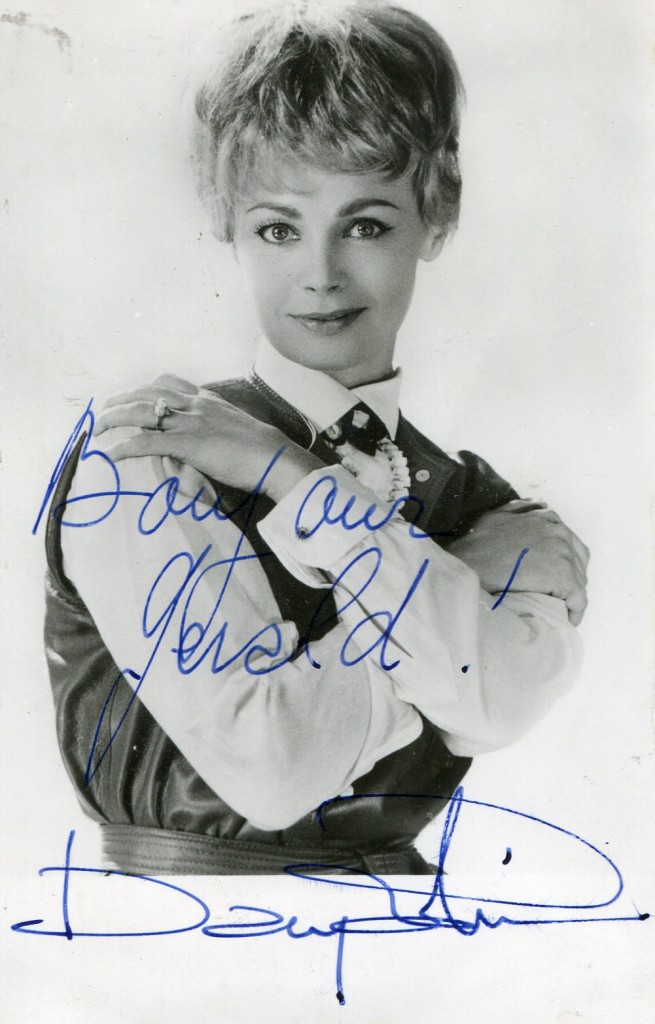 David Shipman's "Independent" obituary in 1995:
Dany Robin was one of the first post-war French ingenues – very pretty, fragile, chic but elfin, shy but assured and with an ardent naivety which so well reflected the country's then optimistic view of itself.
Robin had a small role in Lunegarde (1945), which starred Gaby Morlay; and another leading director, Marcel Carne, offered a part in Les Portes de la nuit (1946). But she was first really noticed in Le Silence est d'or (1947), Rene Clair's first film after returning from Hollywood. It was a comedy about making silent movies, with Maurice Chevalier as a director, Francois Perier as his apprentice and Robin as the latter's petite amie, deserting him for a wealthy, older man who is one of Chevalier's backers.
In 1948 she co-starred with Georges Marchal in La Passagere, the first of several teamings; they were married in 1951. Marchal was probably France's most popular movie idol after Jean Marais – and she co-starred with Marais in Roger Richebe's Les Amants de minuit (1952), a modern Cinderella tale of charm and humour. She played a lonely girl who, on Christmas Eve, attracts the attention of a rich young man who buys her a dress from the shop where she works; this leads to complications when her boss sees them at a night- club.
It was the first of her films to be seen widely outside France; along with Julien Duvivier's La Fete a Henriette, a comedy about a screenwriter (Michel Auclair), a dressmaker (Robin) and a circus performer – played by Hildegarde Neff, who had earlier starred in Film Ohne Titel, from which this movie borrowed several of its freewheeling ideas.
Robin acted in English for the first time on screen in Act of Love (1953), a Franco-American co-production directed by the Russian Anatole Litvak. His earlier attempt to examine some of the problems in post-war Europe, Decision before Dawn, was not particularly liked, and nor was this, as written by Irwin Shaw from a well-regarded novel by Alfred Hayes, The Girl on the Via Flaminia. Kirk Douglas played the lead, a GI whose romance with a country girl, Robin, becomes fraught for both of them. Karel Reisz said that Robin "plays Lisa with a certain wan charm", a verdict unlikely to lead to international stardom – not, anyway, with the advent of Brigitte Bardot, who had had a small role in Litvak's film.
Robin had a few moments as Desiree Clary in Sacha Guitry's Napoleon, and remained popular in France. She appeared in two rather risque films directed by Jacqueline Audrey, L'Ecole des cocottes (1958) and Le Secret du Chevalier d'Eon (1959), and in two of the proliferating "sketch" films, both in episodes with the leading actor of the nouvelle vague, Jean-Paul Belmondo. Henri Verneuil directed the cynical "adultery" section of La Francaise et l'amour (1960), with Robin as a bored wife and Belmondo as the man who consoles her; and in Les Amours celebres (1961) he was the courtier and soldier the Duc du Lauzan and she one of the mistresses of Louis XIV.
She returned to Britain to co-star with Peter Sellers in Waltz of the Toreadors (1962), as the Frenchwoman who expects to extricate him from his horrible marriage. Robin was a mysterious figure in Follow the Boys (1963), a Connie Francis vehicle set on the Riviera, and, now married to the British producer Michael Sullivan, she was Sid James's light o' love in one of the lesser "Carry Ons", Don't Lose Your Head (1966). She was the mistress of both father and son – George Sanders and David Hemmings – in the Norden-Muir cornucopia of Victoriana, The Best House in London (1969), and in Hitchcock's Topaz (1969), although married to Frederick Stafford (who had the leading role), she was having an affair with a fellow secret agent, Michel Piccoli. It was her last film.
David Shipman
Dany Robin, actress: born Clamart, France 14 April 1927; twice married; died Paris 25 May 1995.
The above "Independent" obituary can also be accessed online here.
Dany Robin was a French actress of the 1950s and the early 1960s who was married to fellow actorGeorges Marchal. She performed with Peter Sellers in The Waltz of the Toreadors and co-starred opposite Kirk Douglas in the 1953 romantic drama Act of Love. Robin co-starred with Connie Francis, Paula Prentiss, and Janis Paige in Follow the Boys (1963). Her last leading role was the agent's wife Nicole Devereaux in Alfred Hitchcock's Topaz (1969). Hitchcock said that Robin and Claude Jade, cast as Robin's daughter, would provide the glamour in the story. She died with her husband, Michael Sullivan, during a fire in their apartment in Paris.
Gary Brumburgh's entry:
This pert, delicate-looking French dish with the piled-high blonde hairdo was a one-time threat to the sexy, kittenish pedestal 'Brigitte Bardot' stood on during the 1950s. Born on April 4, 1927, the lithe and luscious Dany Robin trained as a ballerina as a child and eventually made her way to the Opera de Paris. At age 19, however, she opted for a movie career. Studying at the Paris Conservatoire, she made her screen debut inLunegarde (1946) and grew quickly in popularity as a sensual but virginal heroine of light, fluffy comedy with such pictures as Monelle (1948) (Monelle), Naughty Martine(1947) (Naughty Martine), Frou-Frou (1955), and Mimi Pinson (1958) endearing her to Gallic audiences. Working for such legendary directors as 'Marcel Carne' and René Clair, Dany first turned heads in the latter's film Man About Town (1947) (Man About Town) opposite French sensation Maurice Chevalier. Though most of her films were produced in her homeland, she took in international pictures from time to time in the 1960s, appearing in the British sex comedy Waltz of the Toreadors (1962) opposite Peter Sellersand the innocuous Connie Francis starrer Follow the Boys (1963) here in the U.S. Her last film would be in Alfred Hitchcock's thriller Topaz (1969), also an American production. Divorced from French heartthrob Georges Marchal, she married producer Michael Sullivan and retired. On May 25, 1995, Dany was tragically killed in a fire that occurred inside her Paris apartment. She was 68.
– IMDb Mini Biography By: Gary Brumburgh / gr-home@pacbell.net