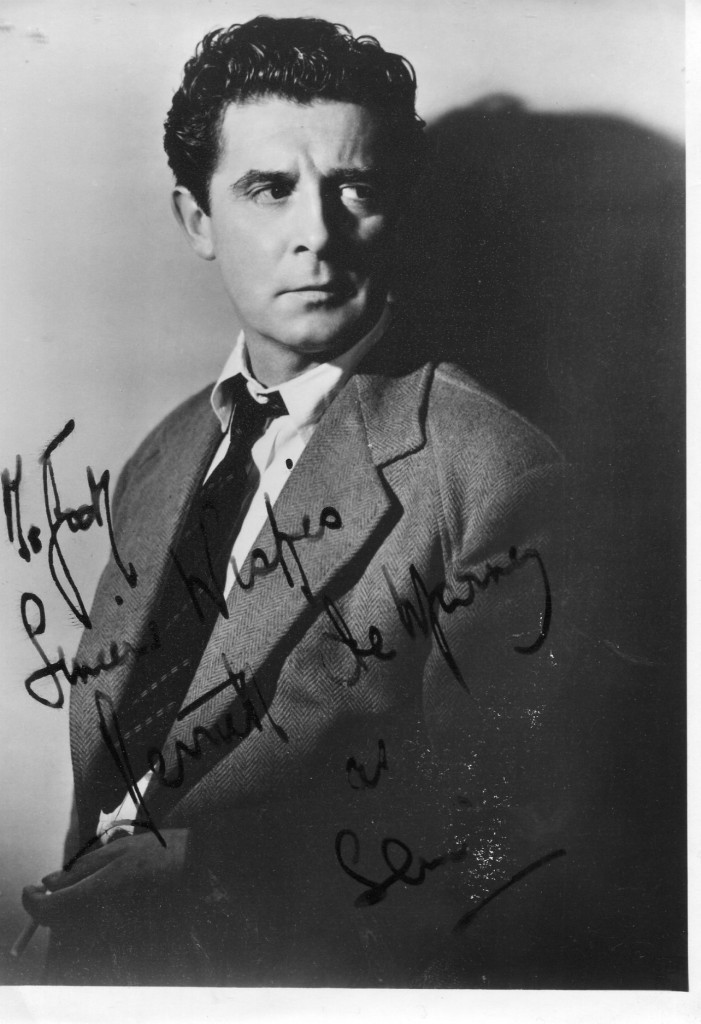 Derrick De Marney was born in London in 1906.
He is perhaps best known for his starring role as Robert Tisdall, wrongly accused of murder in Alfred Hitchcock's Young and Innocent (1937). Other early film roles include Benjamin Disraeli (a role he also played on stage in Young Mr. Disraeli) in Victoria the Great (1937), and its sequel, Sixty Glorious Years (1938).
After Young and Innocent, he alternated between leading roles and supporting parts in films. In 1947, he had another memorable part with the title role of Uncle Silas; a character part in which he played an evil old fortune hunter plotting against a young woman played by Jean SimmonsAfter a couple of more leads in self-produced films, he tended to concentrate on the theatre, only taking small roles in film and television thereafter. His last role was in the horror film The Projected Man (1966).
IMDB entry:
Derrick de Marney was born in London in September 1906 of Irish and French ancestry. He acted in repertory theatre from 1922, hit the London stage four years later and began in films by 1928. During the 1930's, he worked primarily under contract at Alexander Korda's Denham Studios. A handsome and versatile leading actor, de Marney was never content to be typecast merely as romantic leading men (Alfred Hitchcock's resourceful fugitive inThe Girl Was Young (1937)), but often preferred to act against type in period dramas and thrillers. He gave, arguably, his best performances as Benjamin Disraeli in Victoria the Great (1937) and in the title role of sinister 'Uncle Silas' in The Inheritance (1947). De Marney later became a manager and producer, in 1941 forming Concanen Productions with his brother (Terence de Marney), initially for the purpose of making wartime documentaries.
Following the war, he starred in (as well as producing) the unconventional gothic thrillerLatin Quarter (1945) and as Peter Cheyney's hard-boiled detective Slim Callaghan in Meet Mr. Callaghan (1954), a role he had previously created for the stage. Continuing to maintain diverse interests, de Marney even promoted a troupe of Javanese dancers he had brought to Britain in the 1950's. He lived the last few years of his life in the town of Farnham in Surrey.
– IMDb Mini Biography By: I.S.Mowis
The above IMDB entry can also be accessed online here.