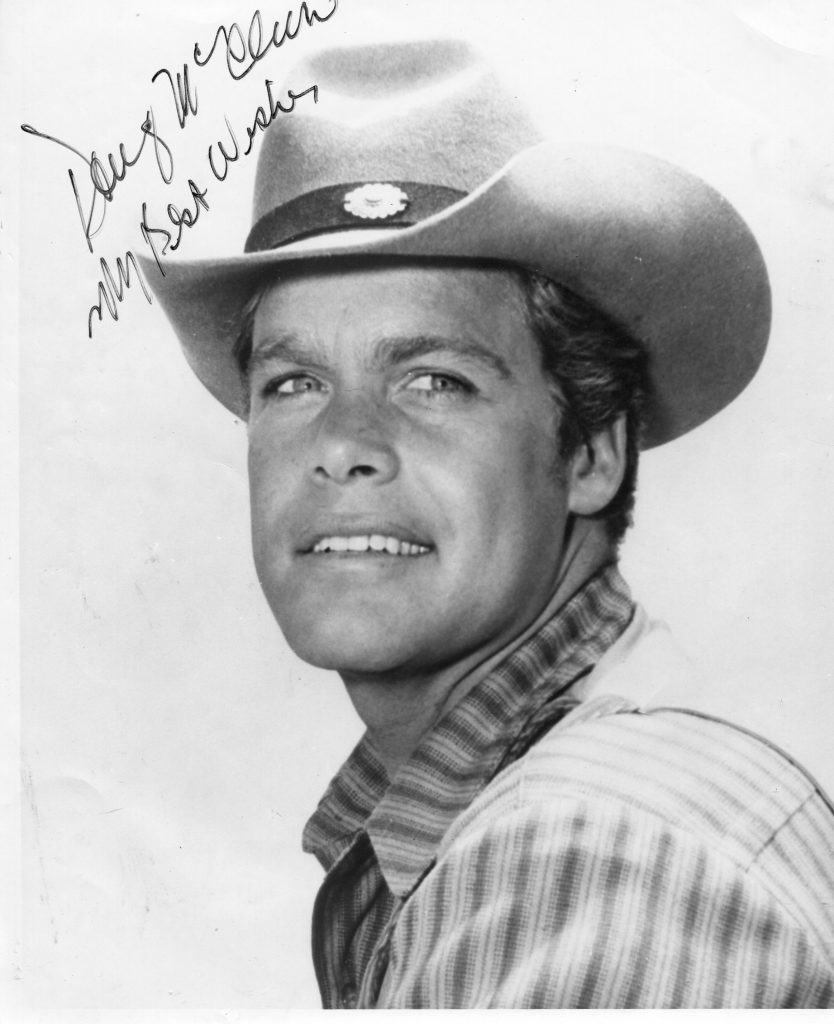 Doug McClure is fondly remembered for his role as 'Trampas' in TV"s "The Virginian". He was born in 1935 in Glendale, California. He had some very minor roles in major movies of the late 1950's such as "Enemy Below" with starred Robert Mitchum and Curd Jurgens and "South Pacific". "The Virginian" ran from 1962 until 1971. In the late 1960's he starred in such movies as "Beau Geste" and "The King's Pirate". Hos best film was probably "Shenandoah" with James Stewart in 1965. Doug McClure sadly died in 1995.
David Shipman's "Independent" obituary:
Doug McClure had blond good looks and an easy, ready smile. He was so laid back that he almost wasn't there. And with his untroubled countenance, he was a natural man of the West, enlivening The Virginian, the first television western series to have 90-minute episodes. In The Virginian, which ran from 1962 to 1970, McClure played Trampas, friend of the ranch foreman of the title, played by James Drury. For five years before the series started, McClure, born and educated in Los Angeles, had small parts in the local filmindustry, starting with a submarine drama, The Enemy Below (1957), followed by playing a Malibu Beach loafer in Gidget (1959), an anodyne teen romance – one of so many which Hollywood turned out during the Eisenhower years. Its director, Paul Wendkos, immediately put McClure in a similar tale, Because They're Young, a college tale which had a bit more bite. Television stardom beckoned in The Overland Trail, as William Bendix's sidekick, and in a private eye series, Checkmate, and John Huston made him Burt Lancaster's younger brother in his western The Unforgiven (1960) He i
s new son-in-law in Shenandoah (1965), but went down with the others in Beau Geste (1966): in the title-role Guy Stockwell did not efface memories of Ronald Colman (1926) or Gary Cooper (1939), admittedly classic versions of a now dated tale. As Beau's brother John, McClure was neither here nor there, but as much might be said of Ralph Forbes (1926) or Ray Milland (1939).
In 1971 McClure starred in The Law and Jake Wyler, one of several television projects produced and written by the prolific team of Richard Levinson and William Link. He was one of two parolees – James McEachin was the other – helping the judge do some detective work. The judge was Bette Davis, whose agent had indicated that she was ready to do a television series. But that wasn't to be: nobody liked the pilot, which went out on NBC as a telemovie in 1972, with added footage.
In 1975 McClure came to Britain to star in The Land That Time Forgot, based on Edgar Rice Burroughs' 1918 science fiction novel. It was strictly double-bill fare, if not exactly a cheapie, and he appeared in three follow-ups: At the Earth's Core (1976), The People That Time Forgot (1977) and Warlords of Atlantis (1978). Amicus produced, with co-operation on the last two from American International Pictures, temporarily deserting teenagers on motor-bikes. Fighting dinosaurs and such, McClure was energetic, especially as he looked as if he had had a heavy night.
Later movie appearances included Cannonball Run II (1983) and Omega Syndrome (1986). McClure has been regularly parodied as Troy McClure, an ageing star of the 1950s, in the television series The Simpsons, usually introducing promotional videos. Maverick(1994) had Mel Gibson in James Garner's old television role, with Garner in support, reminding us how entertaining he always was; and McClure, in his last movie role, with a "walk-on" as one of the poker-players.
David Shipman Doug McClure, actor: born Glendale, California 11 May 1934; married three times; died Los Angeles 5 February 1995.
The above "Independent" obituary can also be accessed online here.