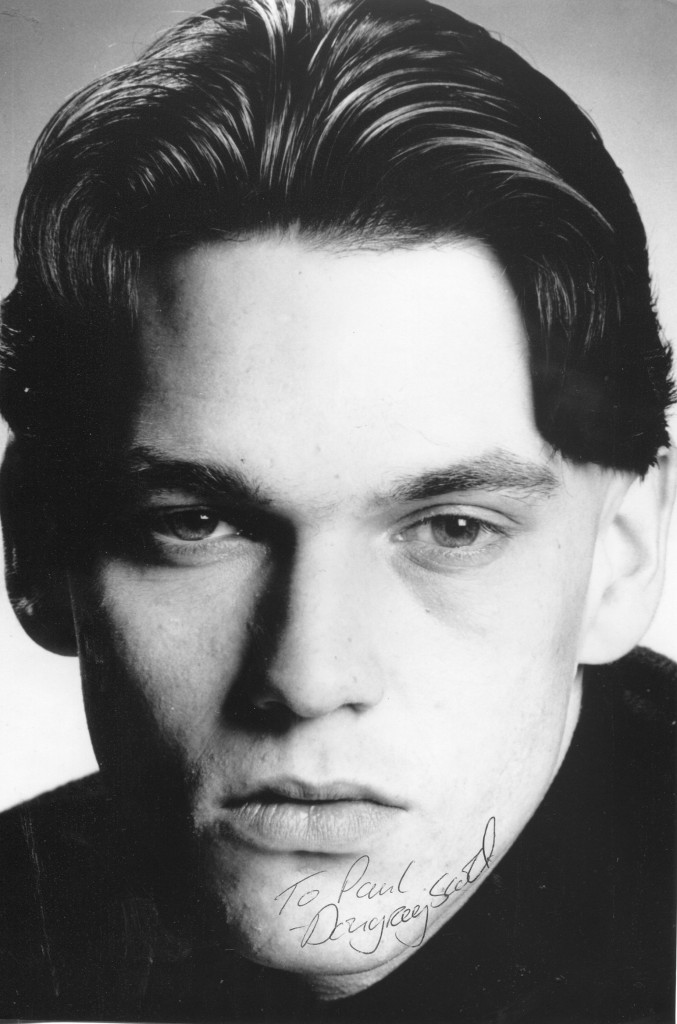 Dougray Scott was born in 1965 in Fife, Scotland. He made his movie debut in "Princess Caraboo" in 1994. Other movies include "The Day of the Triffids" and "My Week With Marilyn" as 'Arthur Miller'.
TCM overview:
orn Nov. 25, 1965 in Glenrothes, Fife, Scotland, Stephen Scott was the son of Elma, a nurse, and Alan Scott, an actor and salesman. Since "Stephen Scott" was already an actor registered with Equity, he later adopted his French grandmother's surname, Dougray, professionally. Scott went on to attend the Royal Welsh College of Music & Drama, earning an award for most promising drama student, and began to make regional theater and minor TV appearances. He briefly appeared in the Phoebe Cates romantic drama "Princess Caraboo" (1994) as a dragoon captain, but made a much more lasting impression on the British TV series "Soldier Soldier" (ITV, 1991-97) as Major Rory Taylor. His professional momentum increasing, Scott notched a memorable role as an ill-fated detective in the indie black comedy "Twin Town" (1997) and appeared as a coworker of Téa Leoni in the big-budget smash disaster movie, "Deep Impact" (1998).
Scott next earned the plum role of Prince Henry in the fiercely feminist reimagining of the Cinderella fairy tale "EverAfter" (1998) opposite Drew Barrymore. Written by Susannah Grant and featuring a fantastic cast that also included Anjelica Huston, Jeanne Moreau and Melanie Lynskey, the intelligent, funny and genuinely romantic film transcended its teen girl target audience. Successful with critics as well, the beloved film did much to increase Scott's international reputation as an attractive up-and-coming talent. (Not to mention as a heartthrob, with Scott's princely turn garnering nominations for a Teen Choice and Blockbuster Entertainment Award). A rising star, Scott was not only chosen by Tom Cruise to play the villain in "Mission: Impossible II" (2000), but was also cast as Wolverine in "X-Men" (2000). Unfortunately, the infamous production delays that plagued Cruise's film ended up costing Scott his adamantium-clawed role, and he had to cede the character to Hugh Jackman. Although most critics dismissed it as an exceptionally well-made popcorn movie, "Mission: Impossible II" was an enormous financial success and featured many cutting-edge special effects for the time, including several sequences with photorealistic facial masks. Still, Scott's career leveled off while Jackman's shot up the Hollywood A-list, buoyed in great part by his portrayal of the enormously appealing Wolverine across a series of sequels. Scott's Blockbuster Entertainment Award nomination for Favorite Villain was small consolation.
Scott experienced another close brush with superstardom when producers of the legendary James Bond franchise began eyeing him to replace Pierce Brosnan, but despite rampant speculation to the contrary, Scott was passed over to play the world's most famous spy in favor of Daniel Craig. Nonetheless, the actor starred opposite Kate Winslet in the film adaptation of Robert Harris's World War II codebreakers novel "Enigma" (2001), which was a moderate success. Television proved an excellent source of roles for the actor, with roles as Moses in a special effects-heavy version of "The Ten Commandments" (ABC, 2006), a professional jewel thief in the short-lived but impressively pedigreed series "Heist" (NBC, 2006), and the latest cast member on "Desperate Housewives" (ABC, 2004- ). On the latter hit series, the actor raised pulses as the suave Ian Hainsworth, love interest for Susan Mayer (Teri Hatcher) while Mike Delfino (James Denton) remained in a coma. Along with the rest of the cast, Scott earned two Screen Actors Guild ensemble acting nominations.
Scott returned to the big screen with a supporting role as a sympathetic Interpol agent tracking the titular assassin (Timothy Olyphant) in the video game adaptation, "Hitman" (2007). While the film made a decent killing at the box office, critics were less than impressed. Offscreen, Scott married actress Claire Forlani, and returned to television the following year by starring in a modern take on the classic tale of "Dr. Jekyll and Mr. Hyde" (ION, 2008). Scott and Forlani appeared together in the Australian thriller miniseries "False Witness" (UK.TV, 2009), playing an onscreen couple. The actor went on to star in an acclaimed British/Irish collaboration, the family drama/crime thriller "Father & Son" (RTÉ One, 2009; ITV, 2010), and the two-part TV reimagining of the classic sci-fi thriller "The Day of the Triffids" (BBC, 2009). Fans were excited to hear that Scott had been cast as the playwright Arthur Miller in the highly anticipated dramatization of the English adventures of Marilyn Monroe (Michelle Williams) in "My Week with Marilyn" (2011), starring alongside Kenneth Branagh, Emma Watson and Judi Dench.