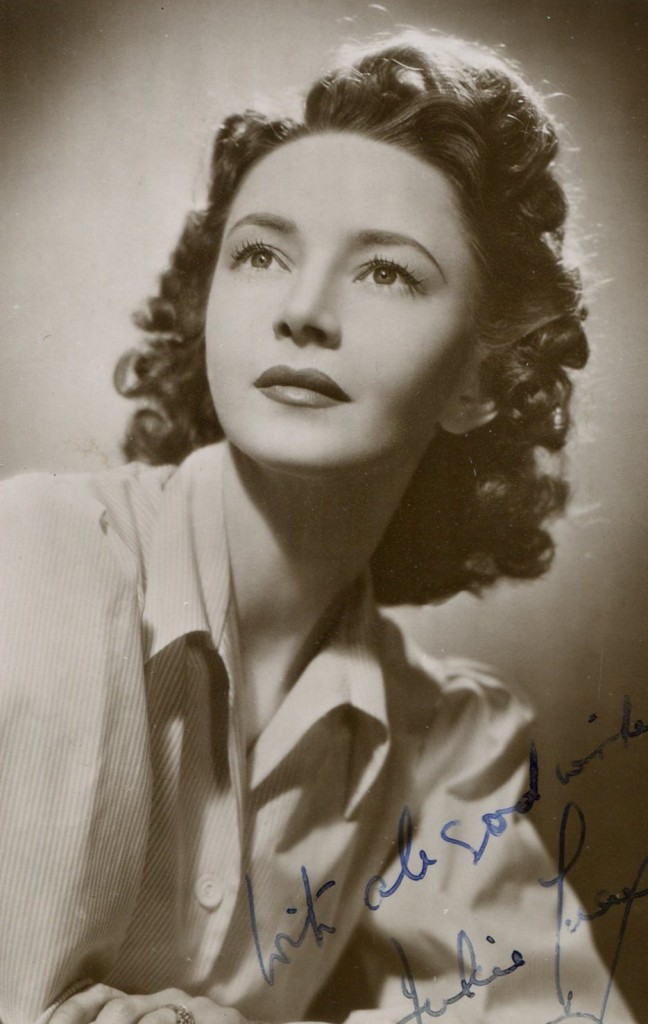 Dulcie Gray was one of the stalwarts of British cinema in the 1940's. She was born in Malaya in 1915. She married actor Michael Denison in 1939. She starred in such movies as "My Brother Jonathan", "The Glass Mountain" and "Angel One Five". She had great success on British television in the series "Howard's Way" between 1985 and 1990. She and her husband also starred in many plays in both the West End and the provinces. She died in 2011 at the age of 96.
Gary Brumburgh's entry:
Veteran British actress Dulcie Gray's career is often linked with that of her late actor/husband Michael Denison, with whom she appeared frequently on stage, TV and in films. Dulcie was born in Malaya, where her father was a lawyer and sent her to boarding school in England at quite an early age. Originally interested in dance until the lure of the theatre altered her direction, she attended the Webber Douglas Drama School where she met her future husband. Dulcie became a London stage star with dramatic roles in "The Little Foxes" as Alexandra, and "Brighton Rock." From there she slowly moved into such popular Gainborough Studio films as Madonna of the Seven Moons (1945), A Place of One's Own (1945) and They Were Sisters (1945), her first lead. With husband Michael, she later appeared in My Brother Jonathan (1948), The Glass Mountain (1949) and Angels One Five (1952) to generous reviews. However, like her husband, the theatre was her true calling and she would stay committed to it for most of her career, making relatively few films overall. She and Michael performed together in 26 stage productions, including "Candida" and "An Ideal Husband". Dulcie later turned to writing, authoring 24 books, most of which are crime novels. She earned TV success back in England with Howards' Way (1985) (in which Michael also starred) – a major hit in the late '80s — and, following his death in 1998, she returned to the theatre playing delightful elderlies in such fare as "The Ladykillers" and "The Lady Vanishes".
– IMDb Mini Biography By: Gary Brumburgh / gr-home@pacbell.net
Dennis Barker's"Guardian" obituary:
Although as an actor in films of the 1940s she was best known in ladylike and thoroughly English rose types of role, Dulcie Gray, who has died aged 95, had a background and overall career that was more cosmopolitan and interesting than that might suggest. She was in some ways the more complex half of the successful marital and professional stage and film partnership of Michael Denison and Dulcie Gray.
In The Glass Mountain (1949), in which a married composer loves an Italian girl who saved his life during the second world war, Gray, then one of the great stars of the British film industry, almost inevitably played the wronged but agonisingly understanding English wife. It was the sort of role for which she was most often chosen: the inconspicuous, quietly adoring woman able and willing to put her own emotions in the background to care for her erring man; round-faced, genteel and rather prim.
Most reference books now deride the film, but at a time when Britain was emerging from the war into a period of grey austerity, The Glass Mountain and movies like it were a popular tonic. Set in the beautiful Dolomite mountains, with graceful performers and a nostalgically slow pace, it was one of the most successful British films to that date. The part of the composer was taken by Denison, with whom Gray starred on stage and screen so many times that the Denisons became one of the "royal families" of the British entertainment scene.
Their partnership spanned the war and postwar years, and was still going strong into the 1990s with the revival of Oscar Wilde's An Ideal Husband, in which they both appeared, and in which they made their Broadway debut together in 1996. Gray had by then found renewed screen fame on BBC television in the cast of the glossy yachting drama Howards' Way, in which she took the role of Kate Harvey from 1985 to 1990. She was also a playwright and prolific author of crime novels.
She was born not, as might be expected, in Cheltenham or Frinton, but in Kuala Lumpur, Malaysia, the daughter of a lawyer, Arnold Bailey. She adopted the surname Gray from her mother, Kate. Although she often gave her year of birth as 1920, Gray much later admitted that "the fib began in the 40s when studios insisted on making you younger". She moved to England at the age of three and went to school at Wallingford, Wokingham and Swanage, before working as a school teacher and as a journalist in Kuala Lumpur, then returning to England on a cargo boat in 1937, with only £4 and her luggage.
Living on 6d a day for food, and often going hungry, she studied at the Webber Douglas school in London, where she met Denison. In 1939, with the second world war in the offing, she married him and started with him on the same day in Aberdeen repertory – the week after their wedding. Her first appearance was as Sorel Bliss, the ingenue in Hay Fever, at His Majesty's theatre, Aberdeen. Denison and Gray first played opposite one another as Parnell and Kitty O'Shea in the play Parnell. From Aberdeen, Gray went on to rep at Edinburgh, Glasgow and Harrogate.
During the war she was most widely known through her film and radiowork, which included 395 performances in Front Line Family – a saga of genteel folk coping against Hitler. She was an early contributor to television. But she also worked steadily on stage throughout the war. She played in Shakespeare at Regent's Park Open Air theatre; in popular plays such as The Little Foxes (1942), Brighton Rock (1943) and Dear Ruth (1946); and also that year went on tour with Fools Rush In. When her husband returned from war service, he found that his wife was established as a film star and radio favourite.
In the years immediately following the war, she was in some of the longest-running West End productions of the light comedies that were in vogue until the arrival of the more permissive 1960s and 1970s. Then she also began to tackle more heavyweight material, such as The Cherry Orchard (1980, at Exeter), The Kingfisher (1980, at Windsor and on tour) and The Living Room (1987), and appeared in productions of An Ideal Husband and The Importance of Being Earnest.
All this suggested a useful if not overly magnetic stage presence, pretty rather than beautiful, reassuring rather than challenging; it was possibly true. But she was engaged in other activities that lifted her as a person above this comfortable rut. She wrote a play called Love Affair, which was performed and published in 1956. It toured successfully but was not a hit in London – it opened a month after the play that was to revolutionise London theatre, John Osborne's Look Back in Anger.
It was as the author of murder novels, usually with a theatre setting, that she enhanced her middle and later years. There was a string of these books, including Murder On the Stairs (1957), Epitaph for a Dead Actor (1960), The Devil Wore Scarlet (1964), No Quarter for a Star (1964), Died in the Red (1968), Deadly Lampshade (1971), Understudy to Murder (1972), Stage Door Fright (1977) and Dark Calypso (1979). The list would have done credit to the most venerable of crime queens, rather than to a gracefully petite player of light comedy. She also wrote a factual book on butterflies – one of her interests – called Butterflies On My Mind (1978), for which she won the Times Educational Supplement's senior information book prize.
Her work as a writer went on simultaneously with her acting. In the 1960s, she appeared in a play with her husband in every year except one; in the 1970s, she played Agatha Christie's Miss Marple in A Murder is Announced and was in Alan Ayckbourn's Bedroom Farce. She usually wrote at home before going to the theatre. At her peak, she produced a book a year.
Although they were not bestsellers in the Agatha Christie league, they gave her a steady income, a source of reassurance to any actor enduring the ups and downs of stage and film life. One of her favourite anecdotes was how she had bought some diamond jewellery in a good year and then tried to sell it back to the same shop when she had a lean year; the shop offered her a derisory sum on the grounds that the jewellery was secondhand.
Gray was awarded the Queen's Silver Jubilee Medal in 1977; she and Denison were both appointed CBE in 1983. After her husband's death in 1998, she continued to take stage and television roles, and last appeared on screen in 2000, in the BBC drama Doctors. She lived latterly in the actors' care home Denville Hall, in west London.
• Dulcie Gray, actor and author, born 20 November 1915; died 15 November 2011
The above "Guardian" obituary can also be accessed online here.