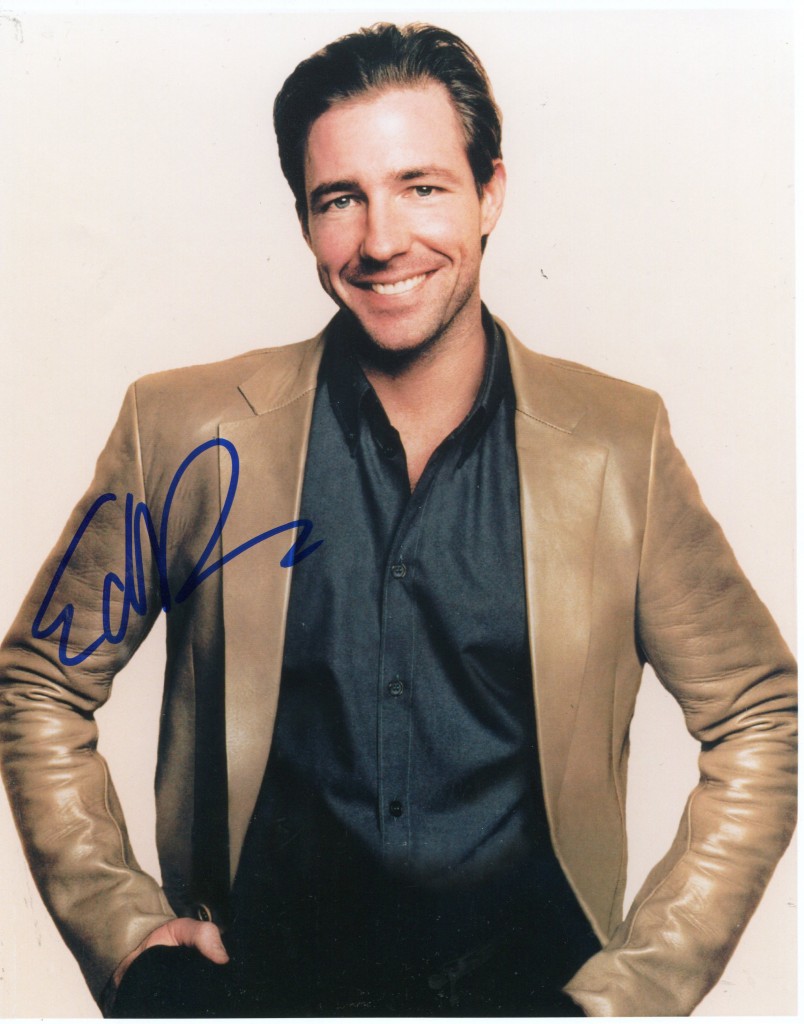 Edward Burns was born in 1968 in Queens, New York to an Irish-American family. He is best remembered for his role in "The Brothers McMullen" in 1998. Other films including "Saving Private Ryan" and "Looking For Kitty". He is married to model Christy Turlington.
TCM overview:
Like Steven Soderbergh, Quentin Tarantino and Allison Anders, actor-writer-director Edward Burns rose to prominence during the indie film boom of the mid-1990s on the strength of his debut film, "The Brothers McMullen" (1995). A thoughtful, good-natured comedy-drama about three Irish-Catholic siblings, it won the Grand Jury Prize at Sundance and established Burns as a director on the rise. Unfortunately, some of his subsequent efforts, which included "She's The One" (1996), "Sidewalks of New York" (2001) and "Nice Guy Johnny" (2010) felt like rehashes of "McMullen" in their wordiness and low-wattage conflicts. Burns also enjoyed an occasional side career as an actor, most notably in "Saving Private Ryan" (1998), but his tenacity and dedication to intimate dramas – for better or worse – were his calling cards for his decade-plus career.
Edward J. Burns Jr., born Jan. 28, 1968 in Woodside, Queens County, NY, was the son of police sergeant Edward J. Burns, Sr. and his wife Molly, a Federal Aviation Administration manager at Kennedy Airport in New York. Burns grew up with his older sister Mary and younger brother Brian in Valley Stream, Long Island; there, he enjoyed a typical Irish-Catholic upbringing, including time served as a alter boy. His parents, both dyed-in the-wool movie buffs, encouraged their children to pursue goals that would take them far beyond their neighborhood. Film eventually became his chosen medium, and after time at Oneonta College and State University of New York at Albany, he transferred to Hunter College, where he began making short films.
After graduation, Burns found work as a production assistant on a variety of television news programs, including "Entertainment Tonight" (syndicated, 1981- ), while writing and directing the 45-minute short "Brandy," which made its way into the 1992 Independent Feature Film Market. The following year, he began work on a feature about his Irish-American roots in suburban New York. Shot on 16mm film at the home of Burns' parents for less than $30,000 – some of which came from Burns' father, who was credited as an executive producer – and utilizing a crew of fellow "Entertainment Tonight" staffers, "The Brothers McMullen" was a surprisingly heartfelt, funny picture about a trio of siblings who learn to contend with their collective past as their lives take a variety of turns in regards to love, fidelity, maturity and family. Burns himself led the cast of unknowns as brother Barry, who struggled with committing to Audrey.
"McMullen" was a major hit at the 1995 Sundance Film Festival, capturing its Grand Jury Prize and making Burns a rising star in the burgeoning world of independent features. Released theatrically by Fox Searchlight Pictures, it netted $10 million at the box office, which in turn yielded a green light for a second Burns film. The follow-up, 1996's "She's the One," featured several cast and crew members from "McMullen," including Bahns and co-star Mike McGlone, but the success of the first film allowed him a $3 million budget that afforded such name performers as Jennifer Aniston and Cameron Diaz, as well as an original song score by Tom Petty and the Heartbreakers. A romantic comedy about a pair of Irish-Catholic brothers (Burns and McGlone) who wrestle with heartbreak, broken marriages and new loves, "She's the One" received mixed reviews, many of which cited its similarity to "McMullen," and it did not perform as well with moviegoers.
Undaunted, Burns forged ahead with this third film, "No Looking Back" (1998), a lower budget romantic drama with Lauren Holly as a restless small-town waitress who escapes the doldrums of her life via an old flame, played by Burns. A major disappointment in the wake of "McMullen" and "She's the One," .
While Burns' efforts as director occasionally struggled to find an appreciative audience, his turns as an actor caught the eye of Hollywood. His laconic, dry-witted delivery and model-grade good looks received a first-class introduction to mainstream audiences through Steven Spielberg's World War II epic, "Saving Private Ryan" (1998), which cast him as Private Robert Reiben, one of only three members of Army Captain Tom Hanks' team to survive a mission to save missing a GI called home by the government. However, subsequent efforts to mint him as a leading man, including the cop thriller "15 Minutes" (2001) with Robert De Niro, and "A Sound of Thunder" (2006), with Burns as a time-traveling scientist, were dismal failures, though he made for an appealing con man in the thriller "Confidence" (2003) with Dustin Hoffman. In later years, Burns seemed more comfortable in supporting roles, frequently as a boyfriend or fiancé whose disinterest spurs the female lead to seek romance elsewhere, as in "The Holiday" (2006) or "27 Dresses" (2008). Burns also enjoyed a brief stint as a boyfriend of Grace Adler (Debra Messing) in season three of "Will and Grace" (NBC, 1998-2006), and a season-long run as himself on "Entourage" (HBO, 2004- ) that centered on him penning a television series for the struggling Johnny Drama (Kevin Dillon).
Burns returned to the director's chair in 2001 for "Sidewalks of New York," a gentle comedy-drama about a group of romantically damaged Big Apple residents – again led by Burns, but also featuring Rosario Dawson, Dennis Farina, Stanley Tucci and Brittany Murphy – who try to overcome their fear of commitment. Shot in 17 days for less than $1 million, it received modest praise and turned a profit, which brought Burns back into the indie fold. It also served as the terminal point for his relationship with co-star Heather Graham, whom he had been dating since his breakup with Lauren Holly in 1998. The pair officially split in 2000, prior to the film's release. That same year, he began dating model Christy Turlington, with whom he would endure a tumultuous relationship for several years. Initially engaged in 2001, they broke up shortly after the attacks on New York City on Sept. 11, 2001. They reunited and were married in 2003, the same year Turlington gave birth to their daughter, Grace. A son, Finn, followed in 2006.
Burns' directorial career saw diminishing returns in the years that followed "Sidewalks of New York." "Ash Wednesday" (2002), with Burns as a guilt-ridden Irish-Catholic and a woefully miscast Elijah Wood as his long-lost brother, opened in only two theaters and grossed less than $3,000. Its follow-up, "Looking for Kitty," reunited Burns with some of his veteran players, including David Krumholtz and Connie Britton, in a comedy-drama about a basketball coach (Krumholtz) who hires a mouthy PI (Burns) to find his missing wife. It received more positive reviews, but again, only garnered a limited release. Burns tried his hand at television with "The Fighting Fitzgeralds" (NBC, 2001) a comedy about an Irish firefighter (Brian Dennehy) whose retirement is routinely interrupted by his family, but the series – co-produced by Burns' brother Brian under their joint production company, Irish Twins – lasted less than a season.
Despite growing critical sentiment that Burns had squandered the goodwill generated by his debut, he was still able to raise the financing for film projects. In 2006, he saw the release of "The Groomsmen," with Burns again drawing from life as a groom-to-be that is about to marry his longtime girlfriend (Brittany Murphy), who, like Turlington, is five months pregnant at the time of the ceremony. Though his supporting cast, which included Jay Mohr, John Leguizamo, Donal Logue and Matthew Lillard, received solid reviews, the film performed poorly during its theatrical run. The romantic drama "Purple Violets" (2007), with Selma Blair and Patrick Wilson, did not even make it to theaters; instead, the film earned the distinction for being the first feature to debut on iTunes. Burns also kept himself busy with a graphic novel, Dock Walloper, in 2007 and a series of noir-styled Internet shorts called "The Lynch Pin," with Burns as a hired killer, in 2009. The following year saw him back on the festival trail with his latest film, "Nice Guy Eddie," with Burns now playing the libertine uncle to Matt Bush's title character, the sort of congenial good guy that Burns himself played a decade prior.