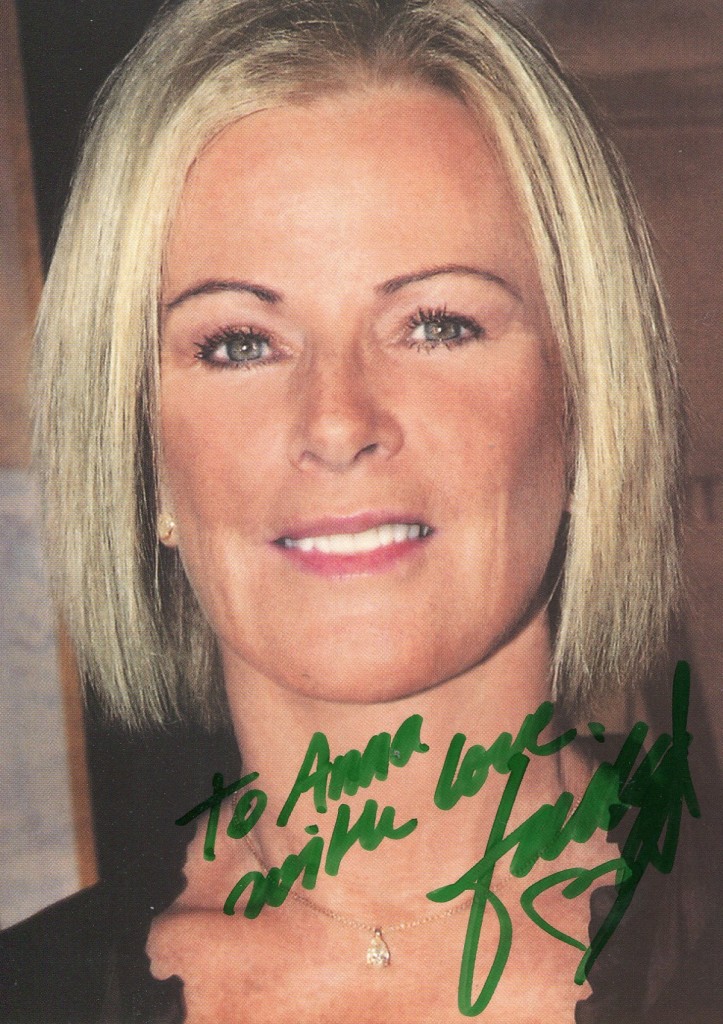 Frida Lyngstad was born in 1945 in Norway. She is part of the pop group Abba.
Extract from "Express" article: Out of all four of us, Frida had the most dramatic life. Her life is the classic rags-to-riches story," he said last year. "I can just picture the scenes and the cliffhangers."Her Serene Highness Princess Reuss, Countess of Plauen – to accord "the brunette one" from the Seventies' most celebrated foursome her married titles – could hardly deny the truth of that statement.
As the illegitimate daughter of a Norwegian mother and a German soldier, conceived during the Nazi occupation of her homeland, she was lucky to escape incarceration in a mental institution. That was the fate which befell many innocent Norwegians who were the products of Heinrich Himmler's Lebensborn programme which was designed to produce an Aryan master race. Frida avoided it thanks to the grandmother who whisked her to safety in Sweden.
Now wealthy thanks to her singing stardom and her marriage to a millionaire from a German royal house, she is a close friend of the Swedish royal family and spends her time doing international charity work. It was in that role that she apparently met Sir Alan West, as he then was, just after he had stepped down as Britain's First Sea Lord, the professional head of the Royal Navy.
She was born Anni-Frid Lyngstad near the port of Narvik, in the far north of Norway, in November 1945.
Fearing what the future might hold, Agny fled to Sweden with the baby. Synni followed shortly afterwards, taking a job as a waitress, but she fell ill and died of kidney failure aged only 21, before her daughter's second birthday.
Brought up in Sweden by a distant grandmother, Frida had a lonely childhood.

"I didn't have many friends," she has recalled. "I thought everything about me was wrong – that there was nothing about me that was worth loving."

She knew that her father was German but she had been told he had drowned at sea. It was only in 1977, when the publicity surrounding Abba enabled one of her estranged German relatives to put two and two together, that she realised Haase was still alive. They had a reunion but ceased contact in 1983.
"It would have been different if I'd been a child but it's difficult to get a father when you're 32 years old," she said later. "I can't really connect to him and love him the way I would have if he'd been around when I grew up."

By that time she had been married and divorced twice. In 1963 she wed Ragnar Fredriksson, the bass player of her Swedish band the Anni-Frid Four. They had two children but she divorced him after she met keyboard player Benny Andersson (the bearded one from Abba). His composing partner Ulvaeus was engaged to a rising blonde singing star called Agnetha Faltskog and in 1970 a quartet was born called The Engaged Couples. That mutated to ABBA when their manager started referring to them by the initial letters of their names (although they needed first to negotiate with Sweden's largest fish canning factory, also called Abba, which eventually wished them well and sent them a carton of tuna).

Soaring to success with victory in the 1973 Eurovision Song Contest, the clean-living foursome dominated the Seventies with their bubbly, white-jumpsuit schmaltz. They have sold more than 370 million records to date – winning a new popularity in the Nineties with their Abba Gold greatest hits album and the worldwide success of the spin-off musical Mamma Mia!

At the height of their fame, the engaged couples married but Frida and Benny were divorced in 1981, and after the break-up of Abba she left Sweden first for Britain and then for Switzerland, launching a solo career that failed to set the world on fire. Nowadays, she says her interest in music is "non-existent".

In 1992, she married her long-time boyfriend, Prince Heinrich Ruzzo Reuss von Plauen, the part-Italian, part-Swedish head of a former German royal house, who was based in Switzerland. They had been living together in his castle at Fribourg, near Berne, since 1986. Educated in Sweden, the prince was a schoolfriend of King Carl Gustaf of Sweden, and he and Frida took to spending winter holidays with Carl Gustaf and his wife Queen Silvia. But the decade brought twin tragedies. In January 1998, Frida's daughter Lise-Lotte was fatally injured in a car crash in the United States and less than two years later, in November 1999, Prince Ruzzo died of cancer after a six-month illness, aged just 49.

While her former bandmate Agnetha has become a recluse, hiding away on a thinly populated Swedish island, misfortune has not led Frida to shun the limelight. A grandmother and a staunch Green campaigner, she is a prominent supporter of the drug prevention charity Mentor and has attended charity functions such as one at London's Natural History Museum last year, in the company of her friend Queen Silvia and Queen Noor of Jordan.

Frida, who now lives in the ultra-chic Swiss mountain resort of Zermatt.