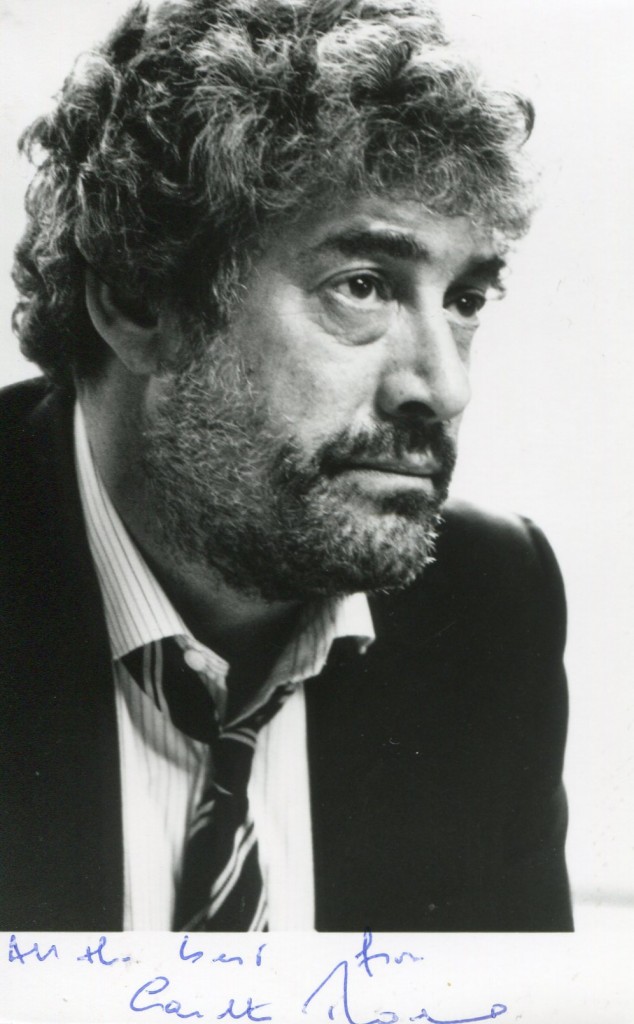 Obituary in "The Telegraph" in 2016.
Gareth Thomas, who has died aged 71, was a regular face on the television screens and a much respected stage actor, but he became best-known as Roj Blake, the title character in the BBC's cult sci-fi television series Blake's 7, which ran from 1978 to 1981.
Thomas appeared on stage in many productions, including Royal Shakespeare productions of Twelfth Night (as Orsino), Othello (as Cassio) and Eugene O'Neill's Anna Christie (as Matt Burke). He appeared in English Shakespeare Company productions of Henry IV, Parts 1 and 2, and Henry V. Other stage credits included King Lear, Educating Rita, Cat on a Hot Tin Roof, The Crucible and Equus.
On television he was Shem in the ITV sci-fi series Star Maidens (1976) and astrophysicist Adam Brake in the fantasy series Children of the Stones (ITV, 1977). He appeared in Torchwood and Coronation Street, and was Bafta-nominated for his performances in Stocker's Copper, a 1972 BBC Play for Today set during a Cornish clay miners strike, and Morgan's Boy (1984), a BBC drama in which he played a Welsh hill farmer whose teenage nephew from Manchester (Martyn Hesford) comes to live with him.
Morgan's Boy was his favourite television role, but it was Blake's 7 that won the bigger audiences.
The show was created by Terry Nation, creator of Doctor Who's Daleks, who later described it as "The Dirty Dozen in space". Set in the "third century of the second calendar", the series depicted an Earth under the yoke of a totalitarian galactic federation which drugs its citizens into placid submission. Thomas's character was the dissident leader of a motley crew of renegades, battling the authorities from the deck of the spacecraft Liberator.
Some derided the show as ridiculous, but it was ahead of its time in characterisation and plot, and its unlikely heroes had dark histories and flawed personalities.
Blake's 7 proved an instant success, attracting an audience of 10 million viewers. It became a cult classic, partly for its dystopian view of the future, and partly for its wobbly sets and shoestring-budget costumes and special effects. Even when the series ended, its memory was kept alive by fan clubs and conventions.
In fact Thomas, as the title character, only appeared in 28 of the show's 52 episodes as, after two seasons, he told the producers he had had enough. As a result Blake was declared "Missing in Action" and his intergalactic crew spent the next two series looking for him – finding him in a finale which saw all the main characters killed.
Like many actors who become typecast, Thomas struggled for a while to get good parts, but he remained philosophical: "One episode of Blake's 7 will have been seen by more people than all the Royal Shakespeare Company shows I've done put together. People stop me in the street and say, 'Oi, you know who you used to be don't you?' I always answer, 'yes and I still am'."
Gareth Thomas was born on February 12 1945 in Wales, attended King's School, Canterbury, and trained at Rada. In later life he recalled being accident-prone as a young actor. In his first professional theatre appearance, his big scene involved walking on stage and opening a door. The door came off its hinges and he had to walk off stage with it. During an early appearance in pantomime, as King Rat, he lost his tail mid-performance.
After making his television debut as Benvolio in Romeo and Juliet in 1965, in 1967 he appeared in Hammer Films' Quatermass and the Pit as the workman who discovers alien skeletons in the Underground.
"They built up this very expensive plaster of Paris tube station wall with real clay carefully put in and the alien skeleton set behind it," he said. "The director told me to take a pickaxe and hit the top of the clay so that the whole section of wall would fall away. He suggested a rehearsal first, and warned me not to actually hit the thing. So I swung the pick, stopped it dead an inch from the wall … and the head flew off and smashed the whole thing. There was a moment's absolute silence broken only by the director yelling 'props'! It took three hours to rebuild."
Thomas's other television credits included The Avengers, Z-Cars, Sutherland's Law, Bergerac, Casualty, Taggart, Heartbeat and Midsomer Murders. On stage in 2010 he gave an acclaimed performance as Ephraim Cabot in Desire Under the Elms at the New Vic Theatre.
In 2012, he reprised his role as Blake in The Big Finish's audio series Blake's 7: The Liberator Chronicles. In 2013 he appeared as Brother Cadfael in Middle Ground Theatre Company's adaption of The Virgin in the Ice by Ellis Peters.
He is survived by his wife, Linda, and a son; a daughter predeceased him.
Gareth Thomas, born February 12 1945, died April 13 2016