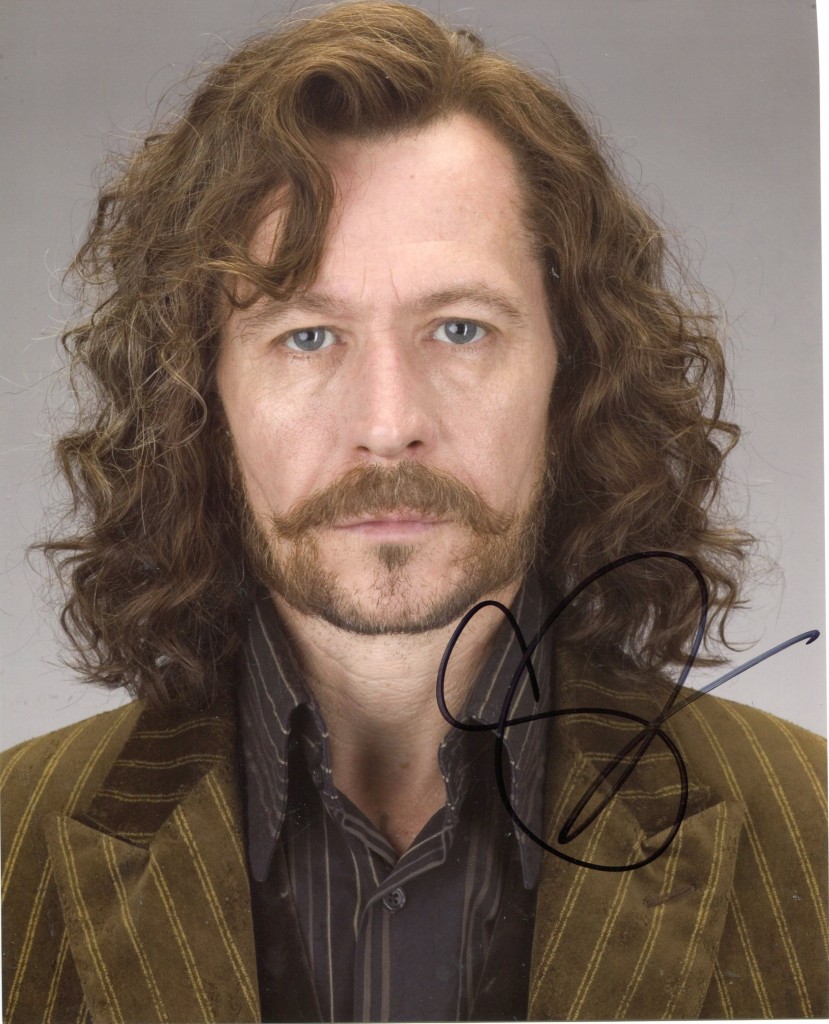 Gary Oldman is one of the best actors in movies to-day. He came to fame with his brilliant performance as 'Sid Vicious' in "Sid & Nancy" in 1986. He has had a string of worthwhile movies, the best I think is "Tinker, Tailor, Soldier, Spy".
TCM overview:
From the start of his career, actor Gary Oldman displayed an edgy intensity that brought verve to his portrayals of ambiguous and obsessive personalities. Equally at home as either heroes or villains, Oldman gained a well-earned reputation as a brilliant chameleon who first staked his claim playing wayward Sex Pistols bassist Sid Vicious in "Sid and Nancy" (1986). Following acclaimed turns as playwright Joe Orton in "Prick Up Your Ears" (1987) and a slick attorney in "Criminal Law" (1989), the actor was eerily indistinguishable as Lee Harvey Oswald in Oliver Stone's conspiracy-driven "JFK" (1991). Oldman added to his vast array of characters by playing the famous Count in "Bram Stoker's Dracula" (1992), a dreadlocked drug dealer in "True Romance" (1993), Ludwig von Beethoven in "Immortal Beloved" (1994) and a terrorist leader in "Air Force One" (1997). In the new millennium, he was conservative senator who vigorously challenged the appointment of the first woman to the vice presidency in "The Contender" (2000) and was virtually unrecognizable as the mangled Mason Verger in "Hannibal" (2001). While sometimes associated with small films, Oldman excelled in blockbusters, playing the mysterious Sirius Black in "Harry Potter and the Prisoner of Azkaban" (2004) and several sequels, and Lieutenant Gordon in Christopher Nolan's "Batman Begins" (2005) and "The Dark Knight" (2008). Though virtually unrecognized by awards until 2010's "Tinker Tailor Soldier Spy," Oldman nonetheless remained an actor held in high esteem among critics, audiences and fellow actors, thanks to scores of acclaimed roles under his belt.
The son of a welder and a housewife, Leonard Gary Oldman was born on Mar. 21, 1958 in New Cross, London, England. An academically indifferent student, Oldman dropped out of school at 16 and found a job as a store clerk. He soon discovered his métier on stage, becoming active in the Young People's Theater in Greenwich, England. He later won a scholarship to attend the Rose Bruford College of Speech and Drama in Kent. Graduating in 1979 with a bachelor's degree in theater arts, Oldman quickly found regular gigs on stage. Oldman's hard work and trademark intensity made him a favorite in Glasgow in the mid 1980s, culminating in the lead role in Edward Bond's socially-conscious drama, "The Pope's Wedding." A huge hit with critics, the play earned Oldman's two of the British stage's top honors: the Time Out's Fringe Award for Best Newcomer of 1985-86 and the British Theatre Association's Drama Magazine Award as Best Actor of 1985.
Segueing into television in the mid-to-late 1980s, Oldman brought some of his famous intensity to his small screen roles. An early example was evidenced in one of Oldman's first screen performances as an explosive skinhead in director Mike Leigh's telefilm "Meantime" (BBC, 1983). Oldman later consolidated his wild man persona with two very different, yet similarly doomed iconoclastic figures from English culture: punk rock legend Sid Vicious in the poignant and uncompromising cult classic "Sid and Nancy" (1986), and later the irreverent gay playwright Joe Orton in the finely tuned biopic "Prick up Your Ears" (1987). Though excellent in both roles, Oldman was more remembered for his turn as Vicious, portraying the heroin-addicted bassist in frighteningly accurate fashion. Meanwhile, Oldman continued his exploration of human darkness, traveling to North Carolina to play the mysterious long-lost son of Theresa Russell in Nicolas Roeg's bizarre psychological drama "Track 29" (1987).
In the United States, Oldman displayed his remarkable talent for mimicking American accents and myriad regional dialects. The fruits of his labor resulted in Oldman giving convincing performances as a big-city attorney in "Criminal Law" (1988), a down-home Southern fried mental institution inmate in "Chattahoochee" (1990) and an Irish-American gangster in "State of Grace" (1990). But it was his dead-on impersonation of assassin Lee Harvey Oswald in Oliver Stone's "JFK" (1991) that truly cemented his status as a human chameleon; few were able to distinguish the actor's characterization from the stock footage of the real Oswald. Based on the strength of his performance in "JFK," director Francis Ford Coppola offered him the lead in "Bram Stoker's Dracula" (1992). As the titular bloodsucker, Oldman proved equally compelling in various incarnations – as a wizened old man, a dapper aristocrat and a snarling monster – standing out amid the lavish makeup and visually sumptuous costumes and sets. Oldman was predictably electrifying in his next outing, playing ruthless wannabe Rastafarian pimp Drexl Spivy in the Quentin Tarantino-scripted "True Romance" (1993). Though Oldman was onscreen for only a few minutes, his dominating performance echoed throughout the rest of the movie.
Like many actors, Oldman had his share of demons to battle – in his case, alcohol. Oldman's off-screen binges led to occasional brushes with the law, including a 1991 arrest for driving under the influence. After he completed "The Scarlet Letter" (1995), Oldman checked into rehab and underwent treatment. Once sober, he returned to Hollywood to reactivate his career and raise money for "Nil By Mouth" (1997), a dream project he wanted to write and direct. Meanwhile, Oldman was seen in varying degrees of success, making villainous turns in "The Fifth Element" (1997), "Air Force One" (1997) and "Lost in Space" (1998). Finally, he managed to raise enough money – thanks to an assist from "Fifth Element" director Luc Besson – to make "Nil By Mouth," a blistering semi-autobiographical examination of a working-class family torn apart by alcoholism. From its premiere at the Cannes Film Festival, where it picked up the Best Actress trophy for Kathy Burke (as the abused wife), to its 1998 theatrical release, the film earned substantial critical praise for its unflinching writing, assured direction and stunning performances.
Oldman next lent his vocal talents to the animated feature "The Quest for Camelot" (1998), then made a rare excursion into television to play Pontius Pilate in the CBS miniseries "Jesus" (1999-2000). Later in 2000, he was back on the big screen as a conservative U.S. senator attempting to block the appointment of a female colleague as the first woman vice president in "The Contender," written and directed by Rod Lurie. The timely material – which included a sex scandal and pointed references to embattled U.S. president Bill Clinton – marked the actor's first time as an executive producer. Rumors of a tension-filled the set were rampant prior to the film's release and disputes between Oldman and Lurie soon became fodder for public consumption. Not one to suffer fools, Oldman expressed his unhappiness with his character's depiction as the villain. While his arguments with Lurie and the film's distributor DreamWorks played out in the press, "The Contender" failed to make its mark with audiences.
Oldman found himself in another situation with his prominent follow-up role as the exorbitantly wealthy, but hideously disfigured Mason Verger in "Hannibal" (2001). Some reported that the actor originally wanted screen credit. But when he was relegated to third billing, he allegedly opted to take no credit at all. Other articles claimed that he did not want to be identified for the sake of surprise, since the character required prosthetics that would render whoever played the role unrecognizable. Producer Dino De Laurentiis clearly stated at a press conference, however, that Oldman was indeed playing the role, pointing out that an actor of that stature deserved to be recognized for his contribution to the film. Although he spent much of his career playing psychotics and sadistic characters, Oldman underwent a career makeover in the mid-2000s similar to that of Sir Ian McKellen. Eschewing his more typical adult-oriented fair, Oldman began accepting a string of roles that played to younger audiences.
Among his likeable, more sympathetic characters was Sirius Black, a recurring character in the "Harry Potter" series. First introduced in "Harry Potter and the Prisoner of Azkaban" (2004), Oldman reprised his role for its two subsequent sequels, "Harry Potter and the Goblet of Fire" (2005) and "Harry Potter and the Order of the Phoenix" (2007). Around the same period, Oldman delighted comic-book fan boys around the world by taking the role of Gotham City Police Lieutenant (and later Commissioner) Jim Gordon in "Batman Begins" (2005), a reboot of the lucrative Batman film franchise. Oldman later reprised the role in "The Dark Knight" (2008). He next portrayed several characters in Disney's 3-D animated take on the Charles Dickens classic, "A Christmas Carol" (2009), lending both voice and image to Jacob Marley, former business partner of Ebenezer Scrooge (Jim Carrey), Bob Cratchit and Tiny Tim. Goldman also voiced General Grawl in "Planet 51" (2009), an animated spoof on alien culture and 1950s Americana.
The following year, Goldman embraced his villainous side as a post-apocalyptic powerbroker opposite Denzel Washington in "The Book of Eli" (2010) then voiced the foul peafowl Lord Shen in the hugely successful animated sequel "Kung Fu Panda 2" (2011). That same year, he played a vengeful werewolf slayer in the critically panned fantasy-thriller "Red Riding Hood" (2011) and reprised the role of Sirius Black for the final chapter of the blockbuster franchise "Harry Potter and the Deathly Hallows – Part 2" (2011). Capping off an exceptionally busy season, Oldman admirably filled the shoes of the great Sir Alec Guinness when he took on the role of semi-retired Cold War-era spy George Smiley in the feature adaptation of John le Carré's "Tinker Tailor Soldier Spy" (2011). While Guinness' lauded interpretation for the BBC in the late-1970s had set the bar impossibly high, Goldman's impressive run at the character was at the center of one of the U.K.'s highest grossing films of the year. Finally, after a long and versatile career filled with great performances, Oldman nabbed his first-ever Academy Award nomination with a Best Actor nod for "Tinker Tailor Soldier Spy."
Sticking to a string of high-profile projects, Oldman returned for "The Dark Knight Rises" (2012), the emotive conclusion of Nolan's Batman trilogy, and had a supporting part in John Hillcoat's tense Prohibition-era drama "Lawless" (2012), both of which also featured fellow Brit Tom Hardy. After turning up with Marion Cotillard in a controversial religion-skewering video for David Bowie's single "The Next Day," Oldman went head-to-head with Harrison Ford in the poorly received corporate drama "Paranoia" (2013). Still in the midst of a hot streak, however, Oldman also filmed key roles in the sci-fi movies "RoboCop" (2014) and "Dawn of the Planet of the Apes" (2014).
The above TCM overview can also be accessed online here.