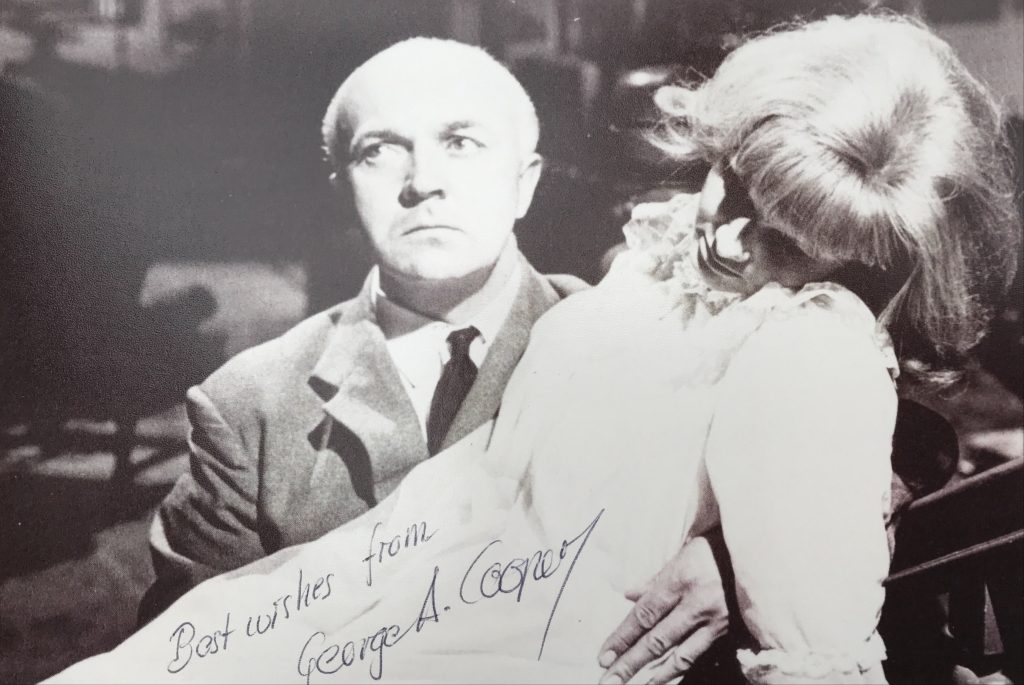 George A. Cooper is a very profilic British actor with a long list of credits on film and television.   He was born in 1925 in Leeds.   His movie debut was in 1946 in "Men of Two Worlds".   His movies include The Secret Place" in 1957, "Miracle in Soho" and "Violent Playground".   George A. Cooper died in 2018.
"Loose Cannon" page  website:
George Cooper was born in Leeds in 1925, As a youth he decided he wanted to be an electrical engineer. He soon changed his mind and his next planned career was as an architect which also fell by the side as he realised his true yearning was to be an actor. However the war intervened and he was called up for National Service and became a Royal Artillery Surveyor, being posted in Dulally India where he became involved in the armies concert party.
After the war he joined the Theatre Workshop in Manchester run by Joan Littlewood where he stopped for almost 6 years whilst gradually moving into television and adding the "A" to his stage name due to confusion with another George Cooper.
During the 1960's he become one of the most familiar character actors on television and his filmography includes almost all of the major shows of the day such as Coronation Street, The Adventures of Robin Hood, An Age of Kings, Danger Man, Z Cars, Softly Softly, The Avengers and Man in a Suitcase.
In the following decade he continued in the same stead but also managed to appear in many classic sitcoms such as Steptoe & Son, Bless this House, Rising Damp, Sykes and a well remembered role as the job advisor in Some Mothers Do 'Ave 'Em who attempted to get Frank Spencer employment, the only time in a TV studio George admits to having an attack of the giggles. He also starred in the TV adaptation of Billy Liar in which he had previously starred in the West End.
Once again in the 1980's George was again very busy in serials such as Juliet Bravo, When The Boat Comes In, CATS Eyes and Taggart before settling down in the role he is probably best remembered as Mr Griffiths, caretaker of Grange Hill, where his experience helped many of the young child actors, much to George's delight.
Now retired, George remains a very friendly man and enjoyed sharing his experiences with the Loose Cannon team on your behalf.
The above page on the "Loose Cannon" website can be accessed here.