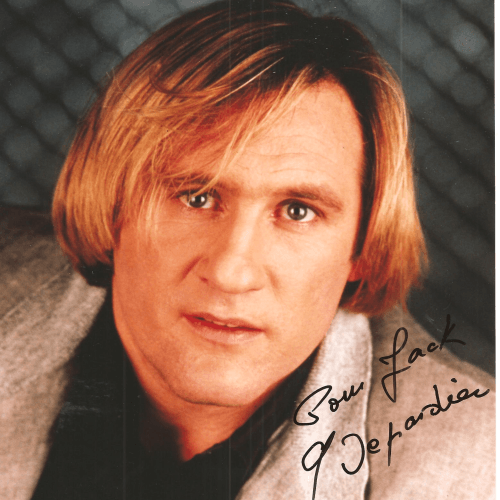 Gerard Depardieu was born in Indre, France in 1948. He made his film debut in "Le beatnik et le minet" in 1967. Among his many film credits are "The Annuity" in 1972, His best known U.S. movie is "Green Card" opposite Andie McDowell in 1990.
Alternately described as the "French Robert De Niro," or an international sex symbol, acclaimed actor Gerard Depardieu was nonetheless universally regarded as one of the finest international performers of his generation. Miraculously emerging from a childhood of delinquency and crime, Depardieu found his salvation in the theater, and later began working steadily with small roles on French television and in films like "Going Places" (1974), "Barocco" (1976) and "Get Out Your Handkerchiefs" (1977). He won his first César Award under the guidance of New Wave master François Truffaut in "The Last Metro" (1980), directed himself ably in "Le Tartuffe" (1984) and crossed the Atlantic with great success in "Green Card" (1990). More than 20 years into his heralded career, Depardieu continued to garner accolades with leading roles in sweeping period dramas such as "Colonel Chabert" (1994), as well as crowd pleasing fluff like "Asterix & Obelix vs. Caesar" (1999). Despite an apparently empty threat to retire from film completely in 2005, the seemingly tireless actor went on to appear in dozens of films, including the Academy Award-winning biopic "La Vie en Rose" (2007). As an actor, Depardieu brought his own well-documented lust for life to each and every role he inhabited with the tireless dedication of a master artist completely dedicated to his craft. Born Gerard Xavier Marcel Depardieu on Dec. 27, 1948 in Chateauroux, France, his father, Rene, was an illiterate sheet metal worker with a fondness for alcohol, and his mother, Eliette, was "always pregnant," as he once recounted in an interview. Reared within this impoverished family, Depardieu spent a Dickensian childhood replete with brushes with the law, punctuated by bouts of violence at home and in the neighborhood. A classic juvenile delinquent, he dropped out of school at age 12 and embarked on a hitchhiking tour of Europe that found him stealing cars and selling goods on the black market. He may have been destined for a life of crime had he not discovered acting, thanks to a friend who was attending drama school in Paris. At the friend's urging, Depardieu enrolled in classes at the Theatre National Populaire and was later apprenticed at the Café de la Gare alongside future co-stars Patrick Dewaere and Miou-Miou. He made his film acting debut in the short "Le Beatnik et le minet" (1965) for writer-director Roger Leenhardt. In 1970 he married Elisabeth Guignot, a Parisian film actress, six years his senior, with whom he would go on to father two children, Guillaume and Julie Depardieu. After years of stage work and appearing regularly on French television and in small roles in a variety of films, such as "Nathalie Granger" (1972), co-starring the great Jeanne Moreau, and the Alain Delon crime drama "Two Men in Town" (1973), Depardieu enjoyed breakout success co-starring as a nihilistic but lovable petty thug with his old theatrical colleague Dewaere in "Les Valseuses" ("Going Places") (1974), directed by Bertrand Blier. He went on to handle a dual role opposite Isabelle Adjani in "Barocco" (1976) and portrayed a Communist organizer opposite Robert De Niro in Bernardo Bertolucci's "1900" (1976). Reteaming with Dewaere and Blier, Depardieu co-starred as a man attempting to cheer up his wife by finding her a lover in the Oscar-winning foreign film "Preparez vos mouchoirs" ("Get Out Your Handkerchiefs") (1977). Other works include the bizarre comedic fantasy "Bye, Bye Monkey" (1978), a film co-starring Marcello Mastroianni, in which Depardieu played a man who finds what he believes to be the son of the deceased King Kong on the beach at Long Island and decides to raise it as his own. Kicking off the 1980s, Depardieu offered up a riveting, award-winning performance as a Resistance fighter in revered French New Wave director François Truffaut's dark drama "Le Dernier Metro" ("The Last Metro") (1980), opposite the exquisite Catherine Deneuve. "Le Retour de Martin Guerre" ("The Return of Martin Guerre") (1982) cast him as a 16th century peasant who may or may not be what he claims. He then gave a passionate interpretation of the title role in "Danton" (1982), Andrzej Wajda's drama about the Reign of Terror following the French Revolution. Depardieu stepped behind the camera for the first time as co-director of "Le Tartuffe" (1984), a pet project that closely adhered to his acclaimed stage interpretation of the Moliere character. He dominated the middling crime drama "Police" (1985) as a tough cop cracking down on a drug ring and delivered a terrific turn as a naive, inexperienced farmer in "Jean de Florette" (1986). Reuniting with Isabelle Adjani, Depardieu essayed the turbulently passionate love affair between artist Auguste Rodin and the title character in "Camille Claudel" (1988). The following decade began for Depardieu on a similarly high note, with the actor earning some of the best reviews of his career (as well as a Best Actor Oscar nomination) for his bravura interpretation of the classic role of "Cyrano de Bergerac" (1990) for director Jean-Paul Rappeneau. Depardieu pleasantly surprised many with his first foray into English-language films, playing a French musician who agrees to a marriage of convenience in order to obtain his "Green Card" (1990) in Peter Weir's romantic comedy, co-starring Andie MacDowell. He and his actor son, Guillaume, shared the role of 17th-century composer Marin Marais in the biopic "Tous les matins du monde" (1991), and for the rest of the decade, the actor remained constantly in demand, acting in some 30 film and TV productions. He garnered praise for his turn as the overprotective father of a teenage daughter in "Mon Pere, ce heros" (1991) and reprised the role for the inferior 1994 English-language remake "My Father, the Hero." Depardieu was miscast, however, as the Italian seafarer Christopher Columbus in "1492: Conquest of Paradise" (1992), although he fared better as a struggling miner in the sprawling epic "Germinal" (1993), helmed by Claude Berri. Earning him some of his best reviews in years, was his performance as an officer who makes his way home only to discover he has been declared legally dead in "Colonel Chabert" (1994). In a series of English language productions, Depardieu first played a hulking lothario romancing Gena Rowlands in "Unhook the Stars" (1996), then portrayed Haley Joel Osment's imaginary pal in "Bogus" (1996) and had a cameo as Polonius' servant in Kenneth Branagh's epically-scaled screen adaptation of "Hamlet" (1996). That same year, the actor divorced his wife of 15 years, Elisabeth, and began a relationship with frequent co-star Carole Bouqeut, to who he would become briefly engaged in 2003. Depardieu and John Malkovich were teamed as aging Musketeers coming to the aide of "The Man in the Iron Mask" (1998), starring Leonardo DiCaprio in the title role of the Dumas classic. At about the same time, he returned to French TV for the first of several miniseries in the title role of the umpteenth remake of "The Count of Monte Cristo" (1998) before portraying the esteemed 19th century novelist-playwright "Balzac" (1999). Depardieu shared the title role of Obelix opposite Christian Clavier in the big-budget, live-action adaptation of a beloved French comic book series in "Asterix et Obelix contre Cesar" (1999), and stepped behind the camera to helm the semi-autobiographical "Un pont entre deux rives" ("The River") (1999). Depardieu collaborated with Malkovich once again as the persecuted Jean Valjean in a TV adaptation of "Les Miserables" (2000), and he led the international cast of Roland Joffé's "Vatel" (2000), in which the actor essayed a master steward tragically forced to accommodate the whims of privileged men like the Prince of Condé (Julian Glover) and King Louis XIV (Julian Sands). Less prestigious was his slight miscasting as the Gaultier-like designer in the cartoonish sequel "102 Dalmatians" (2000). Despite a pair of near fatal accidents – a 1996 plane collision and a 1998 motorcycle crash – and various health problems – he underwent coronary bypass surgery in July 2000 – Depardieu appeared unstoppable as he entered the new millennium without any perceptible signs of slowing his pace or output. In addition to reteaming with Daniel Auteuil in the social comedy "Le Placard" ("The Closet") (2000), he took on the title role as the famous detective "Vidocq" (2001) in a visually arresting action-thriller helmed by the director Pitof. Other efforts that year included "Concurrence Deloyale" ("Unfair Competition") (2001), the story of two competing merchant families in 1938 Rome. By popular demand, Depardieu reprised his role of Obelix in "Asterix and Obelix: Mission Cleopatra" (2002), featuring the alluring Monica Bellucci as the Queen of the Nile, then joined the international cast of the epic TV miniseries "Napoleon" (A&E, 2002). In "I Am Dina" (2002), he played the older husband of a beautiful but eccentric young woman (Maria Bonnevie) with a troubled past in mid-19th century Norway. He then played a mercurial director fired from a sci-fi movie in "CQ" (2002), director Roman Coppola's ode to Italian pop-movie filmmakers of the 1960s like Roger Vadim and Mario Bava. Next it was on to the drama "Between Strangers" (2002) opposite Sophia Loren and directed by her son Edoardo Ponti, followed by the comedy "Tais-Toi" ("Shut Up") (2003), teaming Depardieu with Jean Reno. In the erotic drama "Nathalie" (2003) he played a husband suspected of infidelity by his deviously resourceful wife (Fanny Ardant), then appeared alongside Harvey Keitel as a member of an inept French burglary crew in trouble with the Chicago mob, the FBI, and a Latino street gang in the action comedy "Crime Spree" (2003). Busier than ever, Depardieu also took a role in Matt Dillon's directorial effort "City of God" (2003) as an unflappable proprietor of a hotel in Cambodia, then reunited with his "Cyrano" director Jean-Paul Rappeneau for the lavishly shot "Bon Voyage" (2003), a multi-narrative tale of several lives caught in the Nazi occupation of France. He launched into the following year with leading roles in the romantic drama "Les Temps Qui Change" ("Changing Times") (2004) as a man determined to win back the love of his life (Deneuve), and in director Alain Chabat's silly caveman comedy "RRRrrrr!!!" (2004), followed by a turn as a ruthlessly ambitious cop in "36 Quai Des Orfevres" (2004) and as an 18th century Canadian priest in Jean Boudin's historical drama "Nouvelle-France" (2004). Prostitutes figured prominently in two of Depardieu's films the next year. He played the pimp of a conflicted hooker (Bellucci) in the romantic dramedy "How Much Do You Love Me?" (2005) then starred in "Boudu Saved From Drowning" (2005), as a male prostitute taken home by a kind-hearted bookseller (Gerard Jugnot) after unsuccessfully attempting suicide by jumping into the Seine. Newly entered into a relationship with the much younger Clémentine Igou, a Harvard-educated novelist, Depardieu petulantly announced in 2005 that, at age 56, he was done making movies. "I have done 170 films. I have nothing left to prove," the actor insisted. The pronouncement proved to be little more than a bluff, a cry for attention, or possibly wishful thinking, as the actor quickly returned to his usual relentless output of work. On screens in America, he played a famous chef in the syrupy and inspirational Queen Latifah comedy-drama "Last Holiday" (2006), then returned to France to appear opposite Cecile De France in the well-received musical romantic-drama "When I Was a Singer" (2006). He also contributed both as a director and performer to one of the many vignettes in "Paris, Je T'aime" (2006), a massive collaboration celebrating the City of Love. Despite his leading man status, Depardieu frequently made contributions as a supporting player, such as his portrayal of the doomed nightclub owner who discovers famed French chanteuse Edith Piaf (Marion Cotillard) in the Academy Award-winning biopic "La Vie en Rose" (2007). The next year, Depardieu worked with Vin Diesel in the disappointing sci-fi action-adventure "Babylon A.D." (2008) and with frequent French co-star Fanny Ardant in the mid-life romantic comedy "Hello, Goodbye" (2008) before personal tragedy befell the celebrated actor.
On Oct. 13, 2008, Depardieu's son Guillaume – who years earlier had lost a leg due to an infection stemming from injuries suffered in a motorcycle accident – died at the age of 37 from complications linked to a sudden case of pneumonia. The actor chose to bury his grief in work. With no perceptible break in his pace, Depardieu went on to co-star with Olivier Marchal and Asia Argento in the crime thriller "Diamond 13" (2009). He later headlined French New Wave director Claude Chabrol's final film as the eponymous detective "Inspector Bellamy" (2010), then played the celebrated 19th century French author in the biographical drama "Dumas" (2010). Entering the new decade, Depardieu later played a pensioner exercising the ghosts of his past astride a classic motorcycle in the road trip drama "Mammuth" (2011), and gave a quietly moving performance as a nearly-illiterate man who bonds with a 92-year-old woman over books and birds in "My Afternoons with Margueritte" (2011).
By Bryce Coleman