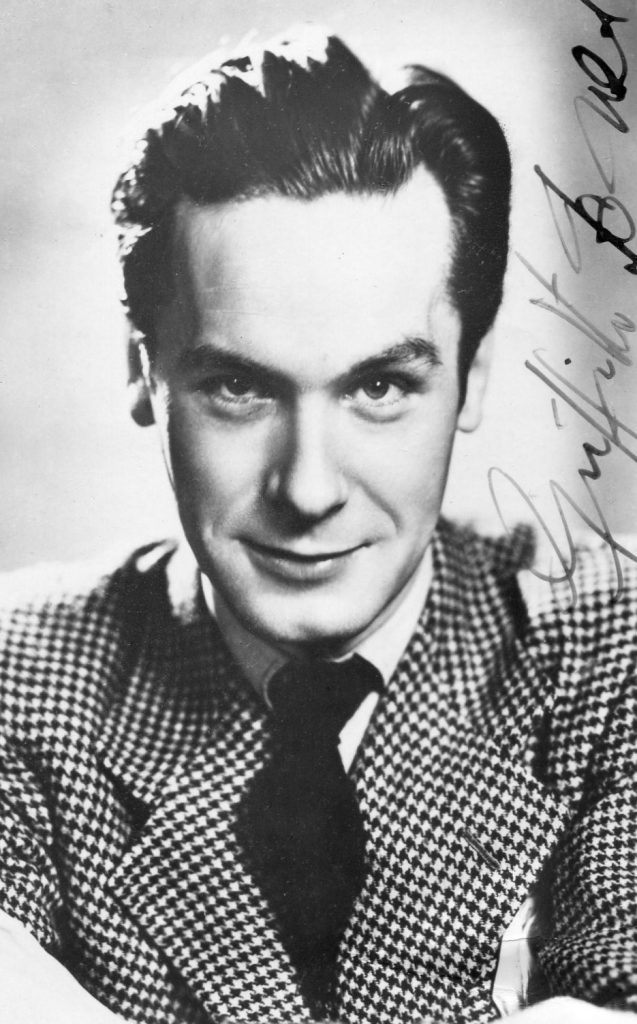 Griffith Jones was born in 1909 in Lincoln. He was a stalwart of British films in the 1940's. His movies include "The Wicked Lady" in 1945 with Margaret Lockwood and Patricia Roc and "Miranda" in 1948 with Glynis Johns. He also had a major stage career. He was the father of actors Gemma Jones and Nicholas Jones. He died in 2007 at the age of 97.
Alan Strachan's "Independent" obituary:
In an unusually long theatrical lifetime Griffith Jones's career ran a remarkable gamut from early London prominence, as a strikingly handsome jeune premier blessed with commanding stage presence and a rich voice, through appearances with John Gielgud and in Noël Coward musicals to West End and Broadway stardom, alongside success in British movies, to a later career in a radically altered post-war theatre – and then into a glorious Indian summer with the Royal Shakespeare Company in his final active years, allying him with a new wave of directors.
He was born Harold Jones in London in 1909, to a Welsh-speaking former lead miner who ran a dairy business. He was "headhunted" for a stage career by Sir Kenneth Barnes, Principal of the Royal Academy of Dramatic Art, who had seen him in a drama society production at University College London, where Jones had begun a degree in Law. He made his first professional appearance at the enterprising off-West End Embassy Theatre in Carpet Slippers (1930) while still at Rada (he was Gold Medallist in 1932 – although his initially disapproving father still referred to him as "a chorus boy").
After making his West End début as the Narrator in an adaptation of Evelyn Waugh's Vile Bodies (Vaudeville, 1932), Griffith Jones – as he now styled himself – was rarely out of work throughout the 1930s. He appeared as Montague in Richard of Bordeaux (New, 1932), Gordon Daviot's chronicle play centred round Richard II in which John Gielgud was catapulted to major commercial stardom; and as Weyland alongside Laurence Olivier in one of the most original plays of its era, Keith Winter's The Rats of Norway (Playhouse, 1933).
One of the biggest successes of the decade, Margaret Kennedy's romantic saga of edelweiss and dirndl Escape Me Never (Apollo, 1933), lavishly produced by C.B. Cochran to launch the international career of the Viennese star Elisabeth Bergner, saw Jones make a deep impression as the staunch Caryl Sanger, repeating the performance on Broadway in 1935 with similar success.
On his return, his London career continued to flourish with appearances in a signally dark Rodney Ackland comedy After October (Criterion, 1936) and opposite another great Viennese star, Fritzi Massary, in Coward's musical Operette (His Majesty's, 1938), a somewhat confusingly bifurcated tale alternating between society drawing-rooms and backstage scenes; Jones recalled the Manchester try-out mainly for the sight of hundreds of matches being struck in the auditorium by bewildered playgoers consulting their programme scenarios in an attempt to find out where they were.
By this period Jones had also begun to establish a strong reputation in British film. After his début in The Faithful Heart (1932) he had good opportunities in A Yank at Oxford (1938), as Orlov in Alexander Korda's decidedly overblown Catherine the Great (1934) and in the larky cross-dressing First a Girl (1935) with Jessie Matthews. He humanised a somewhat flatly written role as Michael Redgrave's more conventional brother, competing for the love of Valerie Hobson, in Atlantic Ferry (1940), with Emeric Pressburger's screenplay shamelessly lifting its plot from Turgenev's Fathers and Sons.
After serving in the Army between 1940 and 1945 (touring England in a concert party), Jones returned to the London stage in a long-running, sumptuous Wildean revival, giving a performance of stylish aplomb as Lord Darlington in Lady Windermere's Fan (Haymarket, 1945). A return to Coward saw him in another period piece, the reworking of the plot of Private Lives into the Victorian-set Quadrille (Phoenix, 1952) in which Joyce Carey and Jones, as the Marquess of Heronden, played opposite the Broadway stars Alfred Lunt and Lynn Fontanne.
In a changing 1950s theatrical landscape Jones found fewer London opportunities, often touring – he played a memorably gritty Archie Rice in The Entertainer (1958) – or in regional repertory theatres, particularly enjoying the chance to play a barnstorming Long John Silver in Treasure Island (Newcastle, 1962). In the short-lived West End run of Jean Anouilh's The Cavern (Strand, 1965) Jones for the first time had the chance to appear with his daughter Gemma (named after the heroine of Escape Me Never), early in her own theatrical career.
A keen Shavian, he also appreciated the role of the love-stricken Ridgeon in a sturdy revival of The Doctor's Dilemma (Comedy, 1966), after which he enterprisingly took himself to Nottingham for a trailblazing 1973 Playhouse season that included the premiere of the Howard Brenton/David Hare play Brassneck, with Jones in vintage form as James Avon.
He made his first Royal Shakespeare Company appearance in a strong Stratford season in which he played a hauntingly resonant Ghost in Buzz Goodbody's legendary small-scale Hamlet with Ben Kingsley, and Stanley in a rare revival of Perkin Warbeck (both the Other Place, 1975). Over the next quarter of a century his RSC track record covered new plays and revivals alongside Shakespeare, bringing him into contact with a whole new generation of actors, designers and directors; his position in the company as a distinguished senior member became unmatched and he was both respected and loved by his many younger collaborators.
The astonishing record of Jones's work for the RSC must include his unusually strong Duncan in the revelatory Macbeth (Warehouse, 1977 and Young Vic, 1978) directed by Trevor Nunn with Ian McKellen and Judi Dench; Antigonus in John Barton's sombre production of The Winter's Tale (Stratford, 1976); Egeus in Nunn's joyous celebration of The Comedy of Errors (Stratford, 1976); and a Chebutykin of heart-stopping pathos in Three Sisters, another of Nunn's supreme productions (The Other Place and Warehouse, 1979).
He was, appositely, part of the marvellous RSC ensemble making up Nicholas Nickleby (Aldwych, 1980), in which his run of parts included a delightful sketch of Fluggers, and he was also part of the first RSC company at the Barbican when he played the Lord Chief Justice in Nunn's scrutiny of both Henry IV plays (1982).
Inevitably Jones shared some of the company's lows as well as the triumphs. He was well cast as Rainbow in the vintage John Dighton public-school farce The Happiest Days of Your Life (1984) but the play, in a rickety production, sat most uneasily on the Barbican stage, while even such finely etched performances as Jones's D'Estaing in Pam Gems's The Danton Affair (Barbican, 1986) could not redeem a misbegotten venture.
Sam Mendes's production of Troilus and Cressida (Swan, 1990 and Pit, 1991) was launched in impressive style by Jones's Priam, which was followed by the Old Man in King Lear (Stratford, 1990, and Barbican, 1991) with John Wood directed by Nicholas Hytner.
Other rising directors for whom Jones worked included David Thacker – the Volscian Senator in Coriolanus (Stratford and Barbican, 1994) – and Steven Pimlott: a vivid Abhorson in Measure for Measure (Stratford, 1994, and Barbican, 1995). He reprised Priam in a terrible jock-strapped gym-bunny version of Troilus and Cressida (Barbican, 1996) but had more luck as a loyal Tubal in The Merchant of Venice (Stratford, 1997), one of Gregory Doran's first major RSC productions.
Although his crowded theatrical diary meant that Jones never was able to develop a major television career, still he managed to fit in alongside small-screen versions of Nicholas Nickleby and Macbeth appearances in such series as The Avengers, The Lotus Eaters and Fall of Eagles. Other films included Miranda (1948) opposite Glynis Johns's entrancing mermaid-minx; the Gainsborough Films classic of the heaving-bosom Regency genre The Wicked Lady (1945), opposite Margaret Lockwood; the tense naval drama of mine-laden waters The Sea Shall Not Have Them (1954); and Not Wanted On Voyage (1957).
Jones happily launched an acting dynasty too. Alongside Gemma, his son Nicholas Jones has also built up a most distinguished career; appropriately both have made memorable appearances for the RSC.
Alan Strachan
The above "Independent" obituary can also be accessed online here.