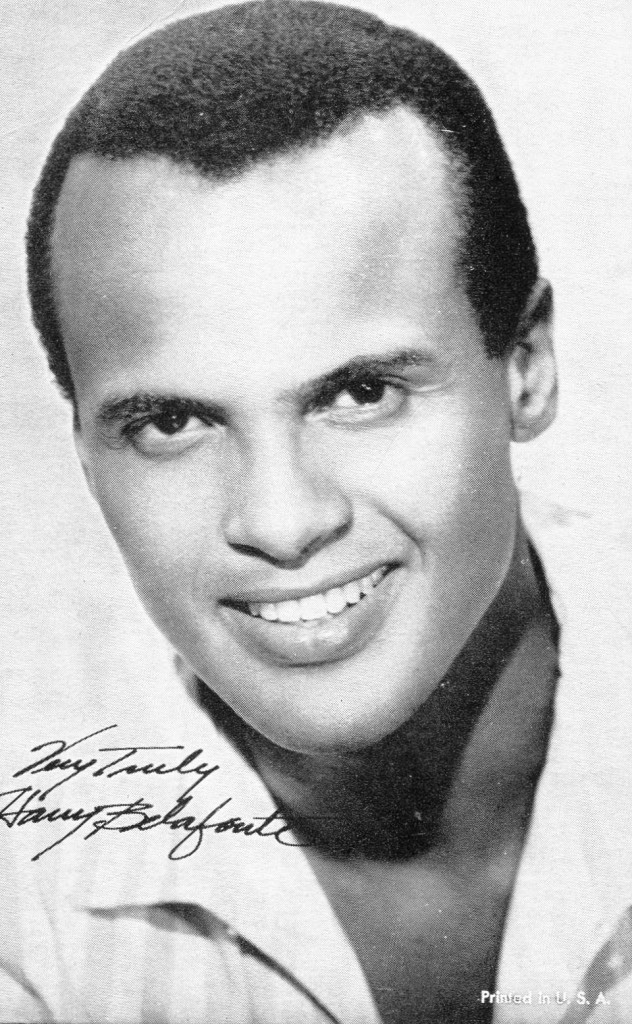 Harry Belafonte was one of the giants of the American music industry in the 1950's. He was born in 1927 in Harlem, New York. His songs included "Banana Boat Song" and "Hole in a Bucket". He ventured into movies with "Carmen Jones" with Dorothy Dandridge and "Island In the Sun".
TCM overview:
Multi-talented actor and musician Harry Belafonte was the first black performer to win an Emmy Award and the first recording artist to sell over a million copies of an album, though he was doubtlessly most proud of his longstanding work as an activist in international fights against racism, violence and world hunger. Belafonte got his start in New York theater, but his sideline as a nightclub singer propelled his mainstream breakout when his 1954 album Calypsopopularized the music of his Jamaican heritage and hit number one on the charts. A respected authority on international folk music and a world-touring performer, Belafonte also enjoyed a career as an actor and producer, where he was involved in important early African-American productions including "Carmen Jones" (1954), in which he starred alongside Dorothy Dandridge, and Lorraine Hansberry's landmark play "To Be Young, Gifted, and Black," which he produced. Whatever the nature of the work, Belafonte's style remained solid – the casual friendliness and warm, jaunty humor were sincere; the fierceness and intensity often surprising.
Harold Belafonte was born in Harlem on March 1, 1927, to a seaman and his Jamaican wife, who worked as a domestic. During his peripatetic childhood, the family was so poor that Belafonte was sent to live in Jamaica, where he bounced around between relatives' homes for five years. He returned as a misfit, a stranger with an unusual accent whose dyslexia made school nearly impossible. He dropped out, spent a year in the Navy during World War II, and returned to Harlem where he held a job as a janitor. One night he attended a performance at the American Negro Theater (ANT), and bitten by the acting bug, he enrolled in classes at Actors Studio and Dramatic Workshop of the New School for Social Research. He financed his new passion by singing pop songs at local nightclubs. Belafonte's career advanced quickly in Harlem's thriving creative atmosphere, and he landed a leading role in the ANT's staging of Sean O'Casey's "Juno and the Paycock" while his gigs at the Royal Roost Nightclub and the Village Vanguard jazz club won him considerable attention. He also hit the small screen as a regular on the short-lived all-black TV revue, "Sugar Hill Times" (CBS, 1949-1950).
In 1952, Belafonte was signed to a recording deal with RCA Records and released his first single, the popular Caribbean classic, "Matilda." The year 1953 was a watershed one for Belafonte, beginning with his Tony Award-winning supporting role in the musical revue "John Murray Anderson's Almanac." He made his film debut in a leading role as a school principal in the minor but likable "Bright Road" opposite Dorothy Dandridge. He and Dandridge re-teamed in "Carmen Jones" (1954), Otto Preminger's striking all-black revamp of the classical opera "Carmen." Belafonte's warm, rich voice, soft with the slightest touch of grit, was not deemed appropriate for the operatic songs in this musical melodrama, so his singing – like most of the cast members – was dubbed. However his own voice received a widespread showcase with the release of the million-selling album, Calypso (1955). Belafonte made his contribution to the post-War craze for exotic cultures with his melodious, danceable and witty (indeed, often satirical) sing-alongs from his beloved Caribbean, including "Jamaica Farewell" and "Banana Boat Song," which opened with the singer's famous field call, "Day-o!"
Belafonte's on-again, off-again acting career kept him busiest in the 1950s, though he faced charges of being "too assimilationist" – much like another black star (and friend) whose rise to stardom paralleled his, Sidney Poitier. Such a claim actually placed far too much weight on Belafonte's relatively light skin and on his considerable popularity. The film "Island in the Sun" (1957), though fairly tame, was somewhat innovative in suggesting an interracial romance between him and Joan Fontaine. He also gave an excellent performance in the intelligent film noir "Odds Against Tomorrow" (1959), as part of a trio of mismatched burglars whose grand scheme g s awry. Perhaps more importantly, he also executive-produced the film. "The World, the Flesh and the Devil" (1959) was explicitly anti-racist and coincided with Belafonte's growing involvement in the Civil Rights movement. He was a close friend of the Rev. Dr. Martin Luther King Jr. and used his successful position to help organize and finance efforts to end segregation in the South, where, as his own form of protest, he refused to tour.
In 1959, Belafonte won an Emmy (the first for an African-American performer) for his solo TV special, "Tonight with Belafonte" and gave the first of his now-legendary concerts at Carnegie Hall. His two-night engagement proved so popular that he was invited back to give an encore in 1960. In a performance acclaimed for Belafonte's graciousness in sharing the stage, he introduced such African and African-American talents as Miriam Makeba, Odetta and the Chad Mitchell trio to U.S. listeners. Belafonte received a Grammy Award for the 1960 album Jump Dat Hammer and released the hit albums Jump Up Calypso (1963) and Midnight Special (1962), an album of American folk songs and spirituals featuring then-unknown Bob Dylan on harmonica, but put much of his career on hold to pursue higher callings throughout the remainder of the decade. In 1963, he worked alongside Dr. King to participate in voter registration drives, the interstate Freedom Rides that challenged unconstitutional segregation laws, and helped organize the notorious March on Washington where King gave his historic "I Have a Dream" speech.
Belafonte earned a Grammy in 1965 for the album An Evening with Harry Belafonte and Miriam Makeba (1965) and teamed up with other female vocalists in television specials, including "Petula" (CBS, 1968) with Petula Clark and "Harry and Lena" (1970), with Lena Horne. He returned to the New York stage to produce Lorraine Hansberry's landmark work "To Be Young, Gifted and Black." In 1970, he played a contrite angel in Jan Kadar's affecting and unusual "The Angel Levine" (1970) and narrated a documentary about his slain friend, "King: A Filmed Record Montgomery to Memphis" (1970). He and Poitier co-starred in the Western "Buck and the Preacher" (1972), and Belafonte was directed by Poitier in "Uptown Saturday Night" (1974), in a take-off of Marlon Brando's "Godfather" characterization. Belafonte released a number of live albums and co-starred in "Grambling's White Tiger" (1981), a TV movie about a white player on the largely black university's famed football team, but activism continued to take center stage in his life's work. Throughout the 1980s, his politically outspoken reputation remained solid when he opposed the U.S. embargo on Cuba, attacked the U.S. invasion of Grenada, and praised Fidel Castro and the Soviet Union's peace initiatives. He became especially vigorous in the fight against apartheid and was instrumental in organizing the vastly successful 1985 supergroup recording, "We Are the World," which raised money for famine relief in Ethiopia.
Named a UNICEF goodwill ambassador in 1987, Belafonte returned to Broadway that same year as producer of "Asinamali!" a play about apartheid. He was honored with a Kennedy Center Lifetime Achievement Award in 1989, and in 1990, hosted a three-part PBS music documentary "Routes and Rhythm with Harry Belafonte." He was given the National Medal of Freedom in 1994, and went on to work on behalf of children's causes in Senegal, Rwanda and Kenya, as well as traveled to South Africa on behalf of a HIV/AIDS awareness campaign. After successfully beating prostate cancer in 1996, he added research and education about that disease to his full roster of advocacy pursuits. In the entertainment realm, Belafonte made a much-anticipated return to the big screen in "White Man's Burden" (1995), an intriguing if not wholly successful attempt to reconceptualize America's ongoing race problems, with Belafonte as a racist wealthy man in a society where blacks have the money and the power. He followed up with a turn as a gangster in Robert Altman's period drama "Kansas City" (1996).
In 2001, Belafonte was featured in a documentary about Fidel Castro and earned some press for his outspoken opposition to the George W. Bush administration and the handling of the September 11th attacks. He earned some backlash the following year for characterizing African-American administration officials Colin Powell and Condoleezza Rice as slaves who turned their backs on their people for the privilege to serve a master in "the house." After having upheld a steady performing schedule of 70 to 80 shows a year, Belafonte announced his retirement from live performing in 2003. In 2006, he and Danny Glover ruffled a few more political feathers when the pair traveled to Venezuela to show support for controversial president Hugo Chavez. Later in the year, Belafonte had a cameo appearance in "Bobby," Emilio Estevez' chronicle of the 1968 assassination of Robert Kennedy – a close friend of Belafonte's during his civil rights fights of the 1960s.
The above TCM overview can also be accessed online
here.