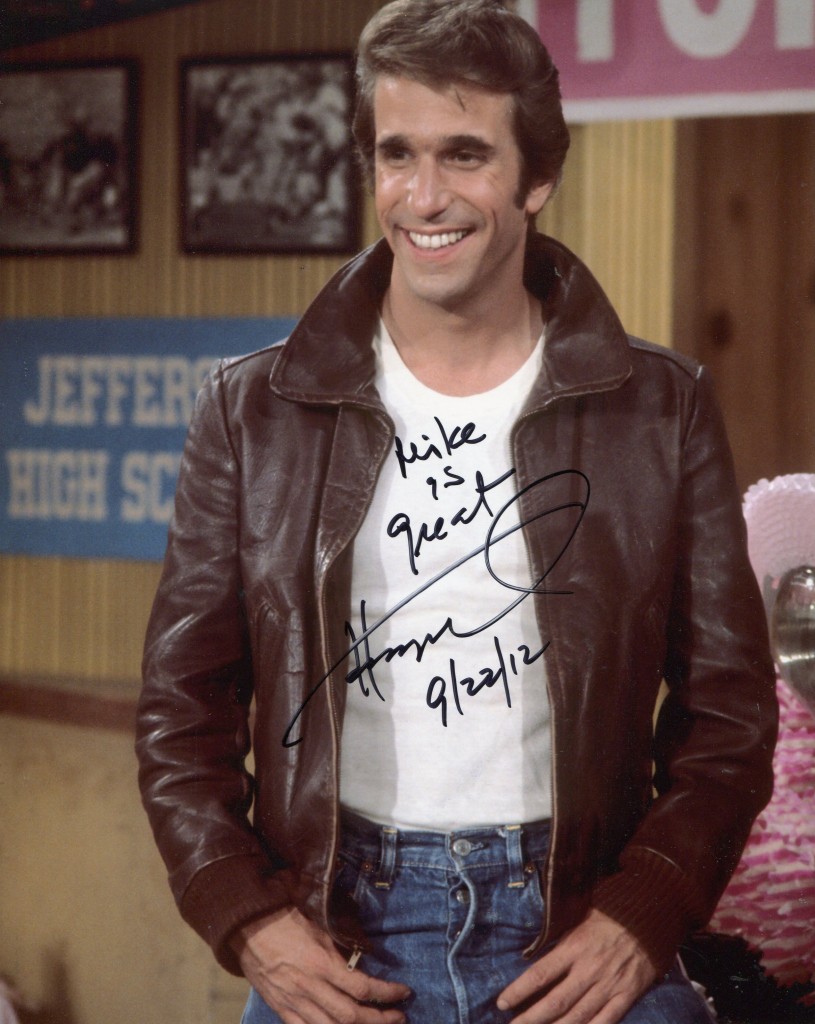 One of the most popular TV show as "Happy Days" the story set in the U.S. in the 1950's of young teenager Richie Cunningham'. However it was a subsidiary character 'The Fonz' that was the standout of the show, which ran from 1974 until 1984. He was played by Henry Winkler, who afterwards concentrated on writing and directing. He directed the Billy Crystal "Memories of Me" in 1988. He has acted recently on "Law & Order : SVU".
TCM overview:
Impressively able to channel his 1970s star-making sitcom turn into one of the most varied and long-lasting Hollywood success stories of all time, Henry Winkler built an impressive career as an actor, producer and director in television and films. Immortalized in Americana as the good-hearted greaser "The Fonz" on "Happy Days" (ABC, 1974-1984), Winkler benefited from his career-long association and multiple collaborations with co-star Ron Howard. After "Happy Days," he brilliantly diversified his Hollywood portfolio with success in acting (1982's "Night Shift"), producing ("MacGyver" (ABC, 1985-1992)) and directing (the Billy Crystal starrer "Memories of Me" (1988)). The award-winning 1994 Weezer music video for the ultra-catchy "Buddy Holly" – which integrated the modern band into the "Happy Days" universe – introduced him to a new generation of fans, and he followed up with supporting roles in a string of successes aimed directly at them, including "Scream" (1996) and "The Waterboy" (1998). With multiple Emmy and Golden Globe awards under his belt, Winkler remained highly in demand both in front of and behind the camera, as well as one of America's most beloved pop cultural figures.
Born Oct. 30, 1945 in Manhattan, Henry Franklin Winkler was the son of Ilse Anna Maria and Harry Irving Winkler, a Jewish couple who had emigrated to the United States before the outbreak of World War II. He graduated from Emerson College in 1967, earned an MFA from the Yale School of Drama in 1970, and broke into acting by landing several commercials and prominent TV guest spots. He debuted memorably in film with the role of Brooklyn gang member Butchey Weinstein alongside Sylvester Stallone in "The Lord's of Flatbush" (1974), but lightning struck when Winkler was cast as greaser Arthur Herbert Fonzarelli – better known as Fonzie or The Fonz – on Garry Marshall's retro sitcom "Happy Days" (ABC, 1974-1984). Originally slated to be a supporting character to the clean-cut antics of Ron Howard and his friends, Winkler's cool tough guy with a heart of gold quickly stole the show. With his thumbs-up catchphrase of "Aaayyy!!" and Winkler's winning characterization, The Fonz ruled the nation and became a cultural icon of enough resonance for his leather jacket to eventually hang in the Smithsonian.
With two Golden Globes Awards and three Emmy nominations under his belt, Winkler rode a tidal wave of success by reprising his beloved character in multiple related projects, including in episodes of "Laverne & Shirley" (ABC, 1976-1983), "Mork & Mindy" (ABC, 1978-1982) and "Joanie Loves Chachi" (ABC, 1982-83), but notably turned down the lead role of Danny Zuko in "Grease" (1978) to avoid being typecast. Winkler branched out, narrating the Oscar-winning documentary "Who Are the DeBolts? (And Where Did They Get 19 Kids?)" (ABC, 1977) and earning an Emmy nomination for executive producing the television version. Next up, Winkler starred alongside Harrison Ford and Sally Field in the dramedy road trip "Heroes" (1977), but fared better in the likable brothel-in-a-morgue comedy "Night Shift" (1982). Very much of its time, the good-natured flick earned Winkler a Golden Globe nomination, but was most notable for giving co-starring roles to a young Shelley Long and Michael Keaton, as well as giving Ron Howard one of his first directing jobs. More pragmatic about his opportunities than most would have been after "Happy Days" ended in 1984, Winkler moved behind the camera to form Winkler-Rich Productions, which would produce several successful TV shows, most notably "MacGyver" (ABC, 1985-1992). He took home a Daytime Emmy for producing the "All the Kids Do It" episode of "CBS Schoolbreak Special" (1980-1996) and earned a nomination for directing it.
Continuing to supplement his successful producing career by donning his director's cap, Winkler lensed the Dolly Parton holiday fairy tale "A Smoky Mountain Christmas" (CBS/Fox, 1986) as well as the big screen Billy Crystal comedy "Memories of Me" (1988) and the Burt Reynolds kids' caper "Cop and a Half" (1993). His behind-the-camera success gave Winkler the freedom to work in front of it whenever he chose, and he returned to TV by playing "Monty" (Fox, 1994), a conservative pundit in the vein of Rush Limbaugh. Although the show died a quick death, Winkler's heyday as the ultimate American icon of cool enjoyed a retro rebirth when the band Weezer set their video for their 1994 hit "Buddy Holly" in an alternate-universe episode of "Happy Days." Seamlessly weaving together old and new footage to create a performance that never was, the success of the video and song did much to re-establish Winkler's credentials as a pop culture hero. Winkler capitalized by turning in a fun cameo as the ill-fated principal in Wes Craven's horror smash "Scream" (1996) and earned big laughs as a sweet college football coach who takes a chance on Adam Sandler's slow-witted Bobby Boucher in "The Waterboy" (1998). The massively successful comedy netted Winkler a Blockbuster Entertainment Award nomination and reinforced his ties to audiences of all ages.
Unlike many of his peers who tasted major success early in their careers, Winkler was able to transition gracefully from the epitome of 1970s cool to a respected figure in the irony-soaked, self-aware postmodern world of the late 1990s and beyond. He voiced a biker dude in an episode of "The Simpsons" (FOX, 1989- ) and cameoed as a bee-covered version of himself in Adam Sandler's son-of-the-devil comedy "Little Nicky" (2000). That same year, Winkler took a larger role in the romantic comedy "Down to You" (2000) as Freddie Prinze, Jr.'s celebrity chef father. He earned another Emmy nomination for his recurring role on "The Practice" (ABC, 1997-2004) and continued to appeal to younger viewers by appearing as Shia LaBeouf's father in the well-reviewed kids' adventure "Holes" (2003), as well as recurring with a voice role on "Clifford's Puppy Days" (PBS, 2003-06). He received a Daytime Emmy for his work on the latter and another nomination when his production company took over the popular reboot of "Hollywood Squares" (NBC, 1966-1980, 1983-84; syndicated, 1971-1981, 1986-89, 1998-2004). Winkler also appeared on-camera several times as a wisecracking panelist.
Although Winkler held a variety of advanced degrees, including two honorary PhDs, he revealed in 2003 that he had struggled with a learning disability his entire life. An undiagnosed dyslexic until the age of 31, Winkler described how difficult this disability had made parts of his life, leading the actor to co-write a successful string of children's books about Hank Zipzer, a dyslexic fourth grader who nonetheless enjoys amazing adventures as "the world's greatest underachiever." Promoting his My Way! campaign to empower and assist children with learning disabilities, Winkler spoke often and eloquently about still bearing the scars of abuse from his parents and teachers who lacked the patience and understanding to fully empathize with his unique struggles. The actor was also indirectly responsible for a new pop culture catchphrase. Taken from the fifth-season opener of "Happy Days" when Fonzie – complete with leather jacket and water-skis – jumped over a shark to prove his bravery, the Internet-driven phrase "jump the shark" entered the popular lexicon as shorthand for the moment when a previously beloved production outlived its prime and crossed into obsolescence, usually with a desperate or absurd development. Continuing to prove he had no problem making fun of himself, Winkler again reunited with Ron Howard to recur on the critically adored but low-rated "Arrested Development" (Fox, 2003-06) as hapless attorney Barry Zuckerkorn, giving a wink to audiences when the character jumped over a dead shark on a pier.
The actor left "Arrested" to star in the family-of-doctors sitcom "Out of Practice" (CBS, 2005-06) but found big screen success as Adam Sandler's father in the magical remote control comedy "Click" (2006). He made uncredited cameos in the long-shelved Michelle Pfeiffer vehicle "I Could Never Be Your Woman" (2007) and in Adam Sandler's hit "You Don't Mess with the Zohan" (2008). He played an inept judge in the kids' movie "Merry Christmas, Drake & Josh" (Nickelodeon, 2008) and voiced a self-loathing German teacher on the blink-and-its-gone run of the "Arrested Development" team's follow-up project, the animated teacher comedy "Sit Down Shut Up" (Fox, 2009). Winkler delighted many fans with a recurring role on the dark Robb Corddry series of shorts "Childrens Hospital" (TheWB.com, 2008; Adult Swim, 2010- ) which not only exemplified the strange and unexpected directions American comedy had taken in the years since "Happy Days," but also Winkler's ability to stay relevant and seek out buzzworthy projects. Perhaps one of the best indicators of his enduring success as an American icon came in 2008 when the city of Milwaukee immortalized him by unveiling a life-sized bronze statue of Winkler as Fonzie. Winkler continued to be in demand as an actor, recurring on "Royal Pains" (USA Network, 2009- ) as the absentee father of the Lawson brothers Hank (Mark Feuerstein) and Evan (Paulo Costanzo). He received what was arguably his most impressive award in early 2011 when Queen Elizabeth II honored him with an Order of the British Empire award for his work with British children with learning disabilities.
Winkler guest starred in a 2012 episode of his "Arrested Development" pal Will Arnett's sitcom "Up All Night" (NBC, 2011- ) as the star-struck dad of Maya Rudolph's talk show diva. There was also a supporting turn in the Kevin James-produced comedy, "Here Comes the Boom" (2012), in which a good-hearted teacher (James) attempts to save Winkler's underfunded high school music program by entering mixed martial arts competitions. Winkler's schedule remained busy when it was announced that "Arrested Development" (Netflix, 2013- ) would return for a fourth season to be aired on Netflix's live-streaming application. With his recurring character of inept former Bluth family attorney Barry Zuckerkorn promoted to regular player, Winkler was slated to join original cast members Jason Bateman, Jessica Walter, Will Arnett and Jeffrey Tambor for what fans hoped would be a precursor to a feature adaptation of the acclaimed series.By Jonathan Riggs
The above TCM overview can also be accessed online here.