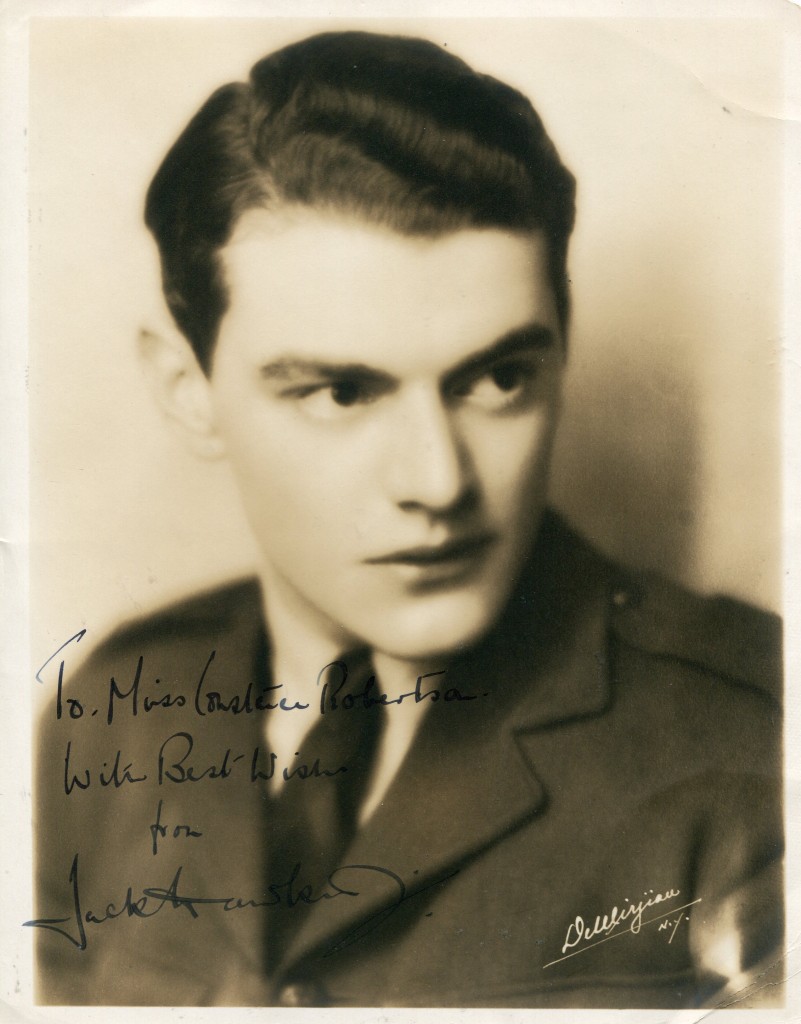 IMDB entry:
In Britain, special Christmas plays called pantomimes are produced for children. Jack Hawkins made his London theatrical debut at age 12, playing the elf king in "Where The Rainbow Ends". At 17, he got the lead role of St. George in the same play. At 18, he made his debut on Broadway in "Journey's End". At 21, he was back in London playing a young lover in "Autumn Crocus". He married his leading lady, Jessica Tandy. That year he also played his first real film role in the 1931 sound version of Alfred Hitchcock's The Phantom Fiend (1932). During the 30s, he took his roles in plays more seriously than the films he made. In 1940, Jessica accepted a role in America and Jack volunteered to serve in the Royal Welsh Fusiliers. He spent most of his military career arranging entertainment for the British forces in India. One of the actresses who came out to India was Doreen Lawrence who became his second wife after the war. Alexander Kordaadvised Jack to go into films and offered him a three-year contract. In his autobiography, Jack recalled: "Eight years later I was voted the number one box office draw of 1954. I was even credited with irresistible sex appeal, which is another quality I had not imagined I possessed." A late 1940s film, The Black Rose (1950), where he played a secondary role to Tyrone Power, would be one of his most fortunate choices of roles. The director was Henry Hathaway who Jack said was "probably the most feared, yet respected director in America, for he had a sharp tongue and fired people at the drop of a hat. Years later, after my operation when I lost my voice, he went out of his way to help me get back into films. What I did not know was that during the filming of 'The Black Rose' he was himself suffering from cancer." In the 1950s came the film that made Hawkins a star, The Cruel Sea (1953). Suffering from life long real life sea sickness, he played the captain of the Compass Rose. After surgery for throat cancer in 1966, requiring the removal of his larynx, Jack continued to make films. He mimed his lines and the voice was dubbed by either Charles Gray or Robert Rietty. His motto during those last years came from Milton's "Comus", a verse play in which he acted early in his career in Regent's Park. The lines: "Yet where an equal poise of hope and fear does arbitrate the event, my nature is that I incline to hope, rather than to fear."
– IMDb Mini Biography By: Dale O'Connor <daleoc@worldnet.att.n
He died three months after an operation to insert an artificial voice box in April 1973.
Underwent cobalt treatment for a secondary condition of the larynx in 1959 after making
The League of Gentlemen
(1960). Afterwards he took voice coaching and reduced the number of cigarettes he smoked each day from about sixty to five. However, while filming
Guns at Batasi
(1964) five years later his voice began to fail. It was not until Christmas 1965 that he was diagnosed with throat cancer, by which time the only possible treatment was a total laryngectomy.
He was voted Number 1 star at the British Box Office in 1954.
Initially sought for the role of Melville Farr in
Victim
(1961), Hawkins turned the role down because he thought the part might compromise his masculine screen image.
Dirk Bogarde
, who eventually played Farr, opined that Hawkins feared the role of a gay barrister would "prejudice his chances of a knighthood.".
Resented the idea that he was typecast in war movies, pointing out in his 1973 autobiography "Anything for a Quiet Life" that he had in fact played fewer military roles than
John Mills
,
Trevor Howard
and
Richard Attenborough
.
Hawkins joined the Royal Welch Fusiliers in 1940, was commissioned and served with the Second British Division in India. In 1944 he was seconded to GHQ India and soon afterwards succeeded to the command, as a colonel, of ENSA administration in India and South East Asia. He was demobilized in 1946.
He was awarded the CBE (Commander of the Order of the British Empire) in the 1958 Queen's Honours List for his services to drama.
In his will published on September 20 1973 he left just £13,019 gross but the net amount was shown as nil. This was a result of high UK taxes and a reduction in his income following the surgery in 1966 which resulted in the loss of his voice. The family home at 34 Ennismore Gardens, South Kensington was left to his wife and his three children were provided for through a trust fund.
His memorial service took place on what would have been his sixty-third birthday on 14 September 1973 at St. Martin-in-the-Fields, London. The address was read by
Kenneth More
and
Richard Attenborough
read the lesson.
He was a student at the Italia Conti Drama School in London, England.
Provided the official celebrity opening of the Aldersley Municipal Sports Stadium, Wolverhampton on 9 June 1956. The stadium now forms part of Aldersley Leisure.
I adored it from the first moment. The excitement, the thrill, the smell of the theatre went right down to one's toes.
Above all, I was taught to love and respect words. Each word had to be the right word; and each had to be spoken in a way that its weight and importance demanded.
I think that no actor should take Hollywood too seriously; but at the same time it would be wrong to underestimate its professionalism. Really, Hollywood is a caricature of itself, and in particular this is true of the front-office types at the studios. Their enthusiasm towards you is measured precisely to match the success of your last film.
Every time an army, navy or air force part comes up they throw it at me. There is nothing left now but the women's services! (1956)
All of us in the film were sure that we were making something quite unusual, and a long way removed from the
Errol Flynn
-taking-Burma-single-handed syndrome. This was the period of some very indifferent American war movies, whereas
The Cruel Sea
(1953) contained no false heroics. That is why we all felt that we were making a genuine example of the way in which a group of men went to war.
[on
Lafayette
(1961)] A totally forgettable film . . . the only bit of acting I have ever done solely for the money.
lying to criticism of his portrayal of Gen. Sir Edmund Allenby in
Lawrence of Arabia
(1962)] I agree that the character has been slanted slightly, but Lady Allenby must remember that this is a film about Lawrence – not the Field Marshall.
[asked why he risked his reputation on the TV series
The Four Just Men
(1959)] I risk my reputation every time, why not on TV?
The above IMDB entry can also be accessed online
here.
TCM overview:
Best remembered for his numerous portrayals of military men, from the indomitable Major Warden in "The Bridge on the River Kwai" (1957) to the officer-turned-criminal-mastermind in Basil Dearden's humorous "The League of Gentlemen" (1960). Although he lost his voice after an operation for cancer of the larynx in 1966, Hawkins continued to perform, with other actors dubbing his lines. He was married to actress Jessica Tandy from 1932 to 1942.