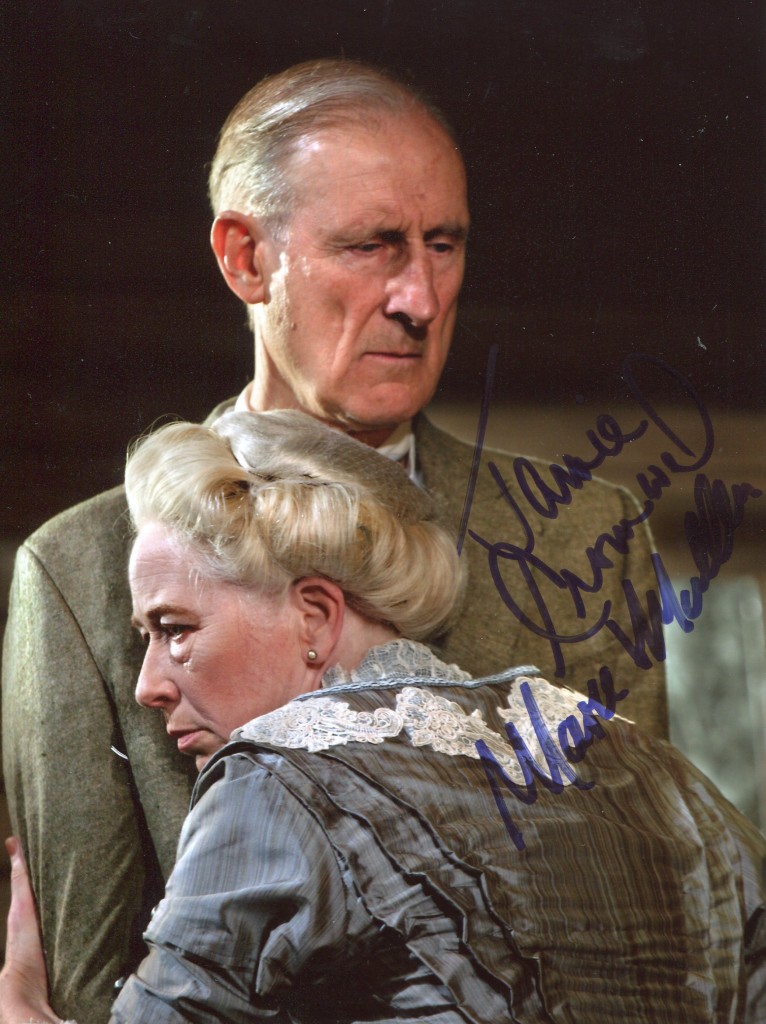 James Cromwell was born in Los Angeles in 1940. He is the son of actress Kay Johnson and actor/director John Cromwell. His films include "L.A. Confidential", "Babe", "The Green Mile" and as 'George Bish Snr' in "W". He has acted with Marie Mullen in Garry Hyne's stage production in Galway of Eugene O'Neill's "Long Day's Journey Into Night".
TCM overview:
Despite spending years honing his craft on stage and building a career on television and in film, actor James Cromwell spent the better part of two decades struggling to make his name in the shadow of his famous father, director John Cromwell. Though he found steady work on sitcoms like "All in the Family" (CBS, 1970-79) and on the big screen in films like "Murder by Death" (1976), Cromwell became so disillusioned trying to make it in show business that he spent 18 months trying to find himself; even hitchhiking across the Sahara Desert on his own. Cromwell began hitting his stride as a character actor in supporting roles in the 1980s, making his way in numerous made-for-television movies and miniseries, while earning some dubious acclaim as the nerdy father of an über-geek in "Revenge of the Nerds" (1984). He finally achieved critical acclaim and Academy Award recognition for his endearing performance in "Babe" (1995), which helped propel his career. But it was his portrayal of a murderous Machiavellian police captain in "L.A. Confidential" (1997) that made audiences aware of his diverse talents, which paved the way to more prominent roles in large-scale films like "The Green Mile" (1999), "The Sum of All Fears" (2002), "The Queen" (2006) and "W" (2008). He also landed high-profile television roles, most notably on "Six Feet Under" (HBO, 2001-05), which granted the ever-busy Cromwell the recognition he richly deserved.
Born on Jan. 27, 1940 in Los Angeles, CA, Cromwell was raised by his father, John Cromwell, a noted director blacklisted during the McCarthy era, and his mother, Kay Johnson, a prominent film actress who appeared in "Thirteen Women" (1932) and her husband's picture, "Of Human Bondage" (1934). Growing up in a show business family no doubt instilled his desire to be an actor at an early age. But after attending The Hill School, a prestigious boarding school in eastern Pennsylvania, Cromwell set his sights on becoming an engineer, attending Middlebury College in Vermont, then Carnegie Institute of Technology (later renamed Carnegie Mellon University). After a year at Carnegie, Cromwell dropped out to pursue acting full-time, working regional theater as both an actor and a director in productions of "The Iceman Cometh" at the Goodman Theatre in Chicago, "Beckett" at the Cleveland Playhouse and "Othello" at the American Shakespeare Festival. Cromwell joined director John O'Neal's Free Southern Theater in New Orleans, where the young actor had his first taste of racial injustice, leading to a lifetime of social and political activism, including a tour of bombed-out churches in the South during the 1960s.
While he remained politically active – he worked for the Black Panthers to arrange bail for their jailed leaders and was arrested himself at anti-war protests – Cromwell spent the next couple of decades struggling to establish his career. He made his first strides in the early 1970s while performing in a play at the Mark Tapper Forum in Los Angeles, where he was spotted and subsequently cast as Jerome "Stretch" Cunningham, comic foil for famed curmudgeon Archie Bunker (Caroll O'Connor), on "All in the Family." Cromwell next landed a regular series role as Bill the Desk Clerk on the sitcom, "The Hot L Baltimore" (ABC, 1974-75), then made his feature film debut in "Murder by Death" (1976), playing the over-attentive chauffeur to French private investigator, Milo Perrier (James Coco). Continuing to appear on television, he was the absentee husband to the dim-witted daughter (Beverly Archer) of a Hollywood agent (Nancy Walker) on the short-lived sitcom, "The Nancy Walker Show" (ABC, 1976).
After the failed pilot-turned-TV movie, "The Girl in the Empty Grave" (NBC, 1977), Cromwell settled into a long string of supporting roles in television movies like "A Christmas Without Snow" (CBS, 1980) and "The Wall" (CBS, 1982). Back in features, he played a corrupt deputy sheriff in "Tank" (1982), then was the nerd father of an even nerdier son (Robert Carradine) being sent off to college in "Revenge of the Nerds" (1984), a role he reprised in the sequels, "Revenge of the Nerds II" (1987), "Revenge of the Nerds III: The Next Generation" (Fox, 1992) and "Revenge of the Nerds IV: Nerds in Love" (Fox, 1994). Meanwhile, he maintained a steady, albeit unrecognized presence on the small screen, appearing as the deputy chief of police in "The Last Precinct" (NBC, 1986), as Dana Ivey's milquetoast husband in "Easy Street" (NBC, 1986-87), and as Bruce Weitz's friend in "Mama's Boy" (NBC, 1987-88). Following an episode of "Life Goes On" (ABC, 1989-1990), Cromwell was buried in the cast of "Things That Go Bump in the Night" (ABC, 1989) and had a bit more prominence in the disaster drama, "Miracle Landing" (CBS, 1990), a true story about an Aloha Airlines flight that managed to land despite having the top skin of its fuselage ripped off during flight.
In Arthur Hiller's "The Babe" (1992), an endearing chronicle of the life and career of George Herman "Babe" Ruth (John Goodman), he appeared briefly as a monk at a boarding school for boys who introduces a young boy and future slugger to the game of baseball as a means of unleashing his pent-up anger. Then after two decades toiling in small, often meaningless roles, Cromwell finally earned his due in Chris Noonan's "Babe" (1995), playing Farmer Hoggett, a gentle shepherd who recognizes the special qualities of a piglet adept at herding sheep. Cromwell gave a charming, joyful and wholly dimensional portrayal of the farmer, earning him a 1995 Oscar nomination for Best Supporting Actor. After tackling a supporting role in the Arnold Schwarzenegger action thriller "Eraser" (1996) and playing the inventor of the warp drive in "Star Trek: First Contact" (1996), Cromwell delivered an uncanny performance as banker and founder of the right-wing watchdog group Citizens for Decent Literature in Milos Foreman's excellent biopic, "The People vs. Larry Flynt" (1996), which starred Woody Harrelson as the unflinching publisher of Hustler magazine.
Because he built up his resume playing goofballs on sitcoms, the bespectacled father of a nerd on film and a kindly farmer who befriends a talking pig, no one was prepared for the sheer cunning, manipulation and coldhearted evil he displayed in "L.A. Confidential" (1997), Curtis Hanson's award-winning adaptation of James Ellroy's labyrinth tome about police corruption in 1950s Los Angeles. Cromwell played Captain Dudley Smith, head of a Los Angeles precinct who turns a blind eye to violence and corruption. A political animal who tries to school Ed Exley, a young, but ambitious detective (Guy Pierce), Smith runs his department with a heavy hand, though he remains loyal to those willing to do his bloody bidding behind closed doors, which includes the uncontrollably violent Det. Bud White (Russell Crowe). In the end, the incorruptible Exley discovers that Smith has been a kind of crime boss, running drugs and committing murders, which leads to forming partnerships with White and "Hollywood" Jack Vincennes (Kevin Spacey) and confronting Smith in a violent showdown. Though overshadowed by the emergence of Russell Crowe as a star and the film itself at the Academy Awards, Cromwell nonetheless established himself as a multifaceted character performer.
Returning to a softer mode, Cromwell was cast as an Appalachian mountain man raising his part Native American grandson (Joseph Ashton) in the family drama "The Education of Little Tree" (1997) and reprised his role as Farmer Hoggett in the sequel "Babe: Pig in the City" (1998). With his star on the rise, he was seen in no less than four high-profile television and feature film projects the following year. He played a cold-hearted Army captain whose troubled soldier daughter is found dead in the big-screen adaptation of Nelson DeMille's novel "The General's Daughter" (1999) and earned an Emmy nomination for his deft portrayal of William Randolph Hearst in "RKO 281" (HBO, 1999), the critically acclaimed drama about the making of Orson Welles' (Liev Schreiber) classic "Citizen Kane" (1941). Cromwell then had the pivotal role of a judge overseeing a murder trial in the Ethan Hawke weeper "Snow Falling on Cedars" (1999), followed by a small part as a private detective in the crime drama "A Slight Case of Murder" (TNT, 1999). The actor followed those projects up by appearing in the live televised version of the Cold War thriller "Fail Safe" (CBS, 2000) opposite George Clooney and Richard Dreyfuss, then supported Clint Eastwood, James Garner and Tommy Lee Jones in the comedic drama about aging astronauts going back into space in "Space Cowboys" (2000).
In 2001, Cromwell enjoyed a nice run on the small screen, beginning with an Emmy-nominated turn as a dying bishop in a story arc on the long-running medical drama, "ER" (NBC, 1994-2009). He subsequently co-starred in the adaptation of "The Magnificent Ambersons" (A&E, 2002) before undertaking the title role in the short-lived CBS fall drama "Citizen Baines" (CBS, 2001), about a former three-term U.S. Senator adjusting to life back in his home state after losing a bid for re-election. Cromwell – an outspoken actor who would take stances on various social and political issues – continued in a political vein on screen as well, playing the president in the Tom Clancy military thriller "The Sum of All Fears" (2002) and a resentful Vice President Lyndon Johnson in the cable biopic "RFK" (FX Network, 2002). The actor continued to leapfrog successfully between high-profile film and television projects, playing a scientist in the sci-fi thriller "I, Robot" (2004) and the warden in Adam Sandler's remake of "The Longest Yard" (2005). After co-starring in the acclaimed HBO miniseries "Angels in America" (2003), about several interconnected lives in New York during the onset of the AIDS epidemic, Cromwell co-starred in a television remake of Stephen King's horror classic "Salem's Lot" (2004).
In 2004, Cromwell enjoyed another career-defining role in "Six Feet Under" (HBO, 2000-05), playing the much-married professor George Sibley, who weds the Fisher family matriarch Ruth (Frances Conroy) without revealing his dark secret. The actor stayed with the series through its final season. After playing Cardinal Sapieha in the miniseries "Pope John Paul II" (CBS, 2006) and Prince Philip to Helen Mirren's Elizabeth II in "The Queen" (2006), Cromwell was a nice fit as Philip Bauer, father to anti-terrorist agent Jack Bauer (Kiefer Sutherland), on "24" (Fox, 2001-2010). He was next cast in the disappointing sequel "Spider-Man 3" (2007), playing police captain George Stacy, who was the father of the web-slinger's friend and possible love interest Gwen Stacy (Bryce Dallas Howard). In perhaps one of his most anticipated roles, Cromwell portrayed former president George H.W. Bush in "W" (2008), director Oliver Stone's love-it-or-hate-it biopic on President George W. Bush (Josh Brolin). Following supporting turns in the sci-fi/action thriller "Surrogates" (2009) and the heartwarming drama "Secretariat" (2010), Cromwell was part of an exceptional cast for the silent black-and-white critical darling, "The Artist" (2011).
Back on the small screen, he played American industrialist Andrew Mellon in three episodes of "Boardwalk Empire" (HBO, 2010- ) before portraying a doctor and former Nazi engaging in sadistic experiments on the second season of the anthology series "American Horror Story" (FX, 2011- ). His uncharacteristically sinister turn was well received and resulted in his first Emmy win in 2013.
The above TCM overview can also be accessed online here.