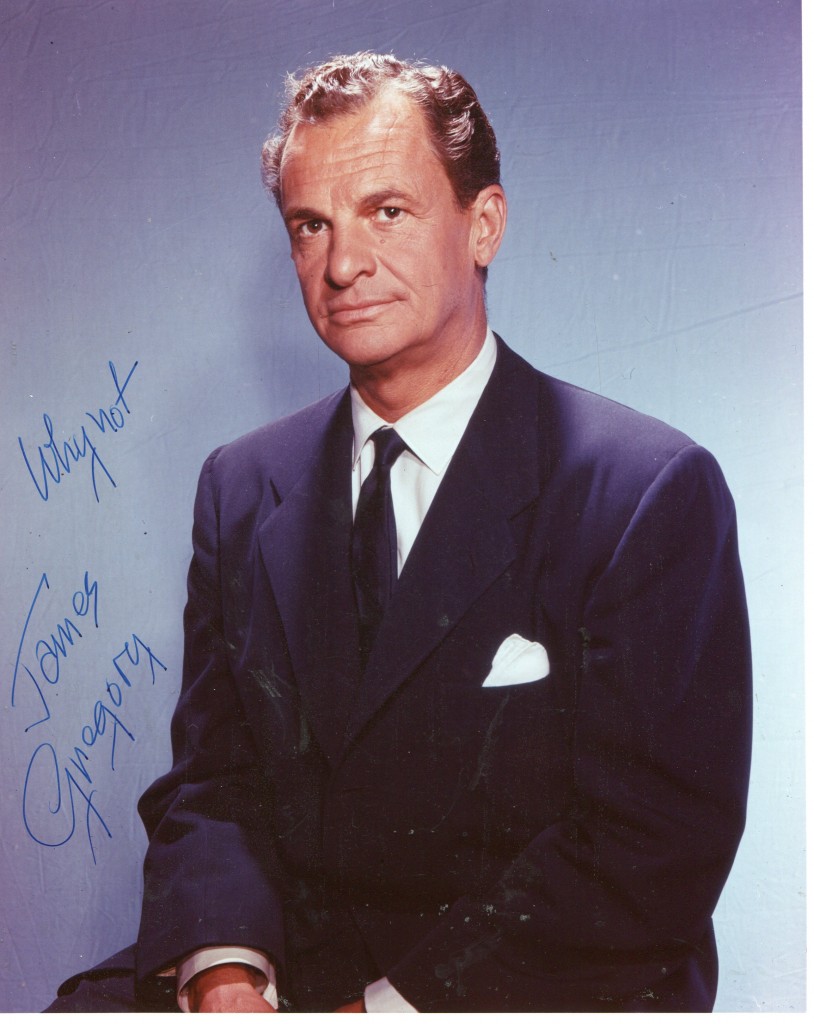 James Gregory was born in 1911 in The Bronx, New York. He is best known for his performance as Angela Lansbury's husband in the chilling "The Manchurian Candidate" in 1962. A popular character actor, his other movies include "The AScarlet Hour" and "P.T. 109". He died in 2002 at the age of 90.
"The Telegraph" obituary:
ames Gregory , the actor who has died aged 90, was one of those performers whose face was recognised by many, even if his name was known to only a few.
His best-known role was probably as the Right-wing Senator Iselin in John Frankenheimer's The Manchurian Candidate (1962), about a brainwashed Korean War hero, but in a career spanning more than half a century Gregory appeared in some 35 films and 200 television series.
He was cast in television dramas such as Gunsmoke, Bonanza, Wagon Train, and Rawhide. If an American cop was required on the television screen, the chances were that he would be embodied by James Gregory. He had roles in Columbo, McCloud, Alfred Hitchcock Presents, and Hawaii Five-O.
From 1959 to 1961 he was Barney Ruditsky in The Lawless Years, a series based on the exploits of a real detective in New York City in the 1920s. He also played Inspector Frank Luger from 1975 to 1982 in Barney Miller, about a Jewish policeman portrayed by Hal Linden.
James Gregory was born in the Bronx on December 23 1911, and grew up in the New York suburb of La Rochelle. In his youth he demonstrated a talent for both acting and golf, and he might have opted for a career in either. But his first proper employment, after a series of jobs as golf caddy, waiter and clerk, was on Wall Street, where he worked as a runner after the crash of 1929; within five years he had been promoted to the post of private secretary to a stockbroker.
But Gregory simultaneously acted with local drama groups, and by the late 1930s he was acting professionally, performing with a travelling company in plays up and down the east coast of America. Then, in 1939, he made his debut on Broadway in a production of Key Largo.
During the Second World War Gregory served in the US Navy and Marine Corps in the Pacific, before returning to the stage; he appeared in a further 25 Broadway productions, including Arthur Miller's Death of a Salesman, in which he played Biff. In the early 1950s Gregory moved into live television – it is said that at one stage he appeared in five different dramas over a period of only 10 days.
Apart from The Manchurian Candidate, his films included The Young Stranger (1957); Al Capone (1959); The Sons of Katie Elder (1965), in which Gregory played a murderer who kills the witnesses to his crimes; Beneath the Planet of the Apes (1969); and Shootout (1971).
James Gregory died on September 16. He is survived by his wife, Anne Gregory.
The above "Telegraph" obituary can also be accessed online here.