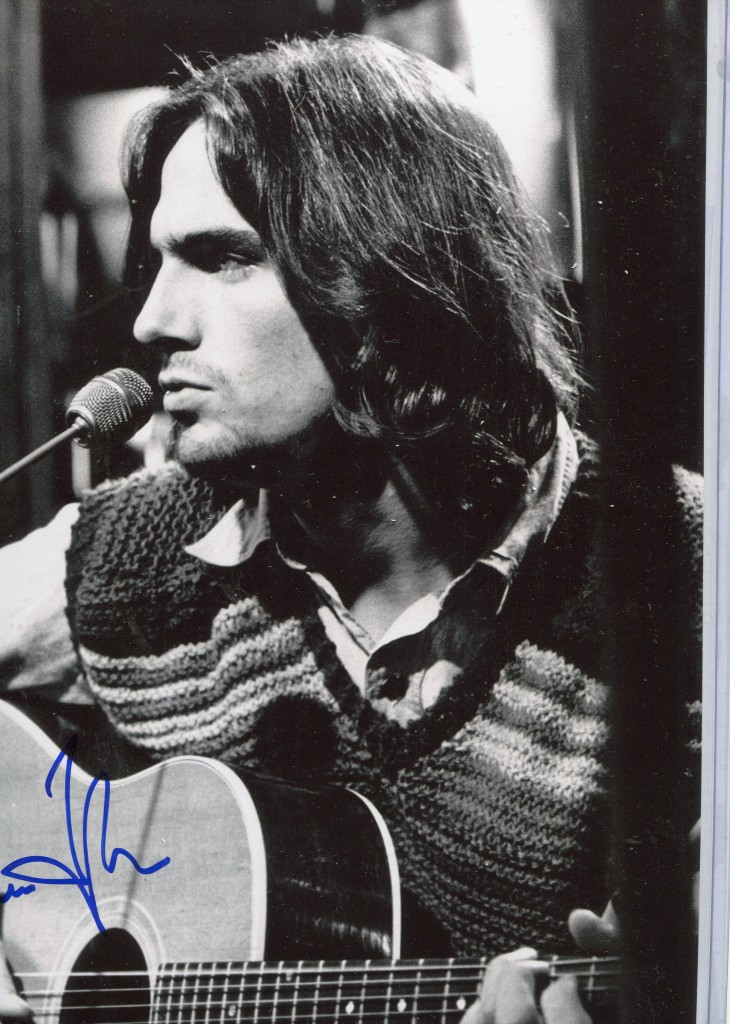 James Taylor was born on 12th March 1948 in Boston where his father was a doctor. His career is of couse as a major singer/songwriter. He has though appeared on film and had a leading role in the movie "Two-Lane Blacktop" directed by Monte Hellman in 1971.
TCM overview:
The epitome of the sensitive singer-songwriter in the 1970s, James Taylor's warm, introspective music soothed a generation of listeners worn down by the turmoil of the 1960s, who longed for the simple joys of his best songs like "Carolina in My Mind," "Fire and Rain," "Shower the People" and "How Sweet It Is (To Be Loved By You)." His best material reflected his own life, which was marked in its early years by depression and drug addiction before finding spiritual rebirth and redemption as a father and husband to singer Carly Simon in the mid-1970s. The collapse of that marriage in the early 1980s followed a downward turn in his career and health before he rebounded later in the decade to become a gentle, avuncular figure for music fans who came to his annual summer shows to bask in the nostalgic pleasures of his song catalog. The 1990s and 2000s saw a major return to form with Grammy-winning albums and a lucrative reunion with Carole King, who had penned his only No. 1 hit, "You've Got a Friend." Throughout his countless trips up and down the music industry ladder, Taylor's graceful voice and presence, and his unerring ability to strike an emotional chord through his music, not only went untouched but gained strength, gravity and undeniable beauty over the course of his four-decade career.
James Vernon Taylor was born on March 12, 1948 at Massachusetts General Hospital in Lenox, MA, where his father, Dr. Isaac Taylor, was a resident physician. He was the second of five children by Dr. Taylor and his wife, Gertrude, including older brother Alex and younger siblings Kate, Livingston and Hugh, all of whom would go on to enjoy their own music careers in subsequent decades. In 1951, three-year-old Taylor and his family moved to Chapel Hill, NC, where his father served as Assistant Professor of Medicine at the University of North Carolina School of Medicine. There, the family lived in relative wealth, frequently returning to New England for summers on Martha's Vineyard, but Dr. Taylor's career required him to be away from home for lengthy stays in Maryland or in Antarctica as part of the military-coordinated Operation Deep Freeze. Taylor began playing cello as a child before switching to guitar at the age of 12. His primary influences at the time were folk singers like Woody Guthrie, as well as rhythm and blues and more traditional music like gospel hymns and holiday carols. In 1961, he began attending Milton Academy, a prep boarding school in Massachusetts, before returning to Martha's Vineyard for the summer of 1962. There, he met Danny Kortchmar, an aspiring guitarist from New York with whom he founded an immediate and lasting friendship. Kortchmar was astonished by the power and soulfulness of Taylor's voice, and the pair became a staple of the island's coffeehouses as the duo Jamie & Kootch.
By 1963, Taylor was beginning to struggle with the high pressures of study at Milton Academy, and soon returned to North Carolina to finish his junior year. While there, he joined his brother Alex's band, The Corsayers, and cut a single, "Cha Cha Blues" (1964), which was his first recorded single. He then returned to Milton to complete his studies there, and began applying to colleges. But Taylor, who had always been a sensitive soul, began to experience severe bouts of depression, and committed himself to a nine-month stay at the McLean Hospital in Belmont, MA. Upon his release in 1966, Taylor moved to New York to join Kortchmar in a new band, The Flying Machine, which attracted a following in Greenwich Village on the strength of Taylor's highly confessional songs, which often addressed his stint at McLean. But Taylor's personal demons soon got the better of him, and he developed an addiction to heroin that cut deeply into their ability to perform and record songs. The Flying Machine disbanded in 1967, and Taylor slid into dissolution and despair until his father came to New York to bring him home for treatment.
After completing rehabilitation and throat surgery to repair his damaged vocal chords, Taylor moved to London, where he recorded several demos as a solo act. The tracks were brought to Peter Asher, formerly of the pop group Peter and Gordon, who in 1967 was working as the head of A&R for the Beatles' label, Apple Records. The songs impressed Paul McCartney, who made Taylor the label's first non-British act. Both McCartney and George Harrison played on "Carolina in My Mind," one of several songs Taylor had written for his solo debut, along with "Something in the Way She Moves." While completing the recording sessions in 1968, Taylor fell back into heroin use, and underwent methadone treatment before returning to Massachusetts for rehabilitation at the Austen Riggs Center. Apple released his eponymous debut album in early 1969 to critical acclaim, but Taylor's hospitalization prevented him from promoting the record with live performances, and it soon disappeared from the charts.
That same year, Asher left Apple Records as it began to fall apart from disorganization and internal strife, and instead became Taylor's manager. He arranged for a six-night stand at Los Angeles' acclaimed Troubadour nightclub, which helped to develop interest in Taylor's music. A closing night stint at the Newport Folk Festival was well received and seemed to indicate that Taylor was gaining some momentum, but the upward swing was halted when the singer broke both hands and feet in a motorcycle accident on Martha's Vineyard. He wrote songs throughout his recuperation, and by October 1969, had a record deal with Warner Bros.
In 1969, Taylor recorded his second album, Sweet Baby James, which featured one of his most enduring tunes, "Fire and Rain." A haunting remembrance of a childhood friend, Suzanne Schnerr, who committed suicide while he was recording his first album in London, as well as his battles with drug addiction, the song's lyrical progression from darkness to redemption, as well as Taylor's heartfelt vocals, sent it to No. 3 on the Billboard singles charts and helped make the album a million seller in its first year. More importantly, it minted Taylor as a leading voice in the singer-songwriter movement, which soon took note of his blend of folk, soul and intimate lyrics and adopted him as its standard bearer. A second single from Sweet Baby James, the gentle "Country Road," broke the Top 40 in 1971, while interest in Taylor sparked a revival of his debut album and sent "Carolina in My Mind" up the charts as well.
While Sweet Baby James climbed the charts, Taylor made his acting debut in Monte Hellman's cult favorite "Two-Lane Blacktop" (1971) as a sullen, car-obsessed driver locked in a seemingly pointless road race with Warren Oates' loud-mouthed GTO owner. Though not a hit, the film, along with his music, helped to establish Taylor as a sort of thinking-man's pop idol, especially among female listeners, who responded positively to a 1971 TIME magazine cover feature that compared him to Heathcliff of Wuthering Heights. Taylor shunned such coverage, preferring to focus on his music, and in 1972, released his third album, Mud Slide Slim and the Blue Horizon, which featured his first No. 1 single, a Grammy-winning cover of Carole King's "You've Got a Friend." Taylor's then-girlfriend, Joni Mitchell, provided backing vocals on the track, but the relationship soon ended due to his involvement with up-and-coming singer Carly Simon.
The couple were wed at a post-concert party following Taylor's performance at Radio City Music Hall in November 1972, and for a while, the pair was the focus of considerable media attention. But as Simon's stock rose on the strength of songs like "Anticipation" and "You're So Vain," Taylor's career began an inexorable slide that would last for the better part of the decade. His fourth LP, a concept album called One Man Dog, failed to match the success of its previous releases, with its lead single, "Don't Let Me Be Lonely Tonight," barely breaking into the Top 20. He took off much of 1973 to prepare for the birth of his daughter, Sally, who was born in 1974. He began recording sessions for his fifth album, Walking Man, that same month, but despite contributions from Paul McCartney, it too failed to find an audience.
A brief reprieve came with 1975's Gorilla, which featured a hit cover of Marvin Gaye's "How Sweet It Is (To Be Loved By You" and the sunny "Mexico," which featured David Crosby and Graham Nash on backing vocals. But its follow-up,In The Pocket (1976) failed to reproduce its success, despite the presence of such all-star guests as Bonnie Raitt, Stevie Wonder and Art Garfunkel. The album also signaled the end of his contract with Warner Bros., which releasedJames Taylor's Greatest Hits at the end of the year. The album, which featured re-recorded versions of "Something In the Way She Moves" and "Carolina in My Mind" due to difficulties in obtaining the original song masters from Apple, became his best-selling release over the course of the next three decades.
Taylor rebounded again with 1977's JT, his first for Columbia Records. The album featured a remarkably relaxed, soulful take on the Jimmy Jones oldie "Handy Man," which broke the Top Five on Billboard's Hot 100, and brought him a Grammy for Best Male Pop Vocal Performance. Another single, the sunny "Your Smiling Face" landed in the Top 20, which helped to make JT his second best-selling studio album. A Top 20 cover of Sam Cooke's song "Wonderful World" with Paul Simon and Art Garfunkel preceded a year-long break, during which he worked on and appeared in a Broadway musical version of journalist Studs Terkel's study of the middle class, Working. The production was short-lived, and Taylor folded his two contributions, "Millworker" and "Brother Trucker," into his 1979 album Flag, which also featured his Top 30 cover of the Drifters' "Up on the Roof." He closed out the year with a memorable duet with Simon of Charlie and Inez Foxx's "Mockingbird," which they performed as part of the No Nukes concert at Madison Square Garden, which was captured in the documentary "No Nukes" (1980).
Taylor's tireless work schedule provided a cover for the turmoil of his personal life. He had lapsed back into drug addiction, specifically heroin addiction, which caused considerable friction in his marriage to Simon. Allegations of physical abuse and lack of solid parenting for his children, which included a son, Benjamin, born in 1977, led to an ultimatum from Simon: either cut back on his touring and recording or face a divorce. Taylor's response was summed up in the title of his 1981 album, Dad Loves His Work. Its melancholy tone was echoed in its hit single, a duet with J.D. Souther called "Her Town Too." Though it reached No. 10 on the album charts, its success was entirely overshadowed by his separation from Simon that same year, with the divorce becoming final in 1983.
Inspired in part by the drug-related deaths of close friends John Belushi and Beach Boy Dennis Wilson, Taylor defeated his heroin addiction for good in 1983, and devoted more time to his children while weighing the option of retiring from the music business. But a performance at Brazil's colossal Rock in Rio Festival in 1985 spurred his creative energies, and he responded with That's Why I'm Here, a lovely, polished collection of original songs celebrating his mental and spiritual rebirth, as well as a spry cover of Buddy Holly's "Every Day." That same year, he married actress Kathryn Walker, and began a tradition of launching yearly summer tours that brought longtime fans and first-timers in a familial get-together bound by the warmth of Taylor's presence and his established songs. He recorded sporadically during this period, scoring a minor hit with 1988's Never Die Young before earning a platinum disc with 1991's New Moon Shine. Critics noted that the "new" Taylor's work had lost much of its youthful angst; instead focusing on nostalgic looks at times gone by or celebrating the innocent pop of his childhood. Listeners responded overwhelmingly to the soothing balm of his voice and words, and by the late '90s, Taylor had come full circle again, returning back to the top of the charts while enjoying his newfound status as one of pop's elder statesmen and best-loved father figures.
Taylor continued to focus much of his energies on his live performances, while carefully honing new material for his albums. In 1997, he scored his first Top 10 album in nearly two decades with Hourglass, a contemplative look back at his troubled past as seen from the perspective of a survivor who felt both amazed and rueful about his present. The alcohol-related death of his brother, Alex, in 1993, weighed heavily on the song "Enough to be on Your Way," and "Jump Up Behind Me" reflected on the long drive from New York to North Carolina taken by Taylor and his father after his bottoming out in 1966. The failure of his marriage to Walker also lent a note of sadness and depth to the album, which won a Grammy for Best Pop Album in 1998.
The new millennium found Taylor more popular than ever as a live act and a recording artist, while his past achievements continued to reap considerable rewards. In 2000, his Greatest Hits collection attained Diamond status for selling over 10 million copies, and was soon followed by Greatest Hits, Volume 2, covering the late '70s through the mid-'90s. He closed out the year with inductions into both the Rock and Roll and the Songwriters Hall of Fame, and launched 2001 by marrying Caroline Smedvig, the public relations director for the Boston Pops, with whom he would have twin sons, Rufus and Henry. This wave of joy seemed to inform his 2002 release, October Road, his last for Columbia, which earned two Grammy nominations and platinum sales status. In 2003, the Chapel Hill Museum in North Carolina opened a permanent exhibit about Taylor's life, while a highway bridge over Morgan Creek near the site of his childhood home was named in his honor.
Taylor spent much of 2004 and beyond stumping for various liberal causes, including benefit concerts for John Kerry's presidential campaign. He released James Taylor: A Christmas Album that year through Hallmark Cards, then re-released it in a slightly different form two years later as James Taylor at Christmas through Columbia/Sony; the album earned a Grammy nomination in 2007. His song "Our Town" for the Pixar animated film "Cars" (2006) received an Oscar nomination in 2007, the same year he released One Man Band through Hear Music, a new label owned by the Starbucks coffee company. The album presented some of his best-loved material in a stripped-down format with anecdotes about their creation. Taylor also reunited with Carole King and members of his original touring band, including Danny Kortchmar, for a six-night stint at the Troubadour to celebrate the beginning of their careers in the 1970s, with ticket sales benefiting an array of charitable organizations.
He returned to recording in 2008 with a collection of country and soul covers titled, appropriately enough, Covers, which netted two Grammy nominations and generated a mini-album follow-up, Other Covers, in 2009. That same year, he performed "Shower the People" with John Legend and Jennifer Nettles of Sugarland at Barack Obama's presidential election, and contributed a humorous cameo as himself in Judd Apatow's critically acclaimed feature "Funny People." In 2010, he launched a wildly successful reunion tour with Carole King, which found the pair playing arenas in order to accommodate the extraordinary response from generations of fans who had grown up listening to their music. The following year found him firmly established as one of America's cultural icons with a performance at the dedication of the Martin Luther King, Jr. Memorial.
The above TCM overview can be accessed online
here.