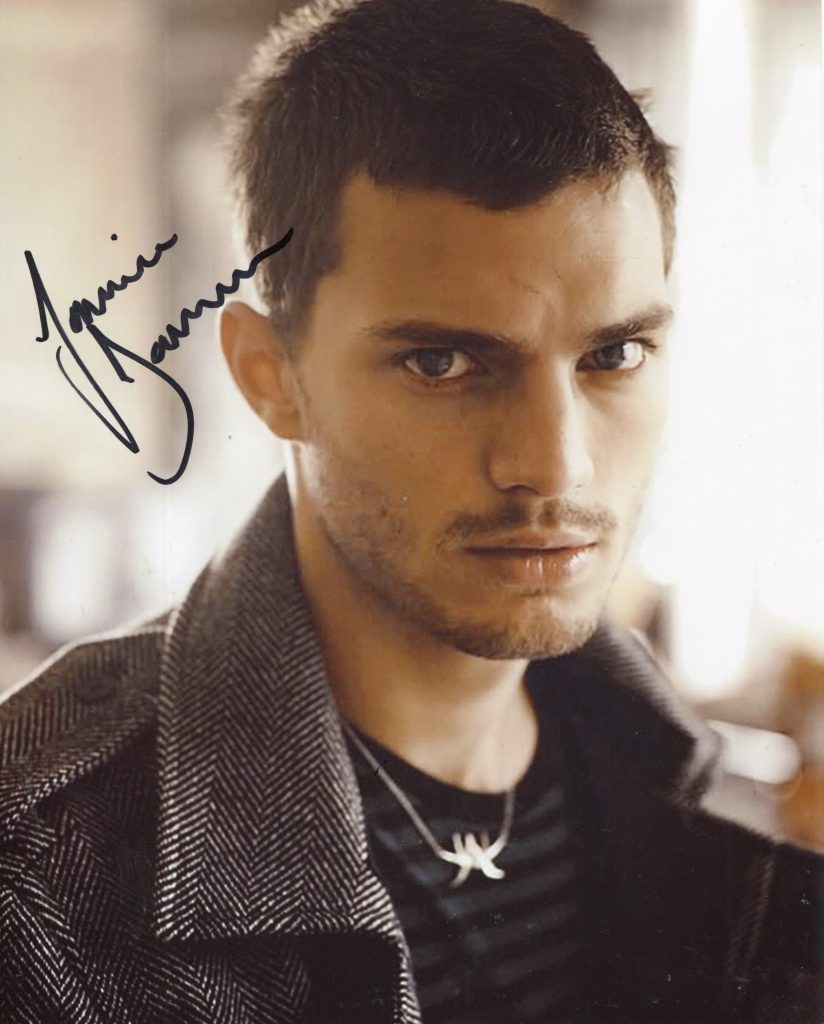 Jamie Dornan was born in 1982 in Belfast. He played 'Sheriff Graham' in the series "Once Upon A Time". His movies include "Marie Antoinette" in 2006 and "Shadows in the Sun".
TCM overview:
Largely unknown until 2013, actor Jamie Dornan was thrust into the spotlight when he was cast as the male lead in the major movie adaptation of the hit erotic novel Fifty Shades of Grey. A native of the Belfast area, the handsome Northern Irishman pursued acting after briefly attending university, while also working as a model and performing in a band called Sons of Jim. In 2008, Dornan found his first lead role in the horror movie "Beyond the Rave," but he mostly remained under the radar until he was cast in the dual role of Sheriff Graham and the Huntsman on the fantastical TV series "Once Upon a Time" (ABC, 2011- ). While occasionally appearing on the hit show, he joined Gillian Anderson for the Belfast-set psychological drama "The Fall" (BBC, 2013- ). As word of the well-received series gradually expanded beyond the United Kingdom, his role as Christian Grey in "Fifty Shades of Grey" was announced, immediately making him a subject of intense international interest.
Born and raised just outside of Belfast, Dornan is the great-nephew of WWII-era actress Greer Garson, and he decided to follow her path, but not before stints as a model and musical artist. In addition to appearing in ad campaigns for high-end fashion companies such as Dior and Calvin Klein, Dornan played in the group Sons of Jim, which met with limited success before disbanding. Given his rugged yet regal looks, he found a fitting first screen role as Count Axel Fersen in Sofia Coppola's bold historical drama "Marie Antoinette" (2006). Dornan's initial headlining turn arrived in 2008 when he portrayed a British soldier sucked into supernatural events involving dance-obsessed creatures of the night in "Beyond the Rave." Shifting gears considerably, he subsequently appeared in the pensive English drama "Shadows in the Sun" (2009), co-starring Ophelia Lovibond and veteran actress Jean Simmons.
In 2011, Dornan landed the part of Sheriff Graham and the Huntsman on the popular American show "Once Upon a Time," giving him exposure to a much wider audience. On the fairytale-inspired series, his hunky law-enforcing character became torn between the scheming Regina (Lana Parrilla) and the virtuous Emma (Jennifer Morrison), showcasing his undeniable sex appeal. Outside of his "Once Upon a Time" appearances, Dornan signed on as a regular on the tense Northern Irish show "The Fall," starring as Paul Spector, a charming serial killer attempting to elude the investigation of a determined police detective (Gillian Anderson). While enjoying the success of these two ongoing series, Dornan had an unexpected breakthrough-during the fall of 2013, it was announced that he would be replacing Charlie Hunnam as the cinematic version of Christian Grey, the bondage-loving businessman in E.L. James' sensual novel Fifty Shades of Grey, which had proved to be a pop-culture phenomenon. One of the most highly anticipated Hollywood movies of 2014, "Fifty Shades of Grey" found Dornan working closely with actress Dakota Johnson, leading to much speculation about how the pair would fare as on-screen lovers drawn into a steamy and dramatic relationship.
The above TCM overview can also be accessed online
here.